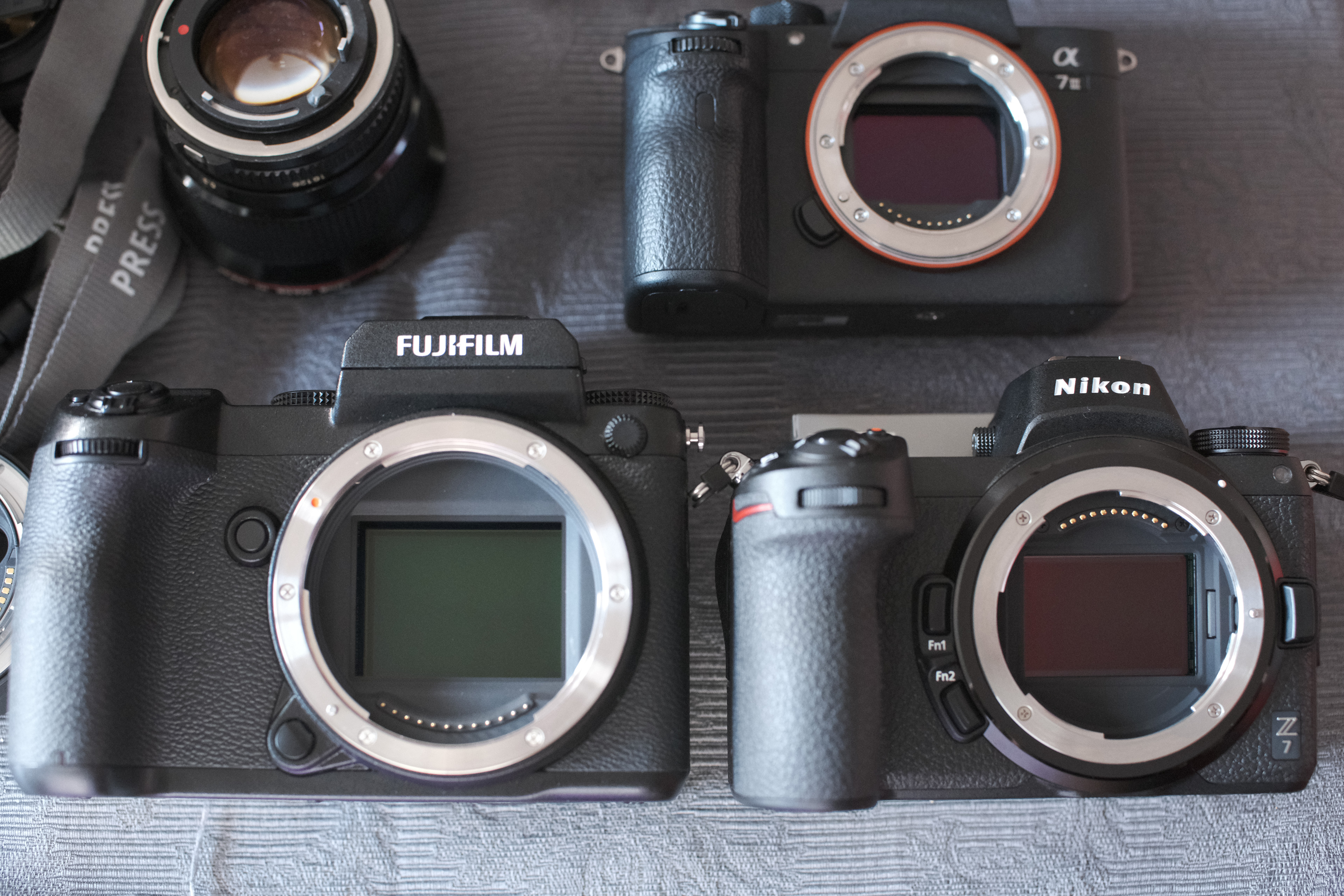 I was able to find a Nikon Z7 in Berlin and decided to shoot with it at least until the Z6 comes out, when I'll reassess whether it is worth 3800 euros. Nevertheless, this camera tells us 90% of what we need to know about that one too.
The camera was bought with my own money from the small and friendly Foto Hess in Berlin Charlottenburg.
So with the Z6 looming before Christmas, is this Z7 a keeper?
Some initial thoughts –
I think Canon want to sell the EOS R as a second body for pros (and those incredibly expensive lenses), Nikon want to sell a replacement for your Nikon D850. Quite brave if you ask me.
It has a "pro Samsung NX1" feel to it. Reminds me a lot of that camera, with a pro spec but the directness and user-friendliness of a consumer camera.
It is about the same size as a GH5S.
The EVF has a wow factor. Right up there with the Leica SL and less moire / pixilation than GFX 50S.
The back screen feels much roomier than the A7 III / A7R III.
Both the back screen and EVF feel less washed out than the Sonys.
It has one BIG advantage for video over the upcoming Panasonic S1 / S1R – the autofocus is on-chip phase-detect, not contrast detect, so it works with older lenses (Nikon and Sigma F-mount range via FTZ adapter).
You get a free Sony 64GB XQD card in the box but the FTZ adapter is extra.
Live-view is one of the sharpest and most detailed I've ever looked at, better feed than all the Sonys and better punch-in focus quality
The video files from previous Nikon cameras like the D750 and D850 have been chunky. The old video I shot on the Nikon D750 at the Mauerpark in Berlin sums this up well. It's a good demonstration of why I like Nikon's colour and codec, so to have that in a SIGNIFICANTLY more advanced mirrorless camera with IBIS and 120fps is pretty exciting…
Sony need to step-it-up
People who have saved up their pennies for an A7S III are starting to fidget! Where is it? Looking at Sony's current range, with the same soulless ergonomics on every body and top specs leaves a lot of potential unfulfilled and I am calling on Sony now to seriously step things up. The competition has not just doubled, it has quadrupled. Fuji, Nikon, Panasonic, are all compelling options and I am sure the EOS R will sell well because of the badge.
Sony had the market to themselves and were able to gain a very good foothold and sell a lot of cameras but this is no longer the case. I consider the ergonomics and colour to be first class on the Z7 and as we know well, it needs an expert setup on the Sony (which is why EOSHD Pro Color has done so well!), because the built in profiles are such a clinical array.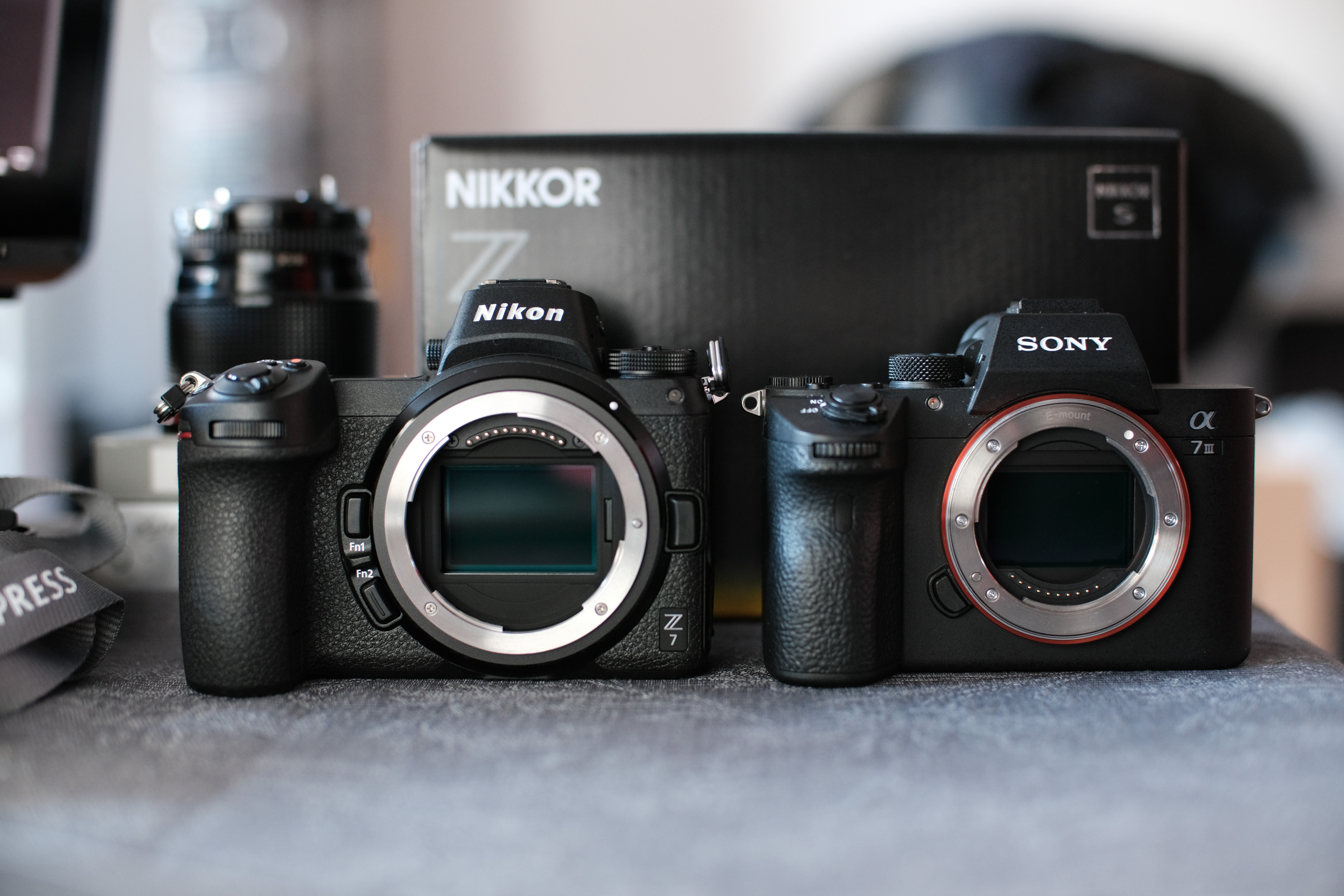 Value for money vs competition is questionable
The other first impression of this camera was the impression it made in my bank account. Yes, it's a high-end professional camera – with no holds barred full frame pro video but it's still a first generation product. I still think the price needs a $800 haircut due to the added cost of joining a completely new system and ecosystem. Plus I find the native lens range a bit limited too.
The dilemma is, the Z6 is just so similar and $2400. Better to wait 2-3 months? You can get a X-T3 NOW for $1499 and later a Blackmagic Pocket Cinema Camera 4K for even less ($1295).
The Z7 is not consumer and is only being sold in shops that stock the D5. It has dribbled into stores with a whimper, just like the D850 as if Nikon learnt no lessons from that whatsoever. So just getting hold of one in order to lay down $3600+ has been a chore.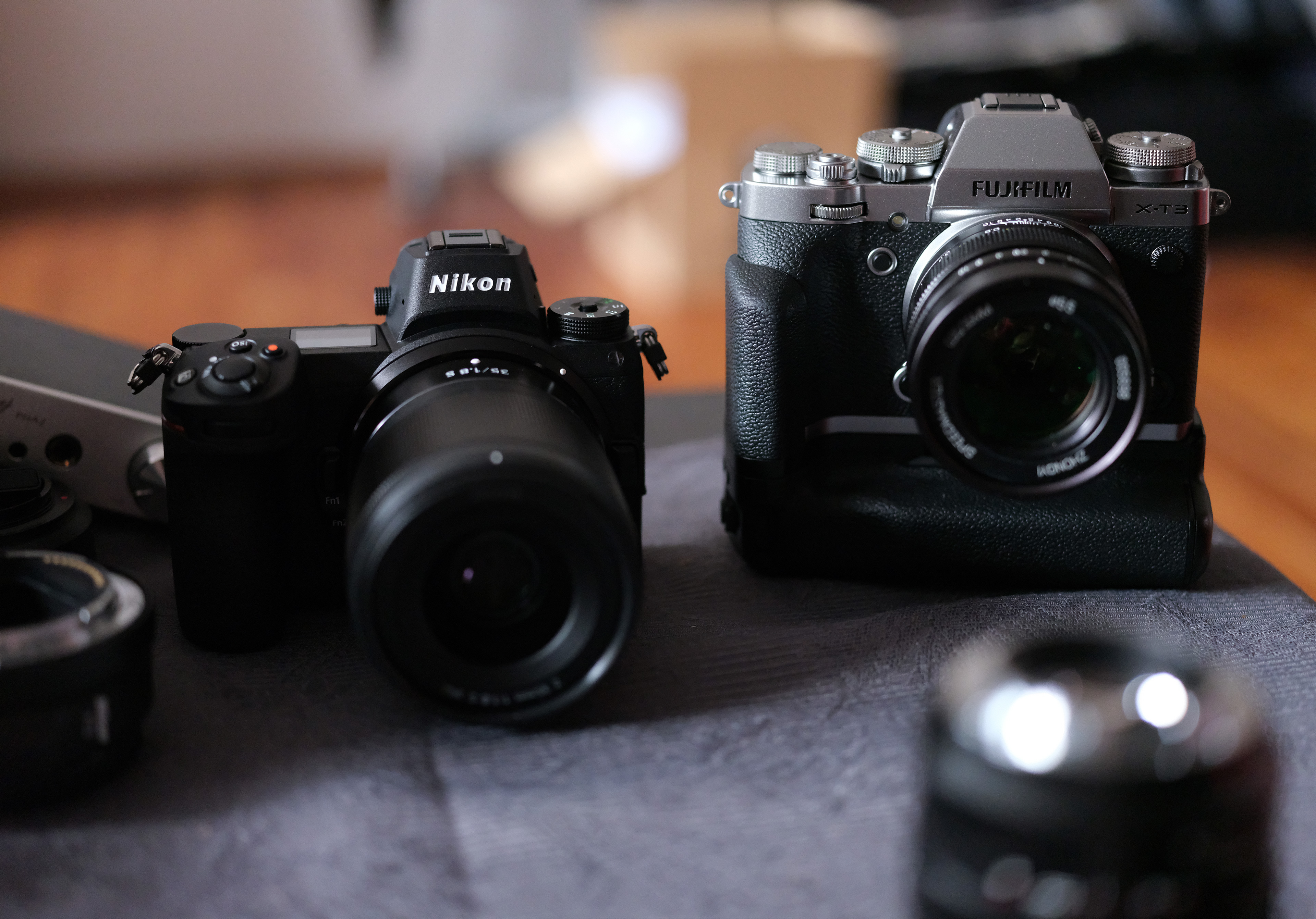 Lenses and build quality
I have the Nikon Z 35mm F1.8 and FTZ mount adapter for Nikon DSLR F-mount lenses so I'll be trying both types of glass. The 35mm F1.8 was 950 euros but WOW. Contrast like a cinema lens and CUT GLASS sharpness wide open. It's also nicely silent to focus and very light. Much lighter and more compact than the Sony FE 35mm F1.4 although that is a very good lens too.
It's too early in my experiences of the camera to comment on AF but it seems Dual Pixel AF-like at first impressions.
The Z7 is assembled in Japan. Incidentally, early reports of the Blackmagic Pocket 4K claim dust and debris on the sensor and in the mount of new cameras like the original BMCC. Where are they making that thing? On a farm? Whereas with Nikon you are clearly paying for a premium Japan build and so it should be. What's the FEEL like?! It isn't quite a D5 but it's above average for a mirrorless camera. The buttons actually have travel. The stills/movie mode lever is FAR superior to Sony's implementation of a completely separate entry on the dial. The EOS R incidentally no longer has one (you have to press M for a sub-menu and then INFO to display movie modes – W.T.FFFFFF).
Let's summarise where the Nikon Z7 has it right in numerous ergonomic areas over the Sony A7 III –
Play and delete buttons out of the way on left shoulder.
Better quality EVF.
Larger LCD, with more contrast (although could be even larger if they'd get rid of the bezel and use an OLED!).
Stills/movie live-view lever (my number 1 preferred way to switch) instead of movie button on back (that should be on top).
All important Movie and ISO button right next to main shutter release.
D-pad instead of easy to knock rear dial on the Sony
Big, easier to locate multi-function top-rear dial instead of stiff exp. compensation dial.
No bullshit mode dial with 3 custom slots and then just PSAM / auto.
Dedicated back AF button and magnification button for MF
Dedicated Info button rather than Disp. on upward press of d-pad
Bigger grip
And where I prefer the Sony over the Z7 –
More function buttons on top and back (the two on Z7 are near lens mount, grip side – maybe I'll get used to them)
Nicer card door with springy action
Erm, that's about it
And the X-T3 is pretty nice as well which is why I am often inspired to pick up other cameras rather than one with super specs but "dead" in-hand feel.

The screen dominates the back and leaves very little room for the joystick and d-pad but they are arranged such that it doesn't bother me and that gorgeous screen is nice to have. It does not use the smallest possible HDMI port, it's one down from full size-HDMI so that is a positive for people interested in using the 10bit N-LOG to something like an Atomos Ninja. Big chunky D850 battery in the base, big chunk XQD card door but only one slot. Speaking of which…
XQD makes RAW possible
I have no doubt with sustained read and write speeds like this we will get RAW recording on one of these cameras in the future. There is no reason why it can't do it now with Cinema DNG 3:1, an open standard with no license fee. Firmware update anyone?
There is also a USB C jack which has the data transfer rates for 4K RAW to a Samsung T5 and the same port allows in-camera charging, I feature I have come to love when travelling.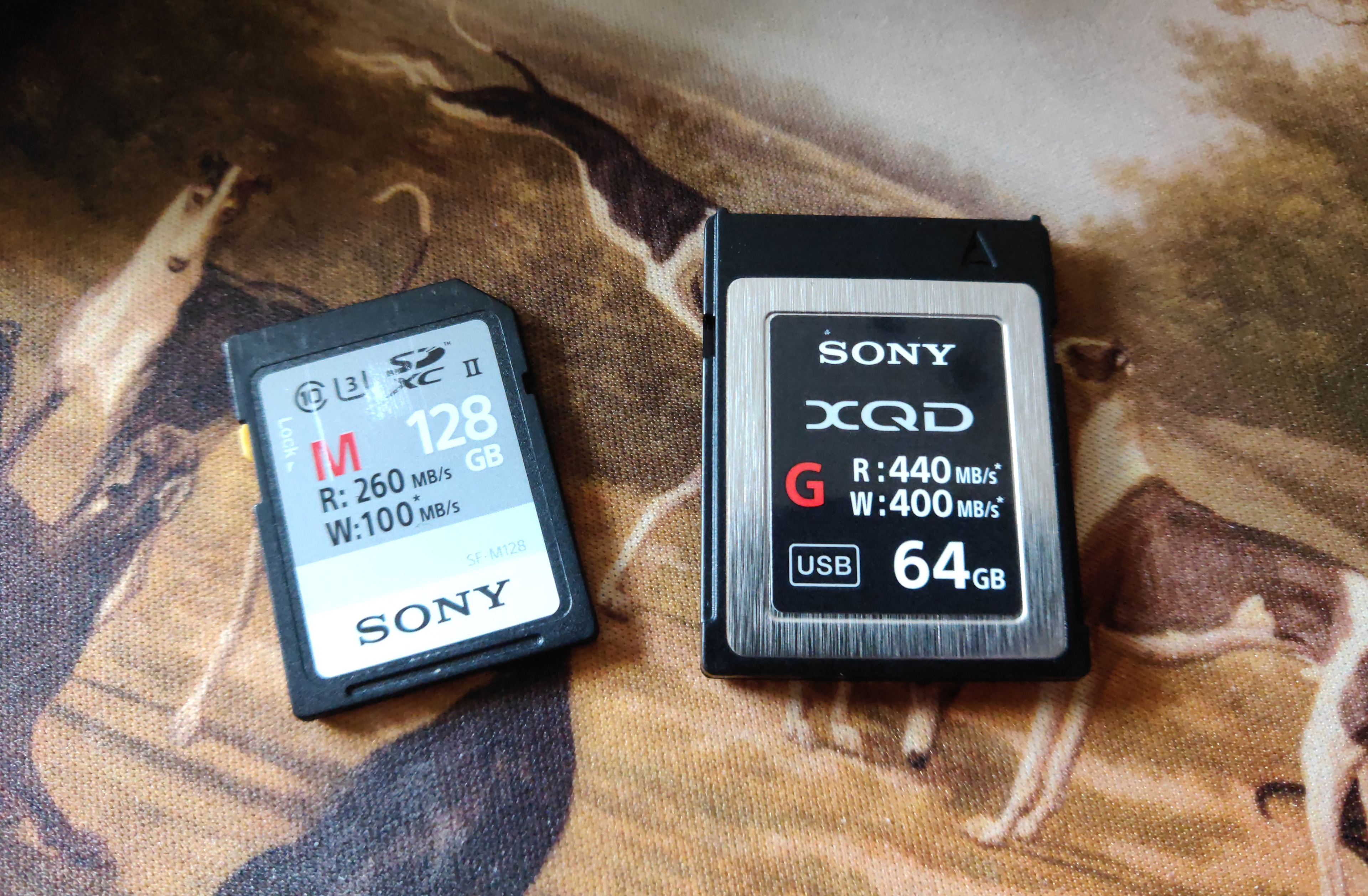 Large mount = Medium format in the future?
I decided to get my GFX 50S out and compare the size of the sensor and mount. As we know, Nikon went for an over-sized mount on the Z7, they claim to support very wide aperture glass like the F0.95 50mm they have in the pipeline. Sony then debunked the need for such a large mount diameter for fast glass in a presentation. There's also speculation the large mount is to allow for a "Super full frame" crop-medium format sensor like the GFX 50S in future. To be honest, having compared the mount of the Fuji GFX and Nikon Z7 below, I can't see that happening.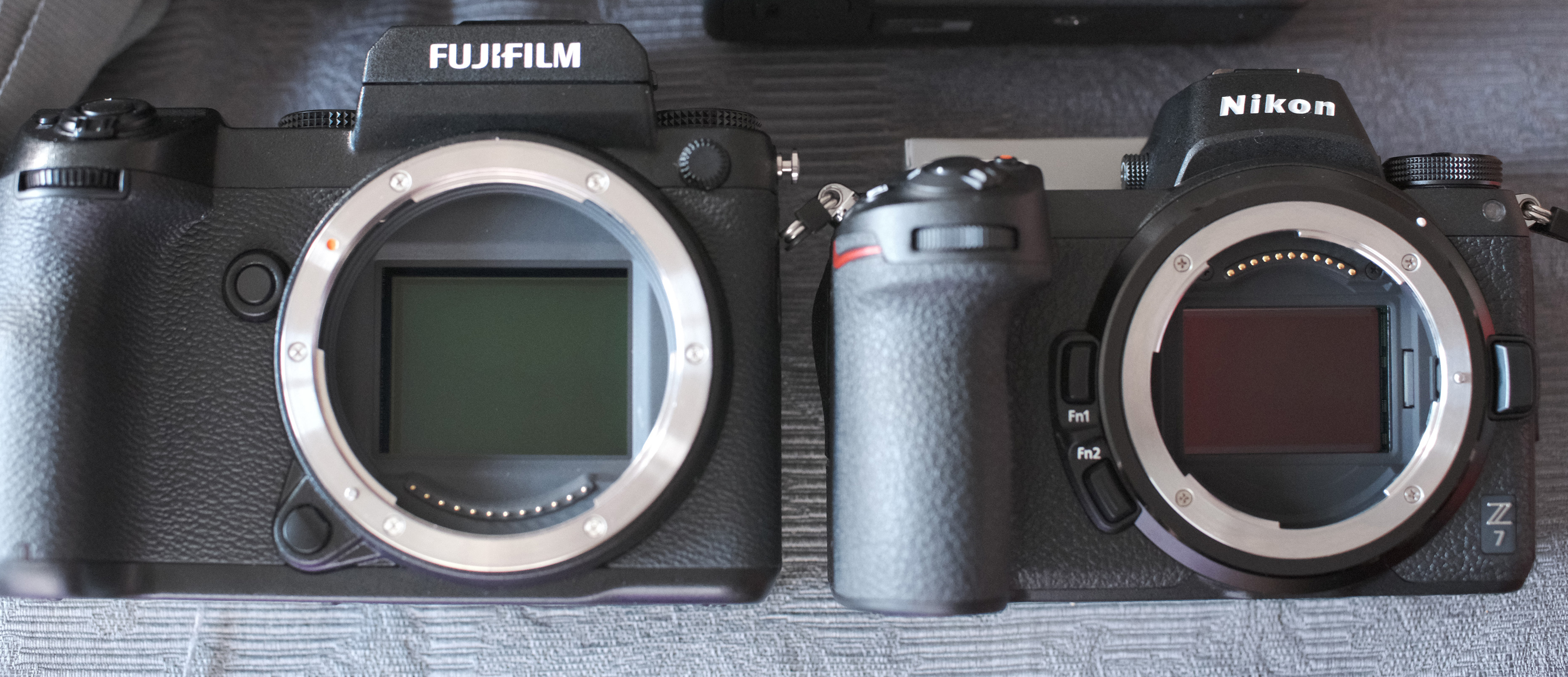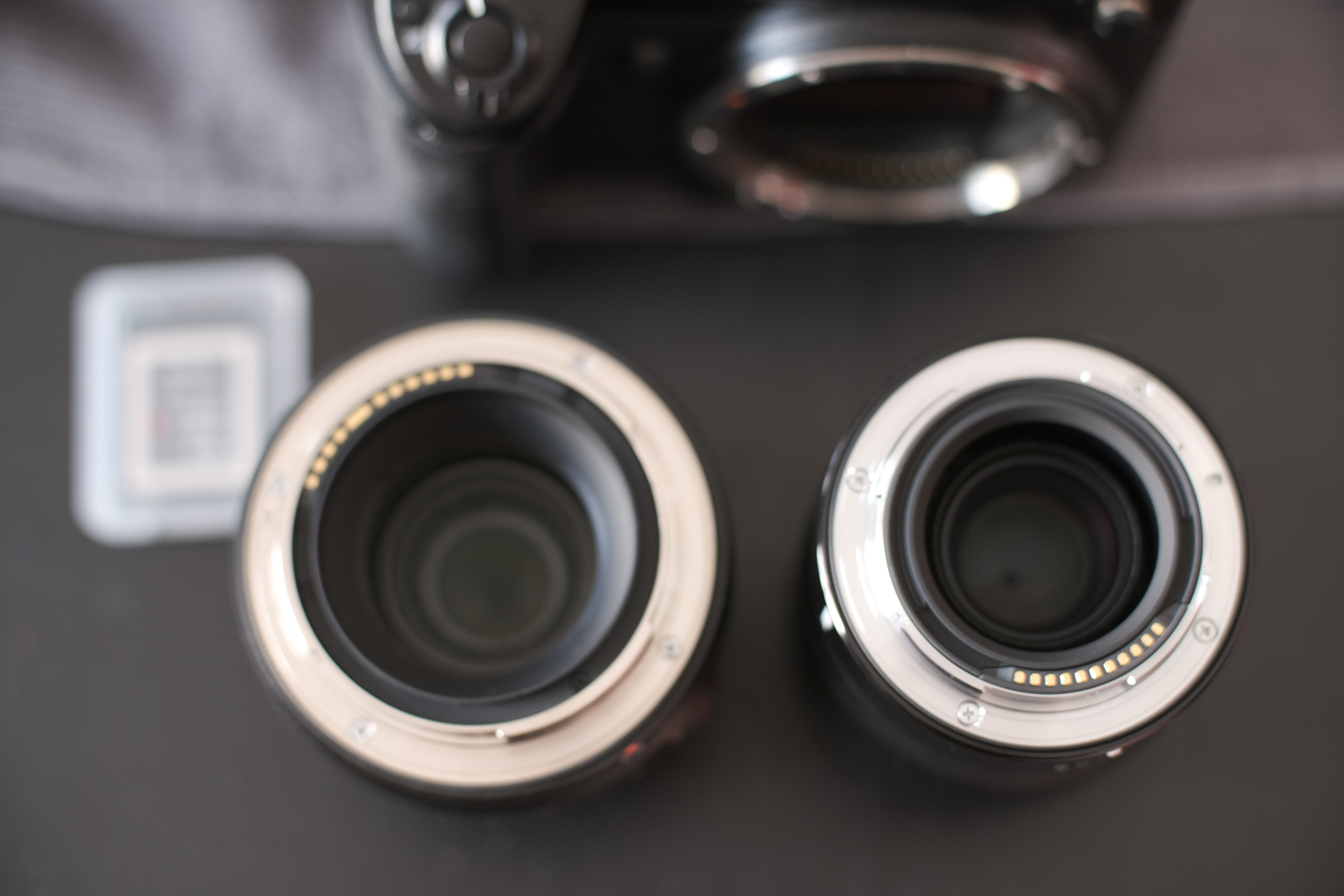 Above: Left – Fuji GFX 63mm lens. Right – Nikon Z 35mm F1.8
As for F0.95, you can use the Leica Noctilux 50mm F0.95 on the Sony E-mount full frame cameras and the Leica M has a much smaller mount diameter as well. What Nikon could be trying to do is avoid what happens on some of the lenses with very large rear elements – where reflections or things interfere with the edge of the glass causing strange bokeh. This appears to be an issue on some of the old Minolta 58mm F1.2 lenses and the Canon EF 85mm F1.2L where the electronic contacts are actually glued on OVER the rear element!!
Nikon better on very large and bright rear elements is a smart move to combat Super Full Frame size sensors if they become very popular in future, like I can see happening with the Fuji GFX system.
Coming next
Next on EOSHD I'm going to check out the image quality in 4K. I expect it to be similar to the D850 which is VERY cinematic especially in the Flat profile which really brings out superb dynamic range and colours. The higher-bitrate codec is very fat. I preferred the D850's video quality to the A7R III and A7 III.
The Nikon files also tend to be smoother to edit, compared to 10bit H.265 which can be much harder. Also crucially this could have an AF system that beats the Panasonic GH5 and upcoming S1, so there's an element of future proofing as well.
The Fujifilm X-T3 wins the $1500 market in my opinion. The Nikon Z7 beats Sony at the $3000+ end, but the eco-system around it isn't yet as established. There are some things Sony do better like allowing LOG internally even in 8bit, whereas Nikon have their excellent Flat profile for that, I'd rather have the choice of both internally. Fuji give us 10bit 4K/60p for half the price as well. I can see that being a much more popular camera and I am loving mine – but is it flat out better? It's not full frame. It does not have IBIS. So food for thought.
Stay tuned for a full review of both the Z7 and X-T3.