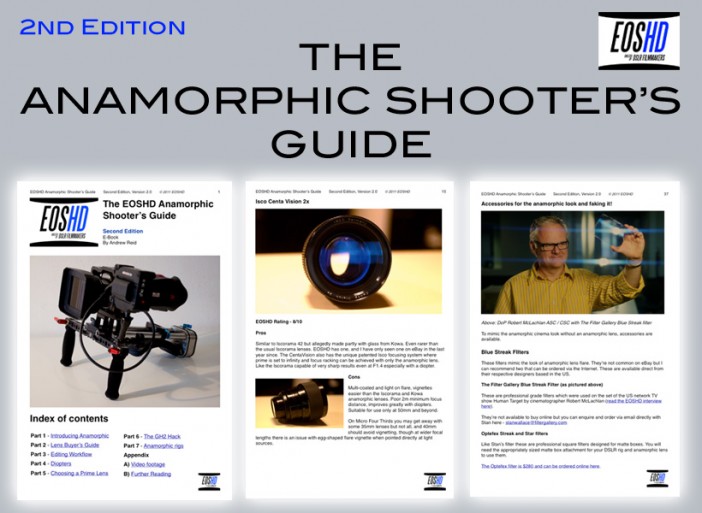 EOSHD.com presents a comprehensive cookbook for achieving a cinematic anamorphic look to your films.
With this guide you will enter the world of anamorphic lenses. Before beginning, ask yourself – do I want my footage to look like everybody else's? Would I feel satisfied if my footage was shot with lenses anyone could buy, from a normal online shop? If the answer is 'no' – choose anamorphic.
They are an epic factor in the cinematic look – as big as 24p and as much a Hollywood gold standard as 35mm film – in fact anamorphic lenses have been widely used throughout cinema's history on classics such as Alien, Blade Runner, Logan's Run, Bond and Apocalypse Now to produce the look and feel of bonafide cinema and they are still widely used today by directors like Christopher Nolan (The Dark Knight, Inception), Paul T. Anderson (There Will Be Blood), Wes Craven and others.
Remember…
16:9 is for widescreen TV
2.66:1 is for CINEMA!

100% exclusive content never published before
After this you can be done with searching forums and eBay, because you will already know the score. Over 3 years of my knowledge on anamorphic lenses, editing and shooting has been poured into this book.
Become an expert anamorphic cinematographer
All the info in one handy guide
Enable the shooting of 4K anamorphic DSLR footage, 3840x1080p
Comprehensive anamorphic lens buyer's guide based on real hands-on experience and testing
Expertly illustrated and photographed throughout
Secrets, tips and exclusive new discoveries only in the book
A guide to getting started, as well as more advanced anamorphic subjects
…and that's the tip of the iceberg!
If you're thinking of buying an anamorphic lens this could save you a lot of money – the buyer's guide chapter covers every anamorphic lens worth touching and the book is orientated around all the main video DSLRs…
Panasonic GH2, G3 (Micro Four Thirds)
Canon 5D Mark II (Full frame)
Canon 7D, 550D, 60D, 600D (APS-C)
Sony NEX 5N, 7 (APS-C)
Nikon D5100, D7000 (APS-C)
The information is just as applicable to pro video cameras like the Sony FS100 and Panasonic AF100.
Chapters
Part 1: Introducing Anamorphic
Explains all the fundamentals of anamorphic shooting, recommended clamps, mounting the lenses.
Part 2: Anamorphic lens buyer's guide
Detailed reviews of almost every available anamorphic lens. What to look for on eBay, and what to avoid.
Part 3: Editing Workflow
How to best edit anamorphic footage
Part 4: Diopters
How to improve image quality and close focus of all anamorphic lenses.
Part 5: Choosing a prime lens
Determine what focal length your anamorphic lens can be used at and match it to the perfect prime for optimal image quality.
Part 6: The GH2 hack and anamorphic
Easy installation instructions and optimising the GH2 hack for anamorphic lenses
Part 7: Anamorphic rigs and accessories
Recommended rig configurations, and faking the anamorphic look without a lens!
The book is 41 pages long.
TIP: Anamorphic lens buying on eBay is addictive. EOSHD will not be held liable for any loss of sleep and any loss of sanity!!