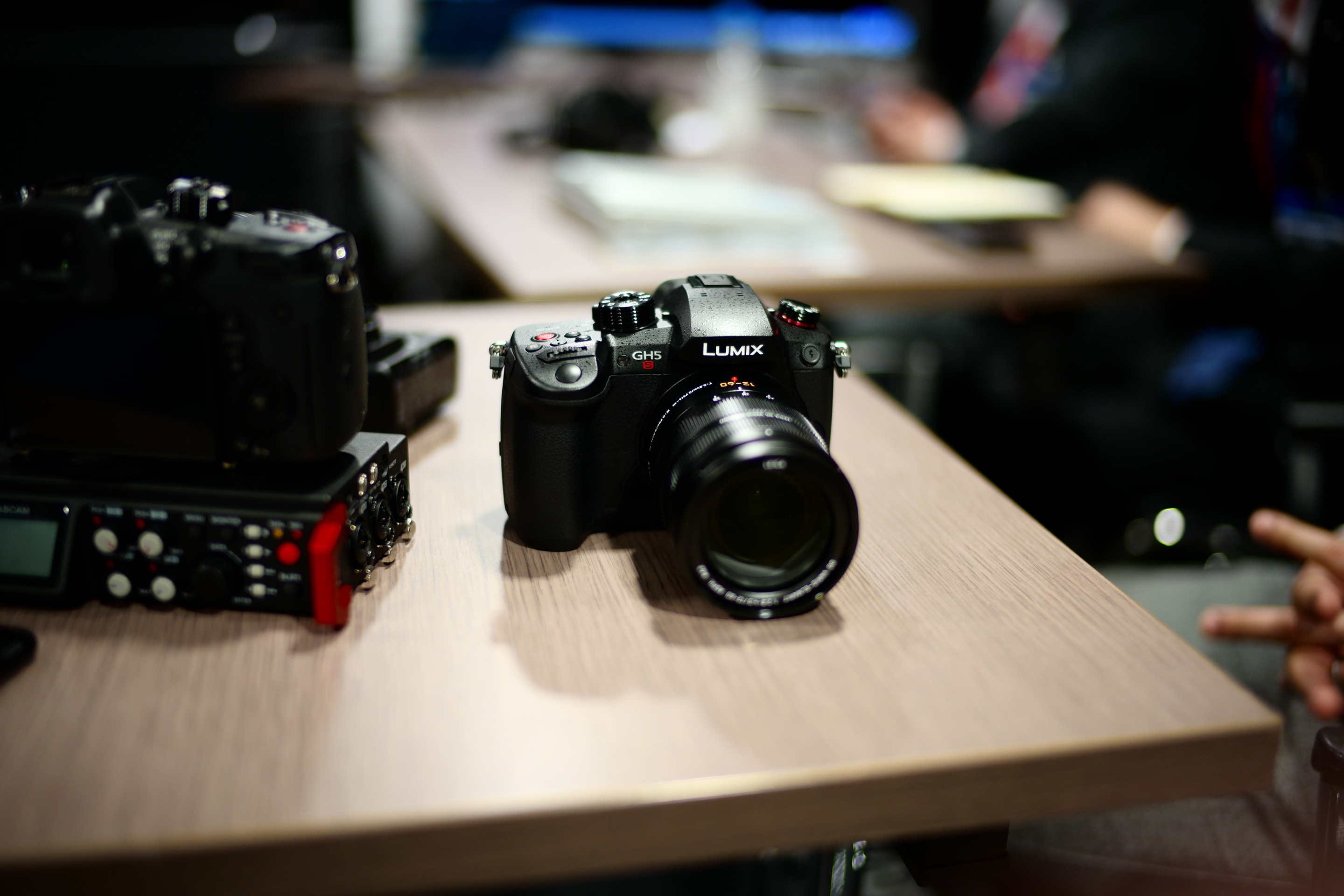 Just last month I went to visit Panasonic UK for a hands-on with the new Panasonic GH5S. My full review is in the pipeline but first an introduction to the new camera on the block…
The GH5S has a newly developed 10.2MP sensor for enhanced low light performance with Dual Native ISO technology, as well as 240fps 1080p S&Q.
For the first time since the GH2 this sensor is an over-sized 1.86x crop multi-aspect sensor. Possible for the first time is 60p at Cinema 4K resolution (4096 x 2160), whereas the GH5 is just Ultra HD 60p. The field-of-view will be slightly wider in Cinema 4K on the GH5S compared to the GH5 due to the larger sensor. The new CMOS also brings colour improvements with a new 14bit readout and less noise.
The GH5S is designed with pros and professional production in mind, so it has a timecode IN/OUT sync port – great for use with other cameras on a multi-camera shoot.
Low light performance and better colour is a big focus of the GH5S.
It has a maximum ISO of 51,200 and Panasonic showed a demonstration of this at the meeting – it's a very good camera in low light with realistic warm tones under artificial light. It outperformed the full frame Sony A7R II easily in the split-screen at the same ISOs.
The new sensor is 14bit. Colour science has improved. Video is still a maximum of 10bit, but that's plenty and you still benefit from the new 14bit sensor. There's no raw video mode though, but now V-LOG is there out of the box – no need to buy it separately.
There's 14bit RAW stills and very fast burst rates up to 11fps in 14bit. The codec, the EVF are the same as the GH5 but I heard audio circuitry and processing might be improved with less noise. Will need to check that in my full review.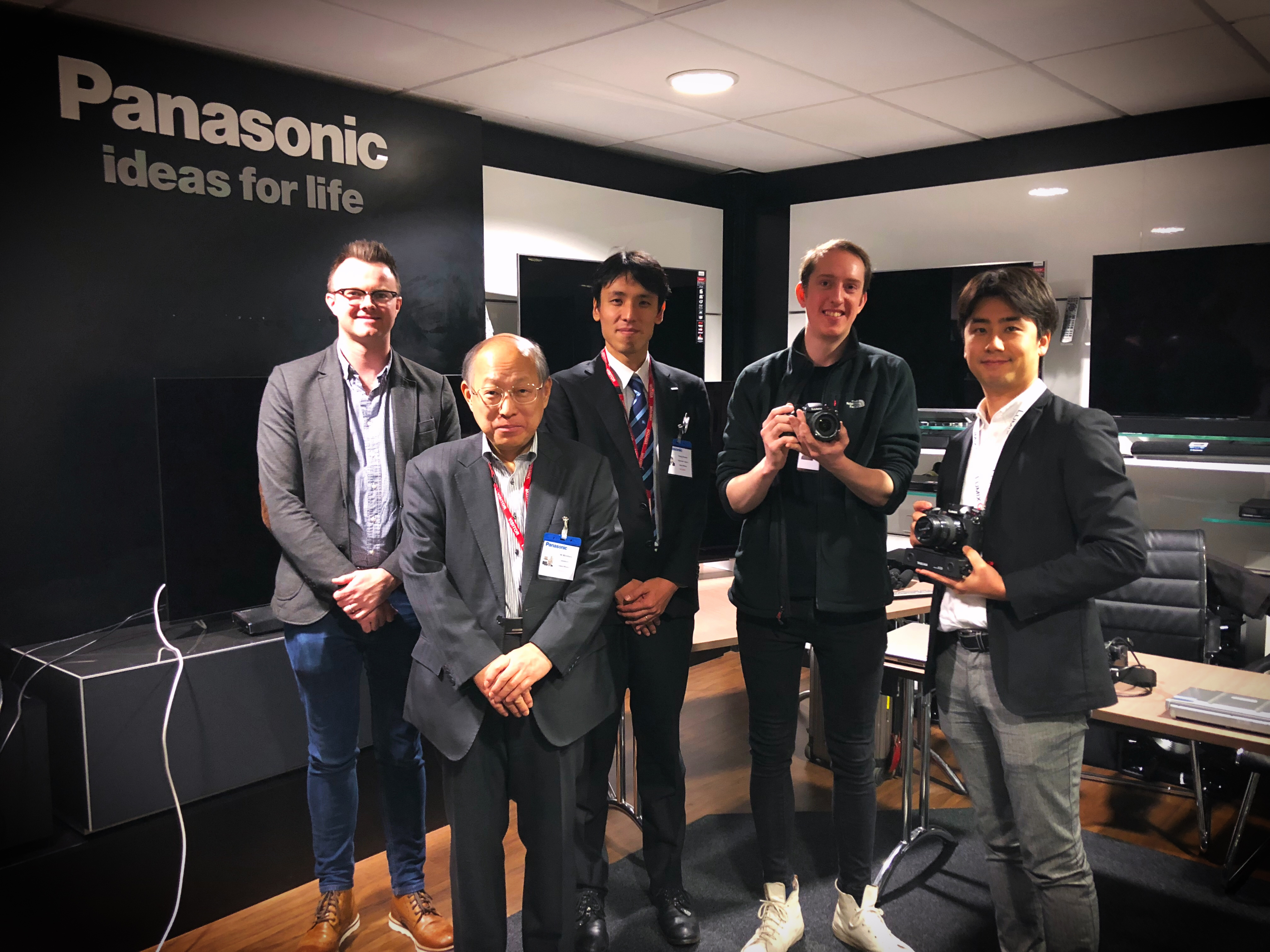 Unfortunately it DOES NOT feature 5 axis in-body stabilisation – something I think might be a bit controversial. The larger sensor did not leave much room to manoeuvre inside the mount. At the meeting with Panasonic, Richard Payne of the big UK distributor Holdan made an interesting point – the GH4 and GH5 were being used regularly on a big budget TV shows like The Grand Tour (Amazon Prime) rigged inside supercars and racing cars and here the vibration was playing havoc with the sprung IBIS sensor in the GH5. TV DoPs can now sign a breathe of relief as the sensor in the GH5S stays-put and you can still rely on optical stabilisation from the lens. Still, I'd rather they found a way to keep 5 axis IBIS as it is incredibly useful for handheld shooting. As such it gives existing GH5 users a bit of a dilemma if you can only afford one camera – do you trade IBIS for better image quality and low light performance? Or keep the GH5, which of course is better for stills as well as bare-bones handheld shooting?
There's not the larger EVF from the G9 either, nor is there dual pixel autofocus (which was rumoured). But as the sensor has such a fast readout speed and better sensitivity in dim light vs the GH5 this should in theory bring some video AF gains over the previous camera… Again though, that remains to be seen in my review.
The GH5S is not a replacement for the GH5… Rather a choice that might be better suited for certain shooters and situations… Where low light shooting in particularly is a priority, or 4K 60p at 4096 x 2160 – the Cinema standard of 4K which is increasingly being used by broadcasters and production studios.
I interviewed the Panasonic team in the UK when I went to learn about the camera and offered feedback to the Japanese side who were present. Barnaby Sykes of Panasonic UK along with Richard Payne from Holdan answered most of the questions, the answers I paraphrase below…
EOSHD: Is it targeted at pro users more than enthusiast? Or a balance?
Panasonic: More pro user than maybe before, but what we got from research from the GH5 was the audience is much younger than anticipated. What we found were a lot of YouTube and bloggers buying it (the GH5).
How much faster is the autofocus on the GH5S?
Richard: The video focus seems more accurate. It tracks better.
And the viewfinder – is that the same as the G9?
Panasonic: No, that's the same as the GH5 and the G9 has a bigger viewfinder and faster refresh rate (120hz vs 60hz)
Continuous running (recording) time is unlimited?
Yes, and slightly better running time than the GH5 (on one battery).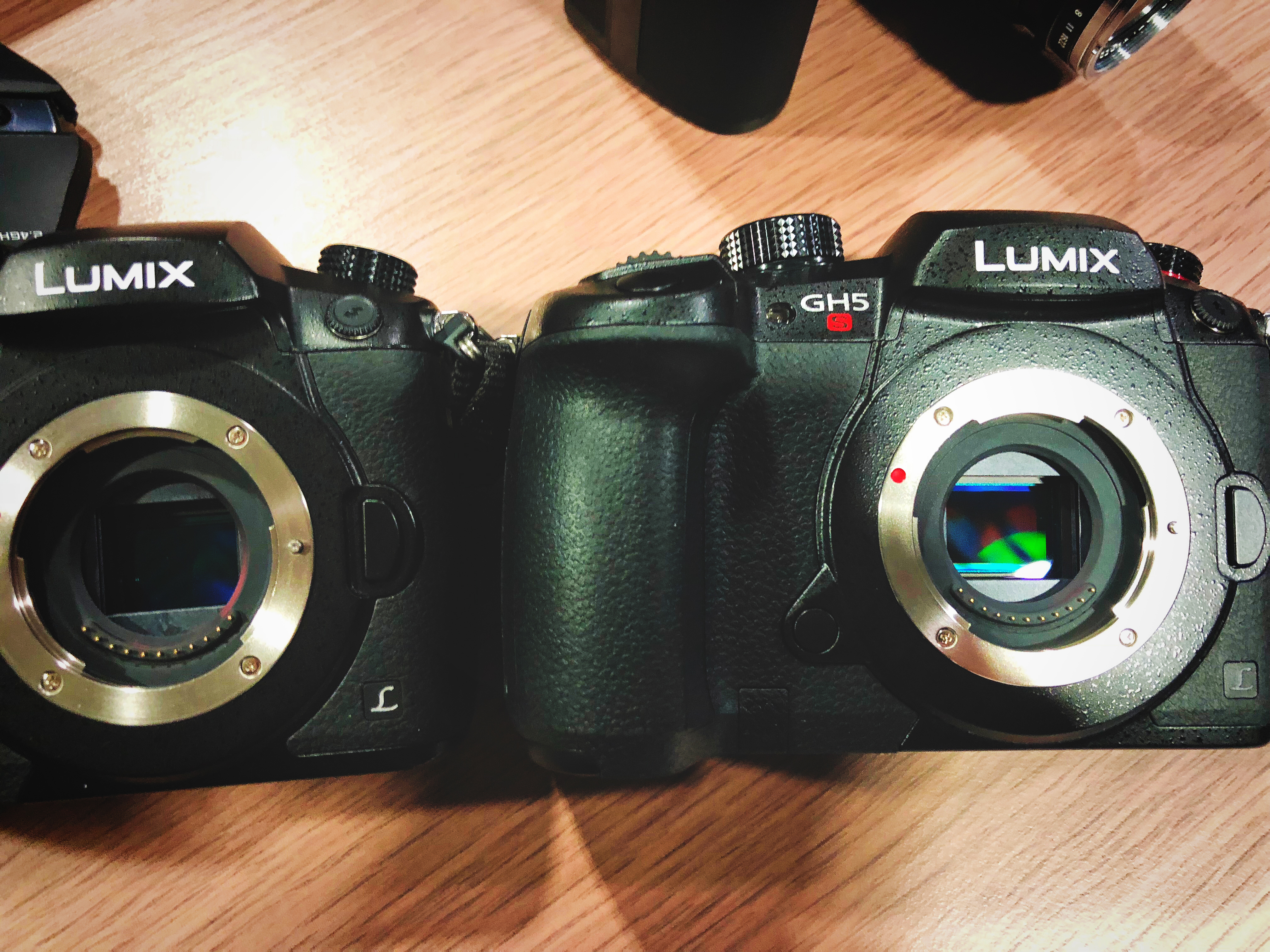 Just a bit of minor feedback for the ergonomics... the touch-screen menu icons are a bit too small…
One of the interesting pieces of feedback we got from YouTube shooters, is they don't like the touch-screen icons (as it covers the side of the frame on the display). But you can actually turn that off.
It would be nice, rather than these small buttons, to have gestures instead… as with such small buttons, especially when you are moving with the camera it is hard to be accurate with such precise finger presses. With a gesture it would just be a matter of swiping up or down to bring a larger menu up, then dismissing it with another gesture. And a left-swipe could bring up a completely different menu.
Richard: yes, like the Blackmagic Video Assist menu system is 'take it on, take it off' with a swipe on the screen
[Panasonic Japan take notes and talk in Japanese]
With "My menu" (custom favourites menu) you have to press a physical button to get to it. It would be better to bring that up with a double-tap. And the gestures would be very simple, nothing too complicated.
*****
Any audio improvements?
Richard: Something I noticed was the microphone was much better than I expected on a small camera… Seemed to be very clear for a built in mic. Better noise reduction and less tinny.
One of the (few) things I liked about the Canon XC10 is that it had audio scene modes. When you wanted to capture the ambience of the scene, you'd select Ambient. When you wanted to tune the audio for Dialogue, select that instead. Very simple. So some audio presets would be helpful, like picture profiles but for audio. Maybe Dolby Atomos could be one?
Panasonic: (discussion in Japanese)
Something I'd like to see in the future is a bigger screen as well… Because if you build in more touch-screen capabilities, you need a larger screen (to make it ergonomic). Also on the Leica SL – this is very cleverly engineered, if you look at the battery compartment there's no door. No hinge. So instead there's a spring but you can't remove the battery by accident so you have to press it to pop it out, but tap it again to pull it out.
Panasonic: the issue might be sealing (weather), so with the lock on our door you have a seal.
A lot of the Leica design is built into the SL's battery, which of course makes the battery more expensive… but I like it. And I think it is weather sealed!
Richard: should be at that price!!
[Laughter]
I guess the only way to do a bigger touch screen is to remove the built-in viewfinder and sell it as an attachment. The thing is if you had the aspect ratio wide enough for video, then the presentation of the menus would change…
Richard: and the extra weight would mean you'd need more stability with the hinge (when it is pulled out).
That's true.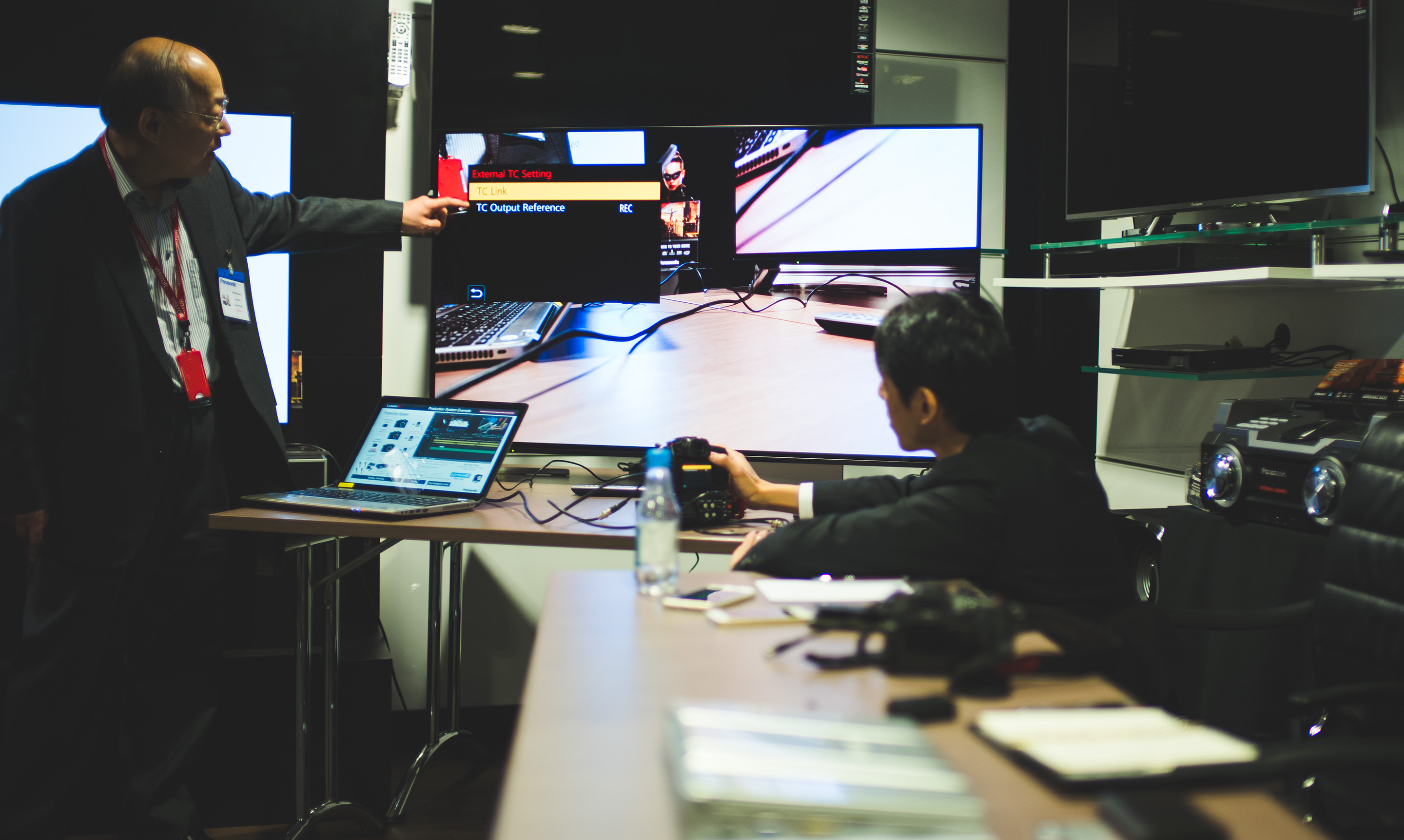 The 10bit 4K – is that 60p or a maximum of 30?
Panasonic: 4K 60p is still 8bit internal, but external is 10bit. The 240fps is a crop of the sensor, in 1080p.
*****
And so this session continued, which shows Panasonic do listen and accommodate a lot of different ideas. There's a balance to be struck between so many different demands from different types of customer, especially with the GH5S.
On the one hand you have the younger generation and enthusiasts wanting to move away from some of the physical dials and buttons, with a larger touch screen instead. The balance has to be struck between tactile handling – so that it feels like a camera and you get tactile feedback from a control when you use it – and de-cluttering this physical control scheme by moving some of it to the main menus and LCD – and this is where I feel Panasonic can do a lot of development, to have better touch-screen menus and make use of gestures. Take a few of the physical controls off so the body is less cluttered like the Leica SL. Make the regularly used controls larger and more comfortable, and expand screen real-estate.
The GH5S maintains almost exactly the same body as the GH5. Part of me wishes both cameras were more like the G9 – the ergonomics on that are seriously a step forward, and not just for stills.
240fps slow-mo and Dual Native ISO
The new sensor has some clever tricks up its sleeve. As well as the move up to 14bit colour capture (before it is crunched down to 10bit or 8bit video), the new chip has dual-gain analogue channels, and each can have a different native ISO. I will be doing a follow-up article on this subject… suffice to say, the Arri Alexa cheats! But the GH5S and EVA1 are the real deal. What material advantage this has to image quality – in terms of dynamic range and low-noise, should be abundantly evident with the GH5S – and I am very much looking forward to shooting with it.
There is 240fps in 1080p, for the first time ever on a mirrorless camera. Last year, the GH5 went up to 180fps. Now the GH5S goes one better with a maximum of 240fps available in the Variable Frame Rate menu. However, this does apparently crop the sensor. By how much, I am yet to see, but it's great to have this option in full HD, with such a great codec at this price level.
Panasonic GH5S specification summary and availability
10.2MP multi-aspect ratio sensor, with Dual Native ISO
Improved low light performance
Improved AF in low-light conditions
V-LOG pre-installed
No recording time limit
400mbit/s ALL-I 10bit 4:2:2 4K codec
Other codec options as GH5
Hybrid LOG Gamma for 4K HDR displays, and view assist
Weather and dust proof
Dual SD card slot – BOTH are UHS-II top-speed
The Panasonic LUMIX GH5S will be available from the end of January 2018 and will retail for £2199 / €2545 / $2499 (body only).