Oh look! It's time for Canon to roll out their old chips again! The EOS RP has an identical sensor to the 6D Mark II, with a micro-lens array design more suited to mirrorless lenses. Canon openly admit in interviews that the RP cannot even do cropped 4K/30p without overheating. Even the modest bump in frame rate would have necessitated "a larger body design", they say. Not sure I believe them, but clearly the technology is behind the curve.
Most disappointingly of all, it turns out that the EOS RP lacks Dual Pixel AF in 4K video mode, like the M50, which means it's a "no-buy" from me and better to stick with the EOS R until the pro body is released, which perhaps, is the intention.
Fuji on the other hand – an even smaller, lighter (380g) and cheaper camera has a full-width 6K sensor readout without overheating and most of the 4K video features of the superb X-T3 for under $900, with F-LOG, 120fps 1080p and bonus 10bit 4:2:2 external output.
There is a GULF between Canon and Fuji in their video technology.
Aside from jettisoning Dual Pixel AF in 4K, the Canon EOS RP only shoots 4K in full manual or full auto – there's no ability to select aperture priority (Av) or shutter priority (Tv) mode in 4K. For the target audience, Aperture Priority mode would have been very user-friendly as would DPAF, so this is baffling. Then again, with feedback like that from Dave Etchells of Imaging Resource no wonder Canon are confused about what their users want!
"Right. Right. And for more of an entry-level audience, Av and Tv might just be confusing [for movie capture]." – Dave Etchells, Imaging Resource interview with Canon
Right. Right. No, no, I don't think so. I fail to see what is confusing about an auto mode where you have control over DOF and everything else is taken care of by the camera. There are $100 point & shoot cameras with an Aperture priority mode but apparently not for 4K users on a $1299 camera? Where's the logic in that?
Is this a ploy to sell us the ND filter adapter? It appears they want us to use full manual controls in 4K with an ND and 180 degree shutter speed – much easier than Aperture priority point & shoot, right, right?!
It also means that to use 4K you have to select the creative movie mode on the dial. Only 1080p is available in the usual stills modes so you cannot just reel off a 4K clip during a stills shoot. That for me, as a major ergonomic boo-boo. As a Canon customer, I often feel a bit like the doggy (also called Boo Boo) in one of their promo videos…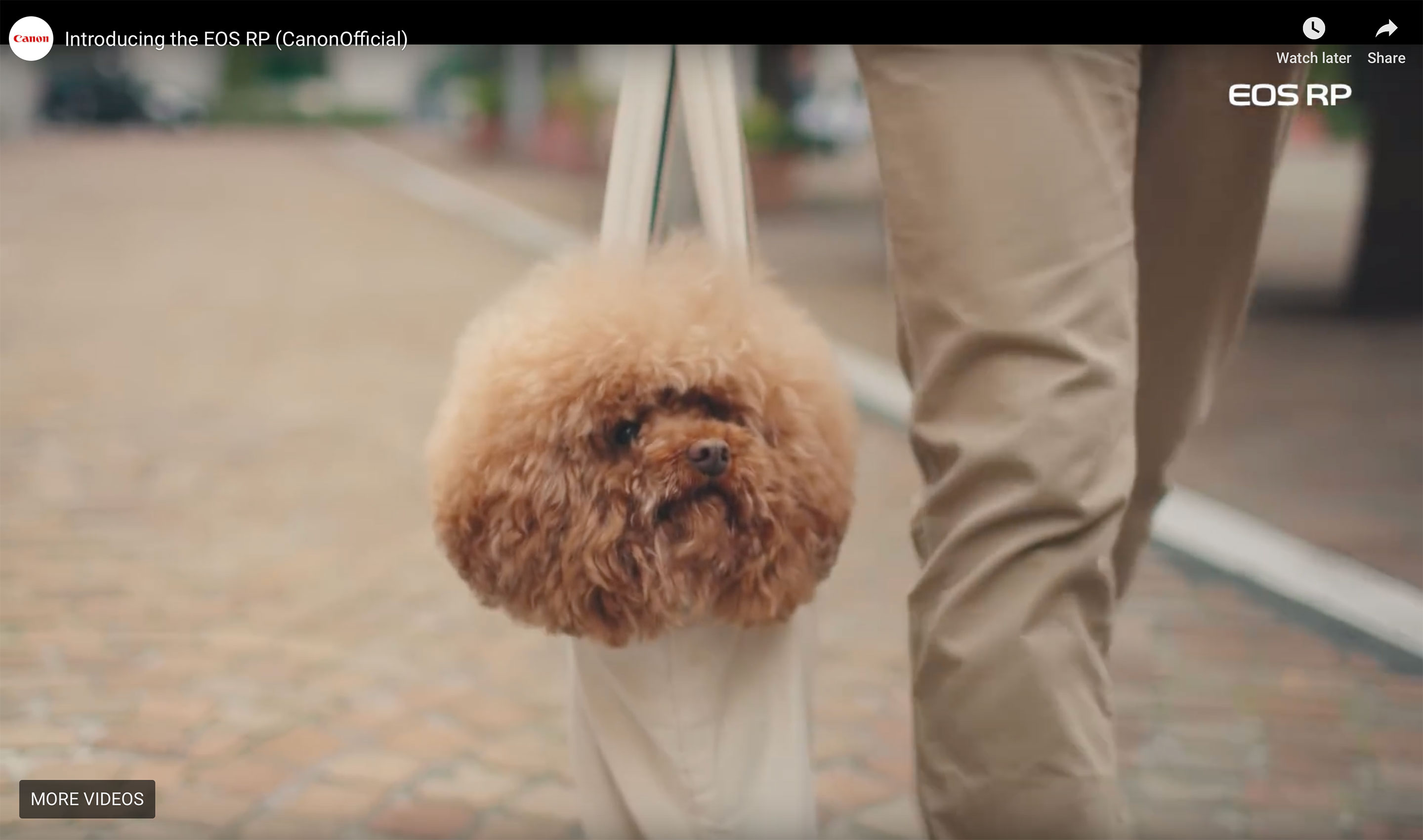 The EOS RP was looking like quite a nice deal until this news came out – with mostly minimalist, sensible ergonomics, lack of awful touch-bar, super small body and extremely competitive price, so that's a shame.
Fuji steps it up
If we compare the EOS RP price to the competition we get quite a few main rivals for video – The X-T3 is just $100 more, with Super 35mm 4K/60p, 10bit, 1080/120p and F-LOG. The new Fuji X-T30 we will talk about in a moment (it's $899). The Sony A6500 has built in IBIS, small form factor and both the X-T3 and A6500 have better 4K autofocus than the Canon due to the RP using contract detect in 4K mode rather than DPAF. I suppose we can also mention the Sony A6400 and our favourite demonic toaster the A6300, great specs but I find these cameras rather uninspired on the actual shooting side of things. The A6300 like I say makes great toast, just make sure you slice the bread to SD card proportions otherwise the slot jams. Alternatively, you can always fry some eggs on the back after 20 minutes of 4K shooting.
Indeed a word on that EOS RP price – are Canon desperate? Full frame is supposed to be a premium market space. Maybe they saw the hoards of old Sony A7 II bodies in the bargain bins of big-box retailers and thought – 'Well, the bottom has dropped out of our premium market, better join 'em!?' The Canon 6D Mark II was released at $1999 so it's big drop for the new mirrorless equivalent – and maybe Canon admitting the 6D Mark II didn't sell as well as hoped.
At $1299 Canon seems to be banking on making the big-profit on optics. The problem is the mirrorless lens line-up is almost 95% pro and priced accordingly! How many people in the market for a low-end $1299 camera will buy even just one R lens at $2k+? When you put the EF adapter on there and a chunky DSLR lens you immediately lose that size benefit of the small lightweight 480g body. One of the kit bundles even includes an EF zoom so apparently this is Canon openly admitting they don't have an affordable mirrorless zoom yet.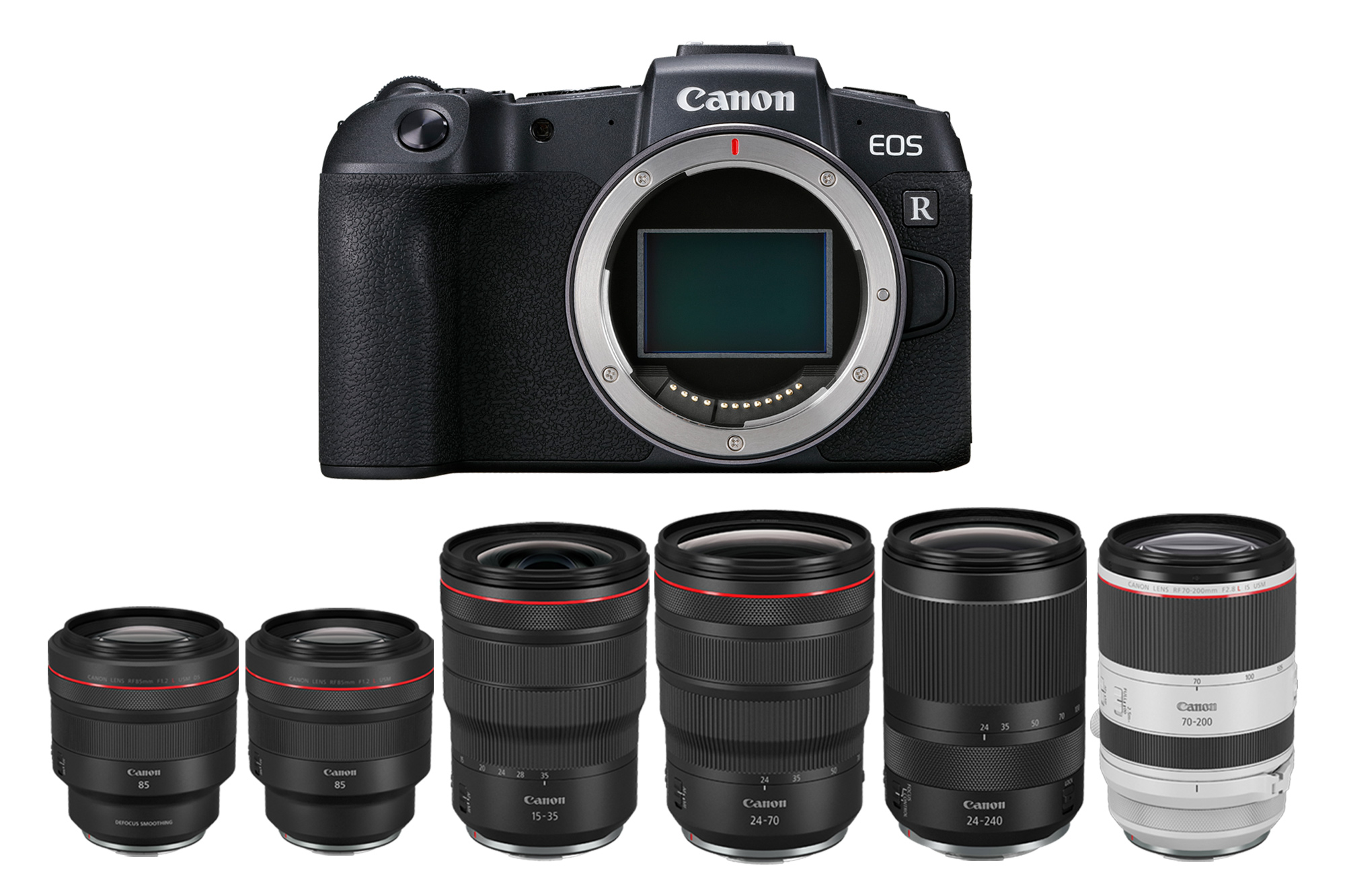 I am not for one second denying that what you see above is anything other than a SUPERB cutting edge range of lenses. I have no idea how they managed to make the 70-200mm so short and the choice of 85mm F1.2 lenses, one with Defocus Softening will brighten many a pro portrait photographer's day.
But they are EXPENSIVE AS HELL.
Fuji X-T30 users will get to choose from a selection of small and reasonably priced native mirrorless lenses, in particularly the very compact (and high performing) 18-55mm F2.8-F4 OIS zoom and tiny 23mm F2 WR prime, both for less than $500 extra. The AF will be far superior for 4K as well.
Digging a little deeper into the specs, on the Fuji X-T30 we have 4K at 200Mbit/s, 1080p/120fps and F-LOG. On the EOS RP the 4K codec maxes out at 120Mbit, there is no 1080/120fps or even 720/120fps and no official Canon LOG (but you know what to do about that!). A clear win for the X-T30 although the camera doesn't include the full-fat 4K/60p or 10bit codec seen in the X-T3 – hardly surprising considering it costs $899 and the X-T3 $1399.
I think 4K/60p and internal 10bit will be worth the premium for those who need it, and at least Fuji is giving you the option!
For stills the EOS RP at $1299 is full frame whereas the X-T30 is of course APS-C but as far as video is concerned the X-T30 is a 1.5x crop and RP is 1.6x crop. As the X-T30 uses the same 26MP sensor as the X-T3 it's expected to have very little rolling shutter distortion whereas the RP is expected to have severe rolling shutter due to the slow sensor readout.
Although the EOS RP uses a USB C jack it is capped at USB 2.0 speed, whereas the USB C jack on the X-T30 is high-speed 3.1 spec. I didn't even know it was possible to have a crippled USB port.
What is a business decision and what is yesterday's technology?
Canon say the Aperture priority and Shutter priority modes are disabled in 4K for business reasons.
"That was partly the result of the business decision considering the target audience of this camera. You can either go full manual or full auto…"
Baffling.
Some other limitations are a technological problem. The old 6D Mark II sensor is based on a very old factory manufacturing process. It's no more advanced than the sensor Canon had out in 2012. As we see from Magic Lantern the 5D Mark III's sensor can do a cropped 4K output as well. In any other technology driven industry, not speeding up your chips for 7 years would be a suicide mission.
Canon are caught in an ongoing process of shooting themselves in both feet. Their overzealous crippling of features for "business reasons", combined with the recycling of slow old semiconductor is penny-wise, pound-foolish and loses the good-will of the customer.
So on one-hand we have awful rolling shutter and a sensor that can't even stretch past 25fps in 4K, due to old technology and conservative clocking to avoid heat issues, and on the other-hand we have the bean-counters fussing over which tiny features to exclude from every single model, in order to constantly up-sell to the next. I still haven't quite worked out how their most expensive stills camera, the 1D X Mark II, can pack 4K/60p but no Canon LOG! Even if you pay $6000 for that, it seems Canon is still trying to shift you a Cinema EOS model. The EOS R on the other hand does have Canon LOG and a 4K H.264 codec, so I am confused as to the big picture and what exactly it is Canon are trying to achieve.
On the stills and lens side, things are more enjoyable but they continue to pay lip-service to video enthusiasts on just about every release!
Fuji on the other hand are blazing a trail, and are an example for all others to follow – Sony on ergonomics and colour – and Canon on the video specs.