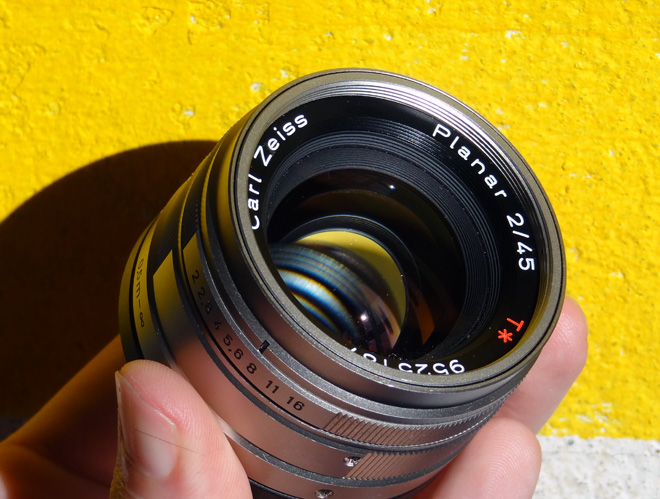 The NEX 5N's APS-C sensor behind a mirrorless mount opens up some new possibilities when it comes to adapting lenses for video.
In part 1 I will cover recommended adapters and small walk-around street photography lenses which don't compromise the compact size of the NEX 5N as a b-roll cam and digital rangefinder. There's only one Sony pancake at the moment and it's not very good so these are the answer.
In part 2 I will cover the larger standard SLR primes.
Adapters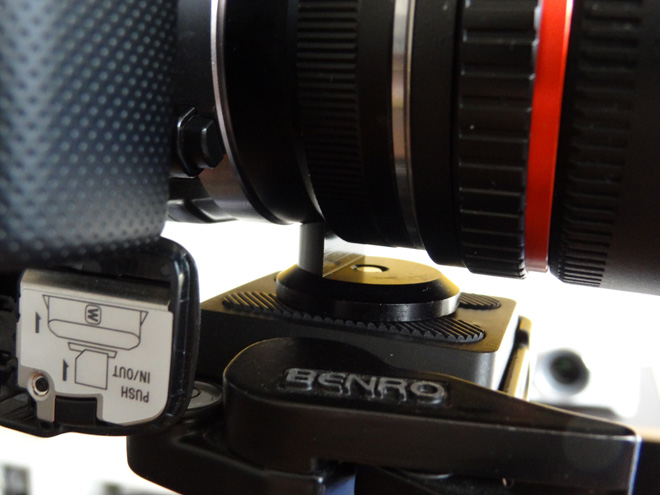 There really is a method to the madness here, a strategy.
If you are adapting a big and heavy lens to the NEX 5N it is totally necessary to have a tripod mount on the adapter. Most lenses are much heavier than the tiny 5N so weight distribution is much further toward the adapter and the lens. An adapter mounting point is not just for extra stability but to protect the 5N's mount.
Having the tripod mount on the adapter also means you can open the battery door without taking it off the tripod or quick release plate of your rig and change the SD card or battery easily.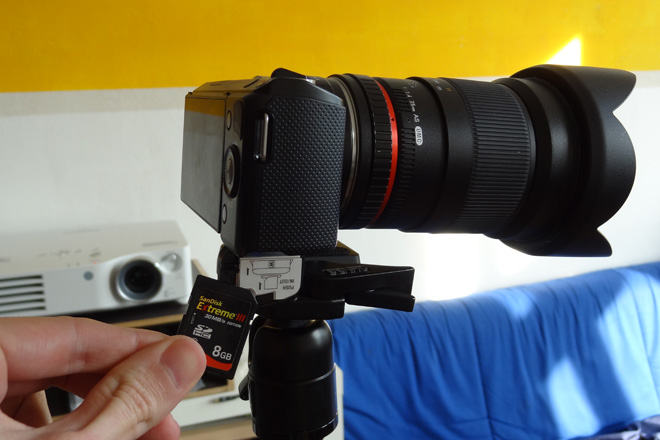 Since the camera is mounted via the adapter it is therefore better to keep the adapter on the camera when swapping lenses. Therefore rather than buy several adapters I have chosen to keep the Canon adapter on the 5N at all times and adapt my Contax Zeiss and Nikon glass to Canon mount. This is easily done since the adapters to EOS for those lenses are very thin and cheap, ditto for M42 glass. They're just thin brass rings to convert the bayonet of the lens to Canon.
Unfortunately Canon FD lenses do not go on a Canon EF adapter so when I use an FD lens I have to change the adapter, taking it off the tripod and that is more time consuming. So here is the strategy I suggest:
Pixco NEX-Canon EF adapter with tripod mount (I bought mine from here)
Contax Yashica to Canon EF adapter for my CY lenses
Nikon to Canon EF adapter for my Nikon lenses
M42 to Canon EF adapter for my M42 lenses
Of course if you have a lot of FDs instead of the lenses listed above it's best to buy the NEX-FD adapter with tripod mount instead of the Canon EF one!
The tripod mount can unscrew from the adapter if you don't need it for handheld work.
Adapters for the compact rangefinder lenses listed below are a crucial part of recommending a lens that maintains the compact size of the NEX 5N. Rangefinder lens adapters are MUCH thinner than Canon adapters.
I'll give a link to eBay for the correct adapter for the lenses recommended below.
Walk-around lenses
Lenses that cannot fit on a Canon 600D like rangefinder optics are usable on the NEX 5N. Although lenses that only cover the Micro Four Thirds sensor size like the Nokton 25mm F0.95 are counted out since they vignette on the NEX 5N. That goes for most c-mount lenses wider than 75mm too. There are no decent fast pancakes yet from Sony but these lenses are compact even with an adapter, since they're rangefinder lenses. The adapters add only between 0.5cm and 1.5cm.
Olympus PEN F 38mm F1.8 (original)
Buy it now
(US)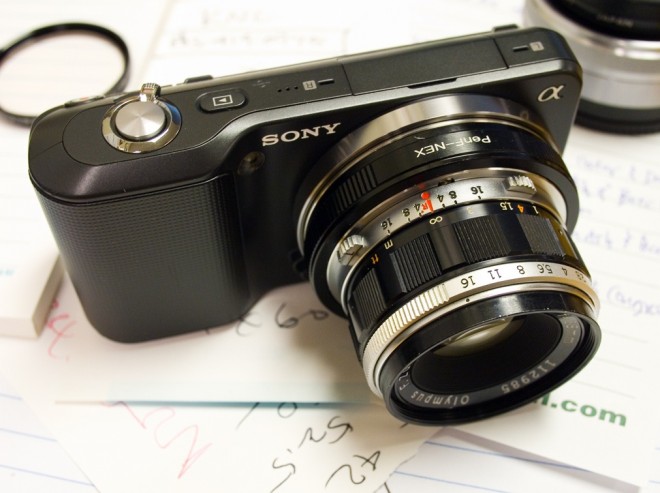 Ordered mine, arrives soon. This is the original portrait prime for the original PEN F, not the modern digital Micro Four Thirds version. DSLR shooter Ben Bunch has used this to great effect:
"Great little lens designed for the Olympus PEN F system, basically the film precursor to M4/3rds, a half-frame 35mm format. That lens is one of the most common available for the PEN F but I love it! I got the PEN F to shoot photos with and got the adaptor to M4/3rds as an after-thought but that lens has become my go-to for closeups of people…I hardly use my 50mm f/1.4 anymore!"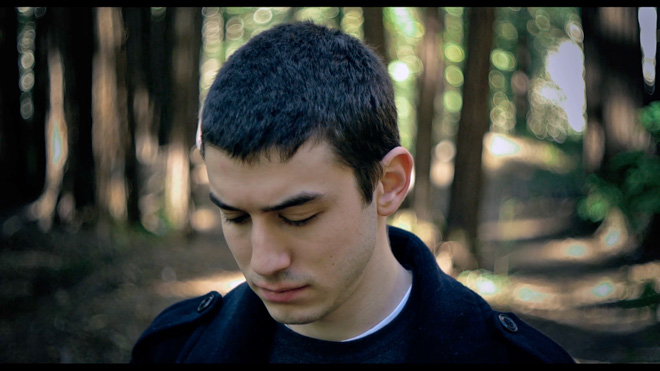 It can be used on the larger NEX APS-C sensor, no vignetting. It's a characterful lens and I prefer it for that – it has a unique look and isn't as clinical as most modern glass. Not everybody will appreciate the tunnelling effect of radial bokeh but many more do.
Recommended adapter on eBay – Olympus F to NEX
Contax Zeiss G 45mm F2
Buy it now (US)
Buy it now
(eBay Germany / Europe)
Unbelievable optics, this is probably one of the sharpest lenses in the world wide open. It is Leica standard and upon release in the 90's was designed to compete directly with Leica M lenses but on a Contax G body, a similar rich man's camera. It has that typical high contrast Zeiss look and is amazingly flare resistant thanks to T* coating. The compact size means it's a good walk-around / street photography lens on the small NEX.
This is an AF-only lens with electronic contacts. AF works through a screw drive system though, so the adapter gives you manual focus by connecting a focus ring on the adapter to this screw drive via some gearing. Unfortunately this required engineering skill that was seemingly beyond most cheap generic lens adapter manufacturers! I just cannot recommend 99% of Contax G adapters because the focus ring has play and is very thin and far back, resting right up against the front of the camera so it's hard to grip with the ends of your fingers let alone wrap your hand around. The Metabones NEX-G adapter is Japanese and has a much larger extended focus ring plus better quality gearing.
Recommended adapter Metabones Contax G to NEX on eBay, in the UK here
and worldwide here
.
Do not bother with the cheap ones!
Voigtlander Nokton 35mm F1.4
Buy it now
(US)
Buy it now
(eBay Germany)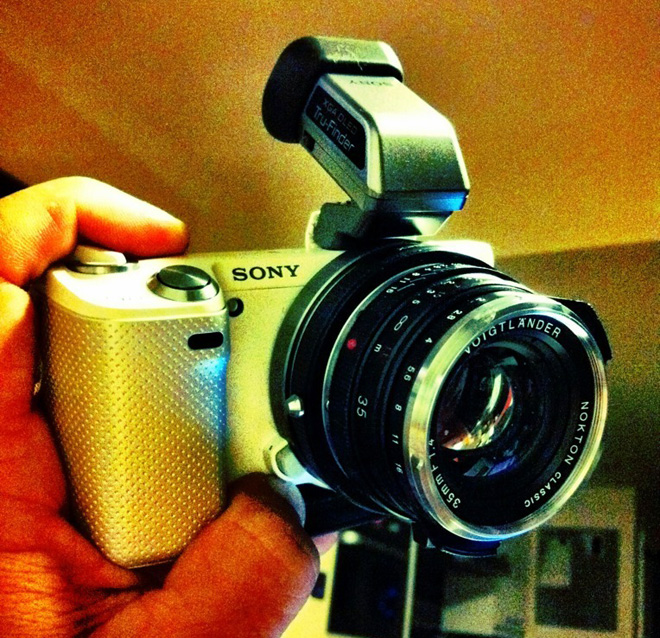 Above: Philip Bloom uses this lens on his Leica M9 and now on the NEX 5N with the OLED viewfinder
This is a Leica M mount lens so is high end. Yes it is a little bit more expensive than the alternatives, especially compared to the Olympus PEN F 38mm F1.8. However if you don't want the 'character' of the Olympus or the focussing ring quirks of the Zeiss G, this is a superb choice and actually is a 'budget' Leica M mount lens so not cripplingly expensive like most are. Optically this isn't quite in the league of the Contax Zeiss G and it flares more but it is still a high end lens.
In part 2 I will look at adaptable SLR lenses for the NEX 5N and other Sony e-mount cameras.