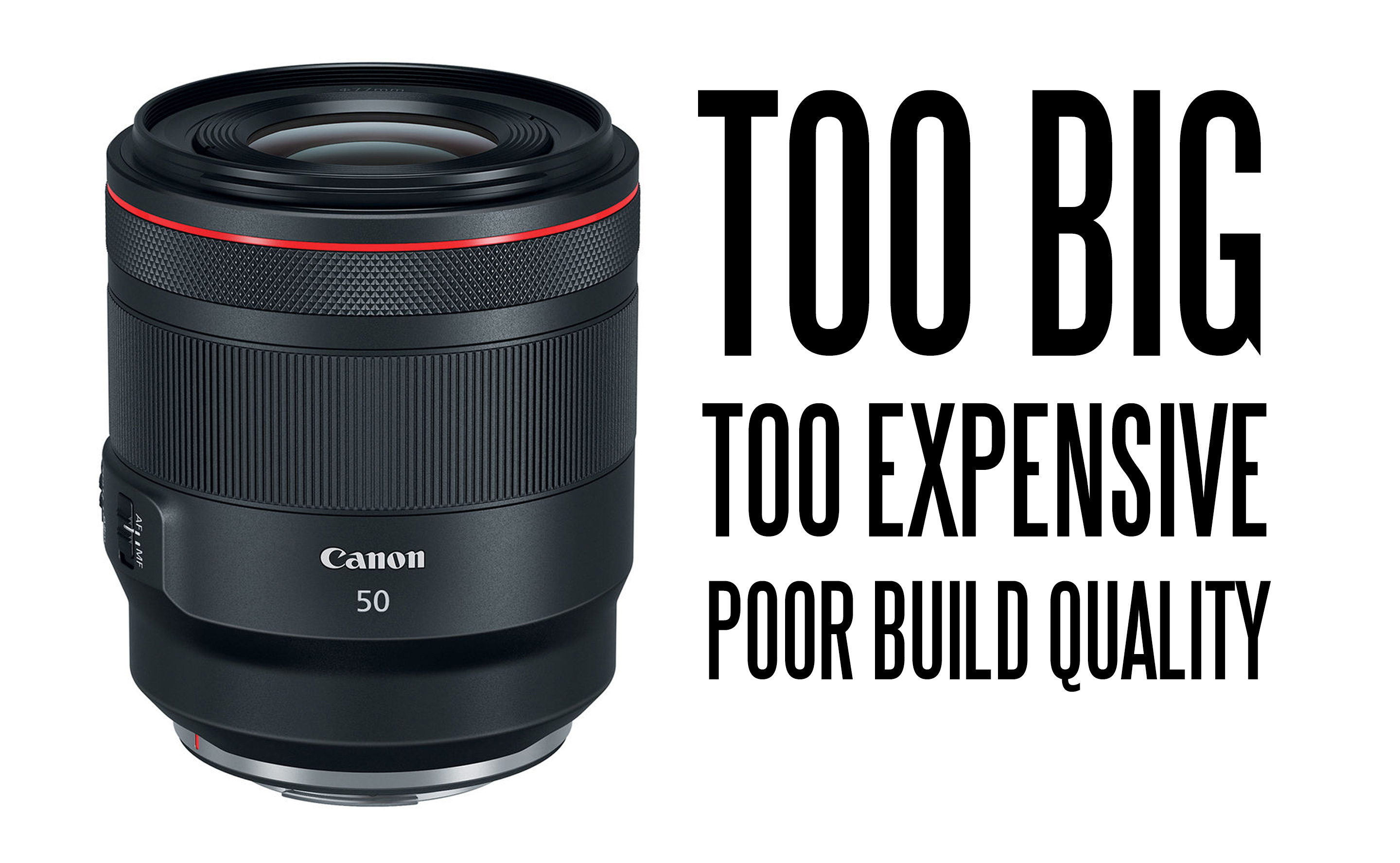 In the last post we saw how EF established Canon as camera market leader, keeping mediocre DSLRs afloat well into the final chapter of the previous decade. EF lenses were critical.
These lenses helped in the transition to Canon's own mirrorless cameras and with EF, users were locked into Canon's ecosystem, despite the growing threat of mirrorless in the second half of the 2010s. During that time EF even became the standard choice for video shooters across three completely different systems – Cinema EOS cameras, mirrorless cameras, and Blackmagic who continue to use the EF mount even in 2023.
However, in 2023 I sense trouble ahead for Canon. RF lenses, let's face it, just don't have the same appeal.
I'M SWITCHING. It's that well known social media phrase, when you want to grab attention.
Canon are very keen that you switch to an RF lens in particular. You see the intent in their crippling of IBIS performance with non-Canon lenses on their RF mount cameras, even the EOS R3! You hear it loud and clear in their handling of Sigma and other third party manufacturers. These respected partners, who for many years used EF mount are now denied access to RF lens protocols. (What a way to treat your third party manufacturers!)
Aside from the underhand tactics, there's another thing you might notice when you buy an RF lens. You may see a lot of muck on it and you may see that it's very difficult to get off. A small detail perhaps but I never known such a bad finish on any camera product in my life. The barrel of an RF lens looks awful in any environment other than in a lab, handled by a lab scientist with white gloves.
The other problem with RF lenses is that you may see the rather large dent in your bank account for any of the decent ones with an aperture faster than F4, combined with modern internal AF elements. Canon has only 7 RF lenses there are that are faster than F4 and under $2000, but none of them can focus properly. At $2000 & over, Canon has released double this number – 14 optics. Starting with the 24-70mm F2.8, all the nice stuff is over $2000. The fast primes under $2000 are all in fact under $500, so basically cheap tat, outwitted by 7Artisans.
What is the minimum price for entry to RF lenses for an enthusiast? I put it at $4500 for just two lenses – a zoom and a fast prime. How many EF lenses could you get for $4500 on eBay? For pros the cost of entry is between $11,000 to $20,000 for 5 or 6.
Then there's the sheer size of them. The 50mm F1.2L for example tips the scales at a full 1kg, which is almost as heavy as one of the largest DSLR bodies (1D X Mark III) and 64% more than the 580g EF lens it replaces, which was already a tubby boi compared to the FD 50mm F1.2L. So much for the mirrorless camera advantage of smaller bodies and lenses.
For this almost doubling of weight and increase in size you get a $2500 lens (vs $700 for the EF equivalent in mint condition) with more clinical rendering and a more technically perfect image, but less character than the older EF lens. Indeed it makes the Canon FD 50mm F1.2L from yonks ago seem like some futuristic alien artefact in how beautifully put together it is and how much life there is in the rendering.
As far as 50mm primes go, you have two choices then. The Poundshop Goodwill nifty 50 under $200, or the other one that weighs more than the Canon 24-70mm F2.8 RF zoom and costs $2500!!
You may notice the conspicuous absence of the 50mm F1.4 RF, which after 5 years has not been released.
The 50mm F1.4 is the most common prime lens in the universe and RF doesn't have it.
This isn't the only glaring omission either.
The equally common focal length of 35mm is missing in any way that makes sense. You can either buy the cheap 35mm F1.8 macro with the grinding back and forth focus mechanism, a clear downgrade on the internal focussing optics of the Canon EF 35mm F2.0 IS, or you can get an expensive zoom like the 15-35mm F2.8 RF, at $2500.
If you just need a 35mm F1.4 RF prime then sorry, you're out of luck. (Imagine waiting 5 years for this and in 2023 it's still not here?).
There's no 24mm F1.4. There's no 28mm F1.4. There's no 20mm F1.4. Sigma does all of these, for E-mount and L-mount. Canon simply hasn't bothered.
This must surely be strategic, and on purpose. But what strategy?
Clearly Canon is counting on professionals really spending and spending… We're talking copious amounts to upgrade their EF kit. We're talking $3000 for the enormous 28-70mm F2.0 and another $2500 for a fast 50mm, maybe the same again for the 85mm F1.2 RF, and perhaps another $1000-2000 for an every-day zoom, plus $2800 for the 70-200mm F2.8 RF, for a grand total of over $10k. That's just 5 lenses.
If longer than 200mm white lenses are needed, for sports or wildlife shooting, $10-20k on one white lens is required. Canon doesn't want to give these people (i..e you) the chance to spend $800 on a decent 50mm F1.4 or anything mid-range but good.
At the entry level, Canon is giving RF users the choice of a 50mm F1.8 and if they want anything better, £2500 please?
The situation for RF-S users is even worse, as they have a choice of fewer APS-C lenses than I have digits on one hand.
There's a lot of extremely slow zooms with apertures like F7.1 or 6.3, but there's nothing that really catches the eye in RF land under $1000, and Canon's only decent zoom under $2000 is the 24-105mm F4. The other important zoom in the EF line-up was the 70-200mm F2.8L, but like everything else remotely professional in the RF range this is $2800 and 1kg.
Then there's the build quality.
There's just something about all of the RF lenses that currently feels a bit dodgy.
Surprisingly for modern lenses, AF on many of them involves a lot of moving external elements and noise.
Dust seems to creep in more easily than before, and they don't feel mechanically as satisfying in the way FD and EF lenses did.
They're more expensive than Sigma's E-mount and L-mount range, but less high quality when you pick one up to use it.
There's no doubt Canon can still make excellent optics, coatings and results – but it seems like somebody important at Canon retired?
It will be interesting to see if these problems start to drag on for RF and whether Canon's sales in the near future will begin to dip, or whether their most loyal users will simply tolerate this lens line up and be satisfied with a lack of third party alternatives. Or, perhaps like me, they are just sticking with EF?
What do you think? Have your say on the EOSHD forum