[vimeo]http://vimeo.com/59832019[/vimeo]
UPDATE: The HDMI output on this camera is uncompressed 4:2:2, for a leap in image quality over the internal 24Mbit codec! Check the forum for my ProRes noise grain sample shots
The Nikon D5200 is the best mid-range Nikon yet for video. What is more of a surprise is the relish in which it takes on the much more expensive 5D Mark III, Panasonic GH3 and Nikon's own flagship the D800 and D4.
The D90 was the first ever DSLR to feature video but it was soon comprehensively outgunned by the 5D Mark II. That camera heralded great sales numbers for Canon and even helped launch Cinema EOS. Ever since the D90, Nikon have been curiously off the boil… Until now.
The D5200 is an extraordinary camera. The street price is $700 yet it's better for video than the flagship full frame Nikon D800, with none of the same moire & aliasing issues. The sensor size is approximately Super 35mm due to it being an APS-C camera with 1.5x crop, so there's consistency with the way it renders a lens if intercutting with a Canon C300.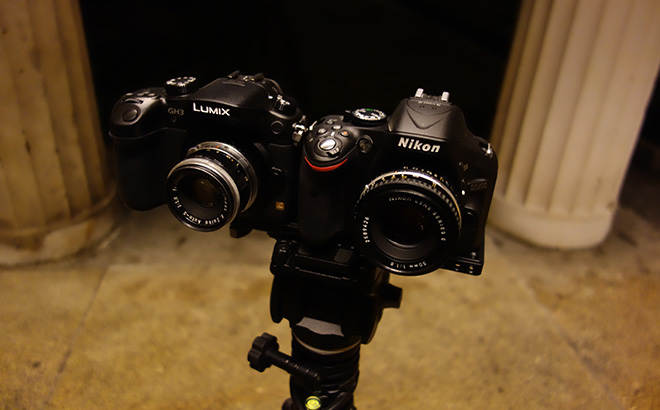 This sensor is brand new and by Toshiba of all people, a new entrant to the DSLR CMOS market. Toshiba's sensor fabrication plant is however cutting edge, helping to produce the amazing 1 inch 41MP sensor in the Nokia PureView (EOSHD review here).
This sensor somehow manages to give very good low light performance at the same time as an extremely hefty 24 megapixel resolution.
The D5200 is particularly welcome for budget shooters, since Canon have stagnated, offering up the same image quality year on year – for 3 years – with their Rebel line.
Now it is pay back time because the best selling DSLRs for video – the 7D, 60D and 650D – are firmly out-performed by the Nikon D5200.
More of a surprise is that the Nikon D5200 really does present a problem for the Panasonic GH3. The more expensive $1299 mirrorless camera has a lot of extra plus points which I'll come to in the full review of that camera soon, but in terms of image quality both the video and stills on the D5200 are arguably better.
The test shoot
I was shocked at how the results in the video turned out. Admittedly this was all shot at night, between ISO 800 and 3200 and the Nikon has the larger sensor which should give it an advantage at high ISOs – but even then the D5200 was delivering the more gradable and punchy results. The GH3 footage needed a lot of work on it (though resolution was still a plus point) and I'm still not happy with it in this particular test. Like Panasonic's JPEGs, the video suffers in some conditions from a muddy feel to colour. The Nikon was delivering the same much-adored silky colour of a Canon DSLR, but with none of the drawbacks like moire.
Please bear in mind that the picture profile and workflow make a hell of a lot of difference with DSLRs. Whilst I've perfected it on the D5200, the GH3 is more complex and I am still trying to find the sweet spot. I do think Panasonic need to work on their colour science a bit and make it more pleasing. I'm not a huge fan of the reduced number of image profiles compared to the GH2 either, it seemed they wanted to copy Canon rather than stay unique.
I used affordable lenses for this comparison, yet I'm quite surprised at how good the very old $50 Nikon E-Series Pancake from the 70's is compared to the lens I used on the GH3, the Olympus 38mm PEN-F F1.8. I used that on this test because 38mm multiplied by the 2x crop of the GH3's sensor perfectly matches the field of view of 50mm on Super 35mm / APS-C (a 1.5x crop) – both are 75mm equivalent on full frame, but on some of the GH3's shots the corners seem softer than on the Nikon so please focus on the centre of the frame when judging resolution.
Low light king
As you can see from how clean the D5200 shots are in this test, the D5200 is very handy in low light even at ISO 3200 if you get the picture profile right. More on that in a moment.
Curiously the GH3 still has a halo affect around street lights like the GH2, where the D5200 has a smooth gradual roll off from the highlights.
Colour and noise performance is outstanding especially given the tricky lighting conditions of this test.
Detail is held onto very well up to ISO 3200, but it does require sharpening to be applied in post. The image is closest to the 5D Mark III in low light but for a lot less money.
In fact it sharpens so well in post that it ends up just short of the GH2 – as near as makes no difference on most shots. It isn't as clean as the Canon C300 but for the money it's great.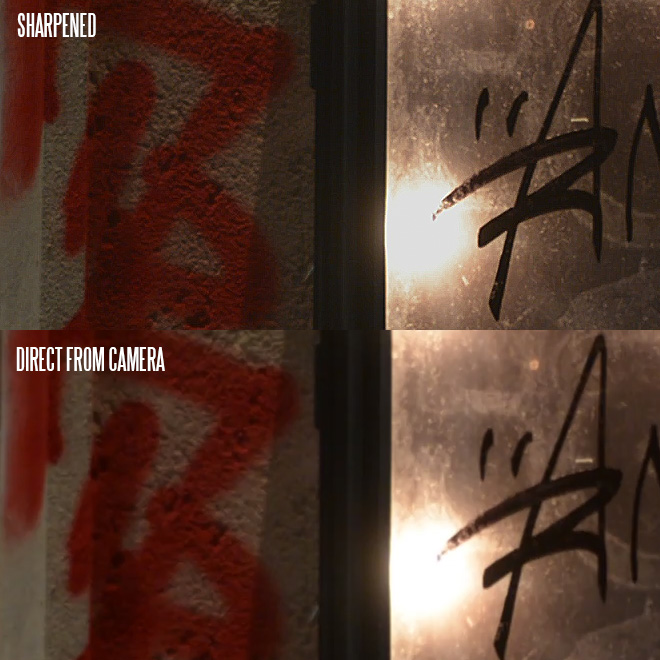 Click here for the full 1080p frames sharpened vs unsharpened
Moire no moire!
What's more, video on this camera does not suffer from many noticeable artefacts in a real world shoot.
There's less moire than on the GH3 as you can see from the metal grid below, which has gone stripy with rainbows. There's even slightly less aliasing than the GH2 on high contrast edges, so you don't worry too much about applying a heft dose of sharping in Adobe Premiere or Final Cut Pro.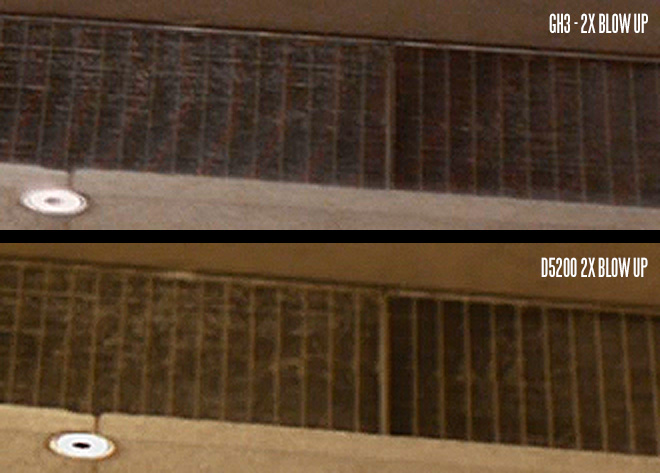 Note – the frames above are blown up 200% in Photoshop
Things only begin to go awry with the D5200 when seeking out maximum dynamic range.
Though the picture profile goes incredibly flat and gives you an almost CineStyle amount of shadow detail – which is very commendable – it comes at the expense of large amounts of noise and banding (fixed pattern noise) over dimly exposed areas of the shot.
Dynamic range on this camera in video mode is no more than you'd get from competing DSLRs, so if that is your priority then the Blackmagic Cinema Camera will give you those extra 3 stops (though there's banding even there in the most extreme shadow areas).
To avoid the banding I shot with the standard image profile for punchy results off the card, with a few tweaks such as a more magenta tone bias for better skin tones and to remove a slight bias towards green in the picture profile. I took brightness down a notch to crush the blacks a little. The custom picture profile can be saved on the camera and you can give it a name using a nifty on-screen keyboard. Then the secret sauce – in Premiere I lifted the black levels, reduced saturation a tad and added the sharpening filter. This brings a finer grain of noise and the illusion of more film like dynamic range.
The good thing about this workflow is that you can apply the same look to a great many number of clips and it 'just works'. With the 5D Mark III, somehow that camera is more fussy and I am always adjusting the amount of sharpness on a shot by shot basis which is really time consuming. With the D5200 you can apply an extraordinary amount of sharpening in post and the detail just keeps on coming, with the overly digital halo look kept firmly at bay. This is a measure of how organic and well structured the image is from the new sensor and image processor.
HDMI output
The HDMI is clean and the LCD stays on whilst you output a second feed to a monitor or EVF. Recording ProRes from this camera is a practical reality, but I've not yet tested it enough with my Blackmagic HyperDeck Shuttle to see if image quality is any better – from my initial tests there certainly wasn't a light and day difference to the internal codec.
For monitoring the situation is also good. The camera's own focus assist works over HDMI, so you can punch in on the camera and it will magnify the HDMI output. There's no gamma or colour shift when you hit record on the camera like there is on the GH2 and Sony NEX 5N / NEX 7.
The D5200 can output a full 1080p (non-interlaced) signal, but during recording to the card this drops to 720p, knocking out the feed to your monitor momentarily. On the Zacuto EVF this blank out time is very short compared to the 5D Mark II, which dropped to standard definition, but thankfully there's a workaround to avoid any drop at all. Set the HDMI in the menus to 720p, then it will remain there and not drop. For external recording you can happily set this to 1080p or 1080i and not need to hit record on the camera. You don't need to take the card out like on the D800 – just let the feed roll and press record on the Atomos Ninja or Blackmagic HyperDeck Shuttle instead of the camera.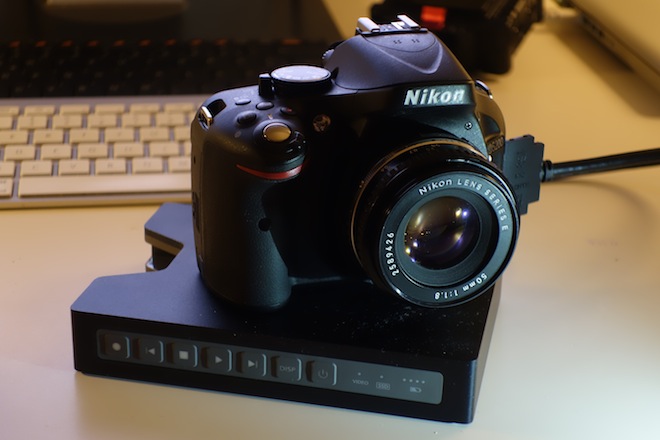 Above: Blackmagic HyperDeck Shuttle will allow the D5200 to shoot ProRes or Avid DNxHD to an SSD drive – whether it is 4:2:2 or uncompressed will be revealed in upcoming articles on EOSHD
Handling
The D5200 is a pleasure to shoot with and I'd have no qualms shooting a serious feature on it because of the lovely image, but of course it isn't designed primarily as a cinema camera. However the ergonomics are a plus point especially relative to the Sony side of the fence (FS100, NEX 5N, NEX 7). It is tactile and I can change settings quickly without having to look at buttons with a giant Sherlock Holmes style magnifying glass like I do with my FS100.
The chassis is very light but build quality is above average for the price, better than the 650D. Of course more expensive cameras like the 5D Mark III and the GH3 are a step up in this regard.
But what is really great is that Nikon have kept the crippling to a minimum. It only really lacks a headphone jack and screwdrive AF for older AI/S lenses. Though this is lower in the range than the D7000, D600 and D800 it is actually better for video. The screen is articulated unlike the full frame Nikon's, which save you from having to constantly bend down, or even lie on the floor just to frame a shot. A hinge may be a small thing but it means a lot for me, when I'm shooting lightweight or stealthily with no monitor.
The sensor size is a perfect match for the industry standard Super 35mm so you can use a bunch of nice Nikon AI/S lenses on the D5200 and other Super 35mm cameras on a shoot and not have to worry about matching depth of field, field of view, corner sharpness, vignetting, distortion etc.
An added bonus is that the camera is PAL / NTSC switchable like a Canon, so no problem going from 24p t0 25p or 25p to 30p.
Is there a catch?
As you'd expect on a $700 DSLR, there are things which aren't as strong as on competing models or are quirks / bugs which Nikon really should have ironed out.
The weakest point of the camera is the small battery and small grip. The grip on the NEX 7 is more comfortable and that is a smaller camera still, so it is a question more of design than of size. The battery life is rather poor if shooting a lot of video. The physical size of the battery may save a few millimetres but it makes for a less ergonomic grip and the hassle of changing your battery every couple of hours. The GH3 is far superior in this respect.
Rolling shutter skew is similar to the Blackmagic Cinema Camera, so this is not the ideal camera for action sequences. If your style of filmmaking is more sedate then this won't be an issue. Oddly the rolling shutter skew is worse on the LCD and HDMI output than in the final recording, where I measured it as being around 4-5 degrees more severe than on the GH3, in 25p mode.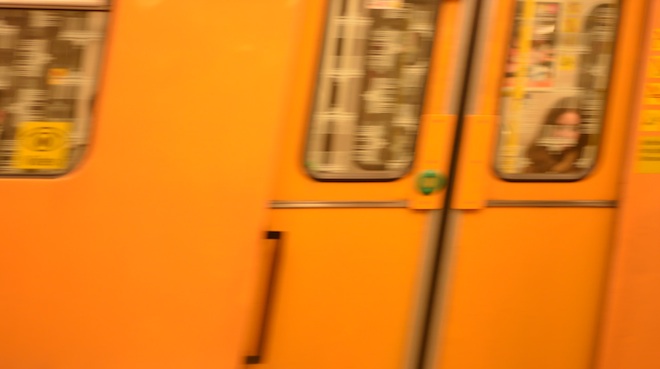 This isn't a great slow-mo camera – it does do 60p only in 720p – but this mode really suffers from a reduction in image quality, like on the D800. The sensor employs a more crude way of scanning the sensor faster and doesn't pixel bin as elegantly. 720p is a shimmering low resolution mess of moire and aliasing artefacts. The 1080/60i mode isn't worth bothering with either. This introduces a crop of the sensor down to approximately Micro Four Third size, but kills resolution in doing so. The fact that this mode is interlaced as well, makes it of no use to anyone and I have no idea why it is even included on the camera!
On the stills side, photographers may be disappointed at a rather small viewfinder and lack of screw-drive AF in the mount for older AI/S Nikon lenses. Personally I don't think the viewfinder is all that bad – no worse than other mid-range DSLRs in this price range anyway.
The other qualm I have of this camera is that it is a Nikon.
But I don't mean that in a nasty way.
It is just that I have a lot of lovely glass that won't fit it. I have a Zeiss Flektogon 20mm F2.8 in M42 mount – won't fit. I have a LOMO OCT-19 anamorphic – won't fit. Canon stuff? No go. Surely older Canon FD lenses? Nope. Contax Zeiss, Olympus OM, Pentax and of course any mirrorless glass is also out. The only lenses that adapt are Leica R and Hasselblad medium format options. Not cheap alternatives to an already extensive range of good Nikon manual focus glass from the SLR days, so it really is Nikon way or the highway with this camera.
Conclusion
2012 was a bizarre year for new DSLRs. The year started with a camera that had no moire or aliasing problems, but improved on very little else.
Ironically as the year went on, every single camera which showed some kind of innovation suffered from moire and aliasing.
I can get by just fine with very mild issues like on the Blackmagic Cinema Camera but so many of the new DSLRs had really poor images which you couldn't sharpen from a soft mushy mess or point at any fine detail for risk of moire and aliasing ruining the image. A lot of this had to do with Sony's image sensors, which seemed to be cropping up in everything! These sensors lead the pack for stills but don't seem to deliver the best video.
The D5200 shames a fleet of much more expensive DSLRs by having a much nicer, cleaner, more cinematic image in video mode. The Canon 6D, Nikon D600, D800, Sony A99 are all full frame cameras way more expensive than the D5200 yet they suffer from so much moire and aliasing they're basically unusable without corrective filters, which are currently only viable for the D600 and D800. Resolution is better on the D5200 as well, with more fine detail after you bring it out in post.
Just as the market was turning into a cruel joke, I am so glad Nikon have come out with a low budget classic along the lines of the Panasonic GH2.
Just be aware that Nikon may soon introduce the D7100 – a replacement for the D7000 is rumoured to use the same internals as the D5200 but may add a few extra features and better build quality. Nothing is for sure yet though, and if it is image quality and good value you want – the D5200 is the Nikon to go for.
Pros
Great image which sharpened up and grades very well in post
Cleanly resolved detail with no moire or aliasing issues, though soft like the 5D Mark III direct from the camera
Cleaner mid-tones than the 5D Mark III with less mosquito noise
High quality articulated screen saves your back
Extremely clean in low light if you avoid flat image profile and keep contrast on default setting for punchy out of the camera results
Good colour, even at high ISOs – and smooth gradation
Cinematic motion cadence
Solid codec (despite standard 24Mbit bitrate), no mud issues
PAL / NTSC switchable frame rates makes the D5200 a true 'worldcam' – finally 30,25,24p in one DSLR
Very good Toshiba sensor delivers superb quality 24MP (6K) stills
Very good JPEG engine and built in timelapse functionality
Good ergonomics, though basic
Clean HDMI output – suitable for external ProRes recording
During HDMI output, camera LCD / live view remains on
No distracting gamma or levels shift between live view mode and record mode
Plenty of manual controls in video mode including audio, with on-screen meter
Well designed menu system
Very affordable
Cons
Using flat picture profile causes banding over dimly exposed areas of the frame at all ISOs
Rolling shutter skew worse than most other DSLRs of the new generation
Nikon lens mount one of the least adaptable – only Nikon and Leica R glass can be used
No slow-mo or 60p at full resolution, image quality in 1080/60i and 720/60p is very low
Very small battery
No kelvin manual white balance setting
If set to 1080p, HDMI drops to 720p when recording starts (but mercifully short blank-out)
Cluttered screen when 16:9 guides are displayed and no dedicated movie mode on the dial. (Consider taping top and bottom of screen for 16:9 composition with 'Las Vegas' turned off)
Aperture on modern Nikon glass cannot be adjusted whilst in live view mode (very silly)
No screw-drive AF for AI/S lenses
Few dedicated buttons (such as white balance, ISO, though one can be assigned to dedicate Fn button)
No JPEG aspect ratio settings
No crop mode like the GH2 or GH3
Punch-in magnification a little soft (though 5 levels of zoom and easy to access with one press)