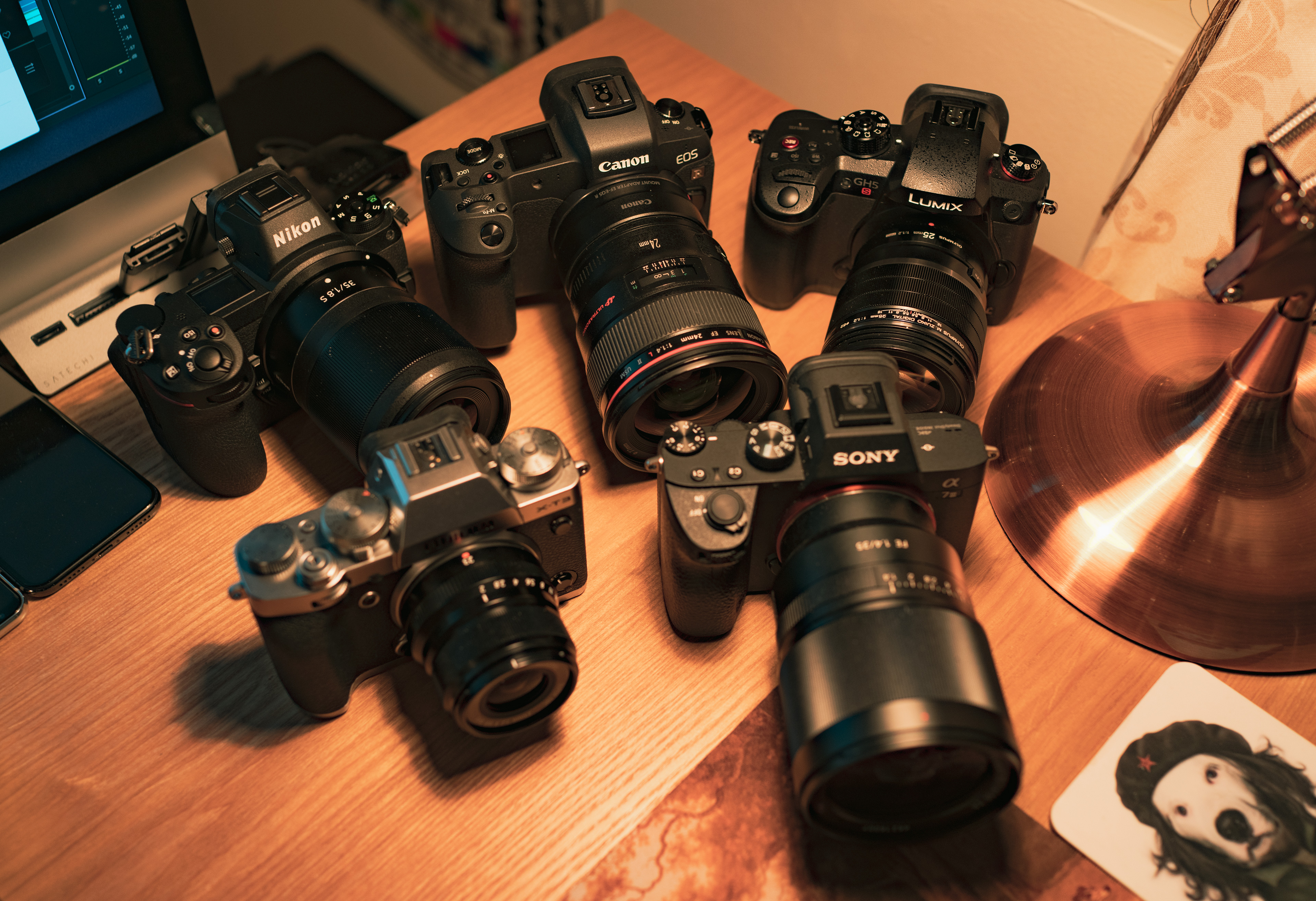 Here's my top 5 cameras of 2018.
Of course we all know "there's no such thing as a 'bad' camera" any more but there is such a thing as a dull, boring rip off. Then there's the stuff that has a shelf life of a few months, that you just know is a stepping stone before the real deal arrives. In many ways 2018 was a good year to keep hold of what you have and wait for the dust to settle. An eventful one for technology, especially in the second half where we saw some glimpses of the future. In 2018 we had six truly great cameras for filmmakers and a few that didn't make my top list like the M50 or RX100 VI but which are nevertheless still useful in one way or another.
Big events of 2018
Future glimpses – Panasonic S full frame announcement and Fuji's 4K medium format camera with 5 axis IBIS and new 100 megapixel sensor
Fuji were on the most innovative, sure-footed push. Amazing progress especially in video
Sony had a good start to the year but then went into time-out zone before big 2019 announcements
Blackmagic returned to the affordable cinema camera fold
Canon and Nikon finally decided their DSLRs were obsolete. Time to copy Sony and Panasonic!
Olympus went ominously quiet, but E-M10 III is currently best 4K bargain at lowest possible price
Sigma became de facto number one best manufacturer of lenses for enthusiasts. 105mm F1.4 especially – wow
Here's my top 5 releases of 2018 (with a special honourable mention if you fancy a gamble):
1. Fuji X-T3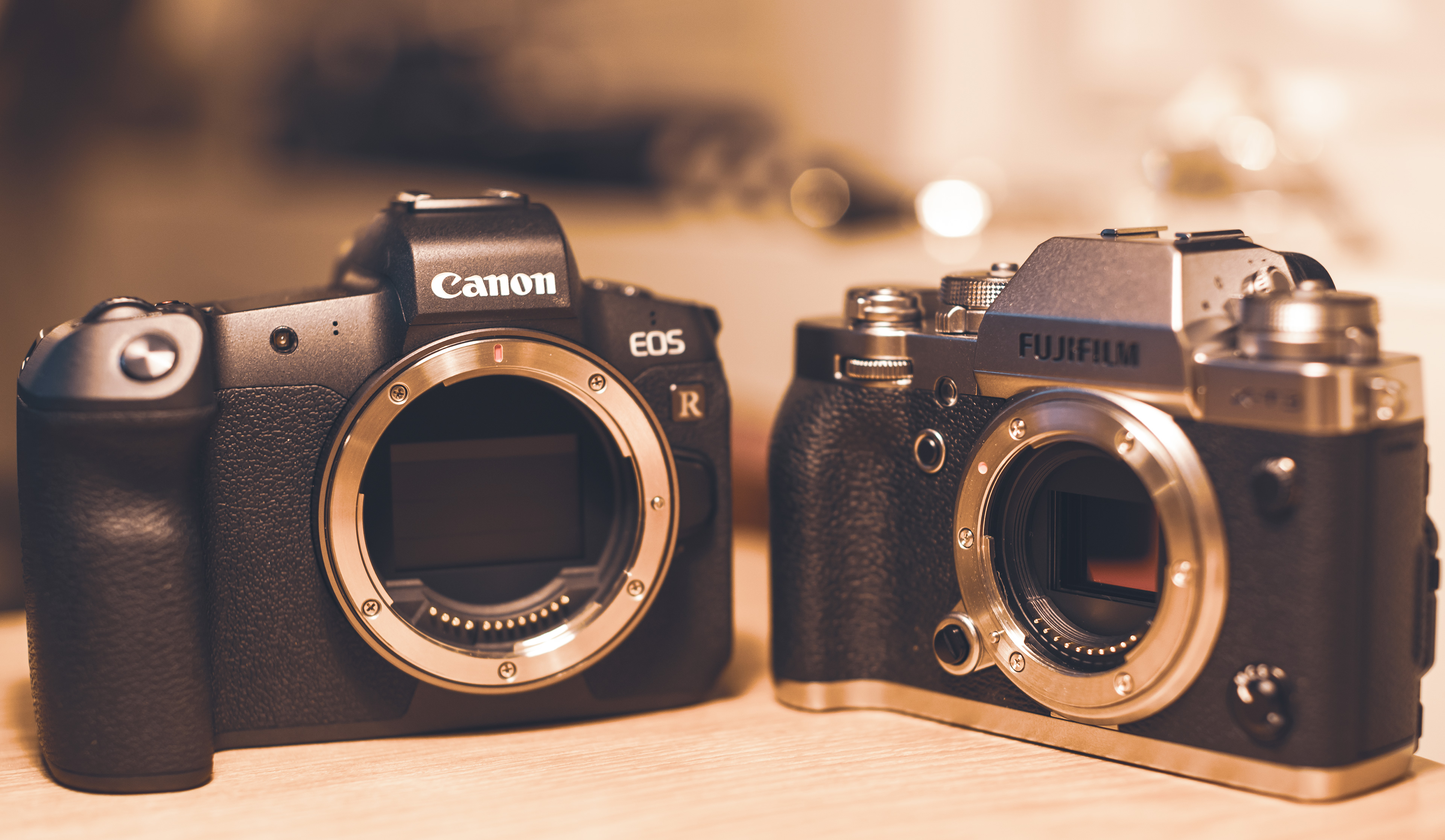 It may not be full frame but Fuji are on fire. This was the most attractively priced, well specced camera of the year BY FAR and for that it deserves to be number one on merit for not ripping us off or short-changing us, even though it's "just" an APS-C camera with no IBIS. Unlike the utilitarian design of the Nikon Z6 and Sony A7 III, the Fuji is actually a pleasure to look at and to own, as is the X-H1. You want to pick it up and shoot. Incredible reduction in 4K rolling shutter and outstanding 1080/120fps that is as sharp as the 24p. On this camera 4K is the most detailed ever from a consumer stills camera, with rock solid 10bit codec and film simulation. Clearly builds a formidable tech platform for what will be an exceptional X-H2 – waiting for that is your only excuse for not buying one!
2. Sony A7 III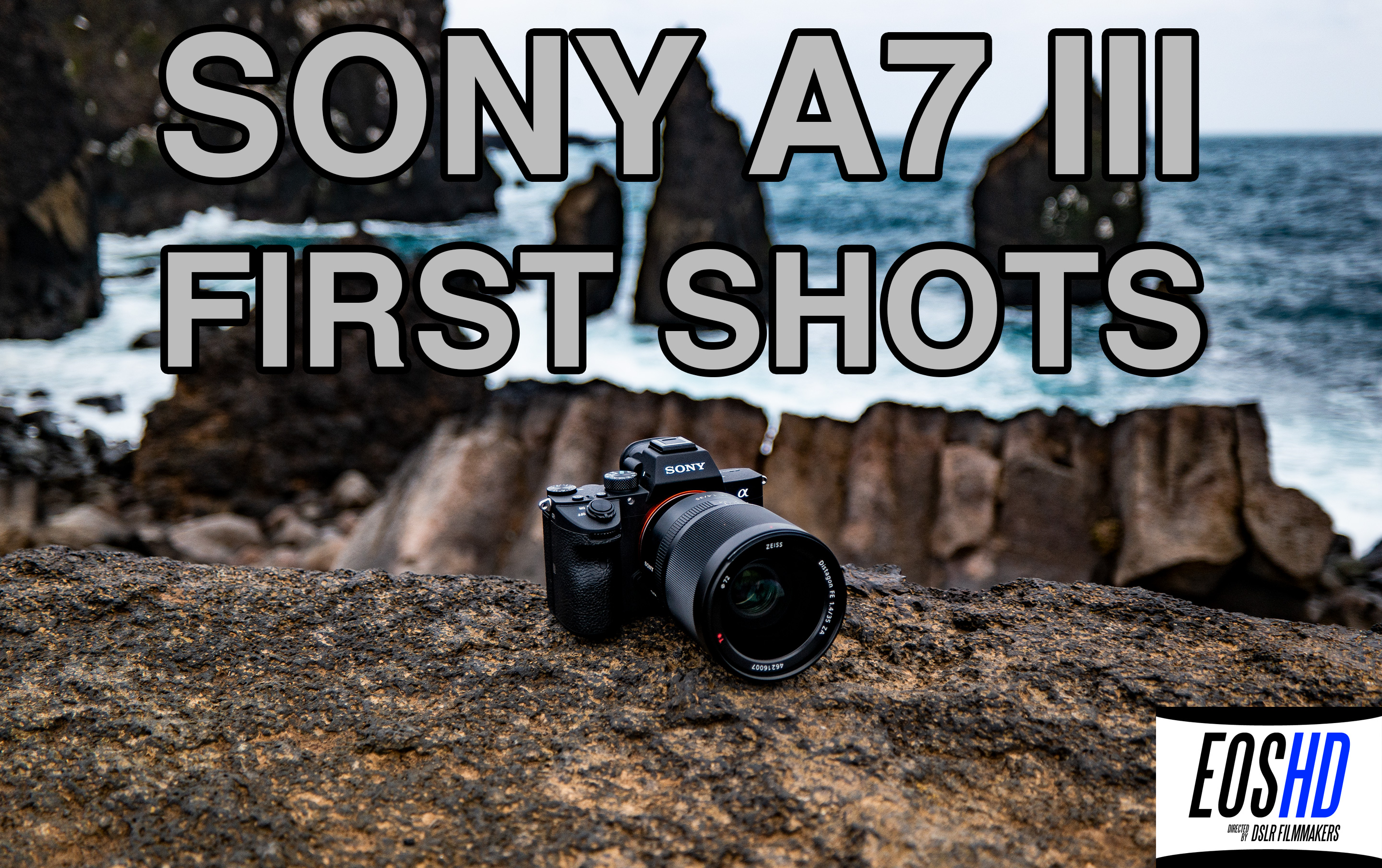 In the $2000 price range this is the king for image quality. The technical prowess of this tool is beyond doubt but some aspects feel dated now. Sony only took baby steps in the right direction on a range of weak areas like colour, menus and ergonomics. It's not number one on my list like it should be, because they forgot to add any imagination. God it's charmless. It's utilitarian and screams "work tool" rather than photography or filmmaking. The dated things are – no 4K 60p like the Fuji X-T3 or upcoming Panasonic S1. Same old 8bit 100Mbit codec. Very old back screen which has awful contrast compared to modern OLEDs on smartphones and a mediocre EVF too. The camera OS is also creaking and old, with dreadful UI elements and poor touch screen implementation. It stills lags when changing tabs and generally doesn't feel as responsive as a Fuji or Panasonic. The A7 III is like a very well educated pupil who knows all the exam questions but doesn't have any appreciation of the arts or common sense. Sony has obviously been good at hiring sensor scientists and camera engineers… Now, they should hire some engineers who occasionally enjoy a cheeky cigarette in the factory. 2019 should be the year Sony goes punk.
3. Fuji X-H1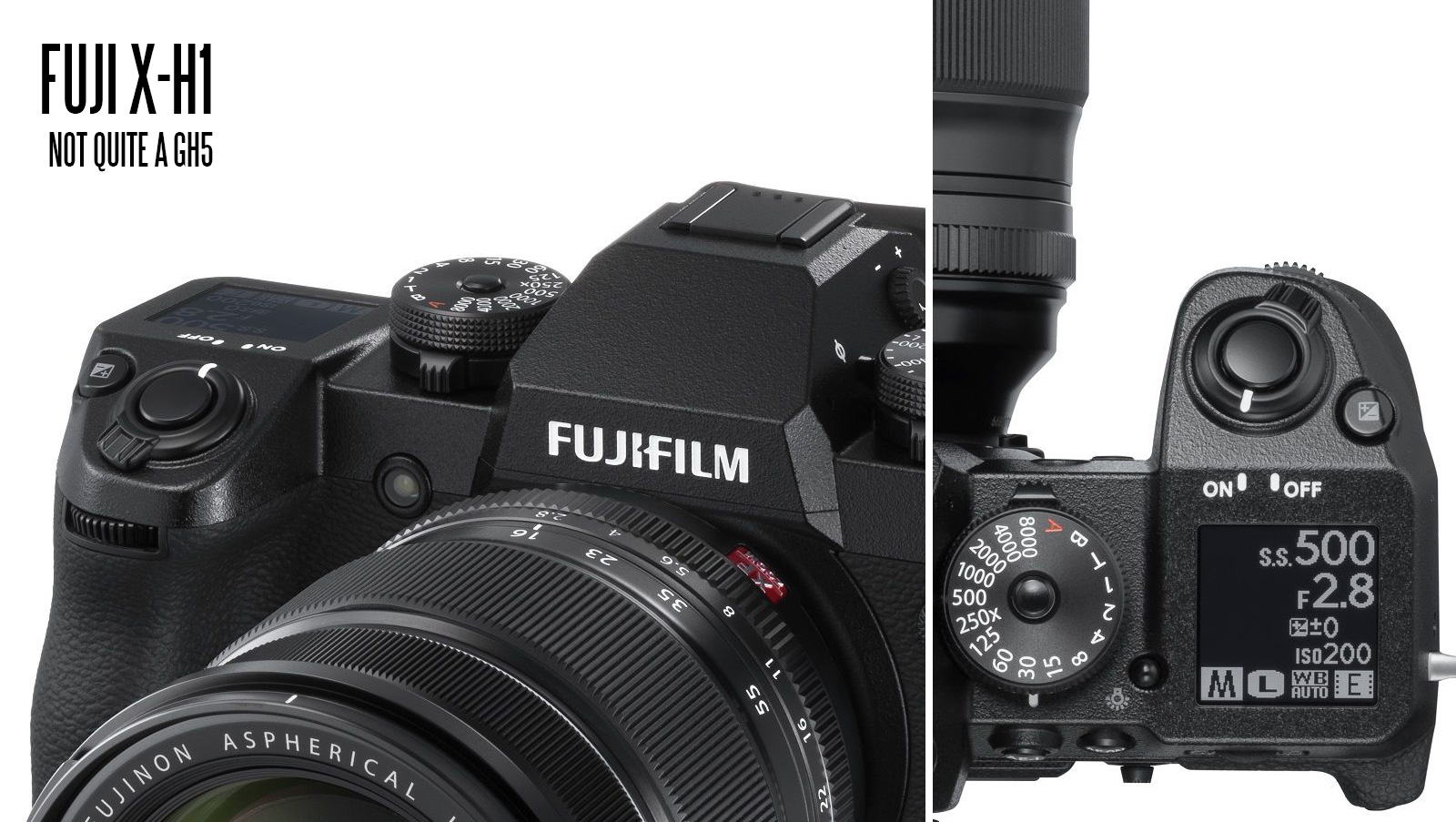 One camera that does have artistic charm is the X-H1 which I enjoyed picking up again and again – not least for the best 5 axis stabilisation since the Olympus E-M1 II and GH5 but with a larger sensor yet similar hybrid / video philosophy. Saw introduction of Eterna flat profile for video which is excellent and F-LOG. This would be the number one camera of the year if Fuji had waited a few months and packed in the X-T3's newer sensor and image processor rather than make it obsolete after just a few short months. Ergonomically, but for the fiddly movie-mode lever on the left shoulder, this is the nicest to use camera of 2018 with an even more satisfying feel in the hand than the X-T3.
4. Nikon Z6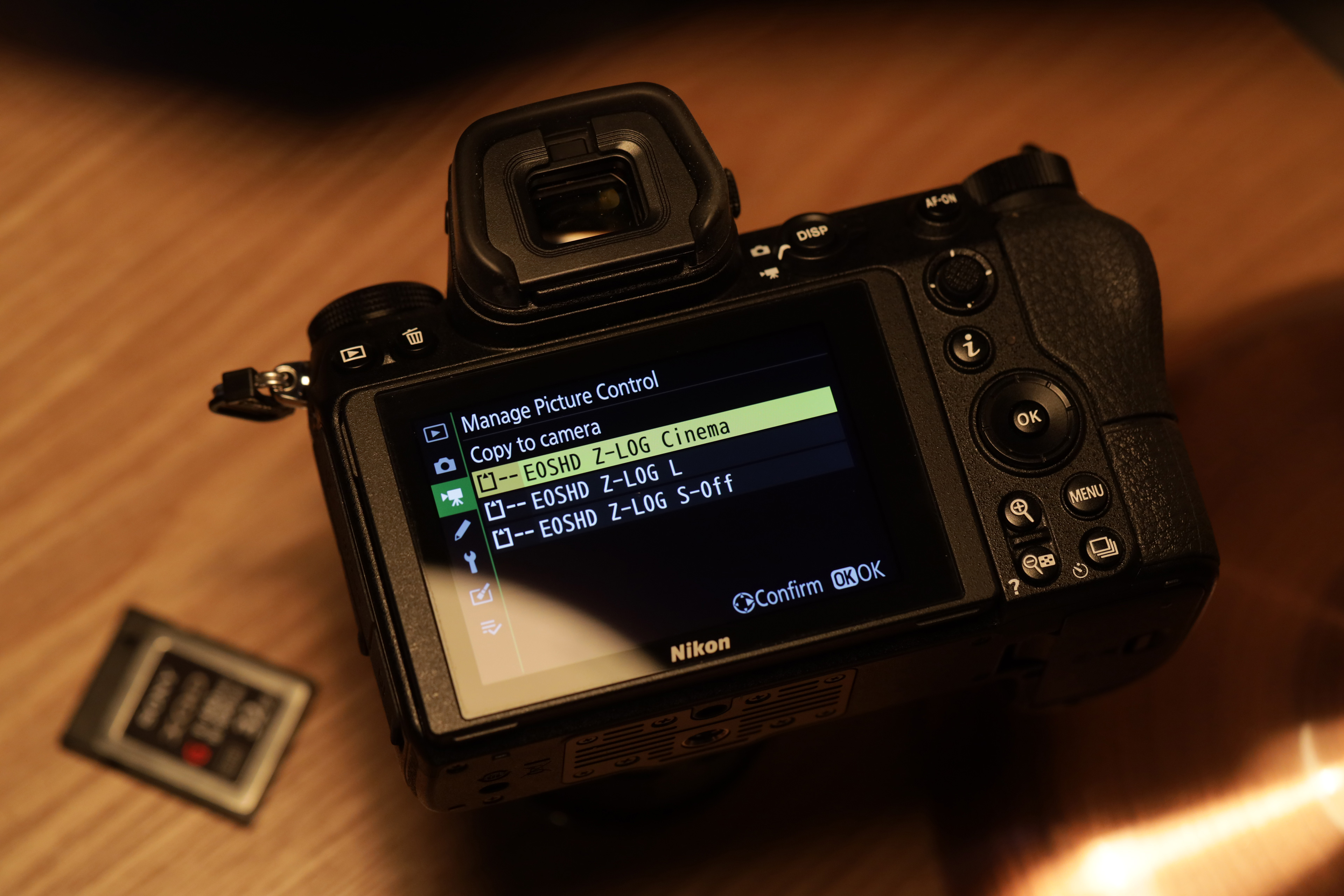 Clearly the better bargain than the Z7 in every way, the Z6 improves on the main Sony rival (A7 III) in a few important areas. The 5 axis stabilisation is more effective. The EVF is far superior and so is the rear screen. The menus are more in keeping with 2018 rather than the 1995 effort on the Sonys. Nikon's in-camera codec, color science and dynamic range is a winner, especially when paired with EOSHD Z-LOG. I tried the HDMI and didn't see an advantage, in fact N-LOG looks to have a green-shifted tint to me. Thanks to the full pixel readout from the 24MP sensor, there's less of the aliasing found in full frame 4K on the Z7. Ergonomically it is hit and miss but generally preferable to the Sony A7 III thanks to that stills/movie lever, top LCD and better EVF. Why's it not number one? Two reasons, one the same reason the A7 III isn't. Lack a soul. Feels much cheaper and less powerful than it actually is, when you're out using the thing… It does not say "filmmaking" or "photography" – it says, "I am a 2018 consumer electronics item". In car terms it's no more exciting than a Honda Jazz. Solid, dependable, practical. There's a second reason that demotes it down from 2nd above the A7 III to 4th and that's the native lenses. What the fuck were they thinking? At least Canon showed some guts (at a price). 50mm F1.2 and 28-70mm F2. Nikon served up a borefest and their truly fast and interesting 50mm isn't even ready yet. The 35mm and 50mm F1.8 overpriced abomination of lightweight plastic-y "feel" even though it's cuttingly sharp glass. If Nikon want to make their cutting edge lenses feel like they are worth $199 rather than $900 they have done a good job. The body suffers a bit from this as well, it's just a bit too consumer to be taken seriously by pros – which is strange as the Z7 especially is aimed square at em!
5. Panasonic GH5S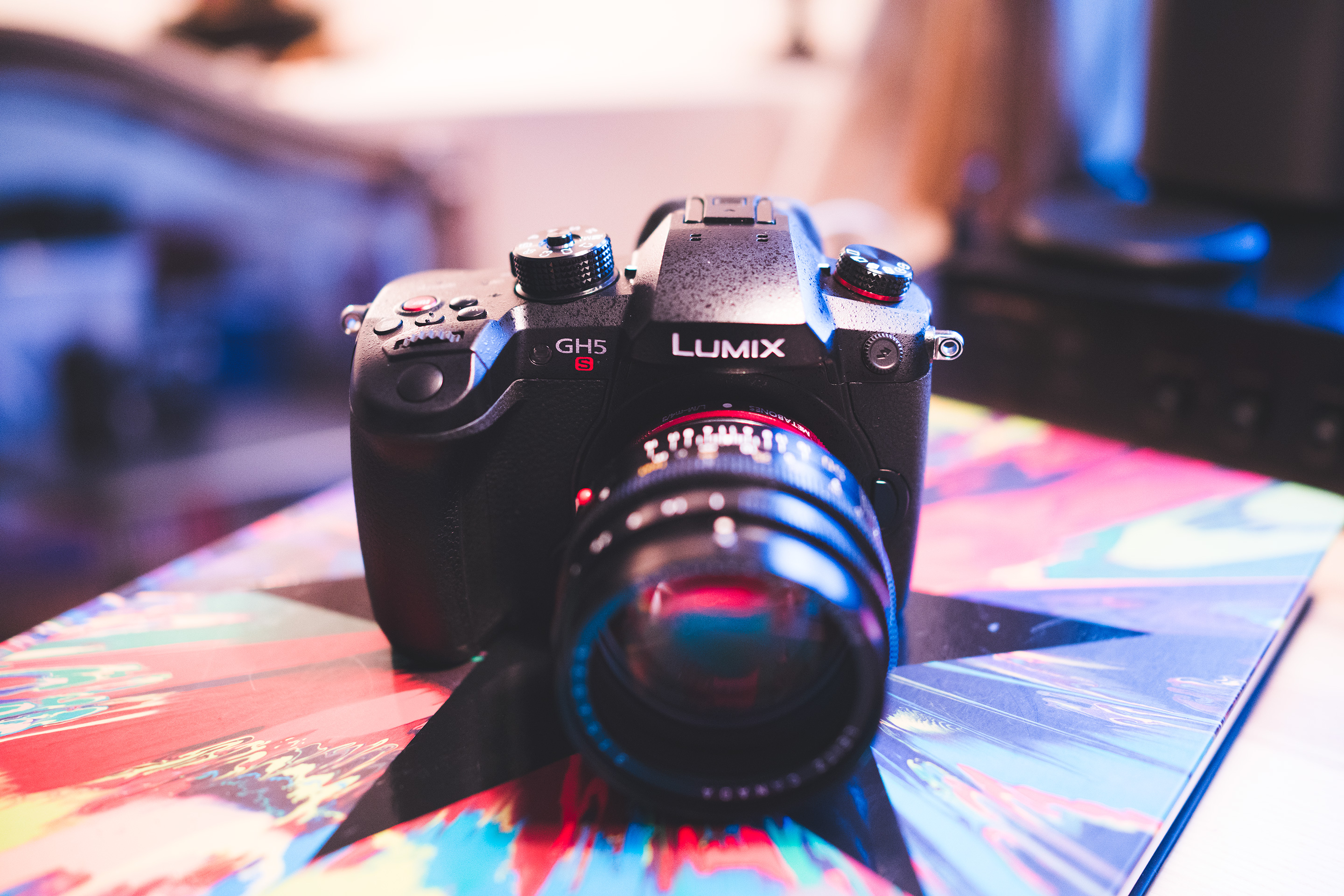 A full frame version of this would be number one but before the S1 or a video optimised version of the S1, we have basically a cloned-GH5 which gives with one hand while taking away with the other. It's possible to see the GH5S as Panasonic doubling down as a video camera in stills camera form factor but it feels like a toe in the water similar to their CM1 push into smartphones and their LX100 II refresh. It shows that Panasonic's top management perhaps need to increased the budget of the camera department to cease some of these opportunities with both hands, because the GH5S should have been a LOT more adventurous, as the most expensive Micro Four Thirds camera ever… The GH5S could have been a complete reimagining of the design concept, as you can't really truly cater for video pros if you lack an ND filter, RAW and ProRes. Even though it was overshadowed the same year by Blackmagic P4K RAW and the big full frame push, just a scroll through the menus reveals a gazillion extra features the GH5S has over the Pocket 4K or Nikon Z6. Panasonic are still the only manufacturer to take seriously an anamorphic mode, for example. Full frame "S" version with a larger Pocket 4K style screen and video-optimised ergonomic concept? Now THAT would be number one of 2019.
Honourable mention:
Blackmagic Pocket Cinema Camera 4K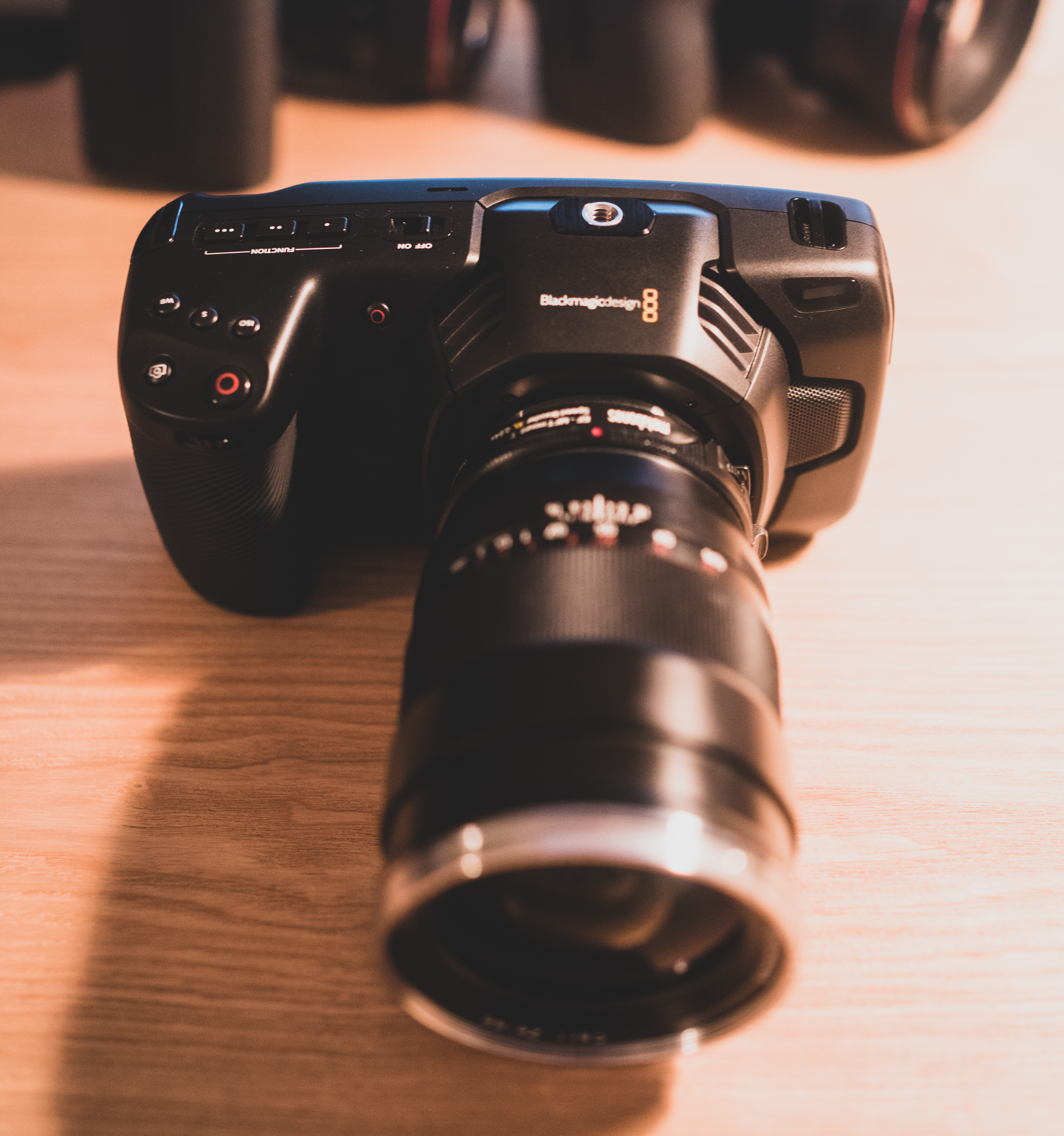 Although as a do-it-all camera it is too 'specialised' replace an A7 III or GH5S (it also has… erm… too much wrong with it), I will hand it to Blackmagic for the 4K RAW and how the image looks when the battery door is not falling off. I will hand it to them for the glorious high resolution enormous screen and light body. I will hand it to them for using the same high-end Sony sensor as the Panasonic GH5S with exceptional low light performance compared to the old Super 16 BMPCC. A bundled license of Resolve Studio is not something any of the big corporate Japanese giants give you with their cameras. Resolve is rapidly improving while Premiere and FCPX continue to flounder. Amazing. No other manufacturer offers such an innovative package – then there's the price.
The image is as good as it gets. Beautiful. The thing is until they sort out the launch issues, quality control and do a higher-end version for $2000 it is not going to be top of my list. I would gladly have paid more for a version with IBIS, an EVF and a hinge on that lovely screen. Autofocus should be the next top priority for Blackmagic going into the future.
Most disappointing camera of 2018
Canon EOS R
You can have a lot of fun with this camera and it is nice for stills with a Leica M adapter, but at the end of the day it's a poor deal. The most criticised feature of 1.8x crop in 4K when you're paying full frame prices ($2300 for your 50mm sir), turned out to be the least of my concerns. You just know it was a mid-range cash grab aimed smack bang mid-market to tempt both consumers and pros at the same time, hyping them to buy into a new system and spend $$$ on lenses, before Canon throws the EOS R into the bargain bin at $999 as soon as the "proper" mirrorless models are released. It's not all bad. Even with the "backwards" technology under the hood, the image is actually very nice. Cinematic is the word. Less digital than Sony's. Less digitally sharp, maybe, but that is just the treatment 4K needs for filmmaking. Canon's colour science in both stills and C-LOG remains unbeaten as does Dual Pixel autofocus. Shame about the diabolical 4K rolling shutter. What year is it? Inexcusable!! And the worst 120fps quality of 2016 let alone 2018.
Interestingly, it appears some inferior designers from the Powershot team had a bigger say in this EOS body than with the trad. DSLRs of yore. This is a concern for a company that is usually so dependable with the handling of their cameras. Some very odd decisions ergonomically were made with the EOS R and one feature should never even have left the drawing board – the multi-fuck-up touch bar. Numerous stories of strange breakages and cracked top screens make it far less robust than Canon's usual products so in the case of the EOS R it really could be better to wait… Although I have a feeling for Canon's camera department to change course will require fundamental management changes. Their successful balance sheet is a road block to it happening.
Dullest update of 2018
Panasonic LX100 II
The amazing original was based on Panasonic's flagship technology in the GH4 and all the pretty new features even 4K (how?! in that size body?! in 2014?!) the LX100 II is all meh, meh, meh. It seems Panasonic did not make enough margin on the original to go all-out on a brave successor. It can't be for lack of interest. Surely it sold well? Alas the years rolled by with no replacement. Then finally in 2018 the bargain basement GX9 became the tech donor for an "update". No thanks. It has a bigger crop in 4K and gets nowhere near the GH5 for video unlike the original vs the GH4. Lens and stills features pretty much as-you-were.
Instead, Panasonic should have done two higher-end models. One mid-range $1400, with GH5 sensor and newer lens. One high-end, full frame, oh they already have that is the Leica Q! I am sure we will see an LX100-style full frame Lumix compact one day to rival the Q and RX1II but is Panasonic interested? With the Zeiss ZX1 joining the party I have a lot of interest in high-end small cameras with amazing 4K and stills. I and many others were happy to spend more to improve on the superb LX100 which has been a valuable and enjoyable tool in the bag for years, especially given the long 4 year wait.
This successor could have toasted the RX100 VI for breakfast and shot just as nice slow-mo with much nicer lens and ergonomics, but you may as well buy the original on eBay instead for $300!
How much margin is there on a sale of $0?