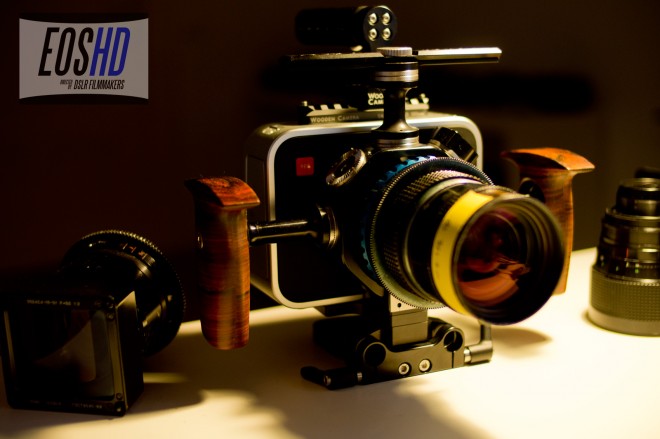 Above: ReWo caged Blackmagic Cinema Camera. Review of the cages for the BMCC is coming soon (click image to enlarge)
SlashCAM here in Berlin have been putting their expertise to work on the Blackmagic Cinema Camera. They also had the opportunity to compare their regular test shots with new shots from the Blackmagic. As you can see in the example after the break, the blacks are far cleaner in post than material shot on the Canon C300.
SlashCAM have tested an enormous range of camcorders and cameras over the last 10 years. Here they've tested all the important aspects of the BMCC's performance in detail, such as rolling shutter, dynamic range, etc.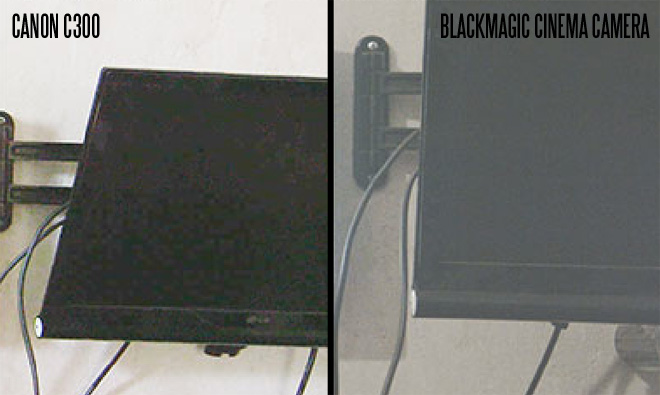 Above: Canon C300 vs Blackmagic Cinema Camera raw
If it is an image to rival film you want above all else, you can now have it for $3000 no questions asked. Going back to 8bit after raw I'm quite shocked by how digital looking 8bit H.264 or MPEG is and how bad it can look if pushed around too much in post.
German speakers can read the full article and I have translated the conclusion for English readers below. Do consider heading over there and using Google translate, though that does a less than perfect job!
The SlashCAM Verdict (grammatically corrected from direct translation quirks)
Our initial assessment about the camera 7 months ago has more than been fulfilled. The camera is, despite the well-known drawbacks, simply a revolution.
Blackmagic have understood that DSLRs were so exciting for filmmakers with little budget – and have further developed these ideas in the right direction. Andrew Reid said very aptly in a tweet that Blackmagic with this camera may do for the film industry what Apple has done to the early days in computing: a device class that was meant for the industry, should be accessible to all. And actually the name chosen for the camera couldn't be better – If you want to produce a feature film you can now do so with the Cinema Camera easily without having to resort to a RED or Arri (or DSLR fuss and 8-bit codec mush).
The Black Magic Cinema Camera is a bold stroke of luck that in our industry is experienced perhaps once every 10 years. 2.5 K with a real camera RAW workflow, although many users called for it, was out of reach before the Cinema Camera.
If shipping problems can be resolved (hopefully) in the next few weeks, the other camera manufacturers will now have to really seriously consider what models will they make in the future in light of this camera. For the BMCC will in a short time dominate a market segment which they have to themselves, which until now had been divided between all the other rivals. The concept of an 8-bit Canon C100/C300/Sony FS100 now competes against the Blackmagic Cinema Camera.
Both companies have certainly produced better and bigger 2K/4K sensors but Blackmagic shows that a high dynamic range for 10 bit or raw is a lot more cinematic. Sony may nevertheless still here compete with 50/60p slow motion and rolling shutter correction – a few benefits at the same price.
The image of the camera feels after grading just so "right". Clean with the finest grain, nowhere a visible artifact or codec mud. Considering AVCHD and DSLR material, you see all their shortcomings suddenly very clear. And this is also at the same time the really dangerous thing about the Black Magic Cinema Camera. Those whom have seen such a picture will not be returning [to compressed 8 bit]. A similar effect is known by filmmakers who had once filmed with a RED or Alexa.
Awesome too is to throw even DaVinci Resolve into the package. On the one hand this helps solidify its place in future as THE standard for colour correction / finishing tool. And on the other hand it would put further pressure on prices to competitors, comparable cameras will have to ship well without 1,000 euros colour grading suites.
We think, therefore, that in the Japanese development and marketing departments by now the development pressure is greatly increased, which in turn means a very exciting year for 2013. Because as soon as you can buy the camera it will be simply unrivalled until further notice (low chance). To buy remotely similar functions for digital filmmaking from other companies, you have to pay more than 10,000 euros for the entry count (e.g. Sony F3 for 10 bit LOG or REDs Scarlet for RAW). The demanded 3,000 euros including VAT (!) is almost like a joke, but it really is not and the consumer is having the last laugh. That feels proper and correct.
EOSHD says…
It is interesting that whilst Canon, Sony and Panasonic battle each other for the $3000-$6000 segment of the market with their C100, FS100 and AF100 – Blackmagic Design quietly sit there with zero competition. The Japanese divided that market between 3. Blackmagic could take it all for one and one for all.
There are no other raw 2.5K cameras for $3000. There are no 10bit ProRes shooting cinema cameras with Thunderbolt for $3000. There are no cameras as downright cinematic for filmmakers than the Blackmagic Cinema Camera at $3000. Now filmmakers just need to figure out what to do with it.
Once they realise what they can do, the flood gates will open.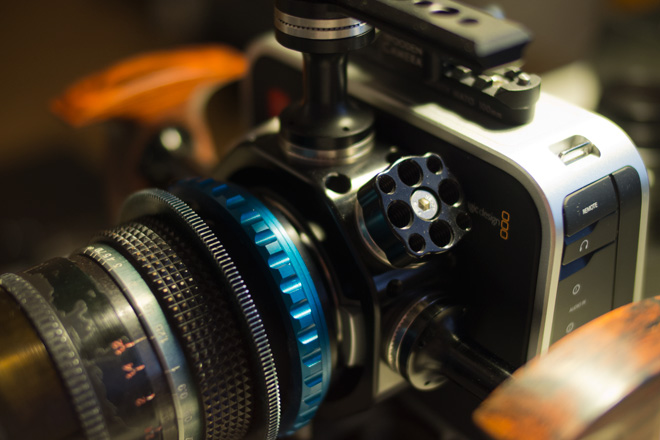 There is no reason in my mind to buy a Canon, Sony or Panasonic under the $15,000 mark unless you need the following:
The convenience of a built in ND filter (FS700, C100, C300)
Slow motion (FS100, FS700)
Rig-less form factor for handheld shooting (C100, C300)
XLR jacks with phantom power
As you can see it is not about ultimate film look rather the work-a-day stuff which these have more of. These matter to many jobs but for me the ultimate film look comes WAY before any of it. Under $50,000 you have to make compromises. I am happy to give up phantom power, slow mo and a built in ND for an image which rivals the Alexa.
I left the C300's broadcast ready MPEG codec off the list because ProRes is a broadcast ready codec. This is due to the Alexa's dominance in the TV industry and the prevalence of Apple's Final Cut Pro over Avid. If you turned up to shoot a job for the BBC with an Alexa, they are not going to turn you away because of ProRes and tell you to come back with a HD camera that shoots 50Mbit MPEG 4-2-2. What broadcaster of any shape or form won't be able to get ProRes from the Blackmagic Cinema Camera on air as quickly as MPEG? ProRes is the de facto standard of video post production and the Blackmagic shoots it as well as the native editing format of Avid (DNxHD). You can see the technical demands of content delivery for BBC Worldwide here [PDF].
I remember overhearing a conversation between a professional and a Canon employee at Photokina earlier this year. The customer was handling a C300 at the Cinema EOS stand and the discussion turned to the Blackmagic. "If I can get all that and a better image for $3000 plus DaVinci, how does Canon expect me to pay $15,000 for this?"
Canon misread this as a plea for lower prices, as if that mattered to this pro for whom any of these cameras would make his money back in a month. It was actually a plea for better performance. The C100 was suggested but again was dismissed on performance grounds.
Of course due to continued production problems, that unfortunate professional has no way of switching to one and bringing his Canon lenses with him – but the psychological impact of this camera should not be underestimated. It doesn't have to be produced in iPad-like quantities to raise the bar for customer expectations and how they judge the performance of a product at certain price levels. The performance of the C100 and C300 looks weak in comparison. Customers have never been so spoilt for choice and performance at consumer price levels, and it seems DSLRs were just the beginning of this in the film industry.
What made this possible? Technology for science and industry, as well as computing power which is doubling up on itself regularly. The Blackmagic Cinema Camera is a reality because of advances in processing speeds and efficiency (especially cooler running chips) and a scientific CMOS sensor part which is affordable enough to put in a consumer price level product. I have also seen the image from the Sony industrial CMOS in the Point Grey 4K camera for $1k and it is utterly incredible in raw. Completely film like and convincing, though a very a small sensor and with no image processing hardware integrated with the $1k camera head. All it takes is for someone to build it on as a modular solution, and there you will have 12bit 4K raw for $3k. It all goes to show how fast the technology is moving.
Really, I don't expect Canon (or the rest) to be too concerned yet. Healthy sales today don't warrant any knee-jerk reactions like price cuts, but if ever they needed a stark warning of the future direction of professional tools, heed this.