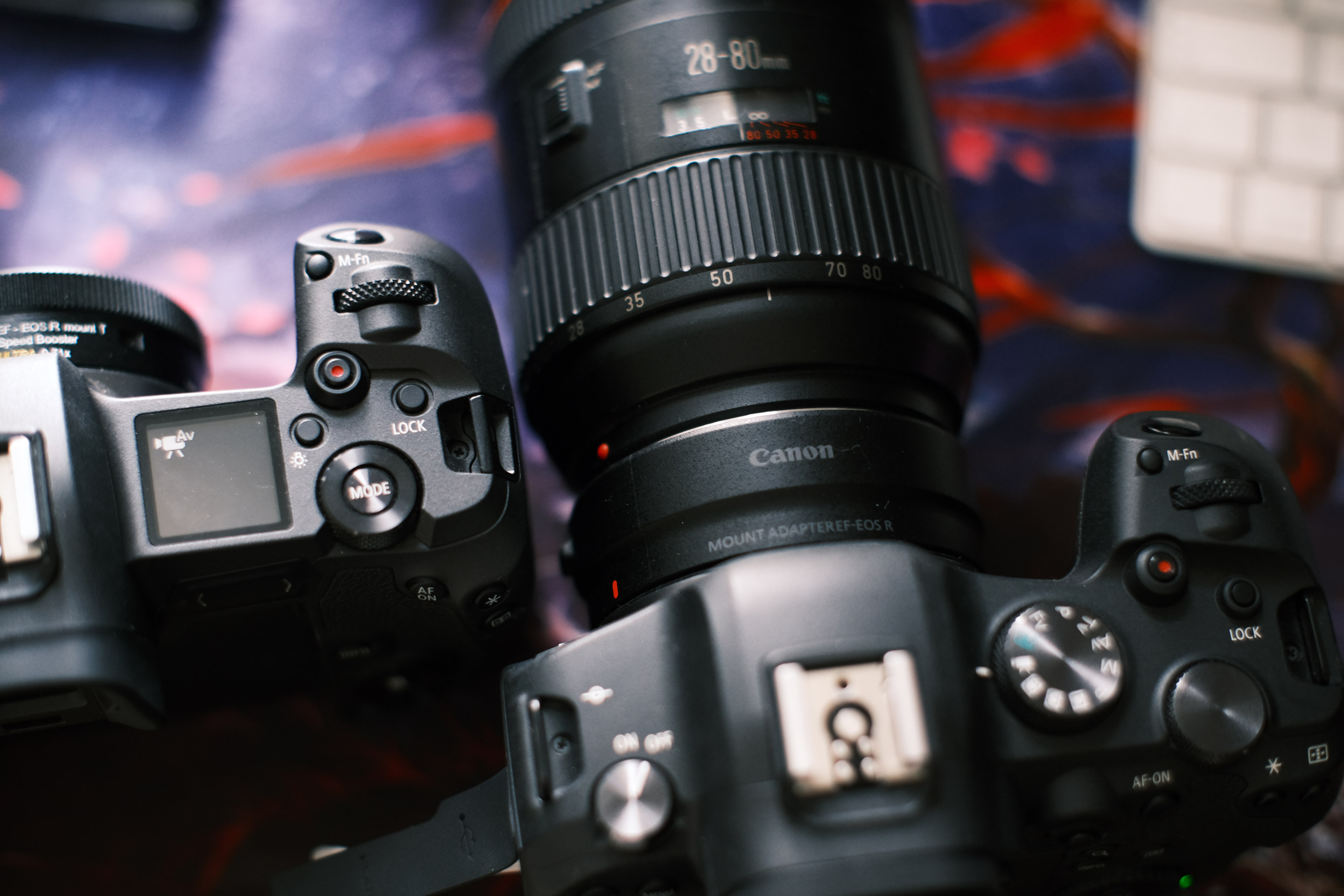 Panasonic pioneered mirrorless cameras 15 years ago and Sony made the first affordable full frame mirrorless camera.
It wasn't until 2018 with the Canon EOS R that the market leader had an answer. Fast forward to 2023, and why is it that Panasonic and Sony have squandered their lead in mirrorless cameras to Canon?
Both companies had a massive head start. Panasonic got to the market 10 years ahead of the EOS R launch, and Sony came up with the first a7 E-mount camera in 2013, a full 5 years earlier than EOS R mount came into existence.
During this time Canon only had the entry level EOS M series, and DSLRs. Now DSLRs are dead, EOS M is gone, yet there's a familiar name at the top of the sales chart.
Let's take a look at what has gone on here.
The first clue is that the camera market isn't really about cameras.
It's about the lenses.
In the DSLR days the dominant lens mount was Canon EF. Even for video shooters, with their Metabones adapters on Sony and Panasonic cameras, EF lenses had widespread use.
It has taken a LONG time for Sony, Sigma and Tamron to establish a wide range of full frame E-mount mirrorless lenses.
And in the grand scale of things, L-mount has only just got started. Between 2008 and 2018, for 10 years Panasonic only had Micro Four Thirds which was never a widely accepted alternative to full frame for photography. This meant that Panasonic spent 10 years establishing a range of lenses that were never a like-for-like competitor to Canon EF. This was a strategy that wasn't without upsides, but it seems also like a big missed opportunity. What would have happened if Panasonic and Leica had established L-mount at the same time as Sony E-mount?
Meanwhile the Panasonic G1 came out 15 years ago in 2008, and the GH1 in 2009. Seems like yesterday, but that is a very long time ago indeed by the standards of modern technology.
Together with Olympus, the mirrorless camera was invented, and it is now a format that makes up close to 100% of new camera sales unless you're Pentax. Unfortunately for fans of Panasonic's innovation and Sony's cutting edge technology, Canon are now back to around 45% market share for camera shipments – most of them mirrorless – vs Panasonic on less than 5%.
The conclusion is that Panasonic have failed to convert enough Canon and Nikon DSLR users to Micro Four Thirds and now L-mount.
The main road block for me could be summed up by the following:
Lenses are expensive. If you've invested in Canon, it doesn't make much sense to switch
For a long time, people were satisfied with DSLRs and the image quality on offer
It has taken too long for Sony E-mount and L-mount to build up a full range of glass to compete with the depth of what EF offered
You can also point to other factors, like L-mount being without phase-detect AF until very recently.
It's very hard to compete with Canon and their 150 million EF lenses sold. Some manufacturers avoid full frame entirely, like Fujifilm, preferring to offer high-end medium format.
Such were the dominance of EF lenses, Canon were able to hold out with their DSLRS for 7 years between 2013-2020 before the big switch to EOS R mount. They knew that because of EF, they didn't need a like-for-like mirrorless answer to the Sony a7, and especially not the Panasonic GH series, as Canon had Cinema EOS for video users.
The 5D Mark IV and 6D Mark II now seem incredibly dated, but because the EOS R5 and R6 II exist, users now have a clear upgrade path.
The upgrade path from DSLRs to mirrorless was always more complicated. Will the adapter be reliable? Which native mount lenses should I get? Do I get a Sigma lens, or Sony? Do I go full frame, or Micro Four Thirds, or APS-C? Too many dilemmas.
For a Canon DSLR user, the EOS R series solved all those questions in a little over 2 years. Yes the EF adapter will work and it isn't by a third party from China. Yes, go full frame with the R5 or R6 if you're an existing 5D or 6D user, or stick to APS-C depending on your budget – and as for native lenses, there were very quickly a large range to choose from which were like-for-like successors to equivalent EF lenses from the same manufacturer, and barely any third party glass to muddy the decision-making process.
Without the dominance of EF lenses there's no way Canon could have got away with holding out with DSLRs vs mirrorless for so long, and without this simple upgrade path, Sony, Panasonic and I dare say Fujifilm, would have grabbed far more Canon DSLR users since 2018.
What could Panasonic and Sony have done differently?
The answer in hindsight is actually not much.
For 8 years Panasonic could have created a viable full frame alternative to EF mount, with a range of attractive full frame mirrorless lenses. The focus on a 2x crop format created a good niche for Panasonic and Olympus, but nothing to trouble a 40%+ market share.
Sony could also have gone full frame earlier, instead the first E-mount cameras were designed to be quite affordable like the NEX series. There was also some branding confusion over NEX / E-mount / Alpha, which didn't help.
The main thing that Sony and Panasonic could have done, would have been to make the lenses a lot cheaper. They didn't have enough good affordable lenses, early enough.
Video played a big part in Sony's gain in market share, and for Panasonic too with the GH series but video has also been a distraction for Panasonic, with traditional photographers seeing it as the 'wrong emphasis' and detrimental to stills, even though it isn't – and many of them instead went for Olympus cameras, which had the branding and photographic DNA they were looking for. In this way, Panasonic Micro Four Thirds had competition from within! Imagine Canon sharing their lens mount with Nikon? Crazy.
Also when EOS R was being established, it was established as a full frame system right from the start. Micro Four Thirds was never this, and E-mount was originally designed to be only APS-C. This further confuses the customer and muddies the branding.
It was important at this time (2018-2020) with the EOS R, RP, R5 and R6 to do without the distraction of crop sensors or APS-C. That's why cameras like the Canon EOS R7 have only just been released a few years later.
The other aspect of all this is that for Canon going from market leader to market leader, is much easier than Panasonic going from Micro Four Thirds to full frame and taking market share off the leader that way. Lumix has never had the brand appeal that Canon have enjoyed, and Panasonic are known as a general consumer electronics company rather than primarily for photography.
The worrying thing for Panasonic is that have not really learnt from past errors.
They still share a mount in a consortium inviting competition from within, from Sigma and Leica. Cannibalisation is a big risk in the L-mount system. In the most recent few months Panasonic seem to be convincing Lumix shooters to replace their GH6 with a G9 II, S5 II or S1H – the biggest cannibal move ever, which risks killing their most well known line of cameras. Instead of tempting GH6 users with an upgrade path, why not tempt Canon and Nikon users to switch systems instead!
As for Sony, although they've managed to overtake Nikon in some areas of the market which is a good step for them, it does somewhat tell you more about Nikon than Sony! And there's still a big gap to Canon at the front. It was a big surprise to me how rapidly professional snappers at football matches and F1 races switched out their 1D X Mark II DSLRs not to a Mark III but instead to mirrorless models, especially with the advent of the EOS R3 in 2021. Sony has never managed to capture the pro sports market in quite the same way, with the A9 or A1, although they have done better with journalists in news organisations.
So will Canon ever be caught?
It seems a tall order, but that doesn't mean to say Sony, Panasonic and Fuji can't survive. It goes without saying there's room for more than just Canon in the camera world.
Fuji with the GFX 100 II are leading the bleeding edge of photography and video, in terms of specs and sensor size.
Sony have carved out a decent chunk of the market behind Canon, and I really think they've matured with the a1 and their cinema cameras.
Panasonic meanwhile have a chance with a more established L-mount lens line-up (and help of Sigma) with phase-detect AF to make a success of future S series cameras, like an S1R II or S1H II.
The future for Micro Four Thirds on the other hand doesn't seem as great.