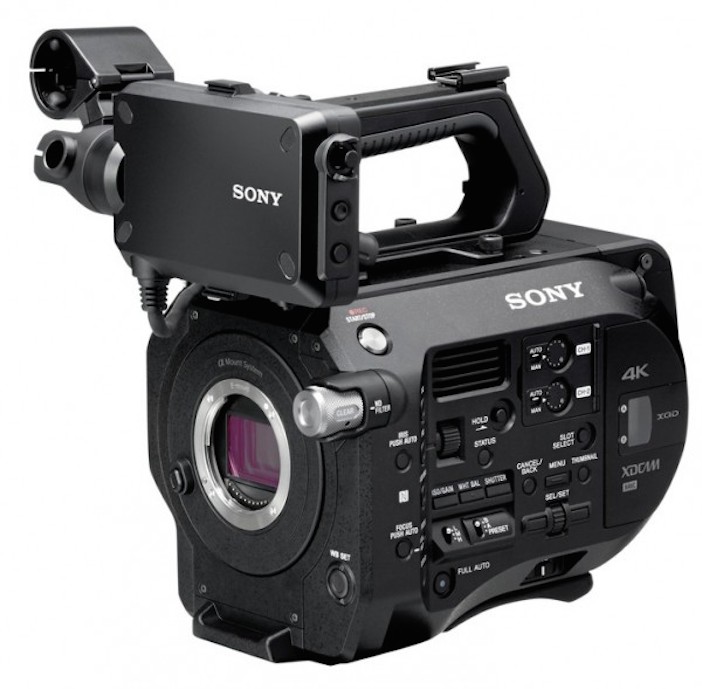 The Sony F55, F5 and FS700 now have a fierce competitor for less money, and it's not a Canon, nor is it a Red or a Panasonic. It's one of their own, the Sony FS7. Yet this cannibalisation may be worth it because the potential market for the FS7 is enormous. It's the fiercest arrow yet fired at Canon's most popular interchangeable lens video camera for pros, the Cinema EOS C300.
With a design clearly C300 inspired and the new mount facilitating the use of Canon lenses, is the Sony FS7 going to cause a mass migration of pro video birds south to Sony dealers?
Along with the FS7, Sony have announced a $998 4K license for the F5 which officially modifies the camera configuration to shoot 4K. This includes the ability to playback 4K files in-camera, something the unofficial user modification didn't cater for. This is a nimble response by Sony and good to see yet I also have huge admiration of Paul Ream though for discovering the loop hole in the first place and perhaps forcing Sony's hand on this. Well done!!
And so to the Sony FS7. It is cheaper than the C300 by a considerable margin, expected to come in at the $8k mark. This is incredibly aggressive not just vs Canon but vs their own camera line-up thus far. With the camera Sony have announced a Super 35mm servo zoom lens aimed at predominantly at broadcast, documentary and news shooters. The lens is just $2k which compares to $20k for a typical high end ENG servo zoom for a small sensor TV camera. Canon do not have an answer to this in their Cinema EOS line.
The FS7 also has a number of performance related features the Canon C300 lacks. These are not small features either. We're talking 4K internal recording to a 10bit XAVC codec internally; 4:2:2. This is a similar format to ProRes on the Arri Alexa. It does 60fps 4K at 600Mbit/s and 4K 24p at 240Mbit/s which is a considerable space saving over 10bit 4K 24p on the Blackmagic Cinema Camera at 800Mbit/s. There's also 180fps in 1080p where the C300 tops out at 30fps. Both cameras have 4K sensors but the performance gap in processing speed is not so much a gap but a gulf. Canon don't have an internal 4K codec on the C300 and I think now is the time to maybe think about a firmware update and a replacement for the C500.
The FS7 also has a lightweight broadcast ready 50Mbit/s XAVC mode for regular HD content delivery, which is still a popular option and one of the reasons the lack of any real advanced specifications on the C300 didn't hold it back at launch.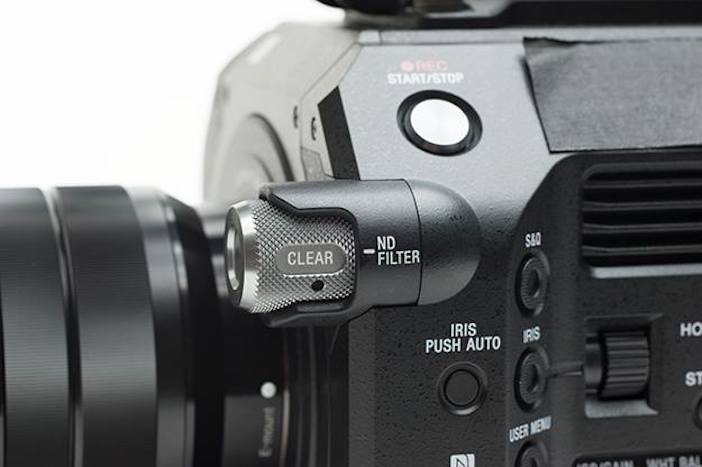 Versatility the key to capturing the market?
The key thing with the FS7 appears to be how versatile it is, and in the Sony A7S they have a great b-camera to accompany it. The $8k price tag for the FS7 body alone makes it attractive to the mainstream professional shooter. One man operators on a smaller scale, wedding video shooters, indie filmmakers and freelance videographers with a few corporate clients. It is only $2k more than a Canon 1D X which puts it within reach of professional photographers stepping into video or doing hybrid stills and video work on a commercial basis. Then there's the servo lens and various aspects of the spec that make it attractive to the broadcast market, especially small crews of news and TV shooters. Yet it has the performance to really appeal to the high end and filmmakers too.
E-Mount allows for a PL mount adapter whereas the lens mount configuration of a C300 (EF or PL) has to be decided at the point of purchase. The mount on the FS7 is whatever you want it to be – EF, PL, Nikon, the lot.
Slow-mo is an increasingly mainstream creative technique used on a very wide range of content indeed and I am quite amazed Canon have no high frame rate / high speed camera option to compete with 180fps 1080p on the FS7. Even more amazing is that they have no 1080/60p option on the C300. The FS700 was able to garner quite a few sales on the back of high speed frame rates alone because there's so little competition. If you need slow-mo and raw for instance the Red Epic is about the only widely available rental option. The FS700 did well where compressed 1080p slow-mo was all the final delivery required. I've seen it used by major broadcasters like Sky in sports coverage (F1, football) for additional content like idents and run & gun situations such as in the pit lane of an F1 circuit where space is limited and where a Phantom Flex wouldn't be nimble enough for a one-man operator.
The FS7 for DSLR users?
For a creative filmmaker whose day job is not commercial filmmaking, how realistic would it be for them to own a $8k camera? Well obviously there's a broad range of consumer spending at play here. There are consumers who work a day job and do filmmaking as a hobby and obviously a GH2 for $500 would still serve them well even in 2014. The top end DSLR for video like the Sony A7S or 5D Mark III is $2500 yet most higher-end enthusiasts have a larger investment than that in lenses. Sell everything and I'd suggest a very small number of consumers would actually be able to stretch to owning a $8k but they'd have to be pretty serious about needing what it offers and about making it work for them financially.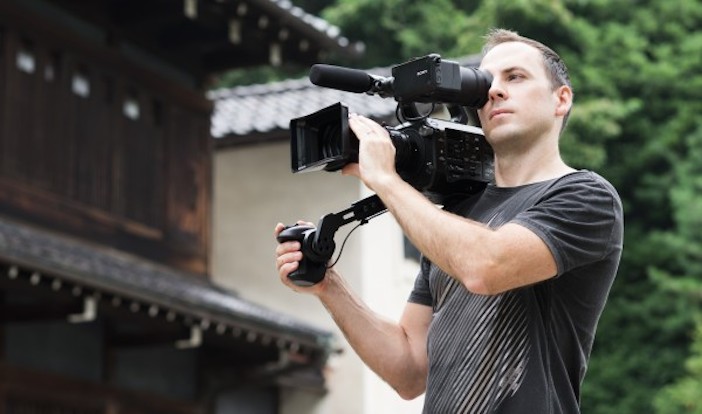 As for indie filmmakers with a bigger investment to make in gear, the Blackmagic URSA is $6k and the FS7 at just $2k more is going to be a no-brainer for many people. The problem I have with the URSA is two-fold. The ergonomics make it completely unsuited to anyone but a large crew on a film set. It doesn't need to be as big as it is especially the screen. It is just not versatile enough. That the screen cannot be unmounted and that the heavy camera is so poorly balanced means you are going to have to shift to a different camera entirely for any handheld / shoulder mounted stuff. The other problem I have with it is the sensor. The global shutter mode on it is too much of a compromise. It means you are restricted to ISO 400 and cannot work in dim natural light unless you have a crew of lighting technicians standing by. Look…I admire the filmmaker-orientated philosophy of Blackmagic and want them to succeed but I have huge doubts whether the URSA is the right way to go about doing it. Then there's the AJA CION which again has lovely filmmaking DNA running through the whole philosophy but the same limiting sensor as the URSA. The file sizes of 4K ProRes are another issue. XAVC for 4K is very scalable and offers reduced bitrates and not just 600Mbit/s. Even then it weighs in less at the top setting than 4K ProRes on the URSA and Production Camera which shoot 800Mbit/s resulting in absolutely enormous amounts of material. This is fine if you're putting out one carefully crafted artistic short film a year – and that is certainly an admirable goal – but what about everyone else who have to shoot on a weekly basis just to make a living? How are they going to explain the file sizes to clients or to their hard drives or even the wives!? How many trips to the local computer store for NAS standard hard disk drives would their wives tolerate before filing for divorce!? So my message is clear. If you don't want to be divorced, shoot with a compressed codec!!
4K ProRes is like 1080p raw. I love the images. The 5D Mark III with raw video / Magic Lantern is just a thing of beauty. But similar results can now be had with 4K and S-LOG on a Sony camera, so why go through the pain of such huge file sizes when the gain over a compressed format has narrowed so much?
Additional information
All codec / recording options (QFHD = 4K):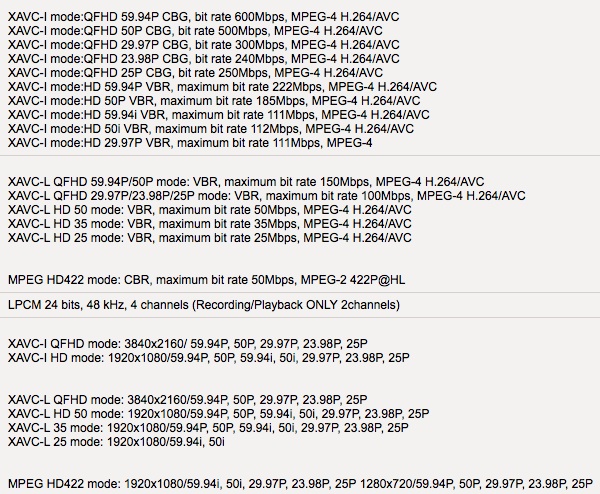 Main specifications of the camera-head: