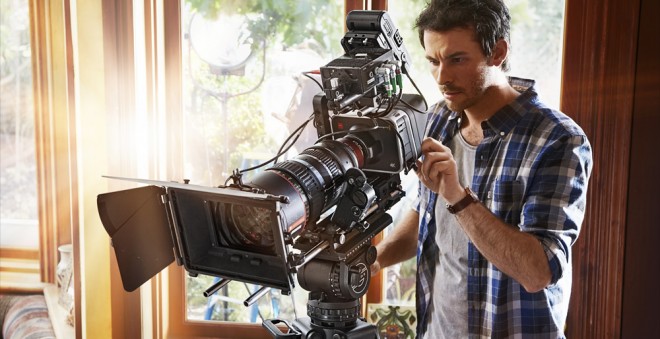 For the second NAB in succession Blackmagic are bulldozing down the image quality / price barrier for film production. 4K compressed raw, global shutter and Super 35mm was the unique preserve of Sony with the F55 until today, and that was a $36,000 camera. This is a $4000 one. Gone is that extra margin – unsettling stuff for the big guys. Here's my own personal look at the cameras and the consequences.
First a summary now the dust has settled, what have we got here?
Pocket Camera
A pocketable BMCC M43, doing what the Bolex Super 8 movement did in the 1970's putting film in the hands of consumers, sub $1000. A new Super 16mm CMOS sensor should help avoid supply issues – it isn't the same chip as the trouble BMCC used. Camera seems well advanced in development though a few basic things like audio-meters still missing. Very nice high resolution screen but seems to lack dedicated buttons for ISO, shutter, etc. Only aperture and focus assist have their own button. For those not concerned at the small sensor size or looking for 5D Mark III style low light shooting capabilities, it will be a perfect replacement for a DSLR on a budget as small as the camera itself.
Extremely small and light
Super 16mm CMOS
1920×1080 resolution
ProRes 422 recording
Rolling shutter
Mini HDMI output
Active Micro Four Thirds mount
$999 and July release
Production Camera
Would rather have seen a black cube than a return of the BMCC form factor unchanged – but with 4K for $4k and then some this camera is a long awaited dream come true in terms of the specs sheet. It has 4K and global shutter to grab market share from production workhorse cameras but whether it also has the practical attributes and form factor to go after the C300, F55, Epic and Alexa remains to be seen. Compressed raw and Super 35mm CMOS sensor very welcome additions, but global shutter may have impact on low light shooting and dynamic range. Stills seems to lack anamorphic 4:3 recording mode.
Identical form factor to BMCC
Super 35mm CMOS
4K compressed DNG raw
Global shutter
Canon EF mount
ProRes 4K and 1080p
$4k and July release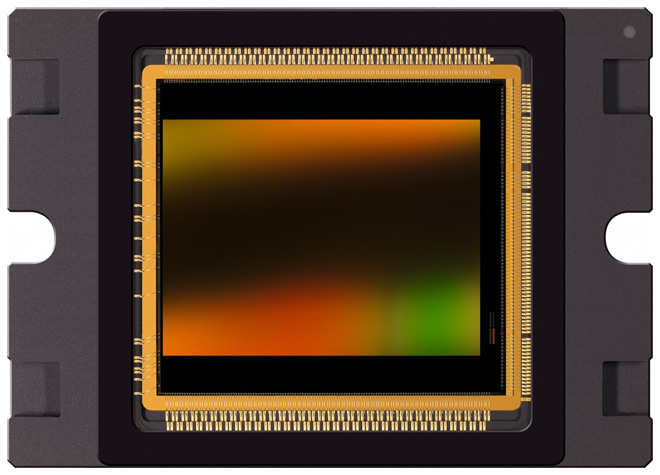 There's some confusion between CMOS and CCD on the interwebs. A CCD sensor has a global shutter by default. CMOS has to have it built in as part of the design. Usually a CMOS will use a rolling shutter. It is only now that the technology has advanced to the point where global shutter can be implemented without dramatically reducing sensitivity and dynamic range.
Both the new cameras have a CMOS sensor, and the Production Camera has a very advanced one with global shutter. The only other current cinema camera to have a global shutter CMOS is the $36,000 Sony F55. CMOS shutters typically have better sensitivity than a CCD, but a CCD sensor usually has the edge in colour and a randomised noise grain like film with no fixed pattern noise which can be an issue on CMOS sensors. The global shutter feature was turned off on the original BMCC as image quality suffered too much.
The new Production Camera is amazing but the one significant mistake I think Blackmagic have made is with the form factor. To win over working pros you need to get the basics right and they are even more important than outright image quality or specs. You can't see the screen when shooting handheld on the shoulder. There's no built in ND. I guess Blackmagic expect most productions will use a full cinematic rig on sticks with a matte-box. Actually many pros will be shooting handheld and will prefer the ND to be built in and to be able to see the built in screen.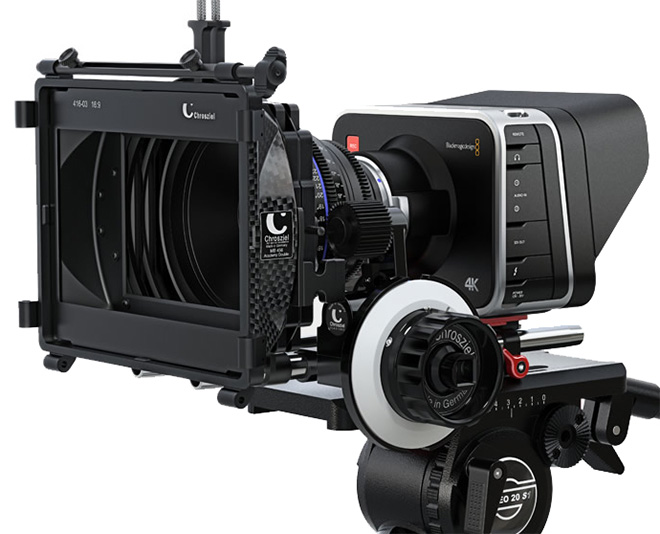 I'd have preferred to have seen a black box with a lower centre of gravity and equal weight distribution. The Blackmagic Production Camera remains narrow, unlike the cube-like Epic, Scarlet and KineRaw Mini. All the ports are on the left of the camera – not good for shoulder mounted shooting. Finally I'd have preferred to have an Epic like articulated LCD panel which is powered by the camera and some physical controls for aperture, shutter, etc. on the camera body instead of a giant screen. The rear of the camera still more resembles a media player than a camera. It was an opportunity to break with the quirky 1.0 camera but Blackmagic chose to maintain compatibility with existing Cinema Camera rigs and accessories. A mistake in my view.
The Pocket Camera is a much nicer form factor in my view. It has a proper grip and is absolutely tiny. The SD card slot is under the camera, I'd have preferred to have seen it on the side but other than that it looks very convenient to use especially on sticks. Handheld in terms of low weight and grip is good but stabilising it will require extra stuff and there you are back to the old DSLR / BMCC ergonomic issues. Think of it as a Sony NEX 5N with a nice upgrade in terms of the image. Battery life could be suspect – but I am sure third party battery grips will be available before long.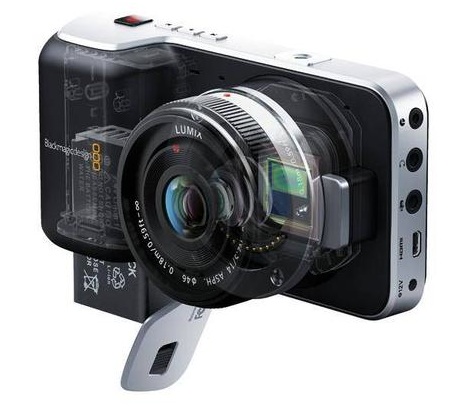 This is a camera that will set alight the GH2 community – I can see a lot of people embracing it. The price is incredible for film-like 10bit ProRes and it fixes a lot of the ergonomic shortcomings of the larger camera. Much lighter at 355g for a start! It may also improve the rolling shutter skew – the smaller sensor is a new chip and the smaller physical size should make for a faster rolling shutter scan.
Blackmagic are clear that the Pocket Camera is a film camera not a camcorder, so it isn't aimed at the same market the Sony NEX 5N is. My mum won't be buying one but it IS a stern test of DSLR video – will people still be interested in a NEX when they can have this for $999?
4K for $4k
I once suggested this 4K Super 35mm sensor from CMOSIS might be a good fit for the Blackmagic Cinema Camera V2.0 as it could be bought for less than $1700 per unit. Clearly in 2013 it can be done. A camera is a sensor attached to an image recording device. Blackmagic already had the recording device down pat, and basically just needed to mate a sensor to one.
Image processing is Blackmagic's strength so if anybody can do it they can deliver the whole box not just a sensor attached to a laptop.
Whilst the Blackmagic Cinema Camera was aimed at hobbyists and indie filmmakers, the Production Camera is as serious as the name suggests.
You simply cannot ignore 4K and global shutter. They're headline features Sony is charging $36k for. Blackmagic, $4000.
As for Canon you could buy a 1D X, and the Blackmagic Production Camera for less than one 1D C would cost you, and you get DaVinci Resolve 10 as part of the bundle. The advantages of the 1D C is that you can do video and stills on the same shoot, on the same camera just seconds apart – but to be honest taking stills from the 4K raw output of the Blackmagic Production Camera is good enough for many photographic purposes. I'm expecting the Canon 1D C to be better in low light situations though.
For the masses $4k makes a difference to $12,000, that isn't exactly a friendly mass production price.
4K as a new standard
Blackmagic shocked everyone at NAB last time around but the main difference this time is that 4K is just about to break out as a new standard and Blackmagic are part of  it. Sure Red have been pushing 4K and 5K for years but it is only really now that it will begin taking off, because the consumer hardware is finally about to hit the consumer. Sony for instance announced a $5k 4K TV at NAB, a $699 4K media box pre-packaged with 10 4K films and a 4K content delivery channel.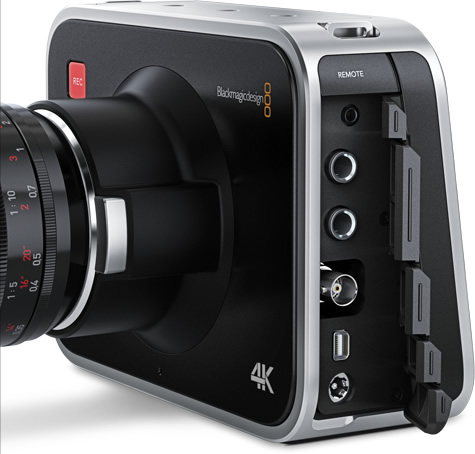 If Blackmagic can ship 4K camera hardware quickly enough to big content producers, they have a real chance of usurping Arri and Canon in the TV and film industry. Red and Sony should also be watching their backs.
Conclusion
I just think the more mundane, basic things will be an obstacle between production and Blackmagic's new camera. The image quality is persuasive but there are more factors than just that at play in production. Why go to such lengths to deliver an amazingly high spec compressed raw 4K camera with global shutter and leave out something as basic as an ND filter? I just cannot see the likes of Philip Bloom shifting to using a Blackmagic Production Camera full time until issues around practicality and usability are improved. DSLRs also missed basic video features which was the number one reason why the professional community drifted away from the 5D mark II to the C300. Image quality and things like sensor size played a much smaller role in that migration.
With Cinema EOS, Canon took what people were doing with DSLRs in the days before all the new dedicated interchangeable lens digital cinema cameras were launched and fixed the issues, namely lack of built in ND, lack of resolution, moire and aliasing issues, tricky focus and monitoring, lack of professional output ports such as HD-SDI, XLR, etc. and also the lack of a broadcast ready codec.
Yet on paper, Canon and Panasonic (where on Earth is the new AF or VariCam?) now simply don't have the brute specs to compete with a $4000 camera, and that must be a concern to them.
List of major features missing from the $26,000 Cinema EOS C500 compared to a $4000 camera…
No global shutter
No 4K onboard – cabled third party external recorder required
No 6G-HD SDI port
No internal raw codec
Sony and Red do have the hardware but may be forced into a price war if the Blackmagic Production Camera is embraced the productions its name hints at.
For the rest of us still getting nice results on DSLRs with some careful handling, I am sure we will be in love with the image and I'm very excited to start harnessing the image quality of 4K raw lyrically to tell a story or create a mood.
Be sure to catch John Brawley's take on the Blackmagic Pocket Cinema Camera
And finally
One final thought. These cameras MUST be delivered. Blackmagic's reputation cannot afford another BMCC 2012 situation. If they tell their dealers and customers July, it must ship in July and ship in large quantities.