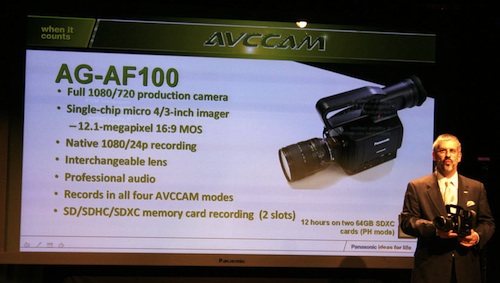 Amazingly the rumours were right once again, and somebody from NAB leaked the AF100 to 43rumors a day before the press release was due.
The implications here are enormous.
• HD-SDI live output will enable monitoring and capturing of uncompressed feed (yet to be 100% confirmed)
• Proper audio support and 2 XLR jacks
• Designed for video ergonomics and handling
• The value of lenses adaptable-to-M43rds will rocket
• The purchase of Micro 4/3rds lenses will be a better investment – usable on both your future stills AND pro video cameras (you could even rent them out to professional film crews). I expect the Leica 14-50 F2.8 to be a brilliant investment now – BUY IT!!
• AVCHD 24mps and more advanced image processing (yet to be confirmed)
Maybe the release of this camera explains why, when Canon were pushing the 5D Mark II to the film making community, Panasonic were sitting back and quietly selling the GH1 to consumers and photographers.
The sensor is 12MP – is it the GH1 chip without any customisation for video? Nothing is confirmed yet but by the time the AF100 is released between September and December 2010 if everything goes according to targets, Panasonic will have the GH2 available with quite possibly a better sensor, global shutter and better low light performance.
Whilst a product like this is exciting, it's an expensive and bulky choice compared to the GH2. But if you really must have proper video camera handing and functionality built into the body, this camera is truly a game changer. They'll stomp on RED with this until they Scarlet bleeds red. It really is that big.
The GH1 and forthcoming GH2 do not really have the 'pro' credentials (yet). The AF100 undoubtably changes that and if it goes about solidifying Panasonic's reputation in this area, then that is a much needed boost against the likes of Canon.
Now, Canon know how to differentiate product lines by engineering in limitations in the lower models – for example, the 550D versus 7D. That's how they can sell such quality in an affordable package. We saw with the GH1 that the bit rate and image codec had issues for professionals, such as mud and a lack of support for b-frames in the image processing pipeline. Now the GH2 will have to be differentiated with this big brother, the AF100, I must admit I'm a little worried about what compromises we'll be seeing on the much anticipated consumer camera.
And finally – Nikon. For the love of God get your R&D department a shoebox to stick the D3S chip in and shove it out the door so you can enter the game. Nikon is like the guy asleep in the bath when Steve Jobs calls round with a job offer!
PS…
Meanwhile Sony are entering the game too, in 2011. This prototype has just been unveiled at NAB