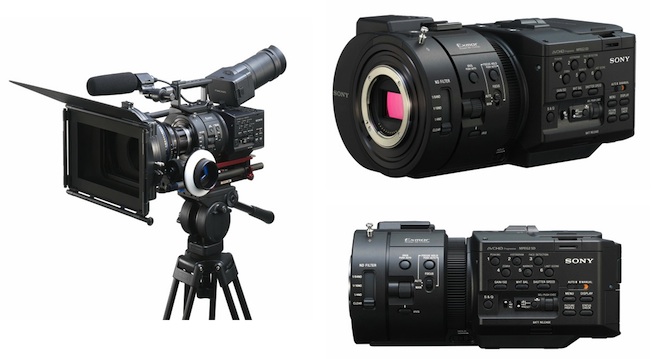 As first revealed on EOSHD last week the $8k Sony FS700 has now been officially unveiled. The specs are as leaked but there are some significant extra details which make it even better, especially in terms of slow mo which is full 1080p all the way up to 240fps!
The sensor and image processor is an absolute monster in this camera. The sensor is 4k and has a 3G HD-SDI tap on it. Sony say this is a 11.6MP effective chip – which is a little odd as 4K is 8MP and there is an 8MP stills mode on the camera to boot. I have no idea what the extra 3.6MP is for! It could be a new kind of bayer variation and I'm looking into it.
4K is via a firmware update later. The external 4K recorder will be provided by Sony. I'm expecting it won't be a cheap add on. Even if the firmware update itself is free, the external recorder is likely to be an expensive bit of kit until third party ones spring up. I'm expecting the 4K capability to add around $5k at a guess maybe more. Sony have a keen eye on the pricing of their competitors and the Scarlet-X is not ready to roll until you hit roughly $15k.
Frame rates go as high as 960fps which is unheard of in a cinema camera until now (the Phantom does 600fps). These higher frame rates are at a lower image quality than 120fps and 240fps which are full 1080p. Personally I am very happy with 120fps and 240fps because these will be just beautiful and more than enough for most slow-mo shots.
400fps and 480fps use the full sensor but line skip before interpolating up to 1080p whilst 800 / 960fps is a very narrow letter box crop of the sensor delivering only around 200 lines of resolution. Keep in mind we're talking the kind of frame rates the scientific community would find useful here so that is to be expected!! If you need 400fps + with the FS700 and want to maintain the image quality, Twixtor will still be a good option because motion estimation routines work far better when there's more frames to interpolate from – 10x more in this case, rather than just basic old 24fps.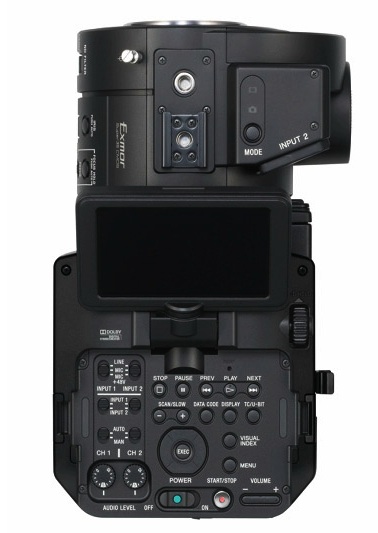 Above: the NEX FS700 shares a very similar control layout and the same screen as the FS100
Pricing is very aggressive for the spec and Sony is to be applauded for this. Even for the vast majority of DSLR shooters to whom $8K is out of reach there's no need to see the $8k price as a bad thing because the FS700's pricing is mega news for prosumer digital cinema cameras. They're about to get a lot cheaper if the high end stuff is anything to go by. For what it offers at $8k, 4K and 240fps 1080p is unheard of at this price point. Meanwhile the very capable FS100 which can now be had for £2700 / $4200 is much cheaper than the FS700 so still has it's place. It is more accessible and has much the same basis for a camera, aside from ND filters, 4K, HD-SDI and the improved slow mo capabilities. Rather than a direct successor (i.e. an FS200) the FS700 is really a separate line and doesn't make the FS100 obsolete but it could lower the price. The un-fancied Panasonic AF100 is currently languishing around $3000 yet still offers a lot!
Now the FS700 on paper out-classes the Canon C300 pretty comprehensively. I have long been critical of Canon not pushing hard enough and this is proof. Cheaper but more powerful. More daring and more aggressively pitched. The C300 has also had a few teething issues. Some people are reporting an aliasing issue with a green tint on fine patterns made up of blown highlights and the biggest dealer in Europe CVP is warning people not to hot swap lenses as it could blow the fuse. I'm curious to see if this is a serious issue which warrants a recall of not. Either way Canon seem to be on the back foot unfortunately. People seem to have forgot the 'keep your powder dry' argument – to wait and save up – until the dust settles on new camera tech. Insert your jokes about Canons here!! On the FS700 lenses aren't really an issue because it will take Canon glass with full functionality thanks to third party adapters. Since the flange of the mount is less than than 20mm compared to the 44mm of the EF mount on the C300 it can be used with a wider variety of glass and is switchable in an instance between PL, EF, Nikon, Leica M and pretty much anything else made of glass. James Miller will be whacking this like crazy!! But the C300 does still have a big advantage in terms of the ergonomics. I much prefer the DSLR style handling of the C300. The FS700 seems at first glance to do nothing to improve the fiddly little nobs and buttons of the camcorder-esq FS100.
When Sony announced the FS100 they said the lack of ND filters was due to the E-mount not having room for them. Well it turned out this was a little Nikon 'system error' moment because the FS700 features the same E-mount but has built in ND filters – 3 of them in fact – 2 stop, 4 stop and 6 stops. Go figure!
A neat little feature that the FS100 will get in the next firmware update is on the FS700. Users can share image profiles on a memory card, pass them around the web and download up to 99 of them onto their camera. I can see a nice little community springing up around the FS series 'Settings Vault' similar to the GH2 hack community. Another small thing is AF. Not a priority for cinema stuff but run & gun people will love it with the SLT adapter and the newer Alpha glass – at long last properly quick AF tracking on a large sensor camera.