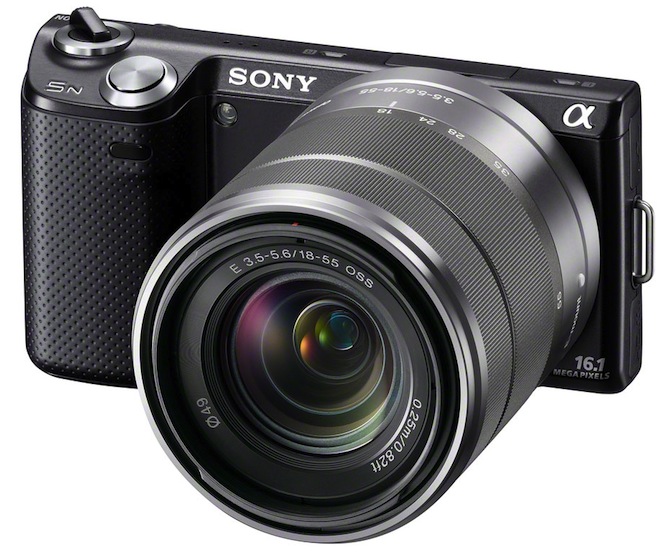 With the new Sony DSLRs (plus a mirrorless and camcorder) those in the market for a new video DSLR must be feeling a bit dizzy! These have really thrown things up in the air. So what video capable DSLR now suits your needs best? As it happens, the GH2 still has a big roll to play.
I am ignoring the image quality gains from the Sony A77 and NEX-7 for now – we don't 100% know much about that yet since earlier reviewers have been instructed by Sony not to comment on it until they have the final production samples. All will become clear in a few weeks.
Really this guide is about functionality, needs and exactly what you'll use most.
EOSHD's Opinion
Actually I as excited by the cheap NEX-5N as I am by the big guns here. I can't wait to get my hands on it and I won't have long to wait because it's out in September. There's also Berlin's IFA show where I will hopefully be getting a close look at the A77, testing it's HDMI output, and playing with the VG20 camcorder too (a baby FS100).
For $700 with kit lens the NEX-5N is basically a VG20 (with same sensor) but this time they're being very generous and giving us full P/S/A/M control in video mode and 24p. Just what we needed. Also since the sensor is a far less packed 16MP compared to the A77 and NEX-7's 24MP low light performance is very decent and better than the GH2 / 7D.
1080/60p is lovely for slow mo on this camera and the PAL version has 25p/50p making it suitable for broadcast work (BBC will love it for b-roll, covert journalism). The only downsides are a crop in video mode and lack of manual audio. I have used the just released NEX C3 which has the same sensor but older image processor and there is a slight crop in video mode that the new cameras apparently have as well (not just to get 16:9 but horizontally too). The small crop becomes a big one if you have electronic video mode SteadyShot enabled so you do lose a slight advantage from the APS-C sensor over the GH2 but it's not that bad – still less than the 2x crop of Micro Four Thirds. This is nowhere near as bad as it was on the old NEX-3 and 5 however and because you have a dedicated video mode you get to frame the shot properly. On the old cameras the crop came in as you hit record!
Since the 5N is mirrorless unlike the A77 you don't have the massive lens headaches but jury is out on the HDMI output and whether it stays on during recording and what format it is. I'll test my Zacuto EVF with the NEX C3 this week and if it works on that budget cam it will almost certainly work with the new NEX 5N and shiny new Bionz chip. I'd be surprised if it doesn't.
Below are all the current contenders' strong points. What's interesting is each model has a unique strength that absolutely no rival DSLR has. This is marked with a *.
Sony NEX-7 and NEX-5N
Slow motion – 1080/60p *
Mirrorless – lots of adaptable lenses on an APS-C sensor
Manual focus stills (peaking very handy)
NEX 5N price is a bargain
The NEX 5N is available soonest (mid-September) and is by far the cheaper camera. This will certainly be my second body alongside the GH2 at least until November when the NEX-7 shows up. Great to see manual control on it and I like the way the NEX series handles. My old NEX-3 feels great in the hand with an old Canon FD L lens on it and they have peaking for manual focus.
With the NEX-7 being a true pro / semi-pro mirrorless Sony have done a great thing here. I was so fed up with the GF3 style rubbish!
Panasonic GH2
Good for
Manual audio controls
Action sequences – high bitrate 24p *
Anamorphic (4:3 mode with hack) *
Telephoto work in crop mode
Why you should get it
High bitrates with the hack good for action and handheld camera work. Very decent manual audio control and high audio bitrates with the hack. Still the best all rounder in the world of the video DSLR. Featureset especially with the hack is enormous!
5D Mark II
Good for

Full frame sensor *
Stills
Narrative filmmaking
Why you should get it
Brilliant in tight spaces and for fast wide angles in low light. Nice looking roll off and decent dynamic range. Easily the best looking stills of any current video DSLR. Until the new Sony and Nikon full frame cameras this is the only option if you want the benefits of a full frame sensor for video.
Sony A77
Good for
Run & gun in auto – best AF on a video DSLR by miles *
Very good OLED viewfinder
Sony 16-50mm F2.8 is attractive option especially for run & gun
Why you should get it
I can see the A77 working out best as a documentary maker and journalist's video tool. AF is superb, the viewfinder is superb, rolling shutter for handheld work greatly reduced. What it offers in image quality above the rest is yet to be fully determined and that could sway things too. But really a camera at this price level should have manual audio like the GH2.
There are always irks but let's be honest here Sony have done a superb job here and for the most part listened to what the DSLR video community wanted.
Sony VG20
Good for
Manual audio recording
Camcorder form-factor *
Run & gun in auto
E-mount (mirrorless) good for adaptable lenses
Again, a good camera to put on an ENG rig and for broadcast, weddings and events. This offers by far the most 'video' like handling and featureset. Great manual audio control so you can use the onboard mic instead of the hassle of dual sound systems and sync.
But those aspiring filmmakers looking to save money should definitely take the similar performing NEX 5N instead.
Canon 7D
Good for
Extreme weather, shooting around water
Only current Canon with clean HDMI *
Why you should get it
It has a robust body and clean HDMI so it's the best Canon to use with a monitor in the rain! But there are very few compelling reasons to get it for DSLR video now that the Sonys and GH2 are around unless you are only able to use Canon lenses and don't have the Birger adapter or similar. It just doesn't come close the features and image quality offered elsewhere for less money. I'd be far more tempted to get the 5DMkII and exploit full frame if I had a lot of Canon lenses and pay the extra over the 7D, and if I had a lot of APS-C only Canon lenses I'd be tempted to save money and get a 600D instead!
Canon 60D,600D, etc.
Good for
Shooting films with if you already have one!
Still great cameras, but let's face it up against the new Sonys (especially the cheaper NEX 5N) and the GH2 there's very little reason to buy one over the others since it has no advantages in any area when it comes to video. We need replacements now.
I am sure Canon will get it right and we could be seeing the 5D Mark III this October which will probably blow everything in this list away. It won't be cheap but if you're planning a major narrative production for the new year I recommend holding off on the Sonys and seeing what Canon come up with.
Want to shoot right now? Get the GH2 or NEX 5N.