[vimeo]http://vimeo.com/76881206[/vimeo]
I would really love to see how this lens does against a $47,000 + tax cinema lens like the Optimo 15-40mm T2.6 because I honestly think it would come close.
Blackmagic must share a similar philosophy, because the Blackmagic Pocket Cinema Camera gives an image that in many ways exceeds the $15,000 Canon C300 especially when paired with the Metabones Speed Booster.
The image in ProRes beats any DSLR or compact system camera out of the box for video. It is an incredibly flexible image in post with plugins like Film Convert, with none of the transcoding or editing requirements of raw video.
In short I absolutely love this combination and it will be getting a lot of use. There's not a single moment when I've thought something would look better on a GH2.
In all the important areas it performs in spades – to prove it here are some graded frames from my ProRes divided by what area they're a good example of.
Resolution / sharpness at wide angle
Original ProRes file at Vimeo (plus members, download HQ 1920×1080 version)
Speed Booster comes of age
The soft corners of the E-mount Speed Booster are no longer with us. They faded with the Micro Four Thirds version and they're essentially here absent because of the 3x crop sensor.
That sensor becomes a 2.1x crop making the Sigma 18-35mm F1.8 a very tasty 38-75mm F1.2 constant zoom. Brightness is absolutely constant throughout the zoom range, although bokeh is smoother at the 35mm end. That's because the iris blades do not fully open between 18-24mm, to maintain the constant F1.8 aperture. I suspect Sigma have actually created a F1.2-F1.8 zoom here. An extraordinary technical achievement especially for $850.
It is as sharp as a prime and built like a tank (though not weather sealed). It really is the closest you can get to the end results of cinema PL lenses, as an affordable ownership prospect not rental.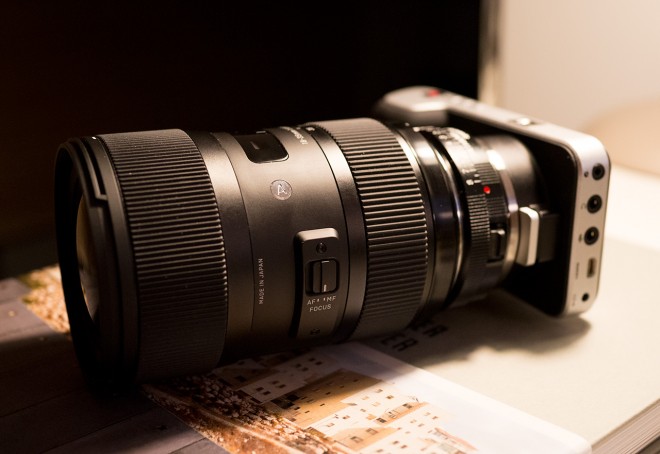 Versus – Voigtlander Nokton 25mm F0.95
Put simply the Sigma 18-35mm F1.8 with Speed Booster has the Voigtlander for breakfast, but there's a bigger than expected difference in exposure. Some of this is down to the hazy low contrast look of the Voigtlander. Blacks are much more inky on the Sigma wide open and colours are punchier. On paper the boosted F1.2 on the Sigma and the F0.95 on the Voigtlander should be similar in terms of exposure. Speaking T-stops it looks like the Voigtlander at F0.95 is T1.2 whilst the Sigma with Speed Booster is T1.8 – so there's maybe a slower transmission of the glass going on in addition to higher contrast. This slight light loss isn't unusual considering how many elements are in the Sigma and how complex the design is.
Field of view at 35mm is almost identical to 25mm on the Voigtlander. A nice portrait focal length. It is much sharper wide open than the Voigtlander, even when the highly rated prime is stopped down to F1.2 or F1.4. The Voigtlander has a lower contrast and hazier feel, with out of focus areas suffering from a lot of coma. Bokeh, contrast and colour are crisper and less fuzzy on the Sigma with Speed Booster. Especially in out of focus areas, the lens maintain a certain clarity and richly defined texture.
Of course this kind of performance is out of this world for a fast aperture zoom!
Just how sharp is it wide open? Let's stop the Voigtlander Nokton down to F5.6 and compare it to the Sigma wide open –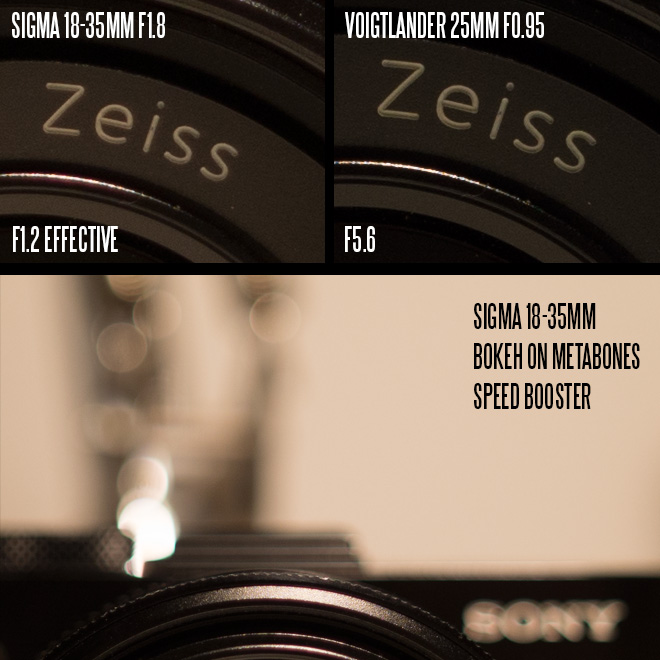 That's an extraordinarily small difference in resolving power given the fact one is wide open! The Sigma by the way has a much more appealing warmer tone than the Nokton.
The Voigtlander is a very well regarded lens but maybe here its had its day.
How much wider?
The Micro 4/3 Speed Booster makes a lens 0.71x wider and 1 stop brighter. Thus turning the Sigma zoom into a 13-25mm F1.2. There's nothing else like it which will cover a Micro Four Thirds sized sensor. The Panasonic 12-35mm gives you a slightly longer reach, stabilisation, similar sharpness but lacks the super fast aperture and shallow depth of field. The Sigma zoom is a very versatile lens which is not locked into just the Micro Four Thirds system. It performs fantastically without Speed Booster on APS-C and Super 35mm cameras. It even covers full frame at 35mm though in my opinion 5D Mark III owners would be better off with the full frame 35mm F1.4. Focus in the corners goes weird, with the background coming back into focus at the extreme edges.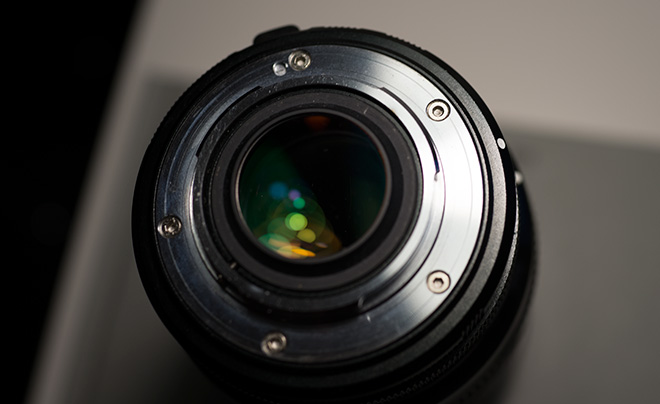 The 3x crop of the Pocket's sensor still applies to the 'boosted' 13-25mm range, making it a 38-75mm lens in full frame equivalency. So while it isn't quite 28mm wide angle like on a APS-C DSLR, it is moderately wide in terms of the 35mm focal length used by many press journalists and war photographers. Wide enough, in other words, to be a good general purpose lens at the wide end and a good portrait lens at the long end.
Speed Booster effect: 0.71 x 18mm = 12.78 (35mm end becomes 25mm)
Crop factor of Pocket Camera: 12.78 x 3 = 38mm (in full frame equivalence, with 3x crop sensor)
End result is a 38-75mm F1.2 zoom.
Another way of looking at this is to glance through the adapter, the Pocket's sensor will appear larger to the naked eye. You can keep the original focal length of the lens and apply the new crop factor of the 'larger' sensor which is 2.1x (18mm x 2.1 = 38mm) in the case of the Pocket.
This brings the Pocket close to the standard Micro Four Thirds sensor size, like the 2x crop of the Panasonic GH3. The bigger 2.5K Blackmagic Cinema Camera has a 2.3x crop sensor (without Speed Booster).
Going wider
The Tokina 11-16mm becomes a truly wide 23-33mm lens on the Pocket Camera with Speed Booster, though my version is in EF mount not Nikon, so I've not yet had the chance to see what it looks like on my Speed Booster. Other options wider than 18mm are rare for the APS-C and full frame mount of Nikon or Canon at fast apertures. A few of Canon's EFS zooms start at 15mm or 17mm but they all have a comparatively slow aperture even with Speed Booster.
Handling
I don't like using the Pocket Cinema Camera with active Micro Four Thirds glass as it tries to set the aperture automatically every time you turn it on. Hopefully a switch to turn this function off will be added in the next firmware update.
Good thing the Metabones Speed Booster for Micro Four Thirds has a manual aperture control ring on the Nikon mount version, which I am using with the Sigma 18-35mm. This operates the iris via a metal lever on the back. The Canon EF version doesn't have this so you will have to wait for the much delayed EF mount Speed Booster for Micro Four Thirds to use the Canon version. Both the Nikon and Canon versions lacks a manual aperture ring, so to have this back courtesy of the adapter is a great feature. It's much easier to set the aperture via a ring than it is on the small Pocket camera buttons.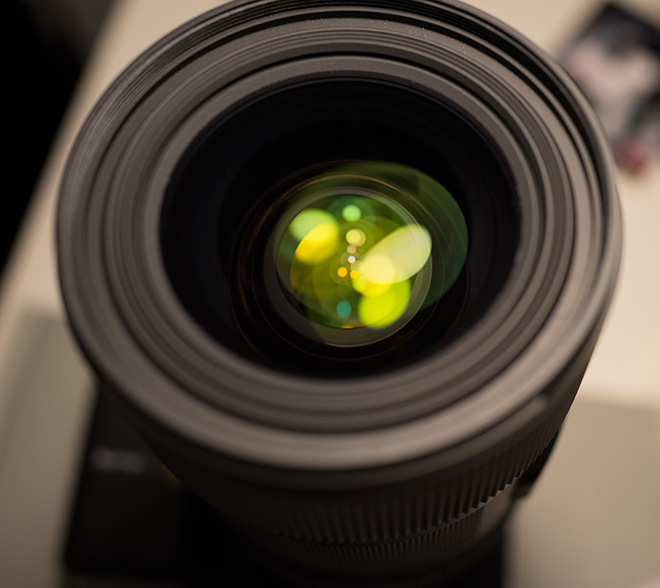 The feeling of manual focus is excellent and forgiving at 18mm, with a buttery smooth mechanical feel and long-ish travel. At 35mm the depth of field becomes very shallow wide open so precision is needed and small adjustments on the focus ring make a bigger difference. Still it feels excellent and focus peaking on the Pocket camera works very well with it.
It is a large and heavy lens compared to Micro Four Thirds zooms but not compared to full frame Canon or Nikon.
I didn't need to support the lens on rails when shooting with the Pocket Cinema Camera on a tripod.
Post
The video was shot handheld for the most part, with the night-time shots on a tripod. Handheld footage was stabilised in Premiere CC with Warp Stabiliser. This works well for some shots and not at all for others. For those it's better to use extreme slo-mo to settle the action. With Warp, there's a slight resolution loss due to the scaling-up factor to hide the cropped edges but still the Pocket ProRes looks detailed.
I used Twixtor for 60fps and 120fps slow-mo and this worked very well with only a few blending glitches visible on the final footage. Twixtor 6 now renders using the GPU so you get instant playback on the timeline. On some of the wilder handheld shots the slow-mo helps give them a steadier feel. Film Convert was used for grading and this part was just such a joy. Effortless and creative. Instant results. I absolutely love the ProRes from this camera in post and I can never go back to standard DSLR 8 bit compression from now on.
To assist Twixtor and Warp Stabiliser I shot the handheld parts of the video at 30p. The more frames they have to work with the better.
Just to show how versatile the Blackmagic's output is in Film Convert here are a few different grades from my edit…
First the two original images as they came out of the camera in LOG mode (Film dynamic range).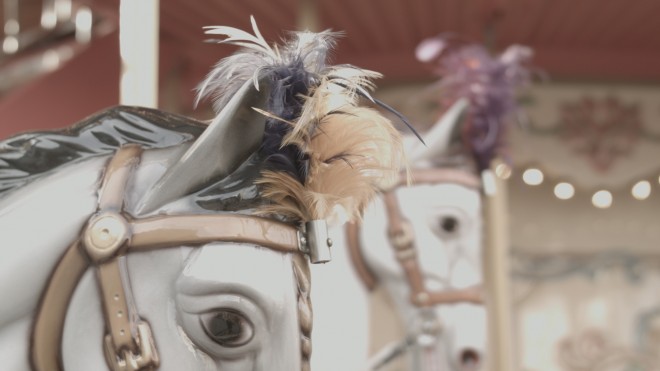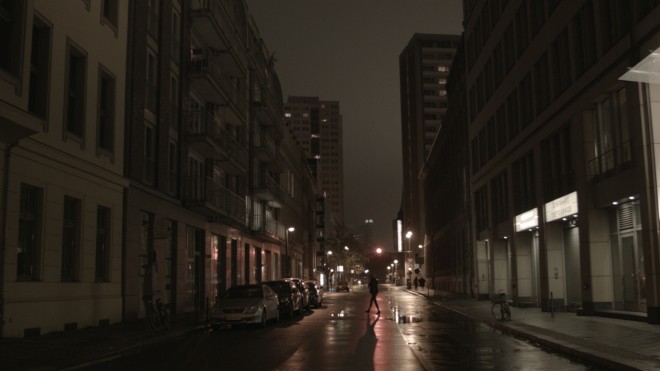 KD-P400 motion picture stock:
Kodak 1213 VIS3: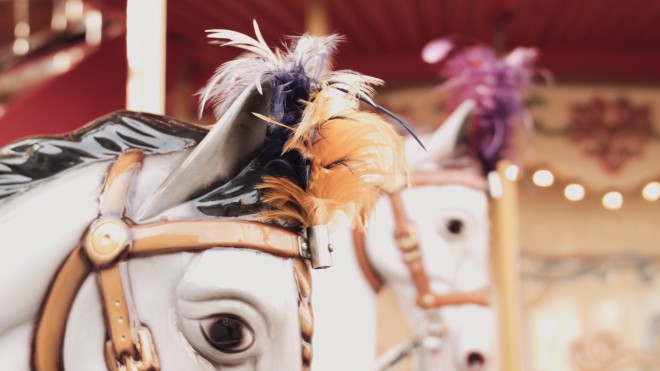 Fujifilm 8563 RL motion picture stock: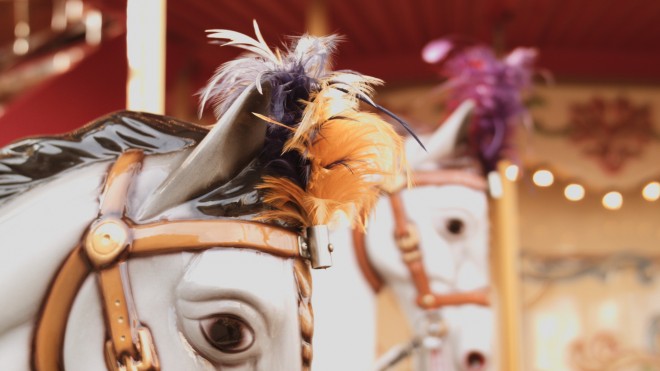 PLRD600 stock,  15% grain and digital push: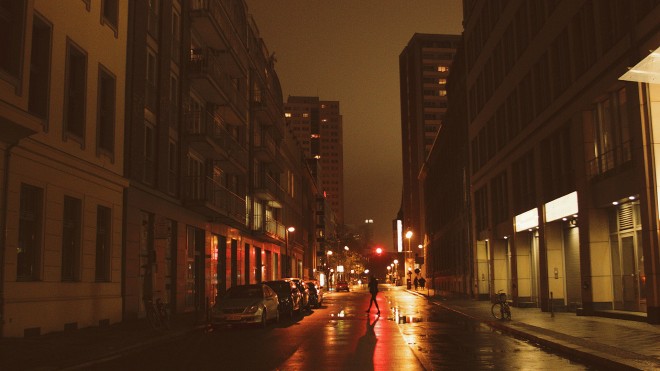 Kodak 1213, no push ASA 800: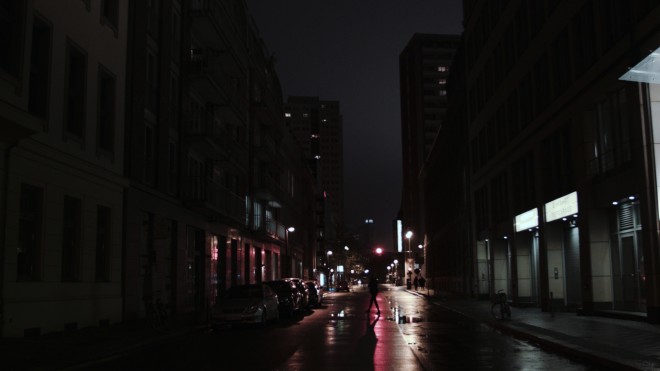 To really appreciate these it is hard on the page, so click to enlarge the 1080p frames.
Close-focus
Close focus is just 28cm / 0.28m on the Sigma zoom. At the 35mm end you can get a very impressive close-up, like this –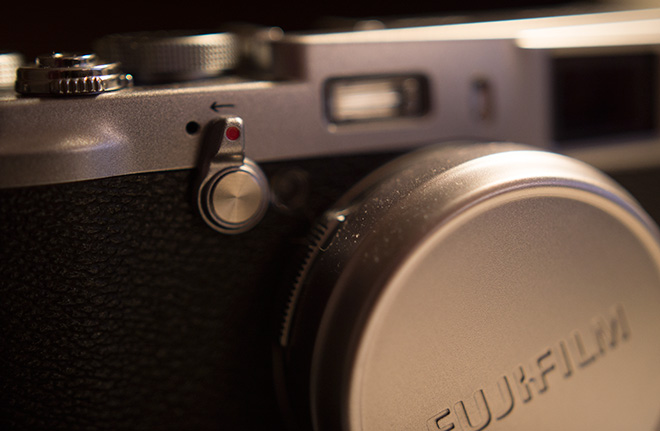 At the 18mm end you can't get closer but sharpness remains insanely high.
Conclusion
This lens is a revelation, all that remains is for you to go out and buy it.
The optics are state of the art and never for so little money in such a small camera has the end result been so close to film. Having the zoom is very useful on the Pocket camera. You can just stand there and grab the shot with a minimum of fuss and think about stabilising the shots digitally in Adobe Premiere. The 18mm end gives you a very versatile wide-ish focal length and the 35mm end gives you more separation between subject and background, great for portrait shots and close-ups. Macro performance is extremely impressive as is the feel of flare and bokeh on this lens.
The camera is fantastic in low light with the Sigma 18-35mm F1.8 and Speed Booster. You can comfortably shoot at ISO 1600 with very minimal noise, just a nice film like grain. The ProRes has a nice texture to it. Only if you push under exposed areas of a shot too much does fixed pattern noise rear its head.
The only thing I missed from the GH3 was having that articulated screen. Adding a big monitor seems counter to the whole Pocket Cinema Camera philosophy. If the camera needs just one addition for the next version it is that hinge.