Firmware 2.0 for the Panasonic GH5 has been officially announced, and will be available for download at the end of September 2017. View the full press release and list of changes here
I've been testing a pre-production version of this on my camera thanks to Panasonic, to bring you my first impressions of the new features which include:
Professional 400Mbit ALL-I intraframe codec for 10bit 4K 4:2:2
"Open Gate" High Resolution Anamorphic Mode (4992 x 3744)
Hybrid Log Gamma with view assist feature for HDR shooting
New and improved autofocus engine for video
Performance optimisations and bug fixes
Read on to find out what it's like to shoot with…
Now that firmware 2.0 is on my camera, I feel I can really start to review the Panasonic GH5. It's a big update!
There's little doubt in my mind that the Panasonic GH5 is carving out it's own league altogether for mirrorless video.
It has features unheard of for the money and additions other manufacturers aren't even dreaming about offering on their pro cameras, like Open Gate anamorphic.
This uses the entire sensor with a recording resolution of 18MP instead of the usual 8MP of 4K Ultra HD. With a 2x anamorphic lens this makes for 10K footage in post.

Along with the new 10bit 4K ALL-I codec, version 2.0 finally takes the wraps of Hybrid Log Gamma for HDR shooting as well. This provides maximum dynamic range and image quality for footage shot with HDR TV in mind and YouTube HDR.
As you can see, the GH5 now has quite a few features Sony don't offer on their more expensive full frame mirrorless cameras.
What is striking about the new ALL-I codec is how much more like the Canon 1D C it is for motion cadence. It is incredibly cinematic, with flawless image quality and colour. It is a comparable to what codec Sony offers on the $10,000 FS7 Mark II, but here it is on a $1700 mirrorless camera. Forget ProRes. I think this is just as good. It's so much easier and smoother to edit than the 10bit IPB codec and there's no need for transcoding.
Sony offer 10bit DCI 4K on the FS7 Mark II at just 240Mbit. On the GH5 it's 400Mbit, with better colour. I love to shoot standard rec.709 colour in 10bit on the GH5 for straight out of camera results which are very satisfying.
Panasonic have achieved this professional codec without expensive XQD media or CFast cards, which would be the case with Sony and Canon. It records to SDXC cards, but you might need to upgrade your speeds. UHS-I 95MB/s Sandisks are not quite good enough any more. Mine only records for a few seconds in 400Mbit ALL-I mode. Invest in some 300MB/s UHS-II cards. This is the first time UHS-II cards have come in useful on any stills camera. One 64GB Sandisk Extreme Pro 300Mbit UHS-II card costs in the ballpark of $120. Still cheaper than $200 for a CFast 2.0.
Download pre-production V2.0 sample clips
Panasonic USA have allowed me to share some original ALL-I files shot with the pre-production firmware V2.0 on my GH5 (4K, 400Mbit/s, 10bit 4:2:2).
Two autofocus test clips (ALL-I 400Mbit)
Hybrid Log Gamma and V-LOG test clips (ALL-I 400Mbit)
Several 4K 10bit ALL-I 400Mbit test clips on Standard colour mode
These are straight from the card and not transcoded to anything else. It's better to check out the originals as YouTube employ IPB compression.
Go to my Google Drive to download the clips here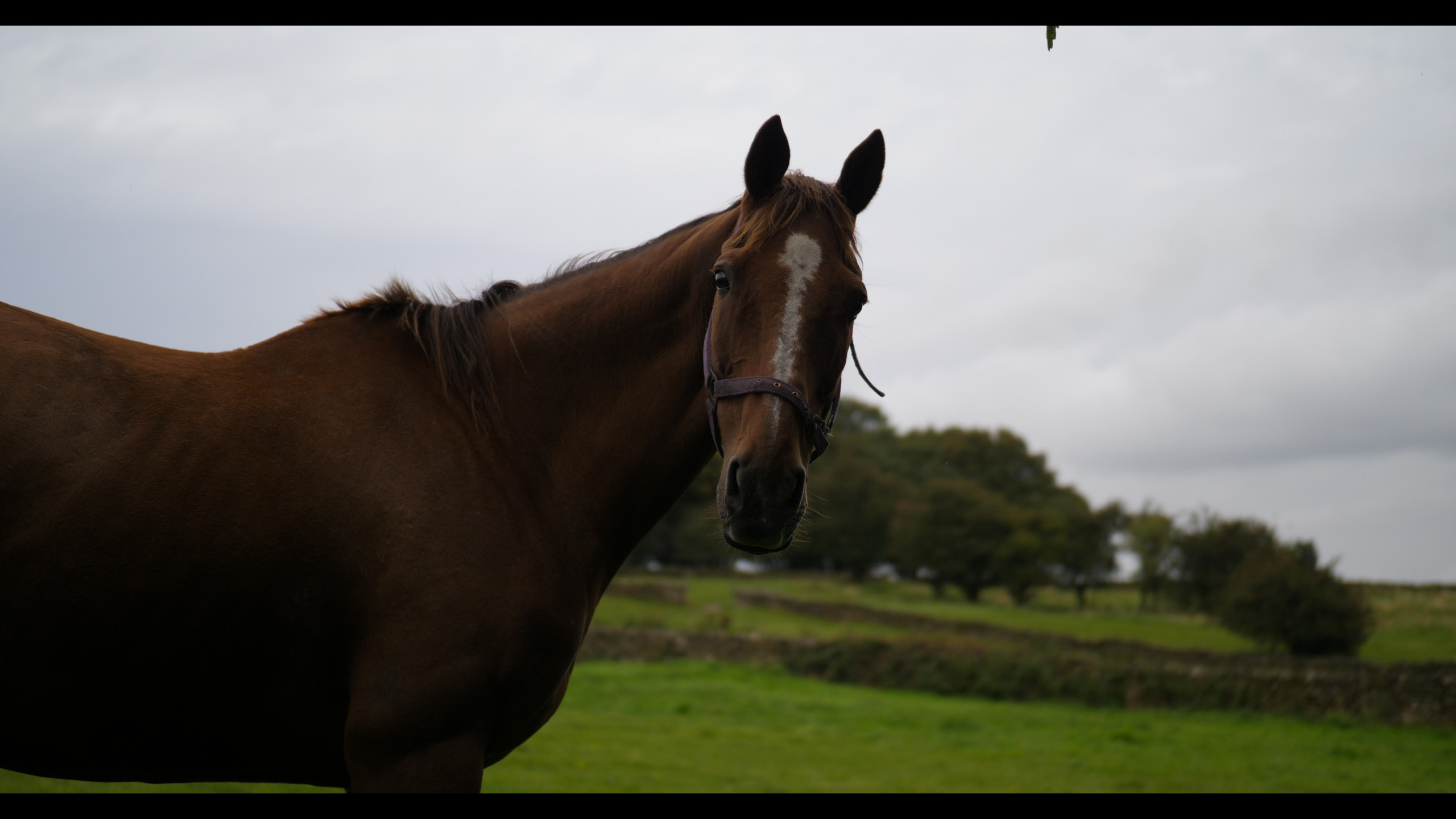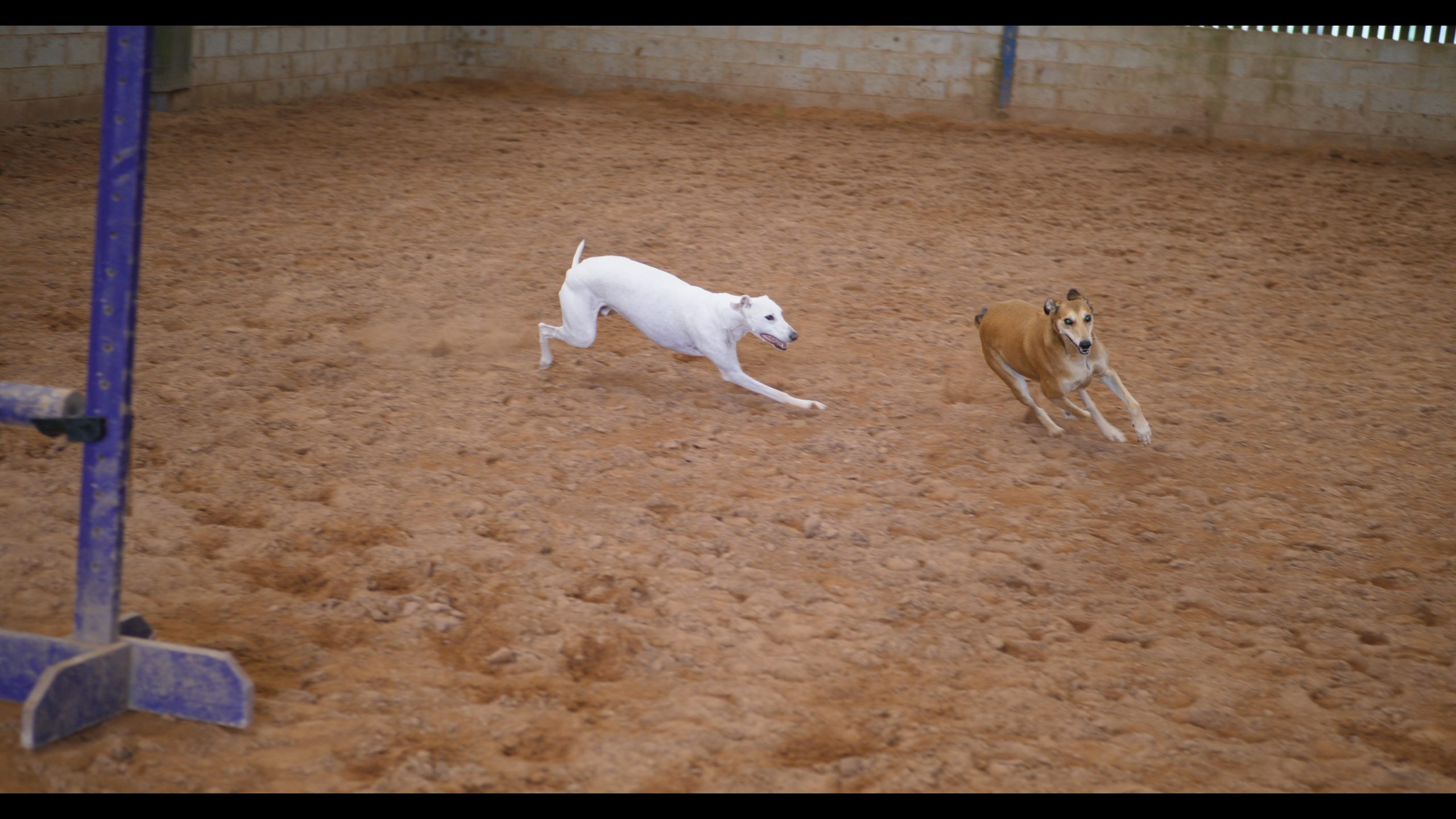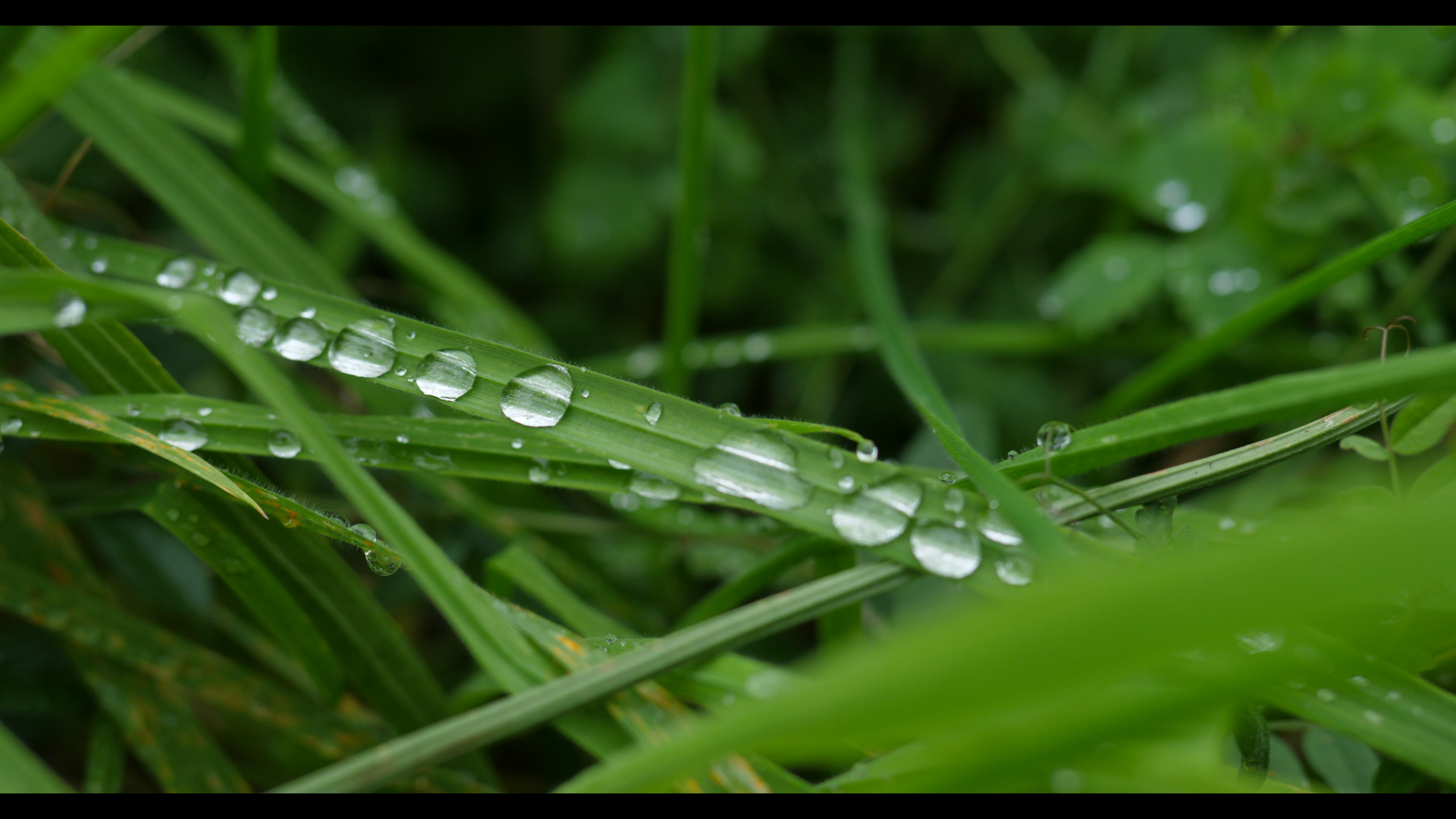 Intra and Inter
Professional video editors prefer intra-frame codecs like ProRes. Cinema DNG and MJPEG are also intra-frame and perhaps easiest to visualise. Cinema DNG is a folder of separate picture frames in a sequence, 24 pictures per second of footage, one after the other.
With an ALL-I H.264 codec we get closer to true 24 frames per second like the look of film, and reduce the digitalisation of motion cadence, especially when also shooting 180 degree shutter in 24p.
On the other-hand, an inter-frame codec like LongGOP H.264 (IPB) works by deleting groups of original frames and reconstructing them synthetically, mathematically. This is done by comparing the differences between two key frames and reconstructing movement and visual differences. An interframe LongGOP IPB codec saves space but it screws with motion in quite subliminal and subtle ways. The ALL-I codec on the GH5 2.0 has no trickery or frame-prediction, just pure cinema 24p.
The other important thing is that ALL-I files are much easier to edit than LongGOP, less CPU intensive. Although the data-rate is higher at 400Mbit/s for the new codec versus 150Mbit/s for LongGOP IPB, the computer CPU doesn't need to go into overdrive decoding complex frame reconstructions and compression. You just need a faster memory card and your hard drive or SSD will work a bit faster to serve the files in your NLE – but not to the extent of breaking into a sweat.
On the GH5 2.0, I've found 4K 10bit is MUCH smoother to playback and edit when shot with the new 10bit ALL-I 4K codec. The 150Mbit/s interframe option is still there when we need to save space for longer recordings like interviews and live event shooting. The file sizes are 400Mbit with the ALL-I codec are just under 3x larger, although not as big as the Canon 1D X Mark II or 1D C MJPEGs (which are only 8bit)!
"Open gate" anamorphic mode with desqueeze display
Normally, 4K video is 8 megapixels. The High Resolution Anamorphic mode is 18 megapixels on the Panasonic GH5.
Think about the difference between a 8MP and 18MP DSLR – it is a big improvement.
The GH5 upon release had a very good anamorphic mode but with limited options. This shot 3328 x 2496 with a 4:3 aspect ratio
The new "High Res" mode is 4992 x 3744 using a full pixel readout. It uses the entire sensor area, like the Alexa XT does in Open Gate mode. That means 10K in post with a 2x Anamorphic lens. The codec is HEVC H.265 – at 10bit 200Mbit no less.

You can also use the 400Mbit ALL-I 10bit codec in anamorphic mode (but only at the lower resolution setting).

Also new is a lovely desqueeze for 2x lenses so you can shoot in the final Cinemascope aspect ratio on the GH5's screen. This makes a huge difference to the enjoyment of shooting with an anamorphic lens.
Update: The desqueeze is also usable in normal 16:9 video mode for 1.33x lenses, giving 2.35:1.
At the moment, all my anamorphic lenses are in Berlin and I'm not, but I will be reunited with my family soon and shoot some footage. This camera will be beautiful with the Super 35mm LOMOs and my 2x Iscorama rarity. That's just the vintage stuff. The GH5 will pair perfectly with industry standard top-end 2x anamorphic PL lenses.
There is nothing close to this from anybody else on the market remotely affordable.
The Arri Alexa XT is the next step from the GH5 for anamorphic, except it isn't because it only shoots 3424 x 2202!
Even for those without anamorphic lenses the high resolution 4:3 mode is useful for an extra safe margin for vertical pans and extra space for VFX markers.
In terms of shallow DOF and field of view, the GH5 looks closer than ever to Super 35mm in anamorphic mode. The anamorphic lens makes the horizontal field of view of the lens 2x wider horizontally and the taller sensor area used to record the image measures 13mm. Compare that to the RED Dragon's 15mm in 6K 16×9.
Hybrid Log Gamma

Hybrid Log Gamma is a new broadcast standard developed jointly between the BBC and Japanese national broadcaster NHK.
Panasonic are the first to bring the new standard to a mirrorless camera, so that the GH5 is able to take advantage of your brand new 10bit HDR TV.
Playstation 4 owners have already seen the difference HDR makes to the life-like nature of their game graphics… Imagine the same dynamic range and colour benefits with 10bit 4K footage shot on the GH5!
HDR and the wider colour space makes a real impact with life-like image quality on displays good enough to handle it and there are external monitors available for the GH5 which are HDR capable too.
Hybrid Log Gamma is added to the Photo Styles menu on the GH5, but is not designed to be a LOG-like profile for colour grading or editing, it is meant to be processed by your 10bit HDR display in a specific colour space.
Panasonic:
"HDR (High Dynamic Range) is a mode to reproduce both bright part and dark part in an image, making it look just as human eyes see. The camera records video with a designated gamma curve compatible with ITU-R BT.2100, and you can now choose Hybrid LogGamma (HLG) in [Photo Style]."
Also the GH5 now has a HEVC H.265 4K mode for HLG added, which allows files to be played directly on home AV equipment compatible with HEVC and HDR, such as Panasonic's latest HDR TVs.
Although the GH5's LCD and EVF aren't HDR capable displays, there is a view-assist for shooting HDR footage on the GH5, which can be set to prioritise dark or bright areas of the image. If you playback the Hybrid Log Gamma sample files on a non-HDR display or laptop they will look washed out; I am looking forward to seeing the material I've shot on a proper HDR TV, especially an OLED.
A more intelligent Autofocus
There's growing demand for cinematic autofocus in 2017. The convenience of Dual Pixel AF on the latest Cinema EOS cameras and 1D X Mark II hasn't gone unnoticed.
Panasonic have put a big effort into improving AF on the GH5 with the version 2.0 update.
This is a fun feature on the GH5.
It's now faster and also seems a tad more elegant, although to really rival Dual Pixel AF, we would need a new sensor. At the moment, we have very fast AF for stills and nicely improved AF for video… Once I have longer with the firmware I'll be able to deliver my final verdict. Is it as good as Dual Pixel AF? No, but it's a nice practical thing to have.
For pro work you are still better off with manual focus unless you can be 100% sure of the reliability. If you pan across an area of little contrast like the sky or water, the AF engine will hunt. I'd like to see Panasonic try some extra routines in their algorithms that recognises if there's a low-contrast area and locks focus until a more reliable subject comes into the frame, rather than the system panicking and selecting macro position.
I think autofocus is fun right now for video shooters and especially enthusiasts, and I think in another 2 or 3 years maybe it will be bullet-proof enough for DPs. Dual Pixel AF has it's moments of confusion as well, even on the $6000 1D X Mark II.
What I've quite enjoyed is the Focus Transition feature on the GH5. This allows you to programme focus pulls into the camera, which is great for locked-down shots and scenes on a tripod.

Review part 1
Overall, I think the biggest step forward over the GH4 is the codec and colour science. The sensor is also a lot better in low light and rolling shutter dramatically less.
The addition of 5 axis image stabilisation is also a big change but it's something we've taken for granted since the GX80 and G80 had it for cheap. Never before though has anybody combined the Olympus 5 axis stabilisation performance with the video features and 10bit codec of the GH5. Sony have yet to achieve the same level of performance from both their in-body stabilisation or codec (A7 & A9 range).
What impresses me the most about the GH5 is how much of all-rounder it is. You may think the Sony A7S II or Canon C300 Mark II are good at everything, apart from being cheaper! No, the GH5 has more features and now also a professional 4K codec to rival what Canon give you at $12,000. The codec on the GH5 monsters the C200.
If we think about the range of shooting situations you can use this camera, it's broad. ISO 200 to 3200 with LOG, no problem – VFX compositing in 10bit – no problem – run & gun with very good stabilisation, again no problem. What can't it do?
It is very clean at 1600 and 3200 is very acceptable. I'd say 2 stops less noise than the GH4 and not the same muddy loss of saturation and clarity past ISO 800. You can push it into available light situations and documentary work and get professional results. The XLR audio adapter is available so pro-audio isn't lacking, even though it's a mirrorless camera.
Colour has traditionally been a Sony and Panasonic lag vs Canon, Fuji and Olympus. Panasonic have put that right with the GH5 and the image now rivals the Canon 1D C. I'd also put it AHEAD of the Olympus and Fuji cameras for skin-tones. The E-M1 II has very nice Olympus colour modes but the GH5 is better especially in 10bit. Skin looks less plastic than on Fuji's cameras. The dynamic range is just incredible in Rec.709 colour space, partly thanks to 10bit but also thanks to a very good image pipeline, image processing and of the new CMOS. Dropping to 8bit still maintains a good dynamic range with punchy colour and excellent skin tones, showing that a fundamentally more advanced image pipeline is active on the GH5, not just a better 10bit codec!
Ergonomics
The GH5 is like a utility vehicle and it largely does away with photographic niceties à la-Fujifilm and Leica. I would like to see Panasonic bring back some 'charm' into their designs, whilst maintaining the high level of practical utility cameras like the GH5 offer pros and enthusiasts. A bit of photographic heritage like shutter speed dials wouldn't go amiss, as they already implemented so well on the LX100. Things like these are missing for stills shooters because the GH5 is a VERY modern camera, a hybrid of video and stills with many purposes and uses… whereas something like a Fuji X-T2 is far more traditional and stills orientated.
I'd love it though if Panasonic found a way to do a Leica SL-style minimalism of controls on a camera as powerful and as complex as the GH5. If Panasonic had a hand in helping Leica with the SL as per the speculation then they did a very good job and I can only imagine what a Panasonic version of the SL would be like with full frame 10bit 4K!
The articulated screen is better than the one on the Sony cameras, with a broader range of angles (including forwards for video bloggers) and better visibility in sunlight… the backlight doesn't go dimmer when you hit record.
In a conventional sense the GH5 doesn't lack anything, but it leaves plenty open to the imagination. I'd like to see screen sizes go to 4″ or even larger, and wouldn't mind the resulting bigger body. I'd like to see a modular design where the sensor is in a box and you can slot things to the top and side of that – a bit like a Hasselblad. On a Hasselblad you can pop the entire viewfinder off and change it to a different one, like a vertical one pointing upwards. I'd like to see the traditional hot-shoe and camera bump cosigned to history. Then the XLR adapter could be mounted lower down or on the left side of the camera rather than perched on top, raising the centre of gravity and reducing balance for handheld work. I'd like to see the LCD absolutely dominate the back of the camera and a more touch screen friendly main menu. At the moment the main menu is d-pad driven pages and pages of clicking to get anywhere, rather than tiled or finger scrollable like an iPhone.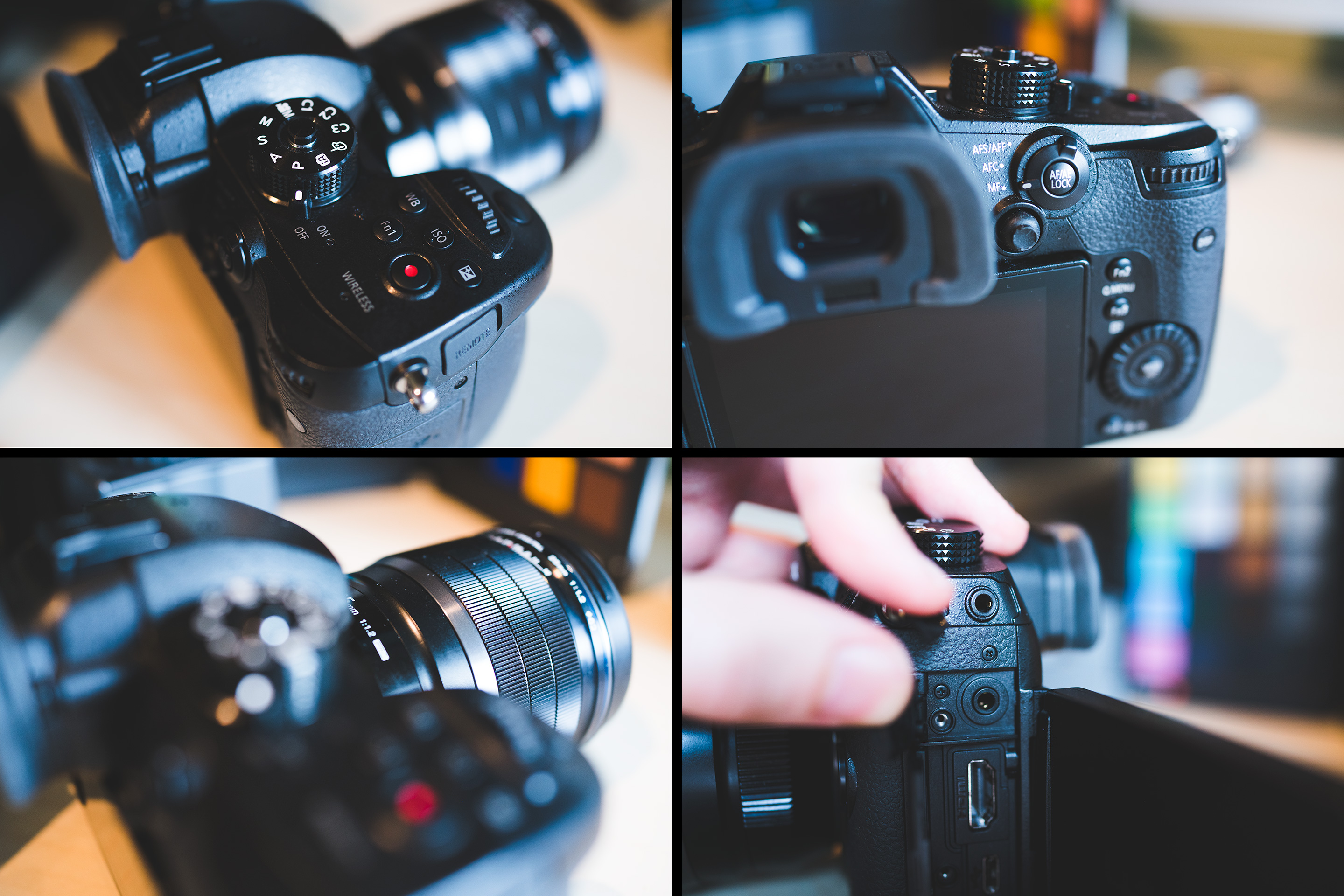 Above: full sized HDMI port is a bonus and the mic socket has moved out of the way of the articulated screen
The good thing is the GH5 now has a favourites "My Menu" tab so you can add regularly hunted for features here. The whole look and feel of the menu has been improved over the GH4, although the structure and layout is mostly familiar, as are the physical controls. New is the joystick for AF point selection and the navigating options… for the latter I still end up using the d-pad from habit.
Like the previous models, the GH5 has no dedicated exposure compensation dial, but you can programme the rear or top dial to act as one so it doesn't really matter. I do prefer the mode dial and the video/stills mode switch on a Canon DSLR. The GH5 has the movie mode on the dial, which means you switch out of your P/A/S/M stills mode to a separate P/A/S/M mode for video, which is buried in the menus. It would be nice to select the exposure mode on the dial and then flick a switch to enter video mode. Shooting video from stills mode on the GH5 is pretty straight forward though – you just hit record – but some options are only available in the full-on Creative Movie Mode.
The Panasonic GH5 can get close enough to the full frame look by using fast apertures (or a Speed Booster) and the benefits of the small sensor are often overlooked. Zoom lenses are much more compact and much lighter. The fast F1.2 and F1.4 primes are too, compared to full frame Canon / Nikon… although the body itself has put on quite a bit of weight since the GH2. It's still smaller than a full frame Canon or Nikon DSLR though, perfect for travelling light.
Conclusion
This camera is like a mini Canon 1D X II with the video mode from a pro cinema camera. For $1700 you can't do any better. It's as simple as that.
The GH5 offers the best codec for the money by a margin of at least $6000. It combines that with the widest feature set as well. It has even more in the way of features than a top-of-the-rage Sony mirrorless camera.
The GH5 will be inevitably compared to full frame cameras that do 4K video and the 2x crop sensor might come across as the weakest part of the spec sheet. With the Speed Booster XL you can achieve a 1.28x crop from your full frame lenses, putting the look in the ballpark of the Canon 1D C in 4K which was $15,000 on release just a few years ago.
Shallow DOF is overrated because it covers up for a lack of good lighting and motion cadence. I've noticed a subtle interplay between motion cadence, shallow DOF and the film look. A shallow DOF can help to give you a three dimensional pop and film look with a LongGOP codec and hide the fact that 24p doesn't really look like film 24fps. When you have true 24p and an ALL-I codec like on the GH5 with the 2.0 firmware update, you find yourself liking the look of deep focus more, because the movement isn't as eye fatiguing and everything looks more film-like. If you have ever seen projected film from a Super 16mm camera you will know what I mean, it has a cinematic dreamy look that you don't need an extreme shallow DOF to compensate for. I had flat deep DOF pictures from the Digital Bolex and loved them because of the way everything danced around the frame. So am I fine with a 2x crop sensor? Yes I am fine with a 2x crop! And if you DO need a very shallow DOF you just open up the lens or use a Speed Booster adapter!
Of Panasonic's own lenses, I prefer the fast ones. There's no denying the size advantage of the zooms like the 12-35mm F2.8 over the Canon equivalent but I love a good F1.2 or F1.4 prime. You definitely have the full frame mojo with the fast aperture Panasonic lenses like the Lumix 12mm F1.4 and Leica Nocticron 42.5mm F1.2, with an honourable mention to the Olympus 25mm F1.2. The latter is a great alternative to a heavy Canon 50mm F1.2L on a Canon DSLR.

ALL-I 10bit 4:2:2 is a big step up on the GH5 from 8bit 4:2:0 LongGOP on other cameras like the Sony A7S II and Panasonic GH4. It is more cinematic, incredibly detailed, amazing skin tones, great for VFX and heavy post production, dynamic range is nothing but impressive.
Panasonic's colour science has dramatically improved over previous cameras as well. I have often found myself just shooting with the Standard photo style. It's got a very satisfying feel to it. V-LOG-L is of course a $99 option if you want to use LUTs and 10bit is perfect for maximising dynamic range without the banding issues found with S-LOG 3 on the Sony cameras.
Low light performance gives ISO 3200 which looks like the GH4 at ISO 800… It really is that good. Noise has a filmic texture, because the codec's so good. With a codec this good you don't need ProRes or to record externally.
Panasonic seem to be going full-throttle for $1700. If it were any other manufacturer I think they'd be afraid of canibilising the sales of their high-end cinema camera. Not Panasonic, because they've correctly realised that the GH5 is a different class of camera to a VariCam and complimentary for pros, rather than a replacement and accessible to a wide audience in a way that a VariCam just isn't. By applying equal parts creative thought and common sense, Panasonic now have a winner on their hands in both the pro and prosumer market.
I hope you enjoyed the look at firmware 2.0 and the GH5… I'll have more in part 2 of the review and more footage later towards the weekend.