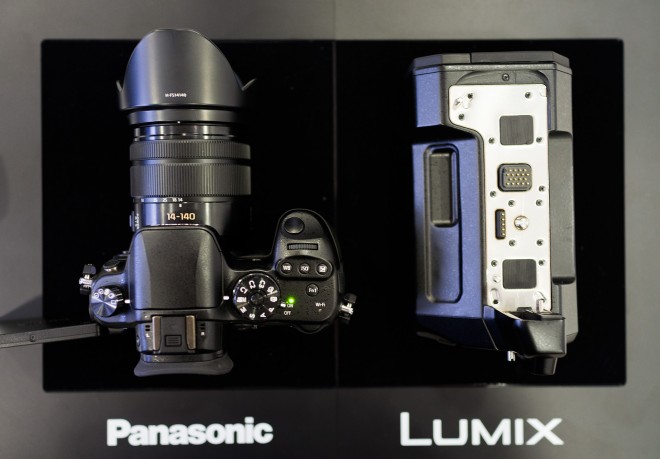 Based on a pre-production model
Since the GH1 I have been shooting with Panasonic's mirrorless system for video. Without this series of affordable cameras my early work as a cinematographer and filmmaker simply wouldn't be the same. The GH4 marks a much needed major leap for the line, the first to shoot 4K to an efficient internal codec AND output 10bit 4:2:2 1080p over HDMI to an affordable external recorder like the Atomos Ninja!
On a visit to Panasonic I got to see the camera, see 4K sample footage and give my feedback. Here's an account of what I saw…
I have had in my hands the new GH4, the camera I'm most likely to be shooting most of my filmmaking work with in 4K this year. The pre-production model wasn't yet final, but when the day comes I have some big things planned for it. I am going embrace 4K this year and I suggest you do to.
I think it's a possible game-changer for stills as well as video, because it effectively gives you a continuous shooting rate of up to 30fps at 4096 x 2160. All photographers know how important the decisive moment is, needless to say at 30fps you're not going to miss it. This resolution is more than enough for large prints and books. The need for this myself didn't arise until relatively recently when I started planning a gallery event in Berlin of 1080p stills from my film work. I am moving to 4K as soon as possible because a large print at 1920 x 1080 just doesn't have the same impact. With 4K whether it's hung on your wall in canvas or TV form, small details leap off the wall. The GH4 also allows the storage of individual 8.8MP photos which can be triggered whilst recording 4K video.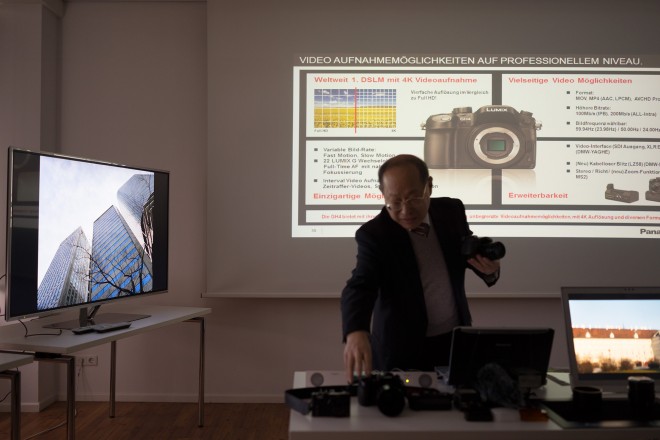 Above: Mr Uematsu-san presents the GH4
Let's start with 1080p though and what monstrous 1080p it is on the GH4. Regardless of whether you think you need it or not, 4K video is as much about great 2K and 1080p as it is about even higher resolutions. A lot of people, as we see from the success of the Canon C300, just want the 'perfect' 1080p camera for now. With the GH4 they may well have it, but without the nuts price tag.
Much more powerful hardware centred around a new CMOS sensor and quad-core CPU has allowed Panasonic to bump up the spec of video across the board on the GH4. The readout speed of the new Panasonic sensor is now 50% faster than the GH3. This reduces rolling shutter skew.
But the big surprise is that uncompressed HDMI is 10bit / 8bit switchable.
Yes finally 10bit 4:2:2 on a consumer camera not called 'Blackmagic'!
When 10bit is selected the encoder is bypassed altogether and you can record extremely nice 1080p in ProRes 10bit 4:2:2 on your external recorder from an actual 10bit 4:2:2 source signal. The camera cannot record to the SD card whilst set to 10bit over HDMI. The HDMI output is also 4K capable, though I'm not clear yet on whether this is in playback mode only, or whether it does a live / clean 4K output as well.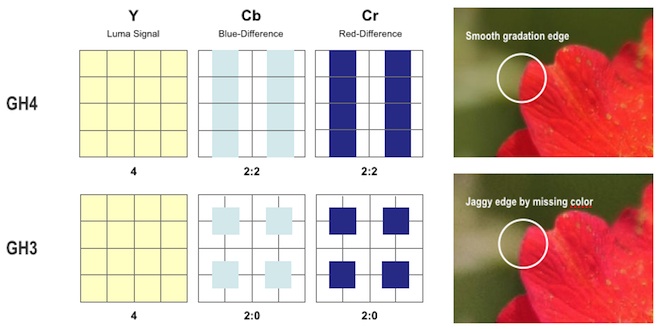 The internal codec for 1080p now goes to a huge 200Mbit ALL-I and Panasonic have introduced new SD cards which can sustain up to 30Mb/s as a bare minimum. These cards are good enough actually for 240Mbit/s 1080p.
This bitrate rivals ProRes and surpasses all the AVCHD pro cameras stuck at just 24Mbit like the Sony FS700 ($8000) and Canon C100 ($5000).
With the 4K mode you can of course oversample to produce extremely crisp 1080p masters in post, with the option to crop and re-frame as well.
4K on the GH4
Needless to say the whole filmmaking industry is moving in the direction of 4K and here Panasonic have come up with the goods at an alarmingly low price relative to the Canon 1D C.
The 4K internal recording is H.264 at 100Mbit/s (megabits per second). The H.264 codec is much more efficient than MJPEG on the Canon 1D C and to save Canon's blushes we won't mention the price! The 1D C uses a bitrate of 500Mbit/s just to keep the image quality up. The end result is that you can store just 20 minutes of 4K video per 64GB compact flash card on the 1D C but a much more practical 90 minutes of 4K on one 64GB SD card with the GH4.
Although all the GH4 internal codecs are 8bit 4:2:0, according to Mr Uematsu-san the internal signal processing is all 4:2:2 (the same as for JPEG stills). As we have seen with the hacked GH2 and Canon 1D C, beautiful image quality can be maintained in 8bit if you don't excessively grade the image and for those who do want to heavily colour correct, there's the 10bit 4:2:2 1080p HDMI output. Until now DSLRs have only done 8bit over HDMI (and in my mind doubtful whether this was true 4:2:2).
The external XLR / HD-SDI add-on for this camera allows for uncompressed 10bit 4K output over 3G HD-SDI – the kind of spec Canon currently charges $25,000 for.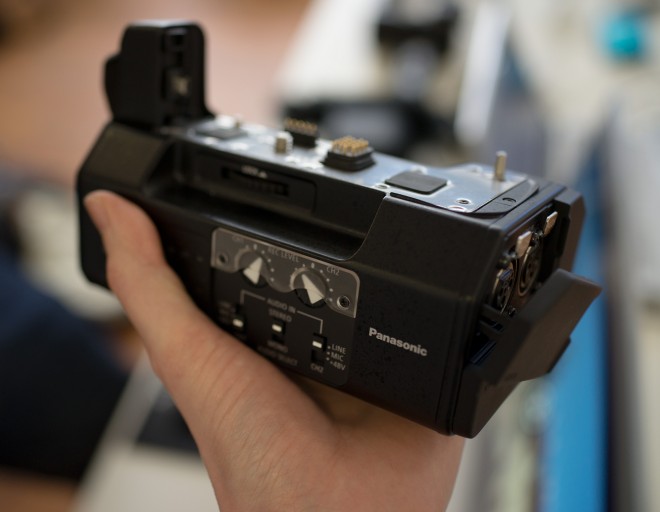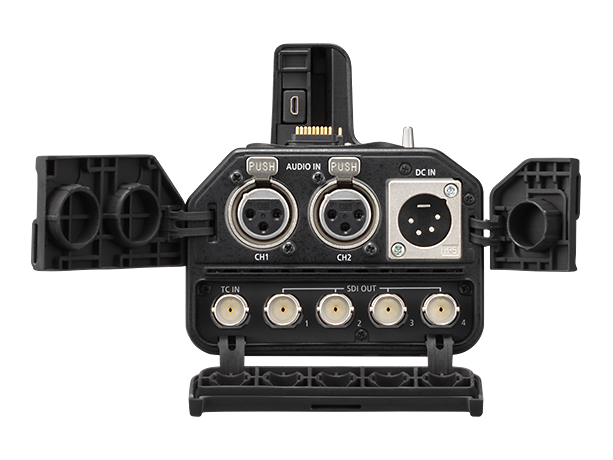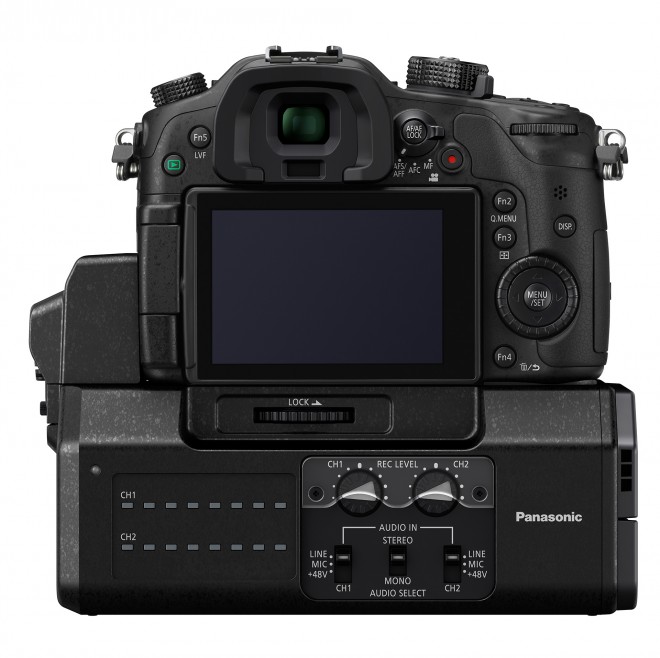 The powerful add-on has no less than 4 HD-SDI ports (two of them 3G-HD-SDI), two XLR inputs with manual gain control dials and phantom power, a full sized HDMI port and a 12v power input. It is exactly what myself, Rudi and Rob (of Slashcam.de – GH4 hands-on in German here) suggested Panasonic make when we met a year ago.
Looking at some comments on the heavily leaked GH4 info out there, there seems to be some confusion about how this external box should be used. The form factor is not designed for handheld shooting or consumers. It isn't an external recorder. It isn't designed to be a battery grip. It isn't "a vertical grip" as some even reported! It requires external power via a 12v tap, which should give you an idea of the kind of processing power it contains within.
Think about what would connect to this unit… A very high spec 4K recorder / monitor like the Odyssey 7Q, a V-lock battery and some chunky pro audio equipment via XLR. Is there any point shrinking this add-on down to the size of a consumer DSLR battery grip when you have all this hanging off it?
I appreciate it won't be for everyone but the basic GH4 spec of 4K 8bit 4:2:0 at 100Mbit and 1080p in 10bit 4:2:2 via HDMI is to me very impressive and negates the need for most consumers to get the HD-SDI hardware.
I do think the ergonomics of 'the brick' could be, ahem – more refined! But it adds robustness and a leap in image quality that puts the GH4 firmly in professional territory – exactly what Panasonic needs. The box will also be indispensable for pros who find wobbly HDMI and single 3.5″ mic jack connections a major reliability worry.
It's just a shame that the unit is designed only to fit directly under the camera. It should have been designed to fit pretty much anywhere, either under the camera or further back on your shoulder, indeed anywhere on the rig deemed convenient by the operator. It would have been great too for the unit to double as a recorder, reducing the extra hardware required to get that lovely uncompressed 10bit 4K. As of now, external 4K recorders are few and far between not to mention extremely expensive.
4K image quality (first look)
At the Panasonic presentation a prototype GH4 was hooked up to a large Panasonic 4K TV. Indeed the amount of detail this camera delivers with the internal 4K codec looks great with small details leaping off the screen. This TV was side by side with a 1080p display of approximately the same size and I could certainly tell the difference, although the gap does reduce as you step back further and further from the screen.
Dynamic range was also very impressive, not just on the video side. The new sensor has improved. We were showed a selection of stills that demonstrated much better highlight retention and roll off than the other cameras on display including the full frame Canon 6D and Nikon D610.
The 100Mbit IPB internal codec seems to hold up extremely well with 4K material, with no macro-blocking or mud visible. I couldn't see any moire either but final judgement will be reserved until I've shot with it extensively.
4K internally is 24p in the academy aspect ratio of 1.85:1 – 4096 x 2160.
A full range of frame rates – 30p,25p and 24p are available in the 16:9 4K variety of 3840 x 2160.
It's great that Panasonic have included both 4K standards in the camera. The slightly wider 1.85:1 aspect ratio 24p mode is clearly aimed at filmmakers, 16:9 at the broader video production industry.
There's also a very useful new feature which allows you toggle which broadcast safe RGB luma range to use. Available options are 0-255 for the full range, 16-235 for the safe range and even 16-255 which is the range used by many Sony cameras like the FS700. This is fantastic as it solves the issue with gamma shifts and clipping of shadows / highlights when editing and displaying footage. It's the first time I've seen this option to toggle luma range on a consumer camera!
Here's a slide showing the full array of recording options and codecs on the GH4 (click to enlarge) –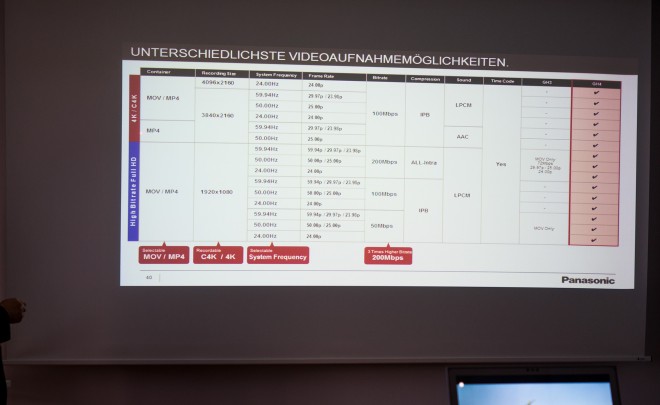 96fps slow-mo
The GH4 has a new undercrank and overcrank mode with slow-mo frame rate of 96fps, when is conformed to a frame rate of choice in-camera. Conformed to 24p and you get a lovely 25% reduction in speed which is much more dramatic than the more common 50% reduction from 60p to 30p.
These slow-mo options are available in full 1080p resolution, no need to drop to 720p.
Although 96fps isn't going to look like the FS700 at 200fps, 96fps with a little Twixtor and post-production magic on top will!
The slow-mo option is not available in 4K mode, understandable given the enormous processing requirements this would require.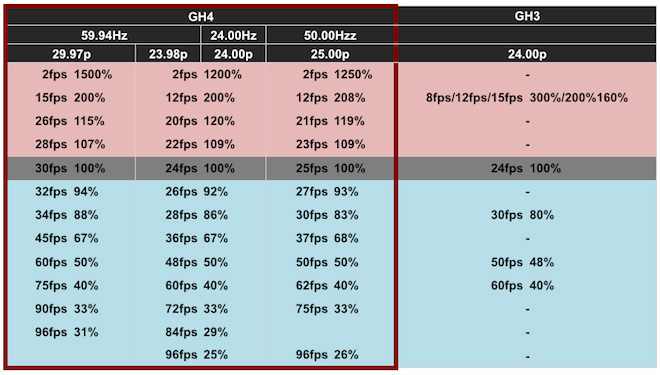 More new features
SMPTE / EBU / ARIB Color bars & 1KHz Test Tone
Center Marker
Synchro scan
Cinelike Gamma
Master Pedestal
Zebra pattern
Focus peaking
Panasonic have addressed one of the most common complaints about the GH3, the lack of focus peaking. The GH4 has it, along with a raft of other features (finally a proper zebra pattern!) and it's PAL / NTSC switchable.
The file format for video is again Quicktime MOV (hurray!), MP4 or AVCHD (boo) for smaller file sizes, just like on the GH3.
A cinema gamma picture profile is back for this camera having disappeared somewhere between the GH2 and GH3. I'm told it isn't a LOG profile, but designed to improve roll off to the highlights. Personally I'd rather see LOG or Technicolor CineStyle. How flat is it? The jury is out. I haven't seen it in action yet but perhaps a clue is in the name. Much like CineStyle, Panasonic has branded it "CineLike"! It comes in two flavours – CineLike D and V. It remains to be seen whether iLike it.
Synchro Scan can be used to suppress flicker when shooting TV and PC screens or under certain lighting conditions. The feature has trickled down from professional Panasonic cameras and it works by fine tuning the shutter to precisely match the frequency or refresh rate of what you're filming. I believe this would make shutter speeds like 1/24 and 1/48 possible but yet to confirm this.
Master Pedestal is used to lighten or darken shadow areas of the image based on black levels. It's a feature I last saw in professional Canon video cameras like the XL2 and XH A1. None of the DSLRs to date have had this.
Both the main LCD and internal EVF displays have been bumped up to the state of the art. Not only are they extremely high resolution but the panels are OLED as well, so – best of both worlds.
The GH4 has a new mechanical shutter which has an expanded life cycle rated for 200,000 actuations. The burst rate for stills is now 40fps in raw + JPEG at full resolution (compared to 20fps on the GH3 at a reduced resolution, JPEG only). The GH4 has a silent electronic shutter mode like the GX7 and GM1 – great for time-lapse or stop motion animation (for both of which there are dedicated modes), where you don't want to wear out the mechanical shutter. The maximum recording length is 29 minutes 59 seconds on the European GH4 due to tax reasons but I believe the US model has no such limit and is PAL / NTSC switchable.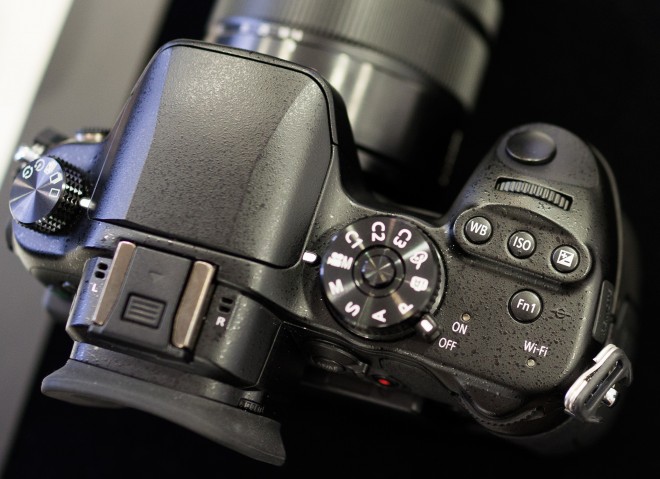 Above: a re-sculptured flash top plate and locking button the mode-dial distinguishes the otherwise similar body of the GH4 to the GH3
Editorial / market comments
This camera undoubtably smashes a price barrier for the specs on offer, whether we're taking 4K or 1080p.
For me the GH4 has only one shortcoming and it's something that raises a broader question about the compromises necessary to make a hybrid stills / video camera.
In order to get down to the 8.847MP of cinema 4K from the 4.6K full sensor (12MP in 16:9, 16MP in 4:3) the camera has to crop.
Cinema 4K mode video at 4096 x 2160 (1.85:1) is cut out of a 4680 x 2592 16:9 recording area (the full width of the sensor).
The crop factor in 4K mode therefore is not 2x as is standard for Micro Four Thirds but approximately 2.2x (similar to the Blackmagic Cinema Camera).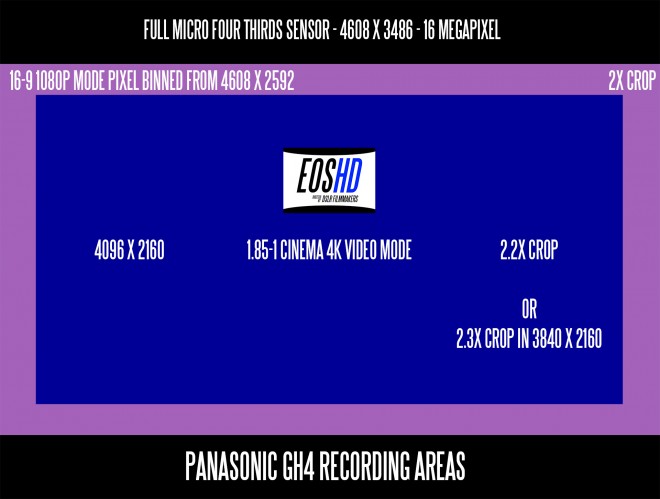 My feedback to Panasonic was to give us the full sensor 4.6K readout and let us scale it to 4K in post as the reduced sensor size is perhaps a little disappointing. I'm told Panasonic had much internal discussion over whether to take a 1:1 pixel readout of the sensor for 4K video, or to take the full sensor and scale (zoom) it down. The latter technique entails a drop of image quality because we're back to pixel binning again. In the end they used the same technique as Canon on the 1D C – optimal image quality, reduced recording area – and it seems to pay off looking at the output.
With the current Metabones Speed Booster adapter you should get a Super-35-style 1.7x crop in 4K mode – close to the Canon APS-C 1.6x crop and only a 1.2x crop in cinematography terms. That for me is problem solved, but it's a shame some of the wider native Micro Four Thirds lenses (at say 12mm) lose some of their appeal in 4K mode.
In terms of silicon for the money, the GH4 doesn't disappoint. Outwardly it may look similar to the GH3, inwardly it's completely new. The new Panasonic CMOS is perhaps the fastest running on any consumer camera and the new quad-core image processor also a cut above. It's a miracle of modern engineering the GH4 doesn't have a fan or huge battery.
Almost all the exciting leaps forward with the GH4 are on the video side rather than the stills side. Wow – this makes for a refreshing change!
But the issue of that slight sensor-crop in 4K mode does raise questions about the need to compromise stills and video for them to coexist.
For me the ideal stills camera would be full frame and 24MP+ and the ideal video camera would have a 16:9 Super 35mm sized sensor at a resolution of 8MP.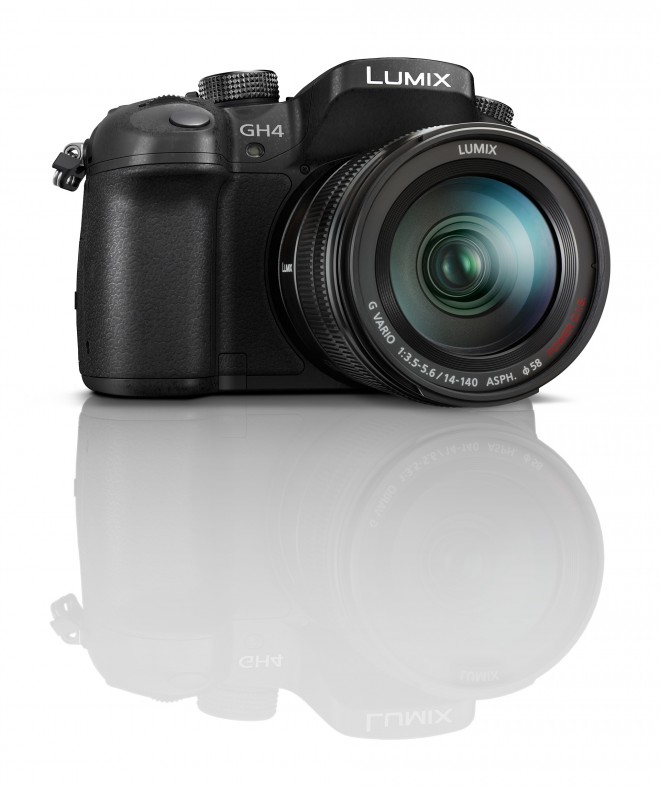 Panasonic's compromise solution is elegant but the fact remains it's a 16MP 2x crop sensor that needs to be cropped further in 4K mode. That's not ideal for cinema when the standard is Super 35mm and in terms of stills, it isn't full frame or 36MP like the current benchmark, the Sony A7R.
The whole ethos of the GH is "Hybrid" and I am behind that concept fully. However I think Panasonic should consider having two hybrid cameras, one with the emphasis on video and one with the emphasis on stills.
You could say Panasonic DO have a stills-orientated flagship model in the GX7 but I think they need to go even higher end than this to capture more market share. A GH4 is difficult to market to photographers when half the spec sheet is video. A GX7 is difficult when it lacks the 5 axis stabilisation of the Olympus E-M1 or a full frame sensor.
Some cameras, like the Fuji X100 are easier to market to photographers because the video mode is minimal enough to completely forget about if you're so-minded to. Some photographers think the emphasis on video with the GH4 is at the expense of the stills (really nothing could be further from the truth) – in a market where not all customers are 100% knowledgable, perceptions (and marketing) count for a lot.
Design and handling
In my opinion Panasonic could have done more to differentiate the new body relative to the GH3 and not just in superficial ways. Like the GH3 small but significant design issues remain, for example a rear grip which doesn't drop down near the rear-command wheel making it more awkward to turn than it should be. In general I'd have liked to have seen a few more changes here than just the re-sculptured flash and locking mode dial, welcome though these are.
I say lose the flash altogether and give us an extremely robust 5D Mark III style body and hot-shoe that can withstand anything. Let's have a large HDMI port on the camera itself instead of the mini-one.
The GH4 is not a direct replacement for the GH3, instead that camera will now take a price drop and stay in the line-up.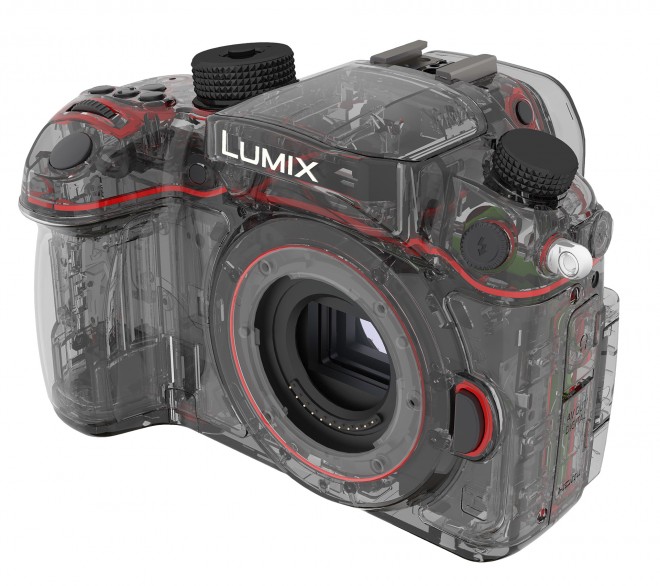 Above: a transparent mock-up showing the internal structure of the GH4
Overall, the GH4 is still miles ahead of the average DSLR when it comes to ergonomics for video purposes. EVF, articulated screen, mirrorless mount, peaking, zebra, etc. and it has a much larger feature-set than the Blackmagic cameras.
And one final thing…
In future I'd love to see a tie-up with Arri in a similar way Panasonic have linked with Leica for stills. Arri could offer use of their brand in return for a licensing fee. A Panasonic-Arri GH4 would complete Arri's non-existent lower-end!! Such a camera would gain far more ground in the film industry vs Cinema EOS and Sony. It would have an identity as strong as the technology underlying it. "Lumix-GH4″ does not have the same brand recognition with filmmakers (yet). Would never happen? Well if it works for Leica…
Arri accessories such as cages, grips and a follow focus could go a long way into integrating the very capable technology in the GH4 with the rest of the filmmaking establishment.
The price of the GH4 hasn't yet been firmly set nor has the release date, but I'm told it will be circa 1999 euros for the body and perhaps the same again for the XLR / HD-SDI box. That's a very appealing price for an interchangeable lens 4K cinema camera in 2014, especially one as well featured as this and with such great 2K as well.
As a stills camera, if you want good video as well, look no further.
Pros and cons are provisional.
Pros
4K from a nearly full pixel readout of the sensor, internal recording
Uncompressed 10bit 4:2:2 1080p via HDMI
96fps slow-motion
More than double the bitrate of the GH3 in 1080p with 200Mbit ALL-I and 100Mbit IPB
1036k pixel OLED screen and 2360k dot EVF
Small form factor, lightweight
Small price for the spec and accessible to broad range of artists and filmmakers, from consumers up to pros
Choice of broadcast safe luma ranges or full range (0-255)
XLR and HD-SDI (via external add-on)
PL mount lens compatible (i.e. with Hot Rod Cameras adapter)
Uncompressed 10bit 4K and 2K via external add-on
Efficient H.264 compression of 4K compared to Canon 1D C MJPEG
Reduced rolling shutter (50ms sensor readout compared to 100ms on GH3)
Improved dynamic range
Improved low light performance
PAL / NTSC switchable ("world cam")
Zebras and focus peaking
Time Code
Synchro Scan
Cinema-gamma mode
Articulated screen
Full manual audio control
Convenient Quicktime MOV file format
1080/60p
Very fast AF for stills (0.07 sec)
Improved AF in low light
New mechanical shutter with longer lifespan and 1/8000
Very fast 40fps burst mode
Silent electronic shutter at full resolution and in raw
Timelapse and stop-motion animation modes
Gradation curve (for in-camera adjustment of shadow and highlights)
Responsive (quad core CPU based)
Very good quality stills for a cinema camera (HAHA)
Wireless control over WiFI
Near Field Comms
Weather sealed, even splash proof
Extensive lens range
Metabones Speed Booster compatible
Cons
4K video mode crops field of view compared to full sensor and 1080p mode
Internal codec 8bit 4:2:0 from 4:2:2 source (why not 4:2:2 all the way?)
Ergonomic design of external add-on "DMW-YAGHE" could be better
External DMW-YAGHE has to attach to base of camera, cannot be more conveniently placed on your rig
External DMW-YAGHE has a silly name
No full sized HDMI connector on the camera itself
No 4:3 mode for anamorphic lenses (BOOOO!)
No internal ND filter solution (yet)
Pre-production model does not have LOG picture profile
Body design too similar to GH3 with existing ergonomic issues not addressed
Please note the pros and cons are based on my experience with the pre-production model and not on any extended shoot with the final camera – the proper review (and footage) is still to come.