Fancy grading yourself? Download my pack of original files from the 5D Mark III and KineRaw S35. The file contains selected Cinema DNG frames and CineForm RAW .Mov clips from both cameras.
The Kinefinity KineRaw S35 is the most complete debut camera I've ever seen. Packed with features, it simply doesn't feel like an S35 version 1.0.
In terms of the image it is also very good – hardly an major weaknesses, though if there's one thing that could be better it is the rolling shutter skew. It's similar to a DSLR and therefore more severe than what you'd get from the Arri Alexa or RED Epic.
I had the camera for a few days on loan from HDVideoShop in Berlin, who have just opened a new showroom here and also an official Europe-based Kinefinity website. Since family were staying I didn't have the time to do a proper shoot with the S35 but I did have a pretty extensive hands on with it and shot the above comparison with the 5D Mark III.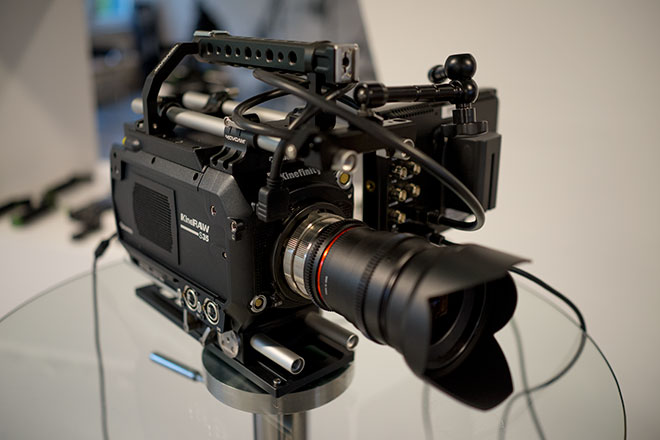 Above: the KineRAW S35 on display at HDVideoShop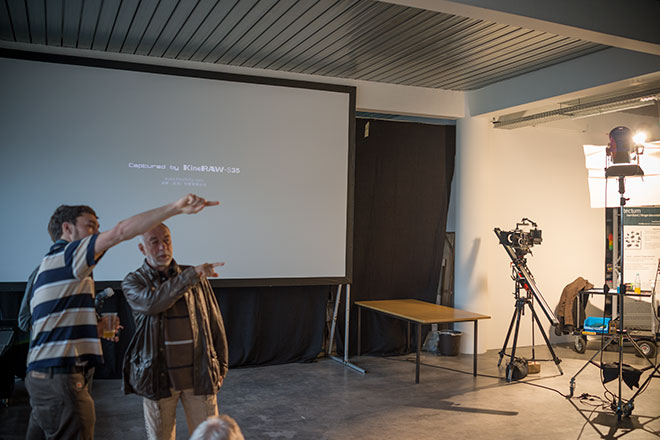 Above: customer at the shop opening where amongst other goings-on KineRAW S35 footage was being screened and an Olympus high speed camera being demonstrated
Below: my field test of the KineRAW S35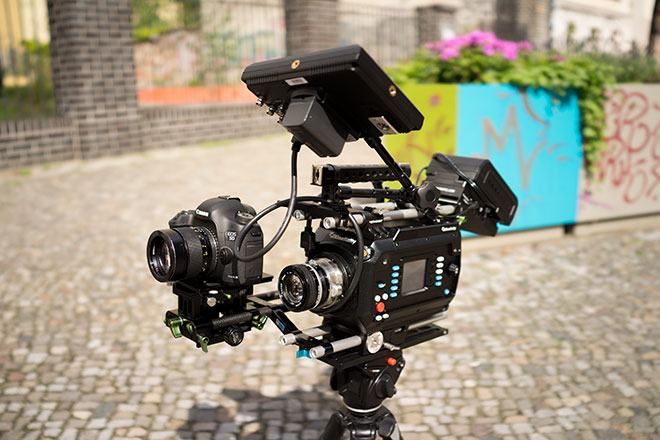 The KineRaw S35 shoots uncompressed Cinema DNG as well as compressed CineForm raw. CineForm is the closest we have to REDCODE raw on a camera that isn't called Epic or Scarlet! CineForm raw is a 10:1 compression so a huge space saving over DNG. It was very interesting to compare the 5D Mark III to the KineRaw S35 as this has never been done before. With 5D Mark III raw footage you can now transcode Canon raw files to CineForm too and this process is RAPID – I was getting around 100fps transcoding speeds to CineForm raw with David Newman's newly developed transcoding app.
I was extremely impressed with the image from the KineRaw S35. It is very clean, and when noise does occur it has a fine film-like grain. Resolution is also very good – detailed without being over-sharp, and it is very cinematic looking. It has a very smooth roll off from the highlights. When you push around the highlights they stand up very well. With the 5D Mark III raw video if you really push the highlights down you get quite a steep roll off. It's smoother on the S35. Other than they, they're quite closely matched with the exception of sensor size.
Though currently a 1080p/2K camera, the KineRaw S35 actually has a 4K Super 35mm sensor. Kinefinity are believed to be looking into the possibility of adding a 4K output to the camera at a later date but this is not confirmed. Current specs are –
Super 35 4K CMOS sensor
13 stops dynamic range
Uncompressed CinemaDNG (12 bit) or 10:1 compressed Cineform RAW (12 bit)
Dual SSD slots for simultaneous recording of CinemaDNG and CineForm RAW
Stereo-3D sync support
Steel FFD Kine-Mount or active Canon EF-Mount
HDMI and HD-SDI video outputs
Two XLR audio Inputs
Wifi remote control
3.7kg body weight
Built in 3D LUT support and in-camera generation of LUTs
ISO and EI exposure control
Maximum 25,600 ISO
Under $6,000 body-only (5199 euros)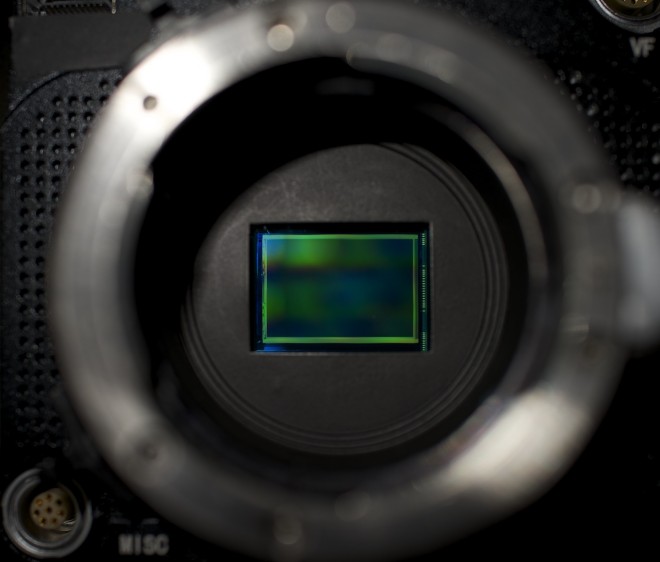 Image quality comparison to 5D Mark III raw
Intercutting raw footage from different cameras is much more difficult to intercut than standard C300, FS100, DSLR 8bit Rec.709 material. It requires a high level of experience and grading expertise.
The 5D Mark III and KineRAW S35 produce images from very different sensors and with very different metadata so grading in Resolve took a lot of effort to match the two cameras. The ACES colour space (Academy Color Encoding Specification) was designed to help with this but I haven't yet found a way to get this working with the S35 and 5D Mark III in Resolve because the cameras haven't yet been profiled by the Academy.
Resolve does have an ACES preset for the 1D, 5D and 7D but they are designed for the stock Canon video mode not raw. The Alexa and F65 ACES transforms are closer to giving you something usable and that tells you a lot about how good the 5D Mark III is in raw!
A few shots I couldn't quite get right but I feel with effort and a LOT of practice they can be intercut. To my eye the actual raw output on the S35 and 5D3 are nip-and-tuck. They're giving comparable performance. That's a story in itself, because the KineRAW has a superb image and yet the 5D Mark III raw video is in the same league. As raw on the 5D Mark III is still at an early stage I think the metadata isn't quite right or 100% complete – I think it will be easier to intercut with material from other raw cameras as Magic Lantern and ACES develop further.
At $3k for the 5D Mark III and $6k for the KineRaw S35, I actually think both are incredible value for money. The 5D is as cheap as chips and with the S35 you're getting an enormous feature set. Here are some highlights –
Kinefinity interchangeable positive locking mount (supports for example – standard PL, Canon EF, Nikon F – so you're not locked into one mount)
CineForm compressed raw in-camera
Shiftable dynamic range for changing exposure like the Alexa
Built in LUTs and extensive colour tuning options
HD-SDI and XLR jacks
Very robust build quality
Optional wireless control via WiFi (with iPad for example)
On the side of the 5D Mark III, that has the advantage of being a lot lighter and smaller, better in low light, completely silent with no fan, larger full frame sensor and the ability to do professional quality stills in the same camera, though of course it doesn't take SSDs, doesn't have film industry standard jacks and isn't 100% reliable yet for paid work.
The fan on the KineRAW S35 is slightly louder than the Epic whilst recording, it doesn't go into a quieter setting. Similar to the Arri Alexa, the form factor is more suited to studio work rather than running around with it in the field. I'd prefer the form factor of the KineRaw Mini and Red Scarlet, but the camera shares a lot of design similarities with the Alexa – it is a studio camera for feature film or TV production and to be used on productions – it isn't such a great shoulder mounted ENG style camera. Of course I found it rather heavy and large, especially compared to the Scarlet, FS100 and GH3.
Exposure Index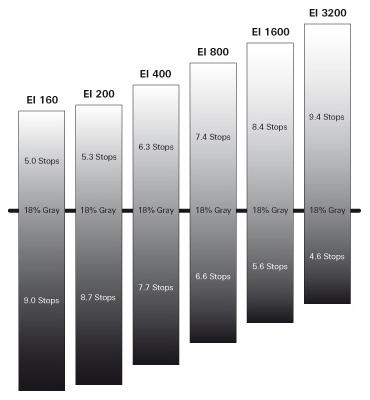 One way to change light sensitivity is to shift the available dynamic range of the sensor towards the blacks or towards the highlights.
On the Alexa (diagram above from the Arri FAQ) the dynamic range can be moved around to handle a bright scene and in low light the dynamic range is shifted so that the darker tones fall more squarely within the available dynamic range. It's a clever concept and the sensor in the KineRAW is also able to do the same.
In the exposure menu you can choose various modes, for example standard ISO, gain or the Alexa-like EI controls.
Colour, and built in LUTs
Colour saturation by default is on the desaturated side in the metadata with KineColor enabled. That's because the camera has built in LUTs and saves a LUT file onto the SSD along with the footage. This is an amazingly cool feature. I was able to use this Kinefinity KineColor LUT in DaVinci Resolve and apply the same LUT to my 5D Mark III raw footage.
The KineRaw S35 previews what the LUT looks like on the monitor in realtime. The LUT also takes into account your white balance and other colour options in-camera. (I was using the HDMI port for monitoring but the camera also has HD-SDI).
The menus are controlled with a dial which rotates and punches in to select an option. You can use the black & white display on the side of the camera to adjust settings or glance at the currently selected ones or the more graphical menus which the camera shows as overlays on the external monitor.
On the U buttons below, I had assigned various focus assists. Some options are in the main menus (CONF button) but you never have to dig down very far to find something. The menus take practice but you speed up as you go.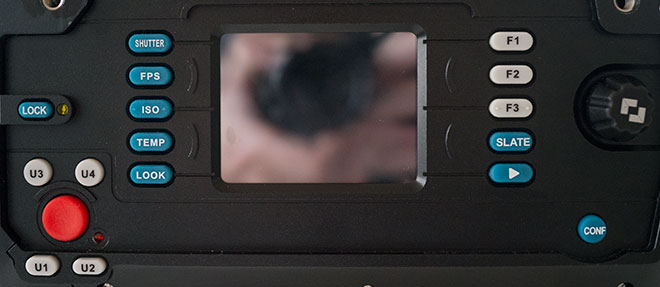 Low light performance
The image is clean and noise well controlled but the S35 was giving me quite a strong green tint with my practical lights, and the only way to reduce this was to decrease white balance and saturation.
I don't yet know whether it was a workflow issue or the camera, so I'm making no final judgements in this regards until I've used one more often. I just could not get the same warm saturated look from it that the 5D Mark III was giving me. The KineRaw was a little nosier at ISO 1600 than the 5D Mark III but that said, you can go all the way up to 25,600 with it. If the colour issue I experienced is a result of a workflow problem rather than a camera sensor issue, then the KineRaw will be quite handy in low light.
The following shots were both taken from uncompressed DNG files and graded in Photoshop –
(Click images for 1080p versions)
KineRaw S35 – ISO 1600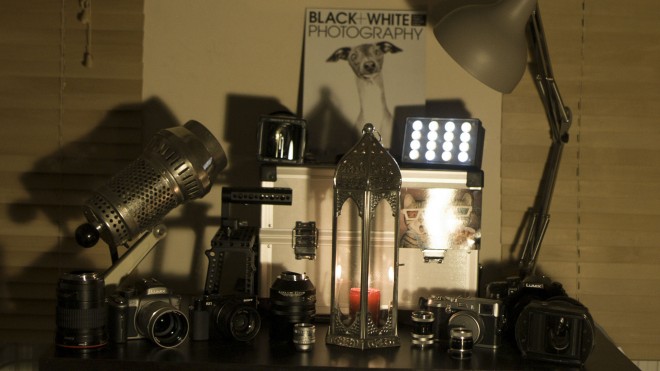 5D Mark III raw – ISO 1600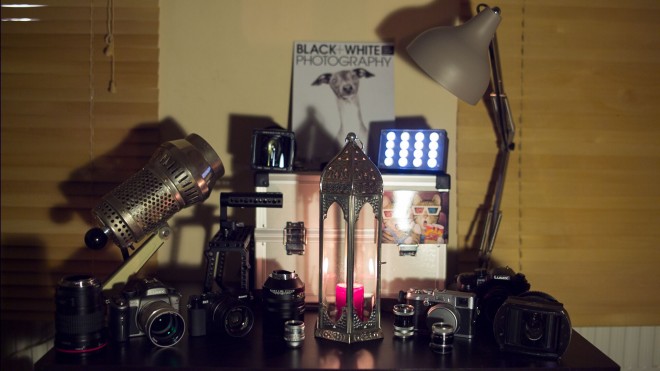 Extra costs
Of course like any raw shooting camera you need to factor in the essentials to the price not just the body. Here the biggest costs are battery, media and monitor.
The S35 has dual SSD slots and the cable you see below to the right is power. I was using a standard V-lock battery and the camera is quite hungry at first impressions so you will need more than just one external battery for any shoot that isn't a short test.
Although it has standard 2.5″ SATA SSD slots the S35 takes proprietary SSDs. These look identical to standard SSDs and have the same E-SATA jack. Likely the only difference between a generic SSD and these is firmware related. I did try a third party PNY SSD in the camera and it fitted fine but the camera refused to record on it. Official KineMAG SSDs are somewhat expensive by comparison at 299 euros for the 64GB, 550 euros for the 128GB and 1099 euros for the 256GB mag with no 480GB or 512GB yet available. Blackmagic have the more friendly approach here.
As is standard for a camera in the Epic and Alexa market but unlike the more consumer orientated cameras such as the Blackmagic Cinema Camera and 5D Mark III there's no integrated monitor so you need to add one via HDMI or HD-SDI. I'm surprised nobody has developed a better solution than a generic spidery arm for this yet and I still feel that extremely discrete slimline field monitor is missing too. I feel there's a lot of work to be done by monitor and accessory companies to improve the ergonomics of field monitors, though SmallHD are heading in the right direction with their OLED panels like the AC7.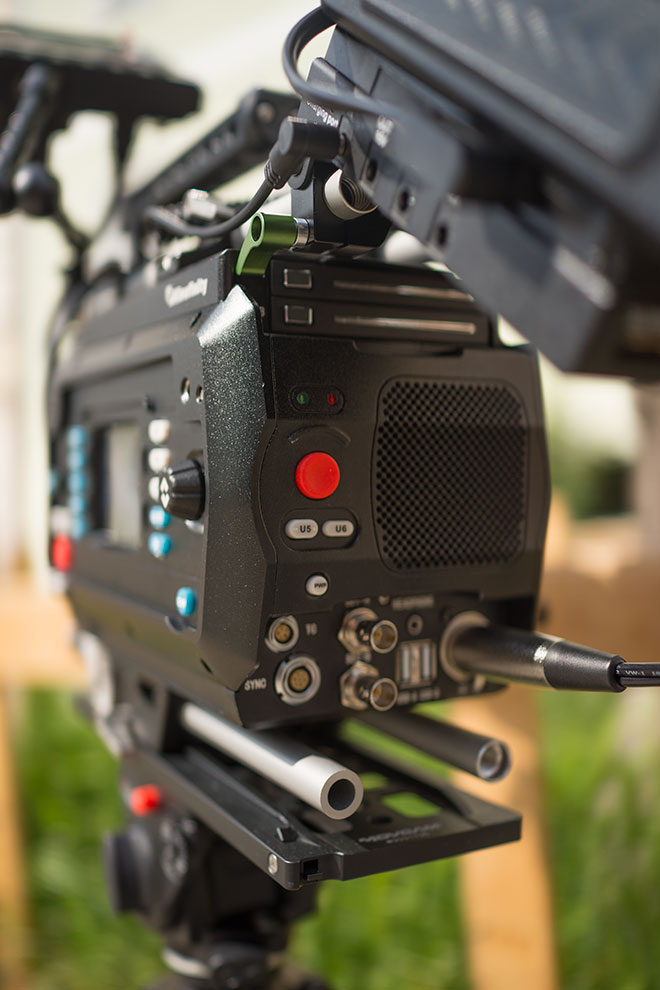 Conclusion and the market
The KineRAW S35 is the start of a very serious industry for cinema cameras in China. From the product itself, that is quite evident.
Asia is a fertile ground for building a cinema camera.
China, Taiwan, Japan and South Korea have huge computer and electronic industries and the digital revolution in cinema means cameras are essentially computers. They can be almost entirely self-contained in terms of manufacturing, sourcing and assembling the camera technology and clearly Kinefinity have been listening carefully to what filmmakers globally have been telling them about their design because it is also nice to use as a filmmaking tool.
The camera the S35 will be compared most to is the Alexa. One of the reasons the Alexa is so expensive is that it is made in Germany by Arri. Obviously although expertise and quality are second to none at Arri, the overheads and wages are massively high compared to Kinefinity and many key electronic parts have to be imported to Germany from Asia. Usually design and manufacturing in China has meant sacrificing quality but this isn't the case with the KineRAW S35. It really is a high quality low cost alternative to the Alexa that shoots CineForm instead of ProRes and uncompressed raw internally rather than on an external recorder.
I liked the Kinefinity KineRAW S35, though for my one-man style of filmmaking I prefer as small and as light a camera as possible. The 5D Mark III poses a stiff challenge in terms of the image, but not so much in terms of being ready for production work in a controlled environment with a crew and all the trimmings and reliability the KineRAW offers. The heavier S35 has certainly whet my appetite for that the KineRAW Mini may bring though, and that is at a consumer price point (under $4000). Although that camera lacks built in CineForm RAW, it's now trivial to transcode DNG to compressed CineForm RAW in post and save your drive space.
Further reading
My neighbours at SlashCAM also had their hands on the KineRAW – Original in German / English Google Translated
Enquiries