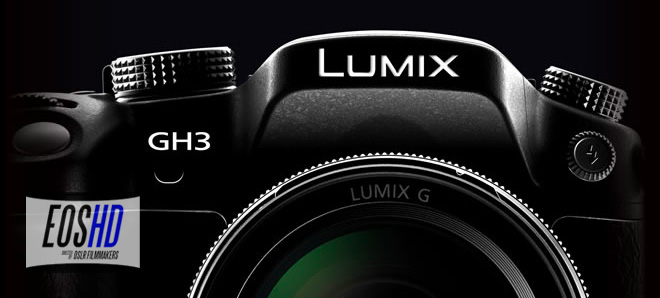 Updated version: 17.36 GMT
Described by Panasonic as a semi-professional 'creative HD hybrid' and a flagship model for the company, the Panasonic GH3 is finally here – 2 years after the GH2 arrived. The official unveiling answers some of the mysteries too.
Codecs
The GH3 is the best specced DSLR style camera on the market for video recording modes.
It even outclasses some of the higher end cameras like the Canon C300, by offering 1080/60p at 50Mbit in H.264 Quicktime MOV mode.
We also have an improved look to motion with the introduction of intra-frame recording (ALL-I). Like AVC-Intra, this stores every frame in a sequence rather than using clever compression methods to predict motion and create synthetic frame. Without this safe-spacing jiggery-pokery video looks more like cinema in the way it moves, especially at 24 frames per second.
Whilst cinema mode 24p was restricted just to AVCHD 1.0 on the GH2, the GH3 records the highest quality cinematic video not just in AVCHD 2.0 but in far more edit friendly formats this time round. The high bitrates are there out of the box this time, with 80Mbit in 30p, 25p and 24p ALL-I modes. The GH3 has a quad core CPU, outclassing even the dual core DIGIC5+ and assisting DIGIC 4 found in $6000 Canon 1D X.
Happily the GH3 is also a world-cam, recording in both 60p/50p and 25/24p as well as 30p when required.
In 1080/60/50p ALL-I and in IPB 30/25/24p, the maximum bitrate drops to 50Mbit to save space and CPU resources. Both MP4 and AVCHD are inter-frame (IPB) not intra-frame (ALL-I) so if you want the longest recording times choose MP4 or AVCHD and if you want the best image quality choose Quicktime MOV H.264.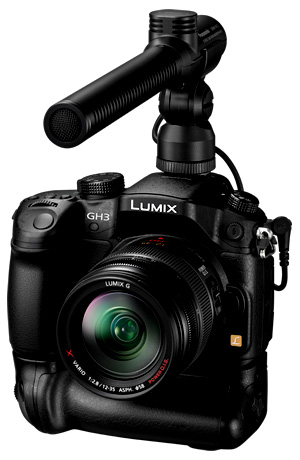 There's no 120p at lower resolutions 720p is still 60/50p and again you can record in 80Mbit ALL-I mode there too.
UPDATE: Different people seem to be reporting 72Mbit and 80Mbit for the ALL-I mode. Panasonic's official website says 72Mbit but DPReview say 80Mbit.
Here's a fantastic behind the scenes by Mick Jones on the Bruce Logan directed GH3 promo video:
[vimeo]http://vimeo.com/49500954[/vimeo]
Ex-tele / 1:1 crop mode maintained
A bird told me that this is still in the camera despite being an omission from the specs sheet. You can record video with a 1:1 crop giving you a telephoto recording mode without a reduction in image quality unless recording in high ISOs or in very dim light.
Clean HDMI
The GH3 has a clean HDMI output, that means overlays can be toggled on or off. If recording to an Atomos Ninja you can turn these off for a clean full HD picture. It is not yet clear what format the HDMI feed is, but I am hoping for uncompressed 4:2:2 like the Nikon D800.
Film modes
UPDATE: Here are the new film modes on the GH3 available in movie mode:
High Key
Low Key
High Dynamic
Dynamic Monochrome
Expressive
Retro
Sepia
Cross Process
Toy Effect
Miniature Effect
One Point Color
These are applied to the raw sensor data before it is encoded to H.264. There's no flat picture profile or LOG from what I hear, but I have also heard you can dial contrast down far more, to -5 instead of just -2 now so maybe that combined with the high dynamic range profile could get us a flatter image than the GH2.
Battery
With a unit of 1860mAh, the GH3 uses a MUCH larger 5D Mark III style battery this time. A great move and one of the reasons for the larger body. A battery grip will provide support for further power in a still relatively compact form, as well as better handling, more heft for less jittery handheld work and an extra grip.
Timecode and heat dispersal technology
Here's a grab from the official Panasonic page on these very welcome high end cinema camera features. Click to enlarge…

OLED all round
The OLED viewfinder and rotating LCD are a step above even the best LCD displays in terms of their natural colour and inky black contrast. They also improve battery life massively and so with the higher capacity pack, I'd say the recording times on the GH3 may even be doubled over the GH2.
Lenses
Panasonic has a 45mm F1.2 in development. I've tried the 12-35mm F2.8 which is the flagship kit option for the GH3 and it is a mega improvement on previous Lumix zooms with superb sharpness like a Canon L lens and much better build quality, and yet it maintains a very small size relative to the equivalent 24-70mm F2.8L on full frame.
Slow motion
Like the FS100 the GH2 can record in an S+Q mode for slow-mo without the need to conform 1080/60/50p in post. For a 24p slow-mo the sensor read-speed is 48 frames per second. For an even slower 40% reduction in 24p mode, the sensor readout is 60 frames per second. It is not yet clear what codec is used in this mode, and whether you can record slow-motion internally at the highest quality ALL-I setting of 80Mbit. But 50Mbit in 1080/60p is still a big improvement on the AVCHD 2.0 spec which tops out at 28Mbit. I won't be shooting AVCHD on the Panasonic GH3 now we have MOV H.264 clips with timecode.
Multi-aspect sensor? Seemingly not a Sony one
Interesting to read what Panasonic say about the GH3's new sensor. Big changes under the hood:
The newly developed 16.05 effective megapixels Live MOS sensor boasts wide dynamic range and high sensitivity image recording even at ISO 12800 or ISO 25600 in extended mode. The key point here was reducing noise, for which Panasonic focused on the following three areas: (1) minimizing noise in the sensor, (2) preventing sensor noise from entering the output signal, and (3) preventing noise from entering the signal processing circuit, power supply line and grounding line. To reduce noise, it is also important to design the power supply wiring and the signal wiring connected to the engine to be as close to the same length as possible. These measures not only suppress noise but also help to improve processing speed.
UPDATE: multi-aspect sensor is in question. I'll check at Photokina.
The sensor maintains a multi-aspect ratio so it is physically larger horizontally in movie mode than in Micro Four Thirds (4:3) stills mode or 3:2. This makes the GH3 behave more like a 1.86x crop camera in movie mode, compared to the 1.6x crop of APS-C or the 1.5x crop of Super 35mm.
No peaking?
There's no mention of peaking anywhere on the Panasonic info. This came from a very good source to both myself and 43rumors a week or so ago. It wasn't on the pre-produdction model but they might intend to add it for when the firmware goes gold. Or they may have decided to take it out. Either way you have the punch-in focus magnification still, and the very detailed high resolution OLED EVF which will make manual focussing a breeze. If you need peaking, you can still get that via HDMI on an external monitor or EVF.
One more thing… For our French readers!
[vimeo]http://vimeo.com/49558910[/vimeo]
Il est là entre mes mains depuis quelques jours et j'ai failli plus d'une fois publier des images avant la date fatidique d'aujourd'hui, tellement j'étais impatient voir frétillant comme le jeune goujon, mais j'avais pas le droit et j'essaye de préserver la relation de confiance établie avec la maison Panasonic.
Filmmaker Emmanuel Pampuri hands-on with the GH3
Summary
This camera is basically a dream. It may lack the 2.5K raw of the Blackmagic Cinema Camera or the full frame sensor of the 5D Mark III but as a high performance semi-pro and extremely affordable all-rounder it thrashes the living daylights out of everything else out there.
It will be interesting to see how the Sony NEX VG900, Sony A99, Canon 6D and Nikon D600 compare to the GH3 in both image and features but in terms of the codec, clean image, price, extensive functionality and extensive range of Micro Four Thirds lenses as well as the most adaptable mount on the market for other lens ranges, the GH3 will take some beating.
Tomorrow is the day I will have my hands on the GH3 in person. Be sure to stay tuned during this very busy and exciting week for new cameras.