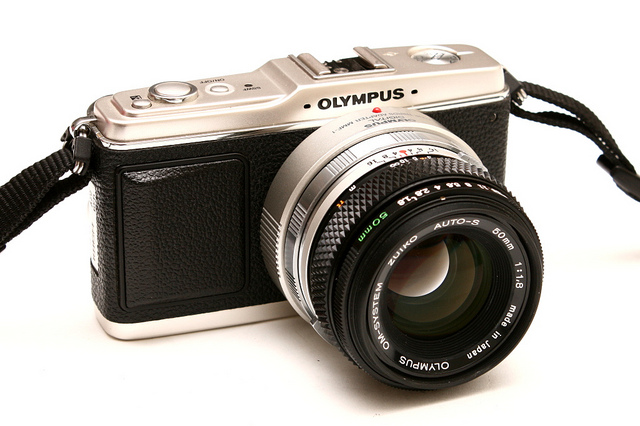 "Don't be afraid to cannibalise yourself" said Steve Jobs. "If you don't do it, someone else will".
In an interview with Imaging Resource, Toshiyuki Terada of Olympus speaks candidly about Sony and Nikon.
Nikon he said, were trying to protect their existing DSLR business by crippling the Nikon 1 mirrorless with a small sensor. Olympus, who are set to launch a professional mirrorless based on the classic OM cameras in February (see 43Rumors), says that the Micro Four Thirds sensor size is the best compromise. Seemingly Canon agree, launching their mirrorless (although fixed lens) G1X at CES with a 1.5 inch four thirds sensor.
Canon's sensor is actually fractionally bigger to claim the bragging rights on marketing promotions – that is the benefit of coming to the market late.
Olympus say that Sony and Nikon, as well as Pentax were all asked to join the Four Thirds standard to create a standard lens mount but not surprisingly refused. Sony have standardised around the APS-C sensor with their E-mount and Pentax have done nothing.
Oh yes – the Pentax Q – sorry forgot about that one!
On reading Toshiyuki's comments about Nikon I was instantly reminded of the Jobs quote above. It really is true that in the technology world – which photography and optics now finds itself firmly in the midst of – there comes a point where legacy products must be killed off and existing businesses replaced with new ones.
Although there's an inherent risk involved here, failing to cannibalise yourself when the opportunity arises is the worst possible option of all because a competitor will do it anyway. What Nikon did with their uninspired mirrorless system was a huge mistake. Now they will have to introduce yet another new format when DSLRs all go mirrorless, as anybody who has seen the OLED EVF in the Sony A77 will know is a given in the very near future.
The only reason the mirror still exists in a DSLR is for the optical viewfinder and now that is obsolete. Phase detect AF was another reason for the mirror but now that is surpassed by digital technology as well. The best contrast detect AF system is actually by Olympus and it works faster and more silently than even the best DSLR for phase detect AF, the Nikon D3.
Personally I dislike mirrors because they are completely redundant for video and hinder lens adaptability.
Toshiyuki says that on the lens side, Olympus has completed their roadmap of zooms for now and will concentrate on primes. Check out EOSHD soon for a review of the Olympus 45mm F1.8.