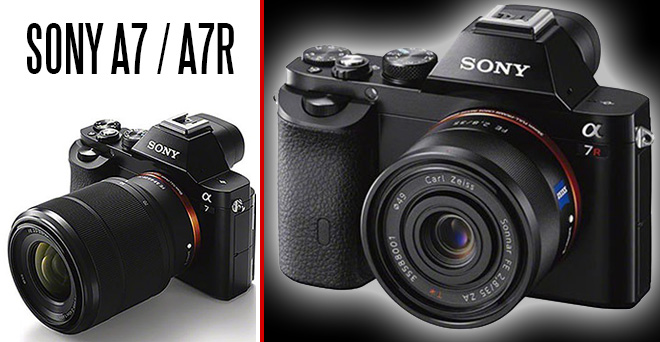 Although it's yet to be officially announced, the A7 and A7r have been heavily leaked. All along I have been saying mirrorless is the future, not the low end consumer proposition the manufacturers seem to think it is. Canon and Nikon ignored the high end mirrorless technology and now it is pay back time. Sony, already ahead of Canon on full frame sensor performance, looks set to steal a huge chunk of the enthusiast DSLR market away from the 6D and 5D Mark III with these new E-mount Alpha cameras.
That they're attractive to photographers is a given.
Whether it can take on DSLR video though is another matter. These users have now split into two areas, the enthusiast and advanced enthusiast.
The advanced enthusiast has shifted up a gear to use Magic Lantern for raw video and Blackmagic cameras.
It is unlikely the first affordable full frame mirrorless cameras outside Leica will tempt them on video quality, though both the A7 and A7R feature new sensors and improved video capabilities. The CMOS microlenses have been adjusted for better corner sharpness and the video codec is said to be improved with moire reduction and higher bitrates, though these are only rumours at this stage.
If you're a normal enthusiast shooting compressed 8bit footage on a standard DSLR or mirrorless camera out of the box you should take a serious look at the A7 and A7R.
Leica is in trouble now, in my view. Their brilliant lenses will live on, but not via Leica bodies unless they can play on the same field as Sony technologically. These are serious photographic bodies and now with the serious glass to match. Imagine Sony's sensors with Leica M lenses like the Noctilux 50mm F0.95! The Contax Zeiss G rangefinder lenses and some classic Canon FD optics will appeal as well. I am so glad Sony have moved away from the old Minolta-based mount on their Alpha cameras and gone mirrorless.
In a way the A7R is more competition to Leica than a DSLR. A DSLR still has very fast AF with Canon and Nikon glass, and the A7R doesn't. But Leica shooters all focus manually so this won't count against it with Leica glass.
The Sony 24MP sensor, a newer version of the one in the RX1 which I have direct experience with simply outperforms the 5D Mark III's. You get better dynamic range and less noise in the shadows. The only reason to choose a DSLR is if you need AF.
Out of the box, it is likely the A7 and A7R will outperform the 5D Mark III and Nikon D800 for video though Magic Lantern raw is another matter. In future not all cameras will need raw to perform on the same level. The only thing currently standing in the way of better video on the A7 is 10bit LOG ProRes and the sensor sampling method.
The 5D Mark III shows the sampling method can be done, giving a nice clean 1080p image with virtually no moire and aliasing. The Blackmagic Pocket Cinema Camera shows ProRes can be done for consumer prices too. So shift your ass Sony and get this in the camera. I've heard rumours of higher bitrate recording and moire reduction on the A7, whilst the A7R will be at least as good as the D800E for video since it shares a similar 36MP Sony sensor.
The system is also trouble for Micro Four Thirds. That platform must continue to differentiate itself from the competition. Panasonic have the unique video side of the GH3. Olympus have their unique 5 axis stabilisation. The problem is the Micro Four Thirds mantra all along was small size made possible by small sensor and optics. The Sony A7, A7R and RX1 show you can have your cake and eat it. True, if you are fitting a F2.8 zoom to the body it is going to be absolutely massive again but there's plenty of fast full frame primes that are tiny including the new Sony 35mm F2.8 FE.
I am so glad Sony have dropped the tri-navi control system and NEX menus for this camera. Although it is a mirrorless E-mount camera it comes under the Alpha umbrella. Sony seem to have a strategy of Alpha for the high end and NEX for the low and mid-range APS-C cameras.
Sony are renowned for fiddly buttons and menus on their cameras. This one seems to be an improvement at least on the outside. It has a similar control and menus layout to the RX1 which I really liked, but with the addition of a front dial on top of the grip. I like the placement on that (was a shame when it moved from the front on the GH1 to the back on the GH2) and I like the rear jog wheel of the RX1 which has turned up again on the A7.
Another advantage over the 5D Mark III and D800 is the tilting screen. Essential for video. Meanwhile being able to look through the built in EVF on such a small body yet get the full frame look is going to be pretty special for documentary shooters who require stealth.
Summary
24MP A7 and 36MP A7R
A7R has no anti-aliasing filter
Full manual control
Mirrorless E-mount
Super 35mm / APS-C crop mode
Likely 1080/30/25/24p video resolution with moire reduction
Built in OLED viewfinder mounted centrally over the lens block
Weather sealed body
Focus peaking
Lens adapters
Sony are said to be offering lens adapter kits with this camera to entice users over from other systems, who are invested in non-E-mount glass. Sony have a deal to promote Novoflex but I can recommend Metabones. All Canon EF glass can be used on this camera and via the Metabones Smart EF adapter you will have IS and aperture control on the body.
Infinity focus is really critical on full frame especially at fast apertures and any slight flex in the adapter mount will throw it out. Given the importance of lens adapters to their camera bodies and sales strategies I am really surprised Sony, Panasonic and Olympus have not thrown some resources behind the adapter products themselves – instead leaving users to navigate a minefield of cheaply put together third party offerings. Adapters are now a key part of photography and big business.