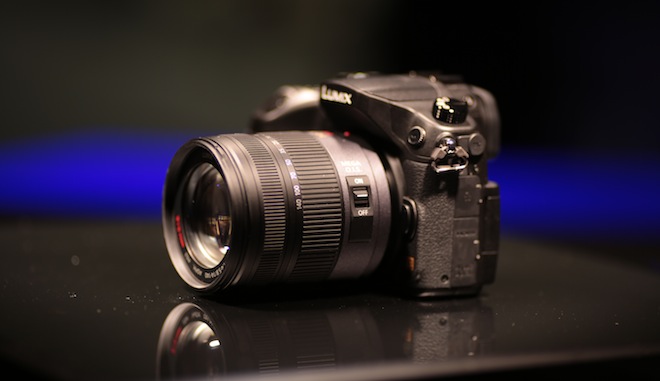 Panasonic's Philipp Wolf showed me the inner-workings of the new GH3 at Photokina today. I was then let loose with the camera to shoot some test footage in 1080/25p ALL-I and 50Mbit 1080/50p mode.
This camera was running firmware version v0.4 and so by no means final yet. What I found impressed me.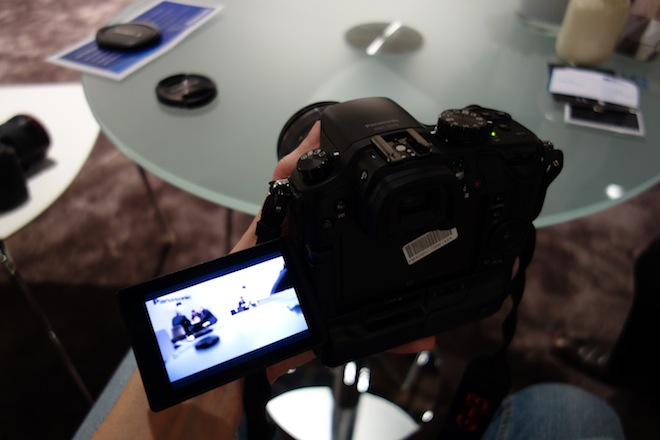 First impressions
The GH3 looks better in person than in product shots, the body styling is superb. But there's no manual focus peaking on the V0.4 firmware. I asked for it to be added. There's no mention of the XLR accessory either. Apart from those issues the camera is jammed packed with stuff.
My camera I am told is a later model than used to shoot Genesis, with the firmware dating only to a few days ago. 25p AND 24p were there which is good news. I was using a PAL camera and although it had both cinema frame rates it only had 1080/50p, not 60p as well. The higher full HD frame rate was 50Mbit IPB, no ALL-I in that mode unfortunately.
The camera is scheduled for a November release date. I really do hope Panasonic can ramp this up into significant quantities and that people won't have to wait until 2013 to get one, as with the GH2 it was rather short stocked especially in the US.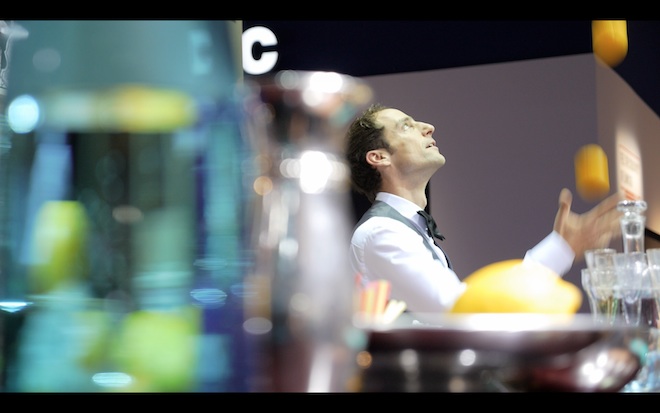 Screen shot from my GH3 footage (coming soon) shot in 1080/25p (ALL-I) with the 12-35mm F2.8
Audio monitoring via a 3.5″ headphone jack can be real-time, or processed. The processing adds a slight delay as the mic output passes through the camera, the in-camera levels are applied, then it goes to the headphone jack. So if you need the audio to be 100% in lip-sync with what your eyes see in real-time you must select the real-time mode which has no processing for gain. Basically the real-time mode is for use during a shot AFTER you have checked your levels in the 'processed mode'.
When selecting the highest quality MOV recording mode in the main menu (which was showing as 72Mbit ALL-I in this camera), a warning popped up about having a fast enough computer to edit it. If you want to switch recording mode more quickly, the Q-menu doesn't have this warning dialog box.
Video image quality
This is a pre-production camera but t I was able to shoot a great deal of footage to my card and I will be uploading this soon. The noise grain is extremely organic. Detail is, like the GH2, extremely impressive in 1080p. Faces especially come out beautifully. Colour is brilliant, better than the GH2 and gradation is smoother.
What you see here is a JPEG screen capture cut out at 1:1 pixel level from ALL-I 1080p at 72Mbit, Portrait film mode with sharpness dialled all the way down (-5).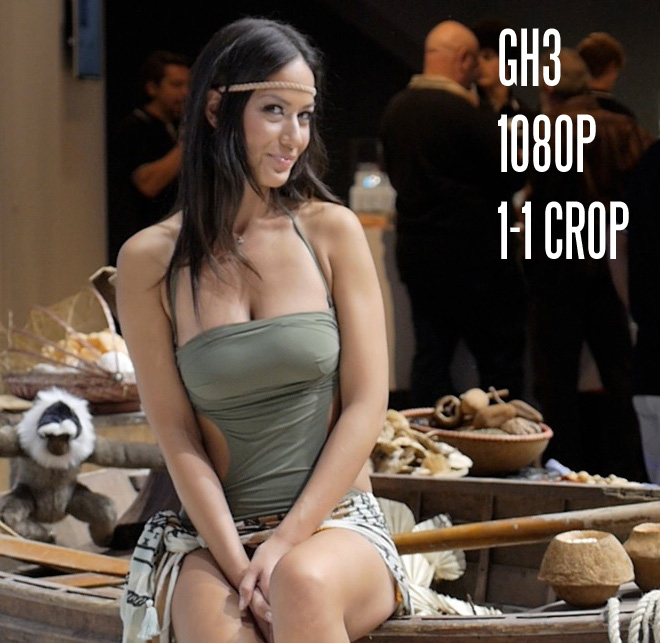 The lovely Pocahontas
What I am about to say next needs to be approach with extreme caution because this is firmware version 0.4.
There's very minor moire and aliasing present in this early hardware. Whilst the GH2 rendered sloping horizontals and fine patterns extremely cleanly with no shimmering, the GH3 I used had a touch of aliasing and in some cases even a bit of moire on a stripy shirt viewed from a distance. VERY minor, but like the OM-D E-M5 it was there, at this early stage. Hopefully this will be fixed for the final hardware / software revision in November but it is a very minor thing and I feel the benefits of the better all-round sensor outweigh this drawback. This issue however for now goes top of my list of things to fix along with the introduction of peaking. Even if a stronger OLPF / AA filter is needed and it softens stills at 1:1, I'd like to see that done.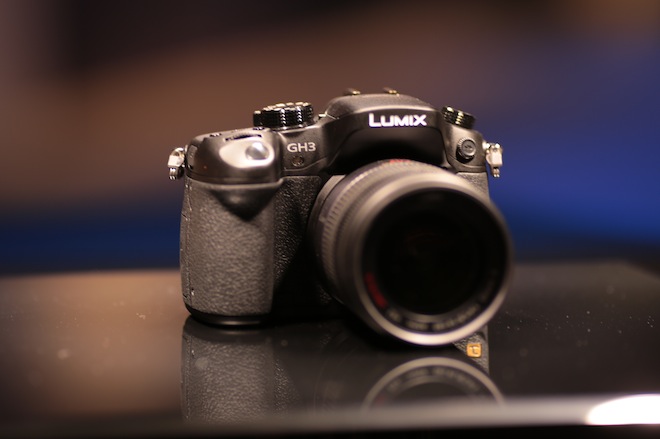 Firmware version 0.4 general bug report
In version 0.4 some of the quirks of the GH2 are still present, and I will put my full list of these to Panasonic's people tomorrow. Some may be fixable before the November shipping date. There's still a gamma shift resulting in crushed shadows on the live view display when you hit record. There's still the lack of exposure simulation at shutter speeds higher than 1/1000 in full manual mode. The film mode parameters such as contrast didn't seem to have much affect on the image, which I couldn't get to be very flat. The on-screen text said -2 on the bar where contrast, sharpness, etc. are dialled down but the bar itself had 5 notches up or down, I am 100% sure that will be fixed in the final camera as it didn't make sense. I had a few lock-ups too but that is to be expected of version 0.4.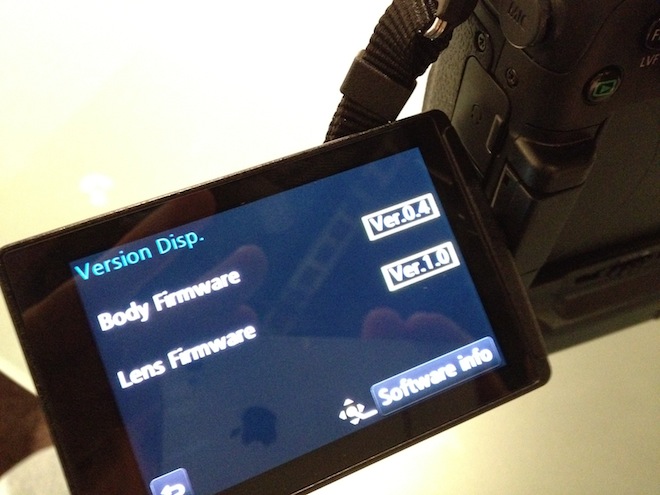 12-35mm F2.8
The stabiliser on this lens is absolutely superb. The fly-by-wire manual focus too, and the lens seems from my tests to be parfocal so the focus point is maintained whilst zooming or re-framing. AF is incredibly quick, we're talking phase-detect beating, Nikon D3 beating in terms of speed and accuracy in stills mode. I had AF turned off in video mode though as I use MF in this mode to avoid hunting or shimmering. The constant aperture and bokeh were also highlights of this lens, I found the overall image very pleasing indeed. I only lacked the long end, 35mm (equivalent to 70mm on the 5D Mark III) felt a bit limiting. The lens is extremely sharp, up to Canon L lens standard optically.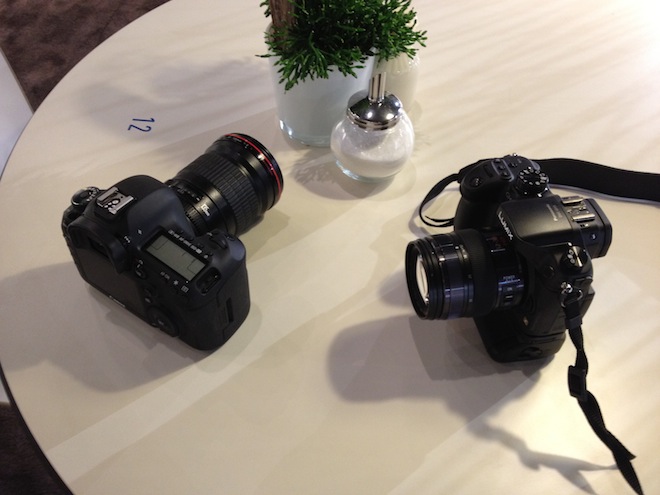 GH3 meets 5D Mark 3. Notice how tiny the 12-35mm F2.8 is despite being a constant aperture zoom
Design
What I liked:
The touch screen allows quick access to recording format, frame rate, etc. as well as a Blackmagic Cinema Camera style touch to punch in for manual focus check. You can then swipe around the screen to position the magnified view in the frame. The new OLED viewfinder is lovely and wide in 16:9 video mode, but you need your eye centred on the eyecup, a little to the left or right and you get a lot of blur, similar to the small one on the NEX 7. Build quality is a great improvement over the GH3 and the battery grip feels very well made, though it only takes 1 extra battery. Some of the buttons feel a bit too plastic but the chassis is far more robust and serious in terms of both handling and looks.
What I didn't like:
The rear grip material needs to drop further away from the rear control dial / d-pad. A ridge of it gets in the way of your finger when rotating the dial. It needs to be like the 5D Mark III's grip which goes flat near the rear click wheel. The jog dials – one on top plate and one on the rear towards the top are a bit too stiff. The one on the back is not quite grippy enough for your thumb and it either needs to be more grippy or easier to turn / more fluid. This may be a case of just constant use and getting used to handling it. The twin jog dials are not silent, but the rear click wheel is much quieter.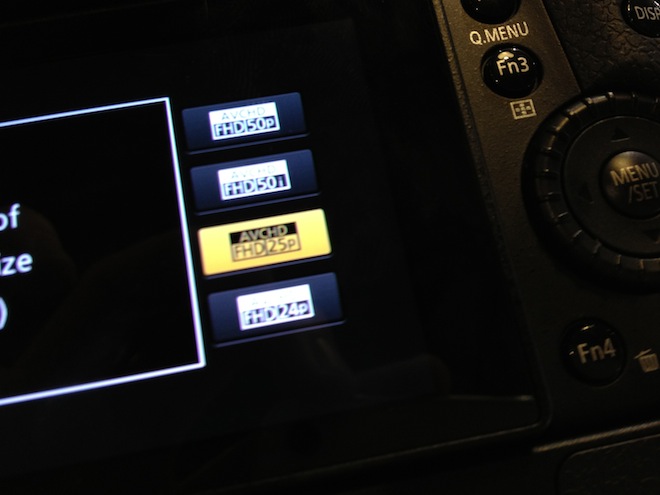 PAL pros need not despair – 25p is there
Price oddity
I am told the EU body only is 1199EUR, the US body only $1299. But the UK body only appears to be $2500 (£1550) – yes you read that correctly! I asked Panasonic why and they say pricing isn't final yet. But then WEX are a major retailer, and they are taking pre-orders at that strange price right now. The European Panasonic guys were not aware of this.
More soon
Tomorrow I will again be at Photokina to follow up on a few points and to further familiarise myself with the GH3. The other hands-on pieces I'm working on are for the Canon 1D C (4K DSLR), Sony full frame A99, NEX VG900, Blackmagic Cinema Camera and others. It is insane how many new cameras are at the show but I will try and cover them all in the coming days.
Thank you to Philipp of Panasonic for my hands-on and for diligently helping with my sometimes rather obscure questions!