I was very excited for the Leica SL2 and bought mine in December 2019. I have been using it ever since and it is every bit as beautifully designed as the previous model, but this time with high-spec 4K video features, IBIS and an anamorphic 5.5K mode. As usual, I paid the full retail price out of my own pocket and didn't take a camera on loan. This is something I am now regretting because the SL2 has a major show-stopping problem which effects ALL models out there and isn't isolated to mine. By the time I was sure of the problem, the 14-day window to return my camera to the retailer had lapsed. I then reached out to Leica in Wetzlar to alert them via my contacts at Leitz Cine lenses. UPDATE: Leica has got back to me and the issues are being looked into – the battery grip is one possible solution and there will be an update on the blog this coming week.
The problem with this camera is currently very significant, and warrants attention.
At £5300 the SL2 is completely unusable for important shoots or anything but a few short snapshots in 4K… and sometimes not even that.
Major design flaw
Time and time again I've had a video shoot interrupted by this message –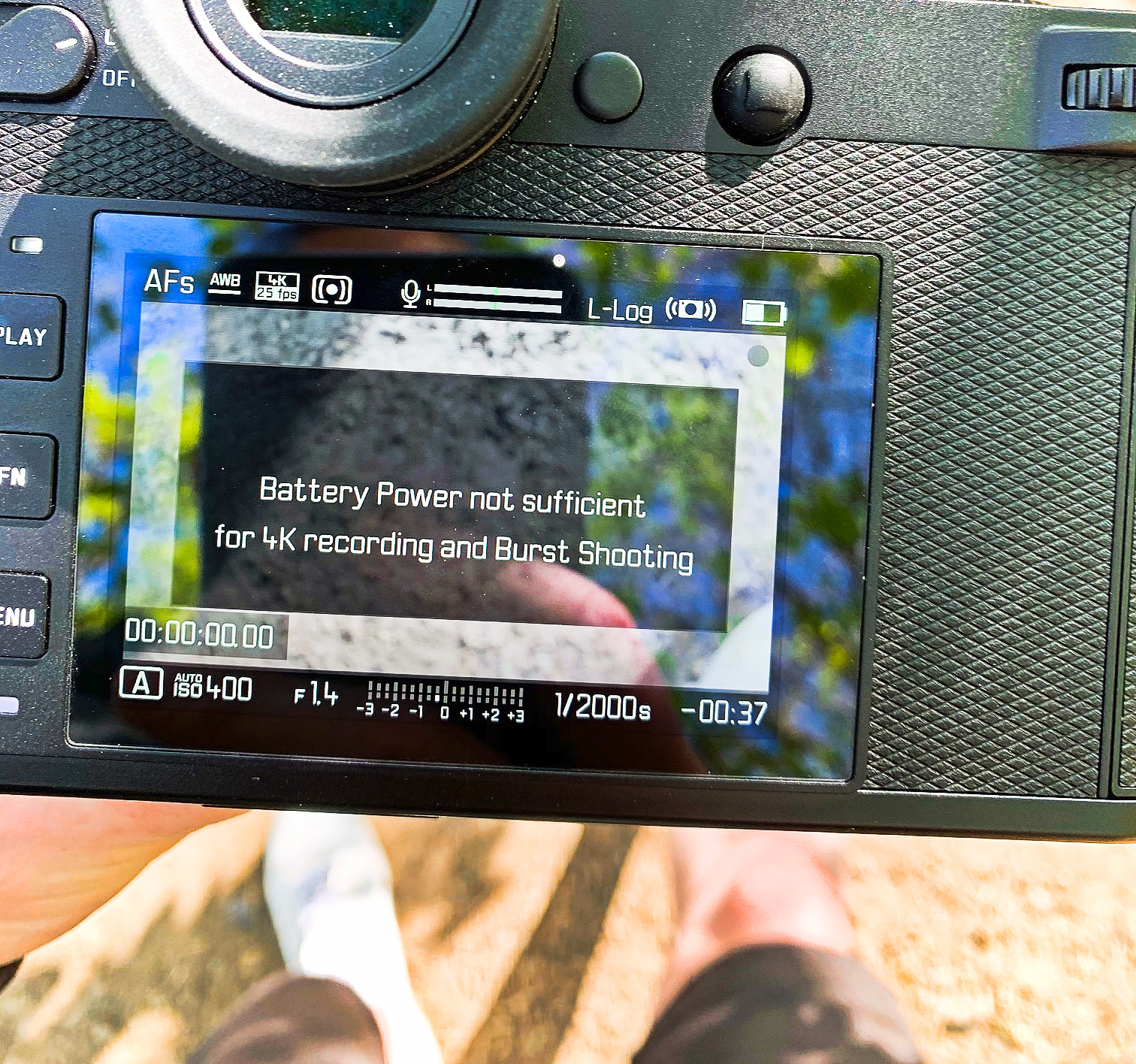 Unfortunately this means the peak power demands of the system outstrip what the battery is designed to do.
Due to the sleek chassis, the SL2 is designed around a smaller battery than the Panasonic S1H and S1R which have similar video specs.
Leica SL2 appears to fail to record in 4K or perform burst shooting, on many occasions, without warning.
The severity of the problem depends on the lenses used.
With the Panasonic 50mm F1.4 S professional L-mount lens, the problem is so bad that the camera will fail to record 4K on a battery that has as much as 75% charge remaining. I believe it's a similar situation with Sigma's L-mount primes.
With the Sigma MC-21 adapter, the problem manifests itself so badly that even on a fully charged battery at 100%, the camera will refuse to record 4K (and the 5.5K mode) with Sigma or Canon EF mount lenses.
With Leica's own lenses the problem still occurs. My L-mount 23mm Summilux APS-C for example does allow you to record the more processor intensive Super 35 4K/60p (full pixel readout) until the battery goes down to around 20% capacity – but this is only around 25 minutes of footage and then the shoot, I'm afraid, will be cut short with the same error as shown below.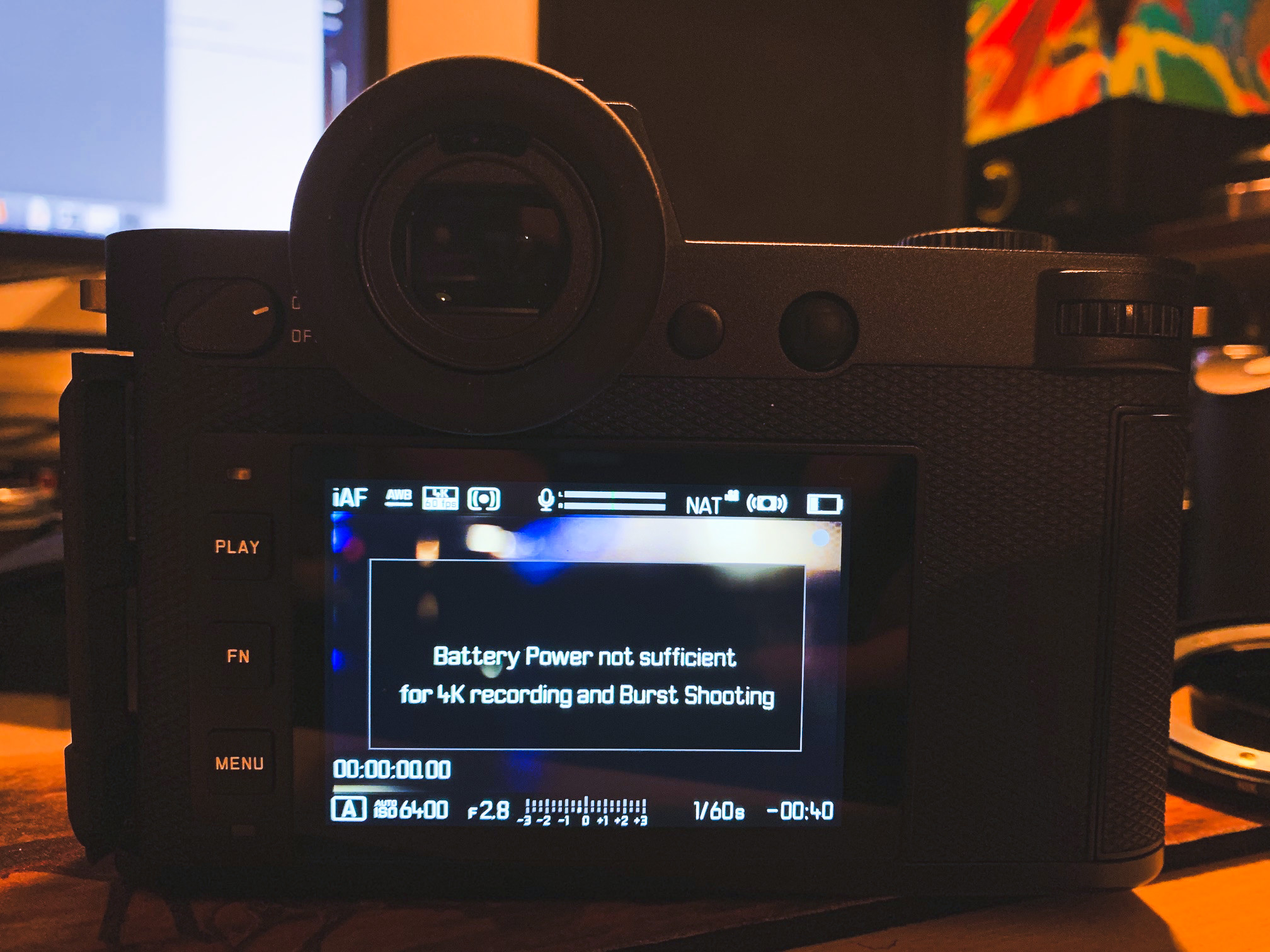 The error eventually shows no matter what lens you use
It's a similar story with the Sigma 45mm F2.8 L-mount lens although the lower-voltage internal focussing motors mitigate the design flaw for long enough that you can get around 45 mins of 4K footage on a fully charged battery.
The error still appears at around 10-20% remaining.
But what makes this issue so impossible on an important shoot is you never know exactly when it might happen.
I've had it pop up when I'm not expecting it, and then it's game over.
With manual focus lenses, there's no added power draw to the lens but the problem is still there, just less regularly and more toward the lower end of the battery (levels under 20%).
Besides, you need to know how long you've got left on the battery meter in a predictable way and not knowing this makes important paid work a lottery.
One work-around I have found is powering the camera via a USB C power bank designed for a mobile phone, which slightly improves the situation. So yes, it's true – Leica has designed a £5300 camera that needs propping up with a £30 Powerbank during a 4K video shoot.
Conclusion – What next?
This is an urgent problem for Leica customers interested in the 4K and 5.5K modes – and it equally impacts their stills customers using the fastest burst modes.
It probably requires a completely new battery solution or redesign. The issuing of a new battery should be free of charge to your customers, who expected a reliable 4K shooting experience for their money. Leica should also ensure proper compatibility with the Sigma MC-21 adapter, with full autofocus, OIS and of course 4K & burst shooting. It is not acceptable to be in an alliance with Sigma & Panasonic, and not provide full compatibility.
When a customer buys into a lens mount they expect to be able to use the lenses and adapters for it!
What makes this all such a shame is that the SL2 is indeed a very capable cinematic tool, with wonderful Leica ergonomics…
And as top-end mirrorless cameras become more and more similar to each-other, Arri-like colour and premium ergonomics really do stand this camera apart from the crowd. So does the build quality and manufacturing quality.
It would have got a hugely positive review from me had this show-stopper of a problem not existed.
At the very least, I hope a firmware update can mitigate the issue.
UPDATE:
Leica is now working towards a solution, and I'll have more to say on this soon. They are serious about a full investigation and development of a solution, although the factory is currently on hold due to the COVID-19 crisis. Then there's the vertical grip, using two batteries, which halves the resistance on the current supplied to the camera. This could hopefully be a solution and I will be testing this with my Leica SL2 as soon as the grip arrives from Wetzlar, Germany.