The Canon EOS R5 is a faulty product. If you are order an EOS R5, please consult the field tests and data below to determine how it performs in the real world.
Important: there is no one fixed time limit that always applies to 4K HQ and 8K on the day of the shoot. You do not have to film in long blocks of 30 or 20 minutes continuously to trigger the overheating warning. Just having the camera switched on or taking a few photos deducts chunks of time from the published limits on a hot day to as little as zero minutes of high quality video recording. The other issue is that the 4K HQ is effected at normal frame rates like 24p and 30p – it is not only an 8K issue or a 4K/120p problem.
This means the Canon EOS R5 is not as advertised and the capabilities you will actually be able to use vary greatly depending on a huge number of variables.
The number of variables at play go far beyond what Canon released in their best case scenario 23c official test data. Gerald Undone's new test is more informative, testing external recording as well both with the EOS R5 and R6 at normal room temperatures.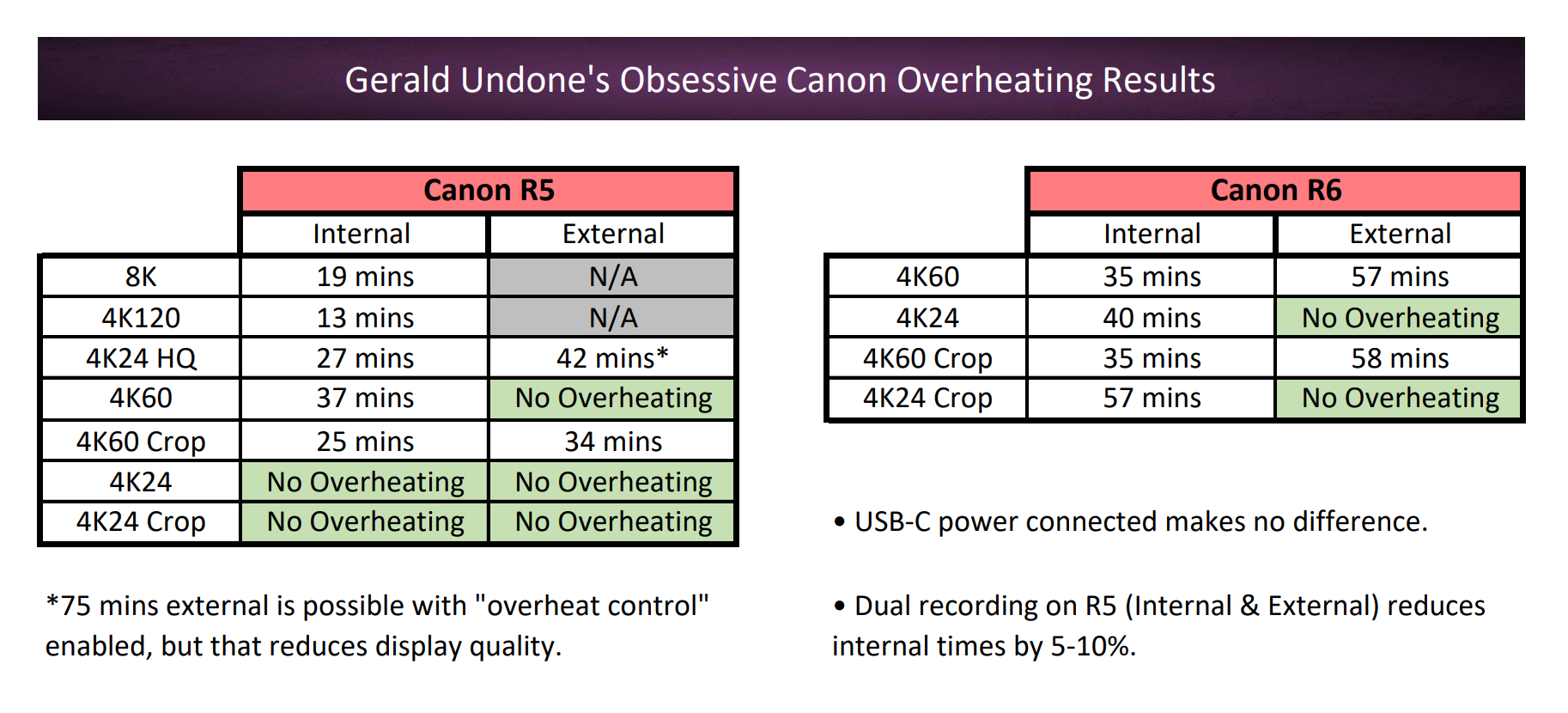 It should also be noted that these times are from a 2 hour cooldown period. You will only get these durations once, then they're significantly cut down. Takes about 1 hour for 60% recovery and 2 hours for full recovery.

— Gerald Undone (@GeraldUndone) August 1, 2020
Once overheating occurs, the camera requires around 2 hours cooling at normal room temperatures (completely switched off) before these times are available to use again. In hot weather or in direct sunlight the cooling off is not really a thing – you are limited with what you can do from the camera pretty much from the start.
Following the first overheating limit, subsequent recordings will be shortened to 3-5 minutes at room temperature or even zero minutes on a hot day.
Often you will not get a single frame of video recording in the best performing video modes after having the camera turned on for an amount of time idle or taking stills.
Waiting 10-20 minutes will not allow the camera to recover enough. After 1 hour, it is only able to do around 60% of the run times it did from a cold start at the beginning of the day.
So for example if you are a wedding photographer who also provides video snapshots of the ceremony, it is highly recommended you avoid the EOS R5 / R6 and consider other options such as the Nikon Z6 or Panasonic S1.
I have written a series of articles about the overheating problems and field tests.
There is also an at a glance summary at the foot of the page.
The file sizes of some modes must also be taken into account.
Here is a short summary of what's been tested:
Test results are highly variable and contradictory results are common due to different ambient temperatures and shooting styles
In 30 degrees heat on a summer's day, the EOS R5 will likely shoot for 0 minutes in 4K HQ / 120p / 60p / 8K, if it is turned on beforehand for around an hour and used for approx. 30-40 still photos. [Source – Gerald Undone]
The cheaper 5.1K oversampling EOS R6 also has defective 4K recording mode, which is limited by heat. The issues for documentary and commercial work are explored by Johnnie Behiri in his review [Source – Johnnie Behiri]
Canon official test data @ 23 degrees Celsius (warm room temp) is available here [Source – CVP / Canon UK]. It is important to realise that the 20 mins of 8K and 30 mins of 4K are themselves highly variable approximate timings for a first continuous run from cold. These timings change throughout a real-world shoot and depend on shooting cadence and how how long the camera has been switched on for displaying a live-view image (and even operating in the menus). Even the warming effect of a hand or direct sunlight has an impact, especially shooting outdoors handheld, even if sitting idle in live-view for 90% of the time. If you are 2 hours into a summer's day shoot it is unlikely you will be able to record for 30 minutes in 4K HQ and may even get 0 minutes on the clock.
Cool down times are long – up to 2 hours for the camera to go cold. Ambient temperatures around the camera must be reduced to allow it to cool. Leaving it turned off in 30 degree heat or in a warm room will not allow it to cool properly. After the overheating warning has been triggered once, subsequent recording lengths are below 5 minutes in all modes, apart from the pixel binned low quality 4K/30p.
The 4K low quality and 1080p modes are not limited by heat, you can read about this here [Source: EOSHD]
The camera also overheats when supplying a stream for the web but the timings are longer [Source: Gerald Undone]
Canon's advertising claims are misleading [Source: EOSHD / Canon UK]
The camera also overheats in 4K HQ when supplying an external HDMI recorder such as Atomos Ninja V (42 mins in one test) [Source: Gerald Undone]
The variables which effect these outcomes are ENORMOUS:
How long the camera is idle for while switched on.
How many photos are taken (you cannot de-active live-view on a mirrorless camera and use the optical viewfinder like you can on a DSLR).
The cadence of the shoot – for example, how long the average take is, and how long the break in recording are
Ambient temperature with all locations on the day's shoot and climatic conditions
The amount of time the black camera body absorbs direct sunlight
The speed of CFexpress card used
Of course the nature of the shoot. Are there interviews? Are there long ceremonies (wedding)? Is it a hybrid shoot of both stills and video?
Of course the video modes used. Is 4K HQ 10bit required or will moire effected, soft, pixel binned 4K up to 30p suffice? Is 4K/60p full frame required? Is 8K required (or for cropping in post)? Are still frames and RAW workflow needed from the 8K? 4K/120p for slow-mo? Of course all these modes Canon advertise to sell the camera are basically defective and should not be used for professional work.
Whether the shooting method allows for time consuming attempts in-between takes to cool the camera down (ice packs, etc.) although most tests show these make little difference as the CPU in the camera is insulated by the air-sealed plastic outer body
The conclusion is:
Do not under any circumstances risk using this camera for work which requires high quality oversampled 4K or 8K.
A potential recall and delayed second batch of shipments is talked about amongst retailers (Adorama, and many in the UK / Germany) [Techradar summarises both mine and other sources for this info here].
In my opinion it is definitely a defective product, not fit for purpose, not as advertised and 100% needs to be recalled. Canon must act now.
Canon should also fire the people responsible for making purposeful decisions leading to this point, with heat not being mitigated with basic passive thermal cooling (heat pipe, heatsink) or a more modern efficient processor.