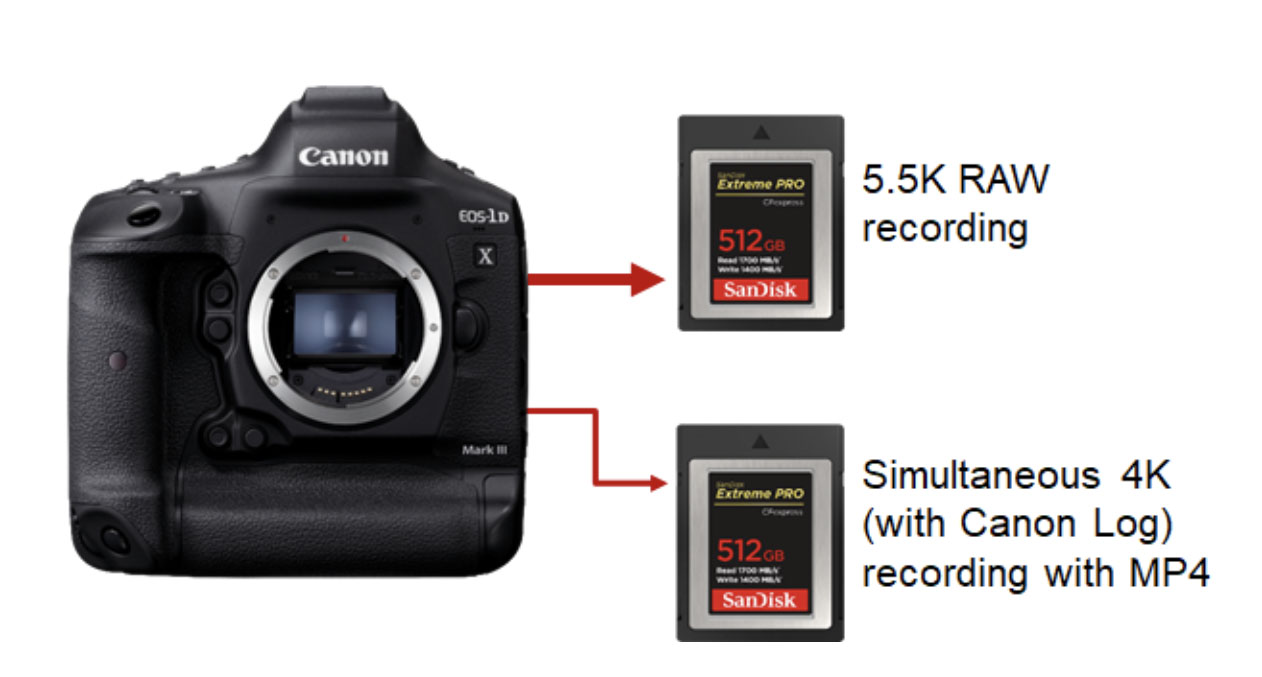 We have waited a long time for today – a true Canon 1D C sequel. This is also the first time since the 2012 Canon have released a 'cutting edge' DSLR for filmmakers. There's good news and bad news – of course it costs $6500, has no EVF or IBIS by nature and many will say the form factor is obsolete compared to the full frame 10bit mirrorless competition.
Canon's Larry Thorpe has published an excellent technical white-paper with the camera, so let's take an in-depth look at the video specs…
In the white paper, Canon mentions vloggers, professional photographers and advertisers as the main targets for the 1D X Mark III video mode.
Canon is clear there will be NO crop in 5.5K RAW or 4096 x 2160 on this camera. The Ultra HD 3840 x 2160 is oversampled from the 5.5K but cropped at the sides to achieve the 16:9 aspect ratio. 97% of the full frame sensor width is covered in this mode rather than 100%.
The RAW 5.5K resolution is 5472 x 2886 at up to 60fps. You will need CFast Express type B cards for recording this internally, which use fast NVMe memory on a Gen 3, 2 lane PCI Express interface. Unlike their even faster PC counterparts this memory isn't cheap and you will need a lot of cards – the 5.5K RAW bitrate is a mammoth 1800Mbit in 24p and 2400Mbit in 60p! I struggle sometimes with 400Mbit ALL-I to be honest and prefer to shoot 150Mbit when I can. These data rates are as high as uncompressed Cinema DNG 4K on the Sigma Fp but on much more expensive cards.
You will get just 13 minutes of 12bit 5.5K RAW 60P on a 256GB CFast Express card. The cards currently cost in the region of $500.
The 5.5K RAW is of course a full pixel readout as are the DCI 4K and UHD 4K modes – so NO line-skipping, pixel binning, pixel mixing or assorted jiggery pokery. This is good news as I was beginning to assume Canon didn't have the factory to make a fast sensor.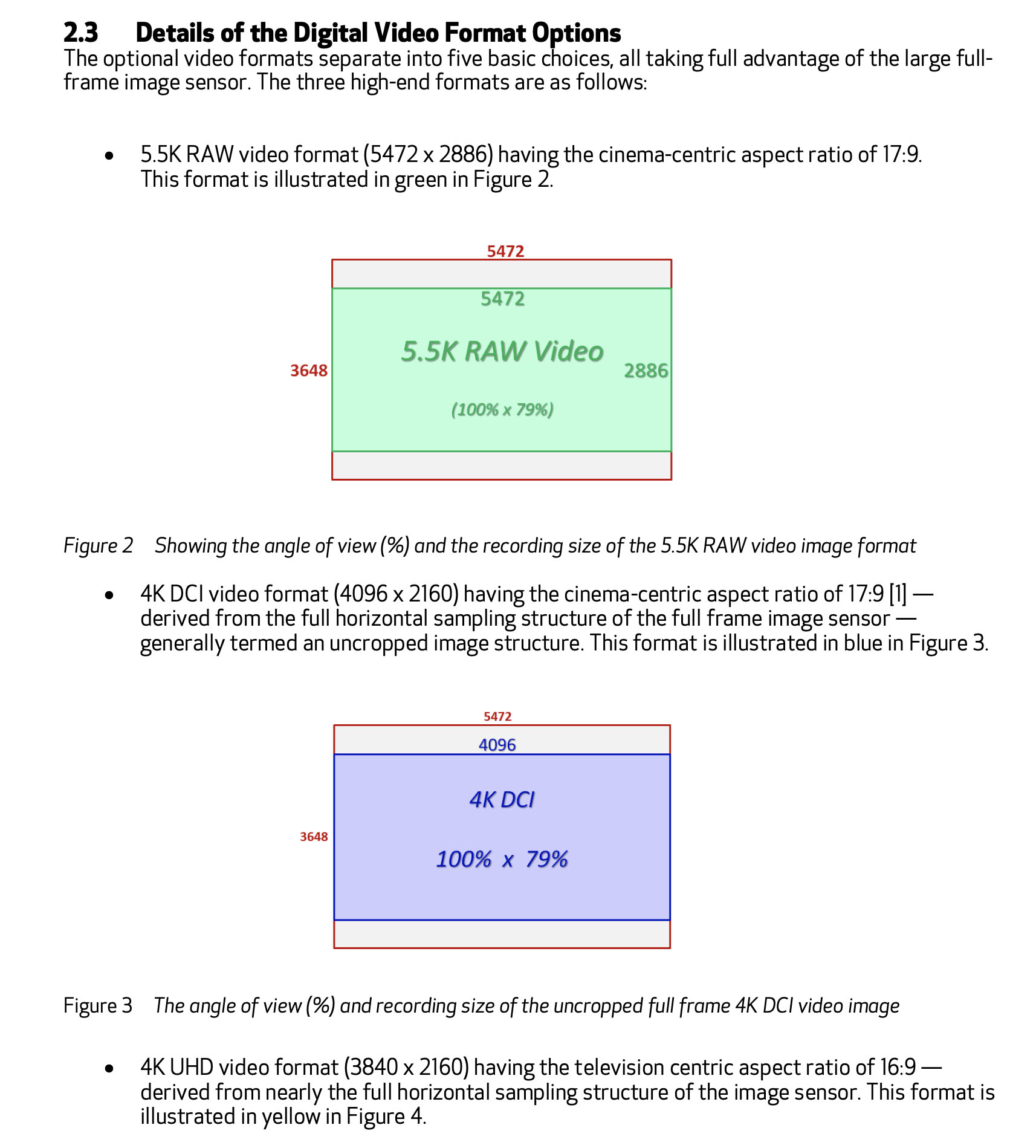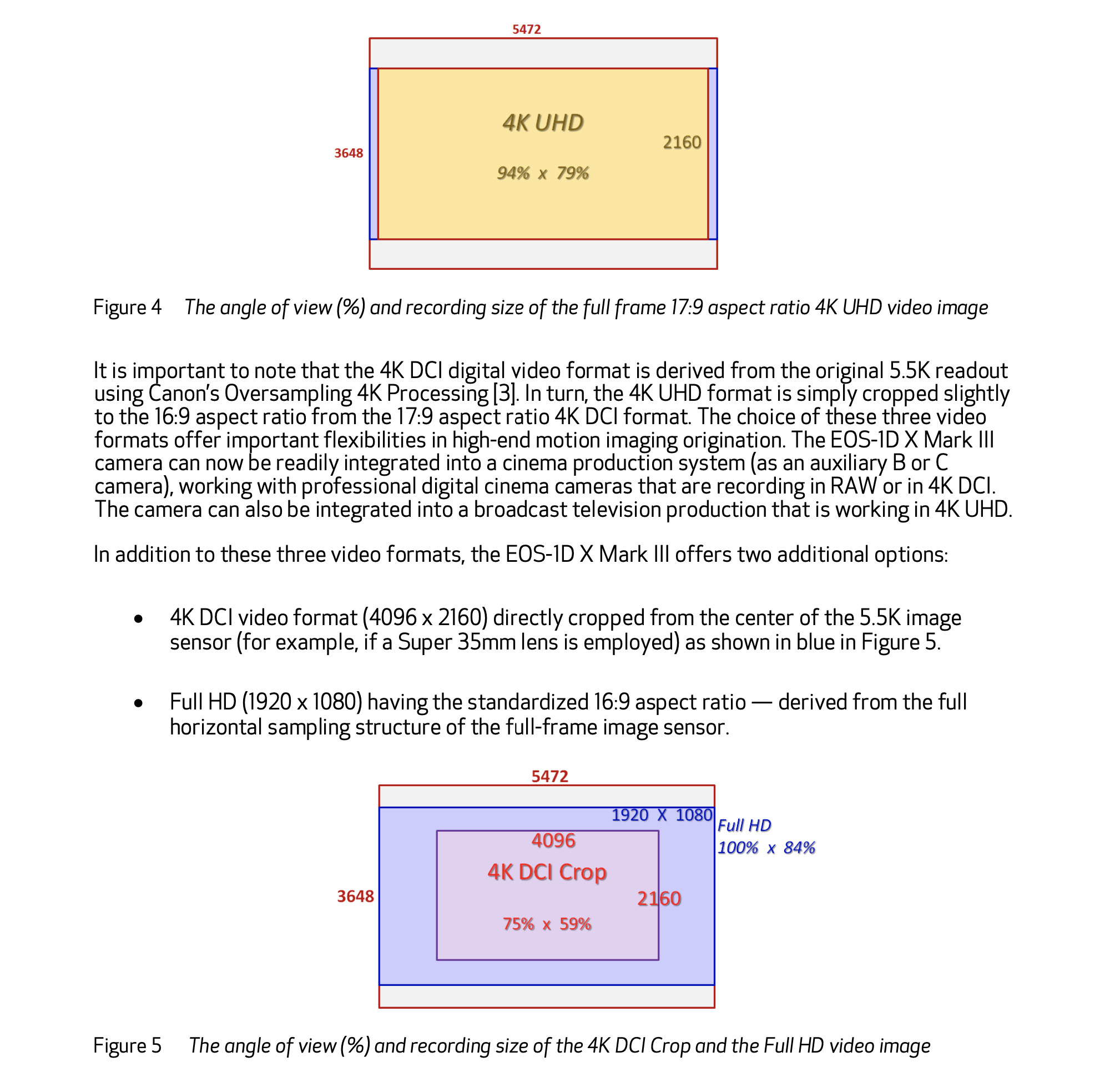 Not only is it the first stills camera to do 5.5K 60p RAW, it's the first to do full frame 10bit 4K 60p with no crop from a full pixel readout. The Leica SL2 and Panasonic S1R can almost do full frame 4K/60p with a small 1.1x crop – however, this comes from a pixel mix, which although superior to line-skipping and capable of very good resolution does introduce some occasional moire and aliasing.
The Panasonic S1H and Leica SL2 do an aliasing-free full pixel readout in 4K/60p when the sensor window is cropped to Super 35mm (1.5x crop). However the Leica SL2 disables LOG in 60p mode (due to it being 8bit) – reserving this for 10bit recording modes only.
Canon is also beating Sony to the punch. Their cameras can do a maximum of 30p in the oversampled 5.5K or 6K modes offered on various Sony mirrorless models.
Uniquely, the Canon 1D X Mark III marries full frame 5.5K RAW and 4K 10bit with Dual Pixel AF* – as well as recording both RAW and 4K 10bit at the same time to separate cards – so now you start to see why it is going to be a unique proposition to cash-rich vloggers. While I still prefer manual focus for creative reasons, there is no denying the convenience of reliable video autofocus, as a shot-getter on the move.
* UPDATE: From Canon – "Dual Pixel AF operates in all modes except for none crop 4K or RAW at 60p/50p recording"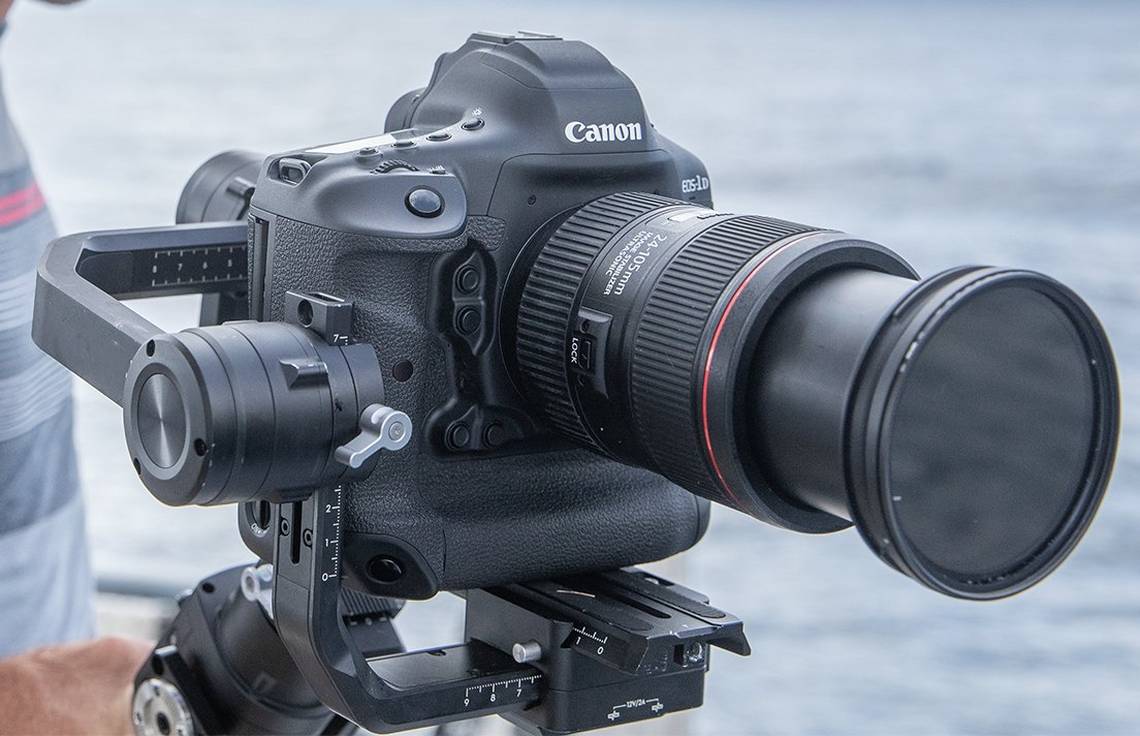 The Cinema 4K (DCI 4096 x 2160) 10bit codec weighs in at various bit-rates…
The options here are particularly numerous. There is ALL-I (Intra) or Long GOP (IPB). There is H.265 or H.264. There is even a lower bitrate S35 crop mode.
The ALL-I bitrates are very high to sustain quality per-frame – 940Mbit/s in 4K 60p and 50p gives enormous file sizes, double that of MJPEG on the 1D C.
But in Long GOP mode the data rate is a much nicer and more manageable 230Mbit, dropping to 120Mbit/s in the S35 crop mode or UHD 4K 16:9.
For 10bit you have to switch to H.265, where oddly enough the bitrate goes up where you'd expect it to fall, as H.265 is doubly more efficient to H.264. It could be that Canon wants to increase the data-rate to sustain image quality for heavy grading in 10bit Canon LOG.
Look at the charts below for the full 8bit and 10bit codec specs: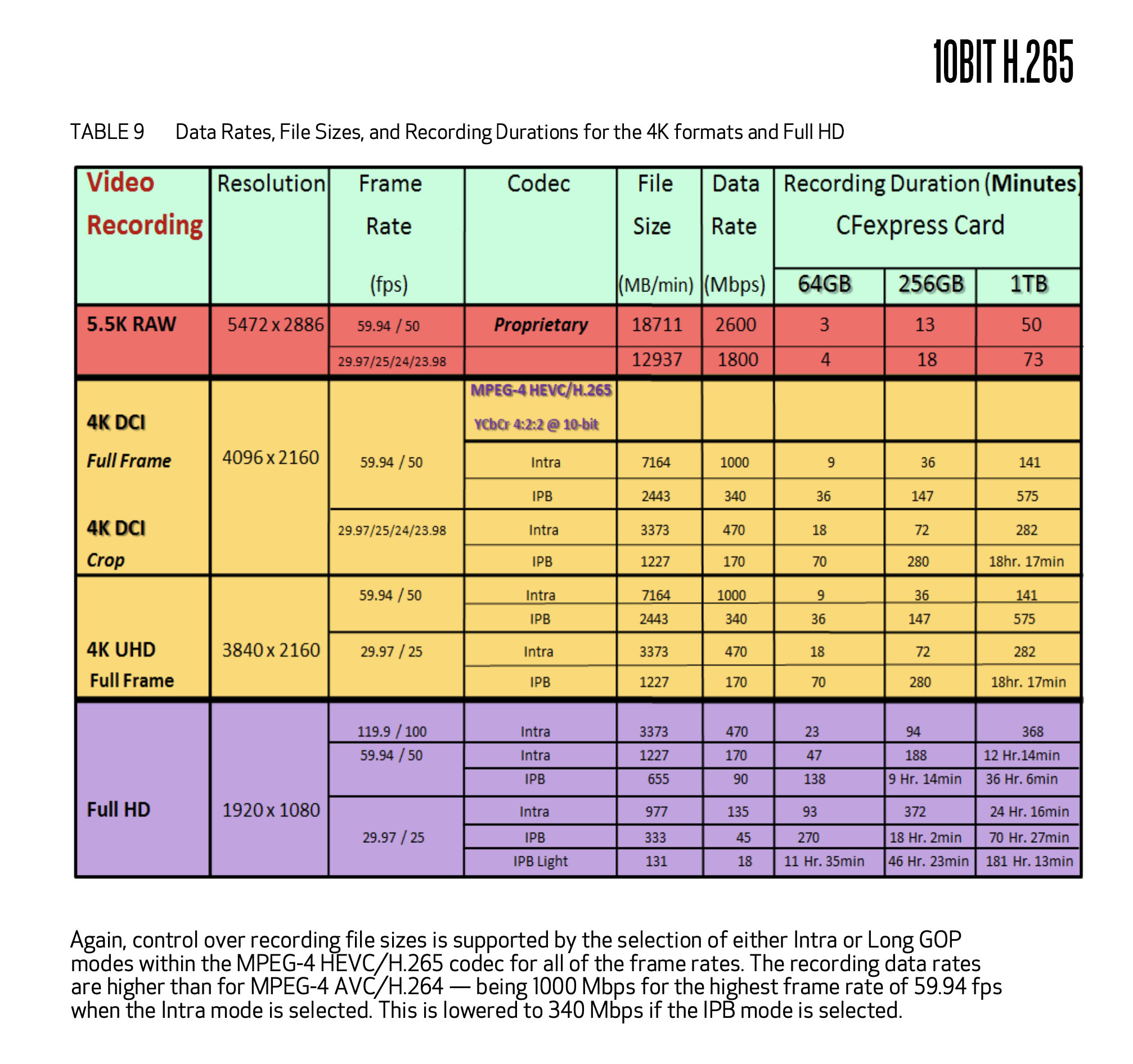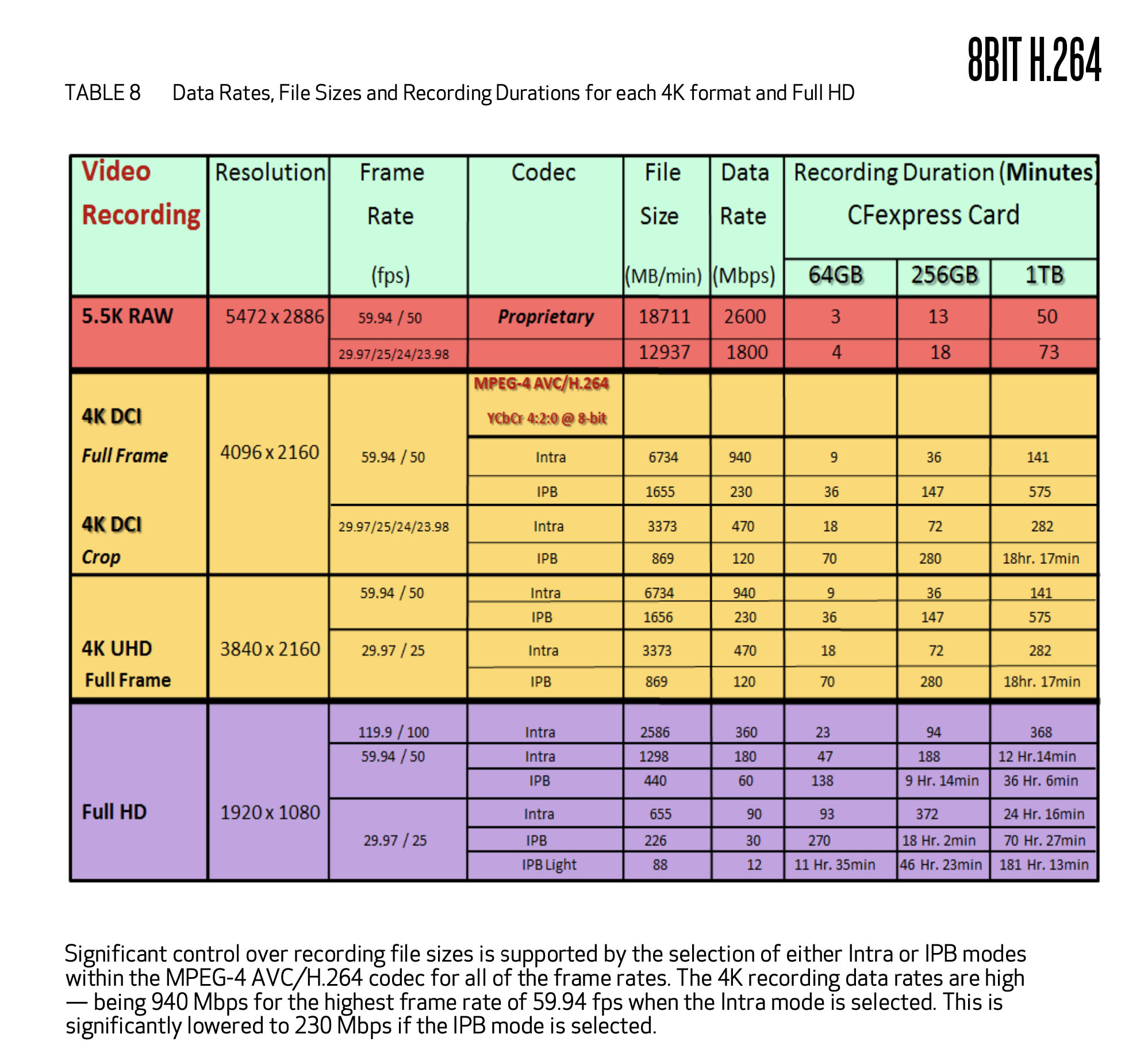 I think this is a very well thought out codec on the most part. It would have been nice to see 1080p at 240fps and more advanced RAW compression technology like RED offers though, to bring those enormous 5.5K file sizes down.
Colour sampling in 10bit is 4:2:2 and the colour space is the wide BT.2020 gamut.
There is no RAW via HDMI to Atomos recorders.
Versus the high-end mirrorless competition
Falling DSLR sales seem to have spurred Canon and Nikon into action. The day before CES we're not only graced by a "Renaissance in Video Acquisition" from Canon but the affordable full frame Nikon D780 (D750 successor with 4K and on-chip phase-detect AF) which I'll be covering in a different blog post soon.
So 2020 is off to a good start – let's call it revenge of the DSLR!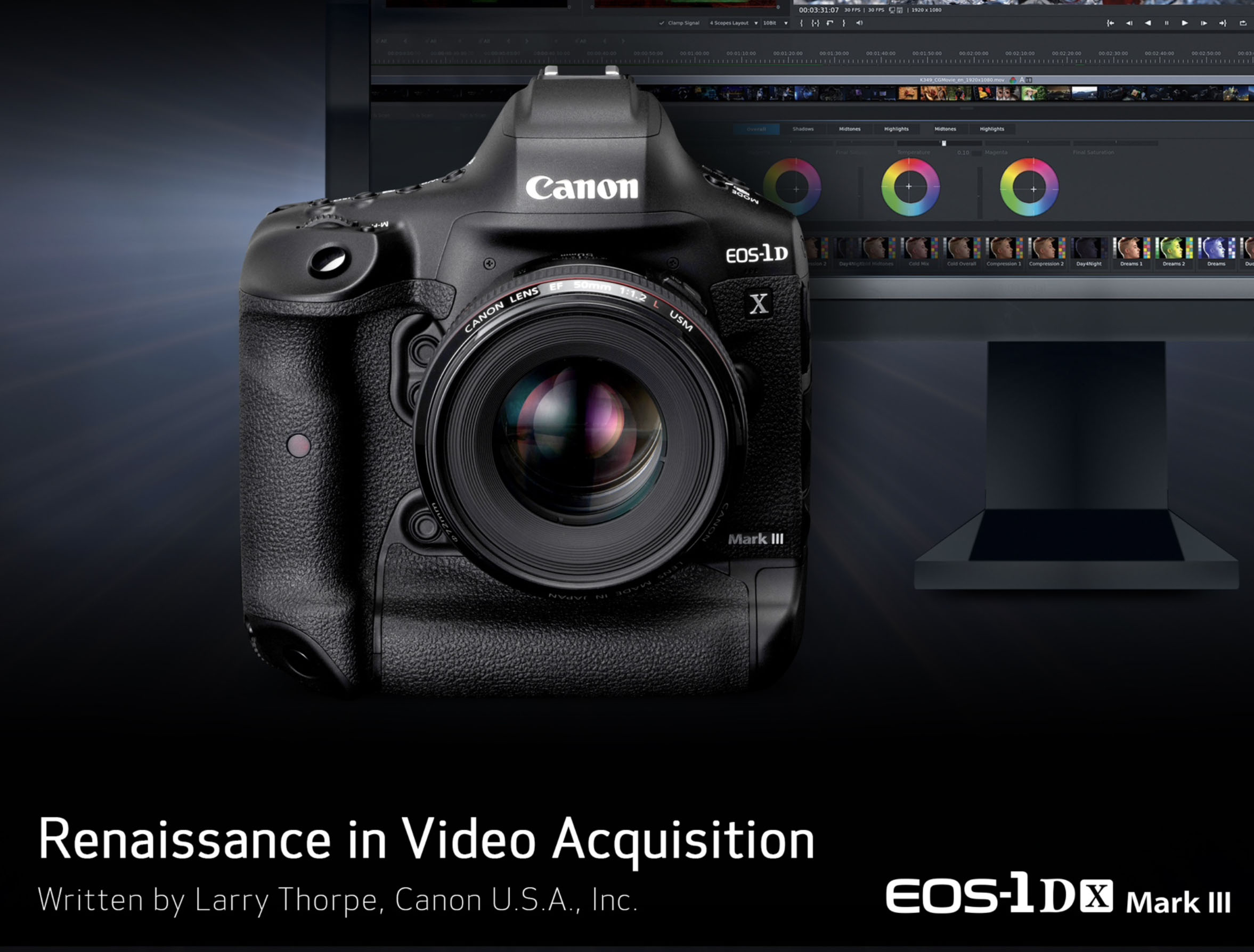 However, the 1D X Mark III is as notable for what's missing for video, as it is for the giant leap over its predecessor. There is no EVF of course, or attempt at a hybrid optical VF/EVF. There's no sign of the rumoured in-body stabilisation (IBIS). Instead it offers cropped digital stabilisation modes. There's no built in ND filter. There isn't even an articulated screen and the form factor remains sub-optimal for video compared to mirrorless cameras.
Over Christmas I have been shooting with the Leica SL2, Sony A7R IV and Panasonic S1H. Suddenly I don't feel the appetite for buying a DSLR for filmmaking no matter how capable.
I'll have reviews of all 3 (SL2, A7R IV, S1H) coming soon, as well as the Sigma Fp. I know today there will be a LOT of hype from the Canon camp online about the 1D X Mark III, but it has to be judged vs high-end mirrorless cameras – all of them cheaper, even the SL2. I'll summarise them now. The Leica SL2 is an artist's dream, the best for manual focus lenses (and even anamorphic thanks to the 5.5K 4:3 mode) and supremely specced at the same time as being blazingly fast, fun and IN DEPTH like no other camera I have ever known. The best mirrorless camera ergonomically and for build quality bar none. The colour science and codec is unbelievably good. Never have I seen such beauty married to such minimalism, except for at a Grand Prix when Bernie's wife was there.
Above: Leica SL2 review is in progress – coming soon on EOSHD, along with Panasonic S1H and Sony A7R IV
Then there's the Netflix approved Panasonic S1H, an image quality monster, the most full-featured of any mirrorless or DSLR camera on the market for full frame video, although driving it is like stepping out of the Leica SL2's Porsche 911 into a Toyota utility vehicle, the sheer image quality is undeniable. The 1D X Mark III has the advantage of internal Canon RAW and bullet proof AF for filmmakers who are into that. Just remember, not everyone is. A Netflix production is more likely ProRes on an Arri Alexa and manual focus all the way. Indeed, for creative reasons, there are many points as to why AF is a bad idea for filmmakers but as a convenience, it's wonderful.
Then there's the Sony A7R IV, which trounces the 1D X Mark II for stills resolution (60 vs 20 megapixel), is much smaller, lighter, still with blazingly fast autofocus, half the price, surprisingly good low light performance as well for a 60MP sensor in 4K mode and improves on previous models in several subtle but important ways – the much better EVF being one of them. Colour science is interesting this time out. Still with the same bland image profiles out of the box, in early testing of new EOSHD Pro Color profiles I found I could stretch the legs of the colour science on this camera incredibly far, so the underlying technology is another step forward for Sony compared to the A7 III and A7R III, just not the way it is implemented on default settings. I will be releasing Pro Color for the A7R IV and A6400 this month.
I also expect the A7S III to bring codec improvements, 10bit S-LOG and higher frame rates to the table. The Nikon Z6 finally has ProRes RAW with the Ninja V, although I've not tried it yet.
So tough competition for Canon here.
1D X Mark III – where does it fit?
Canon describe the 1D X Mark III as follows:
"Full-frame 5.5K RAW (up to 60 fps at a 12-bit depth) is a video capability that thrusts the EOS-1D X Mark III into the highly sophisticated labyrinth of contemporary high-end motion imaging cameras. It offers the established professional still photographer a powerful capability to extend their professional services into the many constantly evolving domains of serious modern-day video capture. This could encompass ancillary acquisition in moviemaking, episodic television production or television and video commercial production — as well as a host of independent lower budget high- quality productions."
In short, someone like Vincent Laforet will like it.
At $6500 it is hardly an option for enthusiasts. The best professional DSLR for video ever made, and arguably for stills too – but I would like to see the full frame 4K 10bit codec and fast sensor readout of this camera go into Canon's EOS R2. It seems more likely however we'll see a high resolution mirrorless body first with the same old line skipping and cropping.
What I do feel is significant about this camera is Canon recognising the error of their ways. They have woken up and it may even be a wake-up call for Sony and Panasonic to get RAW internal recording implemented too. It is long overdue. A shame about the file sizes though.
Why don't they license REDcode or ProRes RAW? Why not offer it as a paid firmware update which covers the licensing fee?
That would be far better than 13 minutes of 5.5K footage generating 256GB of files.