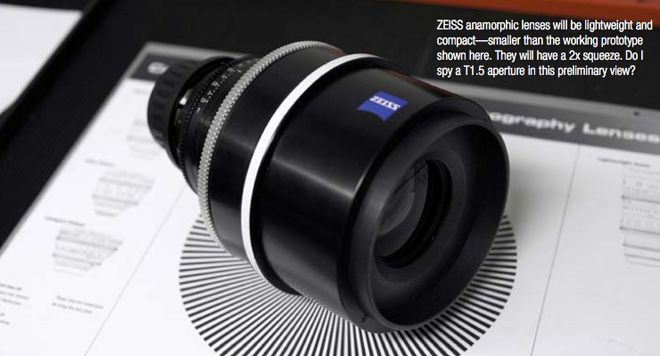 Zeiss are to release a set of new 2x T1.5 anamorphic lenses according to the Film & Digial Times via Hot Rod Camera's Illya Friedman on the EOSHD Forum
From the magazine:
"Christian Bannert took great pleasure in asking me to guess the third surprise coming from Carl Zeiss. An 1800 mm T1.3 lens perhaps?…I had no clue.
"We're back in the Anamorphic Lens business," he said.
In cinemas soon
These anamorphic lenses would be superb to rent.
These are high end lenses to go with the Arri Alexa Studio which has true anamorphic support (4:3 recording mode) for 2x lenses. The only other modern camera that does 4:3 and 24p is the GH2 via the hack but not at full HD resolution. But I personally think that 16:9 to 3.55:1 looks pretty good as well with a 2x anamorphic (see footage at EOSHD here).
For DSLR shooters finally anamorphic lenses will be available from Zeiss to rent and will no longer be like gold dust. What this news also suggests to me is the tantalising prospect of Zeiss detecting all the pent up demand for consumer versions of new anamorphic lenses and dripping some of the new anamorphic technology down to consumer versions, the likes we have not seen for nearly 10 years from the early days of 4:3 DV cameras.
Please Zeiss consider this and don't over-coat the lenses, we still need some flare!
From FD Times page 17:
"It's no secret that Hollywood has had a long love affair with anamorphic. Almost every high-end director and cinematographer dreams of oval bokehs. The anamorphic format's intangible, almost 3D-like quality comes from different horizontal and vertical focal lengths packed into one lens.
"By this time next year, holiday audiences may be watching a wave of widescreen major motion pictures shot with Carl Zeiss anamorphic lenses.
"People were predicting that anamorphic would be big again because it's different, or because the high-end wants to differentiate from the others. Despite all that, there lingered uncertainty whether the market would be big enough or could afford this kind of project for a totally new set of anamorphic lenses.
"I think Alexa Studio changed all that, and may be driving the market. I could imagine that Sony and Canon might follow with their own 4:3 sensors. An 8K Sony "F66" with 4:3 sensor and anamorphic lenses would be an interesting idea.
"Carl Zeiss designers and engineers made working prototypes, conducted tests, and collected a lot of feedback over the course of several years to obtain a clear plan of how the new anamorphic lenses should be designed and built.
Zeiss's Christian Bannert said, "We have the technological benefit that we believe can produce anamorphic lenses the likes of which no one has been able to do before. Our new anamorphic lenses will be on the market very soon. We would like to announce 2:1 anamorphic lenses next year, at NAB 2012, and show real products at IBC 2012."
"The lenses will not be 1.3x squeeze (for 16:9, like the Panasonic LA7200) – representatives at Carl Zeiss feel the real anamorphic look comes with 2x squeeze."
Compact Zooms due too?
The new (high end) anamorphic lenses are not the only new development at Zeiss lately. They are to introduce a new set of lightweight Compact Zooms in 2012 aimed at smaller interchangeable lens cameras like DSLRs and the Canon C300. Zeiss tentatively say that a 70-200mm will be in the line-up and they have not confirmed the Compact Zoom name yet – that is something I just coined.
"With the success of the Compact Prime CP.2 lenses, many people were asking for compact zooms that fit the small HDSLR and HD cine cameras. We listened very carefully to the voices of our customers, and we will introduce a line of very compact and lightweight zoom lenses to complement the CP family.  If we look at the existing range of Compact Prime lenses from 18 mm to 100 mm, what's missing? Of course, a lightweight, compact long tele zoom, just like the ones still photographers have been enjoying for years. My guess is that the first zoom lens will be somewhere around 70-200 mm. We'll probably find out at NAB 2012. The tele zoom should be the first in a family of compact and lightweight zooms from Carl Zeiss. "
The December issue of Film and Digital Times is available here