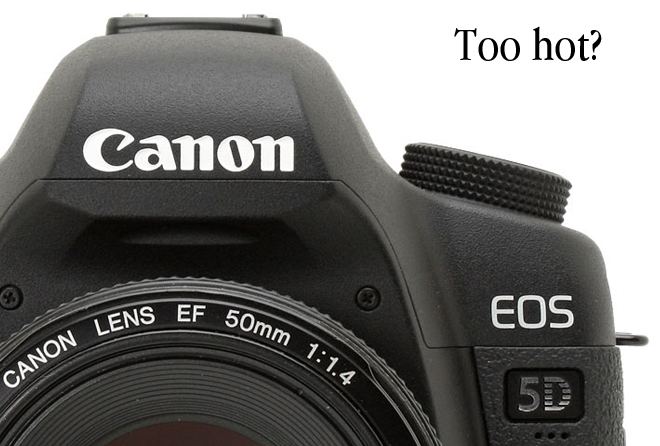 EOSHD is concerned that camera manufacturers are beginning to experience heat issues with their CMOS sensors as megapixel counts increase.
As CMOS technology allows for greater speed, offering ever faster frame rates, the technology is also being pushed towards higher pixel counts, with Sony's upcoming A77 said to feature 24MP and the 5D Mark III 32MP.
Although Sony have worked hard to increase the energy efficiency of their Exmor HD sensor, this progress is being undone by significant increases in resolution and frame rates. Even their compact camera the HX9v now features 16MP and 60fps progressive in full HD / live view mode. The GH2 scans the sensor at 120fps to speed up contrast detect AF. The older Sony A55 had overheating problems which limited video to just 9 mins with sensor-shift stabilisation enabled. The Canon 7D's overheating warning crops up every now and again, and that is on a 18MP line skipping sensor at 24p. The 5D Mark III is expected to feature 32MP.
Heat build up is a real issue and poses a real threat to our high expectation of video on the Canon 5D Mark III.
Ichiro Kitao of Panasonic is particularly worried. Their flagship product, the GH2, has an emphasis on video.
"If we continue to raise the resolution it becomes very difficult to offer high quality video, due to the heat problem."
Not only do higher megapixel counts reduce low light performance by reducing the size of the pixels themselves, heat build up increases noise when the camera is used for live view or video.
Personally I think the 5D Mark III should be split into two lines, the 5Ds and 5D.
The 5Ds would lack video and be designed for photographic studios where 32MP resolution would be useful for enlargement and cropping. It would also replace the rather redundant 1DS series in Canon's line-up and retail for a higher price than the standard 5D Mark III.
For the rest of us the 5D Mark III would take the philosophy that Nikon applied to the D3S but with the world beating video mode we've come to expect from Canon.
12MP would allow class leading high ISO performance and video without line skipping or heat build up issues.