https://www.vimeo.com/28529236

EOSHD is now a Digital Photography Review contributor. Read my full IFA 2011 show report at DPReview.com here.
After a lot of Dear Sony letters they have finally entered the DSLR video game. Are they going to change it? Read on to find out.
The Sony NEX 5N is the first DSLR* from Sony that offers manual control in video mode and 24p. It precedes the higher end Sony A77 and NEX 7 by about 2 months and is priced at just $599 for the body only. The 18-55mm OSS kit lens is video optimised and has a very effective optical stabiliser. A 50mm F1.8 OSS prime will follow soon (I tried one at IFA, it's great to finally have a stabiliser on a fast prime!) and the OLED viewfinder add-on.
* I use the term DSLR as an umbrella term for cameras now – when technically the new Sonys are SLT or mirrorless compact system cameras (CSC).
The NEX 5N like the FS100 and NEX 7 is E-Mount. It will take the same lenses (including PL) and the forthcoming Zeiss 24mm F1.8. I had a play with this lens at IFA and it is absolutely beautiful, as is the OLED viewfinder on the NEX 7 and A77.
There is absolutely no doubt that Sony have produced a dark horse here, at this price and position in the range. It offers the biggest amount of bang per square inch and per dollar that I have ever seen. Due to it's size and compatibility out of the box with PL mount lenses, it could also replace a director's viewfinder with a digital equivalent.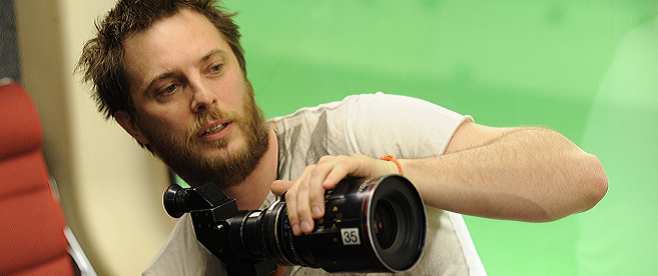 (Above: Duncan Jones frames a shot with a director's viewfinder on the set of Source Code)
On the stills side it has a brilliant JPEG engine and some of the most sophisticated noise reduction I've ever seen. I prefer it to the Canon 600D and GH2 for stills – by quite some margin – and it is better than the NEX 7 and A77 at high ISOs. The 5N shares a similar image processor to those cameras, and is bang up to date – quite unlike the ageing DIGIC 4 in the 600D. It offers far more innovation for stills, with modes that genuinely improve dynamic range and low light for real – not gimmicks.
One of the first things you will want to do on the 5N to tune it for video capture is turn on the option for manual control settings taking effect in live view and set stills to 16:9. By default the 5N gains up the display for composition and it is only when you hit record that the camera takes notice of your manual settings – a bit like a Nikon. This gave me a nervous breakdown at first until I found a way to change it, because it would have been a deal breaker. And the aspect ratio of stills? With it set to 3:2 as default you will also be framing video in 3:2 and the camera will switch to 16:9 when you hit the record button. That would have been another deal breaker but keep it set to 16:9 and the camera's live view behaves like the dedicated video mode on the GH2.
One annoyance on the GH2 has made it's way onto the Sony. There's a sizeable gamma shift when recording starts, meaning that you compose and expose with a very different looking image. Apparently this has something to do with TV compliance or possibly even battery efficiency (using less CPU power) in live view mode – but certainly in live view shadows are crushed and only become visible when you hit record. You need to account for this and underexpose slightly in live view.
Build is fantastic, the lens mount feels beefier than the GH2 and it really is small. It makes the GH2 feel like a 5D Mark II in comparison! Unfortunately the small size does come at the expense of physical control, with a bare minimum of buttons and dials – just one dial in fact on the whole camera. The good news is that what's left works well and almost every button is programmable with a custom function.
Further good news comes in the form of a touch screen which many will be tempted to turn off – but actually it has its uses even for hardened video pros. It is a much improved capatative touch screen like the iPhone 4 which means it's far more sensitive and responsive. I believe this is another first on a camera. The bad news is it can't be used in winter whilst wearing gloves. You can touch to focus on objects to activate AF tracking – a nice… touch!
Battery life is excellent, much better than the GH2. The screen is higher resolution and better in overall quality. It tilts upward and downwards rather than outwards and round like the GH2's, I actually prefer this mechanism on the NEX to the Canons and Panasonic hinge.
Now clearly the NEX 5N has the functionality – finally – to be a DSLR video contender.
So what's the image like?
Resolution
Not at the GH2 mark but better than Canon. Certainly on the softer side. This is not necessarily a bad thing – soft is cinematic. What's more important is that detail is cleanly resolved… read on…
Moire / rainbows
Heavily present in live view, mostly disappears in record mode and on final image. Hurray! There's some 'fizzing' over fine patterns and details though.
Aliasing
Now this is more of a problem. Reasonably heavy on high contrast lines, especially sloping horizontals – certainly more jagged edges than on the GH2. Not a good show here.
Tonal range, gradation
This is a strong point. Fall off from highlights is handled well, gradation is quite smooth overall. Subtle shades are well rendered. On light sources, the halos that are present on the GH2 are not there on 5N footage. Skin tones look more natural on the 5N.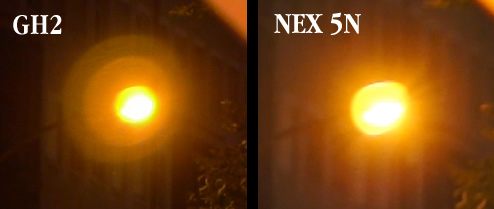 Compression
Similar to an out of the box GH2 in 24p mode but in 60p mode compression is a little heavy on fast action and handheld camera work. The 5N doesn't hold a candle to the hacked GH2 however. 44Mbit and above on the GH2 looks far less compressed – because it is.
High ISO noise
Certainly a cleaner sensor than on the GH2 but the difference in video mode is far less than in stills mode. They end up roughly equal especially at the top setting of ISO 3200 (in video mode). At ISO 1600 I feel the 5N is has less noise thanks to better noise reduction but the noise on the GH2 is of a finer grain especially with Vitaliy's high bitrate patch. The noise reduction on the Sony both in video mode and stills mode maintains a good level of detail.
Where I feel the NEX 5N has a definite advantage here is that at the same ISO it is brighter than the GH2 by quite some margin. Lastly, the portrait picture profile can give you a further boost by bringing up the mids and lows, increasing shadow detail. This effect can be achieved on the GH2 as well with the Nostalgia film mode.
Colour
This is another strong point of the 5N especially in stills mode. Colour is accurate though there are fewer picture profile presets than the GH2 and no flatter CineStyle / Cinema Gamma alike setting for video.
Dynamic range
The sensor certainly has more dynamic range than most others, the GH2 included. How much of that makes it through to the video mode is open to debate. I haven't really shot with it enough yet, and need to do a real world tunnel test to determine exactly where it stands.
Rolling shutter
Still there, but no more of an issue than it is on all other DSLRs.
Audio
No manual control. No mic socket. In fact there is a mic socket but it's a typical Sony proprietary one! A consumer grade Sony stereo mic can be attached to the hotshoe, and that's about it. Dual system audio all the way for 5N users at the current time.
HDMI
It's full HD and even progressive 1080p. It's live and works well with an EVF or monitor whilst recording. That's the good news. Unfortunately whether it is uncompressed or 4-2-2 is all academic because we never quite get as far as an external recorder with the 5N! The output is hobbled by an insistence on displaying various overlays and settings on the screen, as well as some in a wide black bar on the right, even when the Disp button is used to pair down info to a minimum.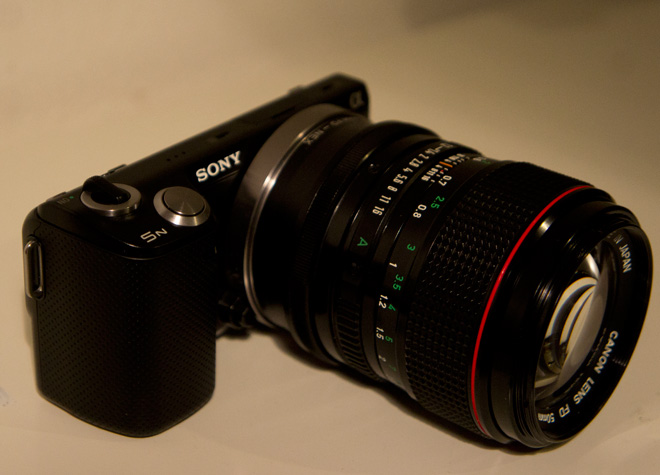 Handling
The 5N lacks a dedicated video mode on the dial, it just has the record button. For manual control in video mode you set the camera to M. There are not many handling quirks that you can't get around on this camera. It even has AF micro adjust. The camera has peaking built in which is useful for manual focus – highlighting the edges of objects which are in focus. Interestingly I am told the pre-production model also had zebra and a function to highlight crushed blacks but it has not made its way into the version 1.0 firmware.
The incredibly small size of this camera makes you feel rather insecure! On a big tripod it feels especially ridiculous. I do miss the dedicated switches on the GH2 – and video pros will certainly see the 5N as a bit of a toy in this regard. I'm used to DSLR video, and a lack of frilly nobs. Even I miss a AF / MF switch and dedicated mode dial.
In playback mode the camera separates stills and videos into sub-menus. I had another nervous breakdown when I saw that all my videos had been deleted, when in fact they were just hidden!
Conclusion
I feel the GH2 still has the upper-hand in overall image quality. Ultimately it really depends on what you value most…
If you value sensor size and slow motion over manual audio control, bitrate and resolution then the NEX 5N fits the job description.
In a nutshell I feel that if you'd like an APS-C sensor but with a mirrorless mount, and you really feel the difference between APS-C and Micro Four Thirds in terms of image aesthetic the NEX 5N is your only choice at the moment. It is nice to have a larger sensor in what is essentially a mini GH2 with 1080/60p. As a discrete b-camera and stills tool there's no doubt here – get it for that. But there are critical areas where the GH2 has a major upper hand in terms of video mode, and the 5D Mark II remains a full frame specialist!
Aliasing on the 5N is rather bad – almost as bad as on the 7D in 720p mode, and there's no manual audio control.
However the 5N does have a softer cinematic image and is brighter at the same ISO with a shallower depth of field at the same aperture. The sensor handles highlights better, without the halo effect around street lights and other light sources. Colour, gradation and tonality are great on the 5N – especially skin tones, oranges and yellows. The Sony sensor does a nicer job with these than the GH2.
Pros (over the GH2)
1080/50/60p – a first in DSLR video – great for slow motion
Smooth gradation and colour
APS-C sized sensor yet mirrorless mount – another first
Better stills than the GH2 and even the 7D
Tons of innovative and actually useful modes for stills like sweep panorama, handheld twilight, high speed continuous shooting and a subtle 3-shot HDR mode that genuinely gives you more usable dynamic range like on a full frame sensor.
Alloy build, better battery and incredibly discrete
25p for broadcast in Europe and the UK
Cons (over the GH2)
The video image isn't as cleanly resolved as GH2. Whilst colour and gradated tones are great, resolution is lower and it's aliasing heavy.
Lower bitrates than the GH2
No manual audio control or mic socket
Stay tuned to EOSHD for a NEX 5N comparison with the Canon 600D.