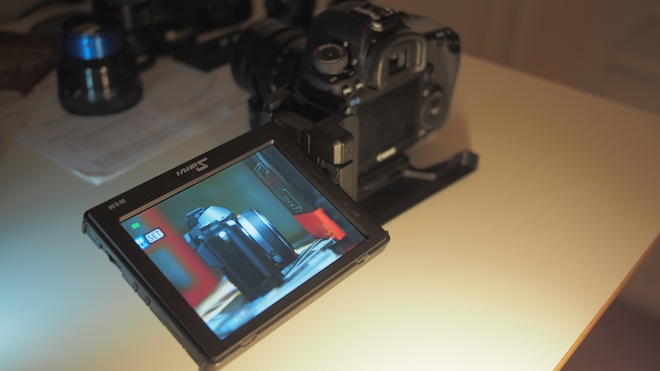 The Swivi USA monitor costs just $330 on Amazon USA. (I picked mine up in Europe for 229 euros at MeinFoto in Berlin)
Here's a monitor that plugs the hole left by Canon when they forgot to include an articulated screen and peaking on the 5D Mark III.
How does it perform and is it worth getting?
The Canon 5D Mark III is a pain to shoot with on sticks because it lacks an articulated LCD like the 60D. Articulated screens are popular especially at the consumer end of the market. For video they are a necessity unless you want to spend hours in neck twisting, back breaking positions.
The official reason why the 5D Mark III doesn't have an articulated screen is because Canon didn't want to compromise pro weather sealing. The Olympus OM-D E-M5 has an articulated OLED screen and superb weather proofing for a good deal cheaper so I am not sure I buy that excuse.
So an articulated monitor with integrated hinge is something I've been pestering Steve Weiss at Zacuto to make since a few months ago. In the pro market Zacuto could really do one justice with their IPS panel from the EVF and CNC machined alloys, and I'd happily pay out for quality.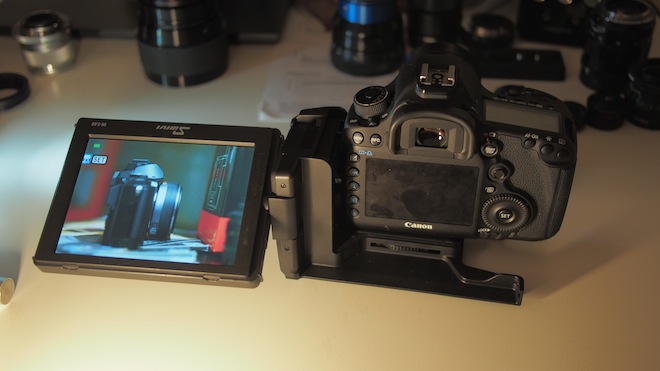 This offering from Swivi does not have the image quality of robustness of build of a Zacuto EVF or SmallHD DP4 but it doesn't pack the same high end price either.
It doesn't have the sleekness of design or minimalism of an Apple product and I can see plenty of areas where it can be improved. However it is a very practical tool with a major ergonomic advantage over using a traditional monitor or EVF. There's no exposed HDMI cable, no wobbly HDMI socket to worry about and no spidery arm holding it all together. It handles just like the articulated screen on the 60D. The cabling is enclosed and protected behind the battery unit. The monitor is designed to feel like it is part of the camera not an add on. It comes complete with Canon battery compartment, integrated swivel hinge and it attaches to the tripod mount of the camera like a battery grip.
This is a design I like.
Now for the price you'd not expect it to be perfect and it isn't. The screen is not IPS it is standard TFT. The backlighting is not LED and although the screen is relatively thin and light it could be made thinner and far more power efficient. Also the speakers on the rear are redundant, we don't need those!
In terms of image quality though it does not disappoint for the price. This is one of the better affordable monitors. At 800×600 it compares favourably to the Zacuto EVF at 800×480 but it is much larger at 5.6 inches diagonal to 3.2″. Checking focus without peaking is perfectly doable and for a double safe check the punch in on the 5D Mark III is transmitted to the monitor just fine. Peaking can be enabled on the monitor and it works pretty well.
There's no change in gamma or blue screen when you hit record on the 5D Mark III. There are no other significant features apart from the usual backlight, brightness, contrast and saturation controls, it is very paired down to the minimum with no thrills. The only thing I miss is the anamorphic mode of the Zacuto EVF as I shoot with my Iscoramas a lot.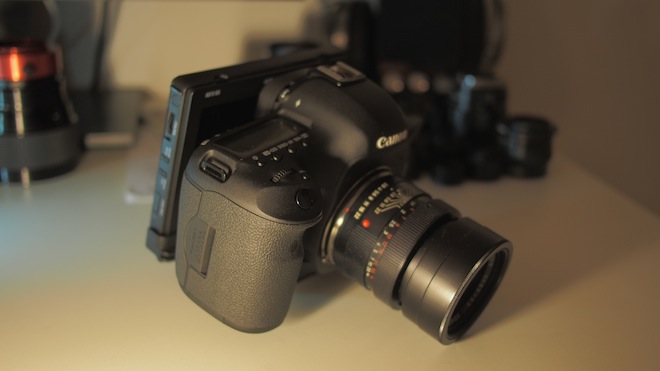 Above: When not in use you can fold the screen around and have it facing the back of the camera so it does not significantly increase the size of your camera / rig.
There's really no need to disassemble your rig, cage, etc. when on the move between locations. It really is much more discrete and very convenient for a paired down shoot on foot. I much prefer it to mounting the 3.2″ Zacuto EVF in the hotshoe – my other preferred way of shooting minimally on a tripod.
Build quality is a very plastic fantastic affair but I'm told there is an aluminium casing upgrade on the way. This will be 3 months away and is currently in prototype form. For an extra 100 euros I'm told you can send the screen in for the upgrade, the plastic casing is stripped away and replaced with the upgraded alloy. Much nicer.
Battery life does not approach that of the Zacuto EVF unfortunately, far from it. So pack a few spare Canon batteries, preferably genuine ones.
As a bonus the screen also comes with a collapsable hood for better visibility outdoors or in strong light. The hood folds flat over the screen when not in use and so acts as a screen protector.
Conclusion
The Swivi is a fantastic idea executed cheaply, but the equally cheap price tag and above average image quality make up for it.
My back is particularly thankful that I can now stand tall over my DSLR rig and gaze down at a lovely 5.6″ display.
Those with the GH2 and NEX 7 should however give it a miss. The display seems intent only on working with Canon DSLRs and it does not correctly show the full image from other cameras via HDMI, unless you switch to full frame mode and then it stretches the 16:9 feed to 4:3 to fill the monitor – hardly ideal. For these cameras it really needs a firmware update. I cannot recommend it for the 5D Mark II as highly either since the HDMI signal on that camera is pants. But if you're a frustrated 5D Mark III or 7D owner give it a go.
Pros
An EOSHD approved design idea!
Extremely useful
Good value, accessible price
Above average image quality for the price, accurate exposure and reasonably accurate colour
Very compact footprint and lightweight
Canon battery support (same as the 5D Mark III)
Simple and direct controls
Peaking works well
Very thin HDMI connection behind battery unit and no chance of it snagging or being knocked out
Standard HDMI loop-through allows use of external recorder
Rotates down for above the head shots and forwards (self portrait) as well as upwards
Does not obstruct 5D Mark III's battery port and camera remains mountable on tripod (of course!)
Cons
(Most of these cons are due to the low pricing of the model. To solve them would add to the price significantly so bear this in mind)
Cheap plastic build (I'll certainly be opting for the upgrade to aluminium)
Older LCD technology – not an IPS LED display (power hungry, less accurate colour and narrower viewing angle)
Poor battery life relative to more expensive monitors
Not as good colour richness as the small rear LCD on the 5D Mark III itself
Does not play well with other cameras (GH2, NEX 7)
Frame outlines in full screen mode distracting and cannot be turned off
Little in the way of features, no anamorphic aspect ratios (2.39:1,2.66:1,3.55:1)
Cannot fine tune HDMI input in terms of size or position. Position 'left' / 'right' option is useless
Wasted black borders means actual usable display is smaller than full 5.6 inch (4:3 ratio LCD panel not a great match to 3:2 rear LCD or for 16:9 video)
Slightly uneven backlight towards the bottom of the display
Despite these shortcomings – mostly due to low price – it is very practical tool for tripod based video and I can recommend it.
There are more photos of the monitor on CheesyCam here including box / accessories