Buy it now
I've been shooting in Berlin this winter with my LOMO anamorphic cinemascope lens. This is a Russian anamorphic used by Andrei Tarkovsky, who shot Solaris amongst many others with it on Konvas 35mm film cameras.
The lens is an adapter like all other anamorphic lenses and attaches to the front of a prime aspherical lens. (The only exception to the rule is anamorphic lenses for zooms which go behind the lens).
Since the current OCT18 mount adapter for Panasonic Micro 4/3rds does not have the notch inside required for focussing (the maker is aware of this and will be improving his design) I've decided to take the anamorphic off it's original Russian cinema prime and attach it with a clamp to my Canon 35mm F2 SSC, with which it actually works better than on the original lens. (More on the LOMO anamorphic here and here)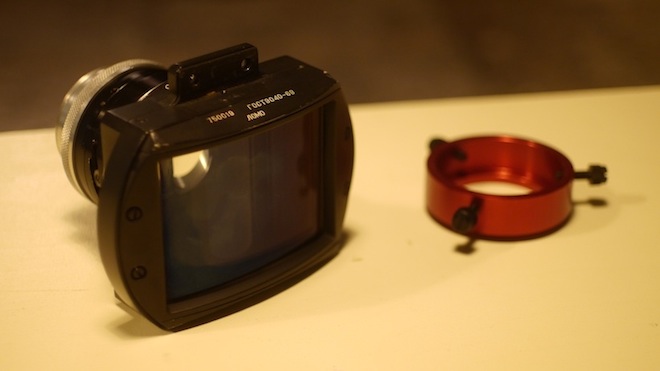 The clamp is necessary since it allows the anamorphic to be rotated so that it's straight, and thumbscrews are used to tighten the clamp's grip on the anamorphic to hold it in place. If you attempt to screw these anamorphic lenses straight onto the lens they'll never end up perfectly straight, and the lens rotates with the thread not independently or semi-independantly like the Panasonic LA7200 anamorphic.
The LOMO anamorphic is designed by the guy who would later work at Hawk on their cinema anamorphic lenses, which cost upward of £25k. Like all anamorphic lenses (apart from Iscoramas with diopters), you have to stop the lens down to around F2.8 or F4, preferably further to get a sharp image. It's a bit soft at F2.
I shot these timelapses with the above combo on the Panasonic GH1 last month.
I plan to turn this into a major project and I've invested in further anamorphic lenses including a Kowa Prominar, and two more cinematic LOMOs. I absolutely love the flare of these lenses.
[vimeo]16106480[/vimeo]
Because I now have so many anamorphic lenses I'm offering one of the LOMO anamorphic lenses up for sale. It comes with a free clamp, and a bracket for mounting on rails if required.
It will work with any camera lens at around 35mm, especially the Canon FD mentioned above. It will work on both Canon and Panasonic cameras. You can use the anamorphic on a lens of your choice but I recommend 35mm lenses since it was originally designed for this focal length.
Here are some preview images for the first time from Timescope.
I'll have more on the development of Timescope later in the month. I'm really excited about producing this anamorphic timelapse, and I'll also be using a Ditogear motion control slider for the first time when making Timescope. The below were all shot with the LOMO 35mm anamorphic lens and Canon 35mm FD F2 SSC on the GH1.