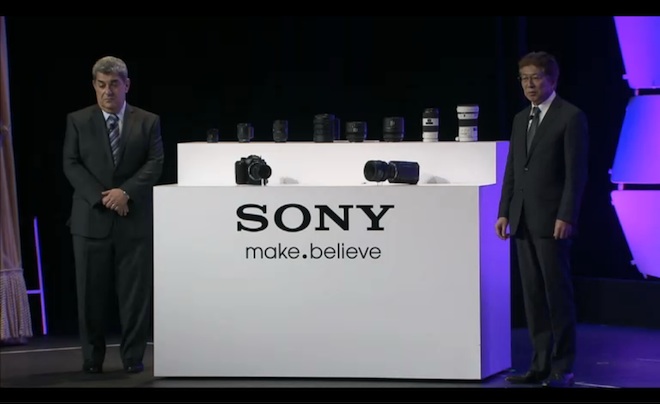 Sony have revealed two very early prototype cameras at NAB. They are hybrid stills / video cameras from the pro A/V division in Japan. One is a DSLR style camera with what looks like a PL mount. Sony is also committed to developing a range of full frame cinema prime lenses.
Very few details were given about the products.
But I love the design and convergence of stills and video.
On the left is what appears to be a high end full frame DSLR with what looks like a PL mount of some kind. It will shoot 4K.
On the right is a very compact cinema camera, I love the hexagonal shape of the body and it is barely any larger than the prototype full frame cinema lens Sony has attached to it.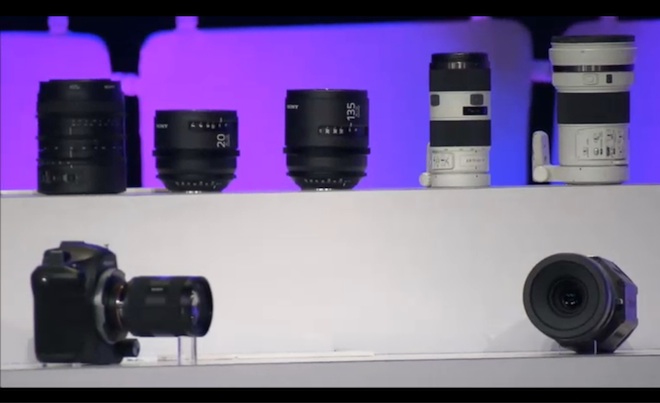 The range is designed to compete directly with Canon's Cinema EOS line. Two of the cinema lenses Sony show are clearly visible – a 20mm and 135mm.
The other two are clearly based around Sony's photographic Alpha mount G lenses.
The products are so early in their development that Sony are not displaying them on the NAB show floor.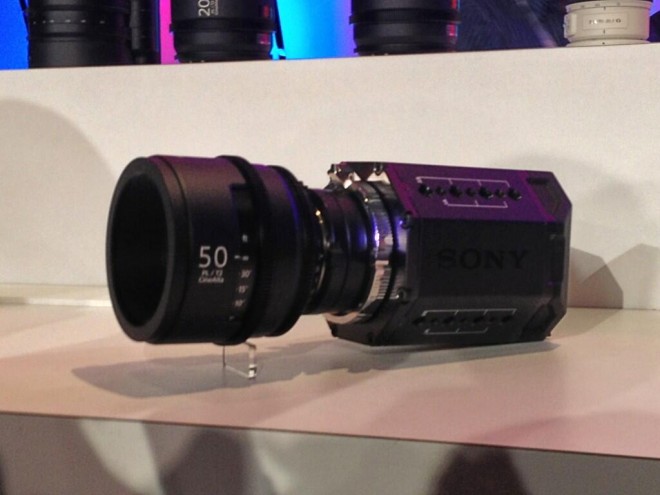 Above: prototype full frame Sony 4K cinema camera from DVInfo on Twitter
More details as they come.
Sony also announced a price break-through with their $4999 55″ 4K TV. Until now 4K TVs have been sold at upwards of $20,000.
Other products announced at the NAB press conference included a consumer version of their 4K XAVC codec (XAVC-S) which will likely be on future Sony 4K consumer DSLRs, a 4K content distribution channel with $699 Apple-TV like media box and a cloud based 4K video production facility called Sony Ci.