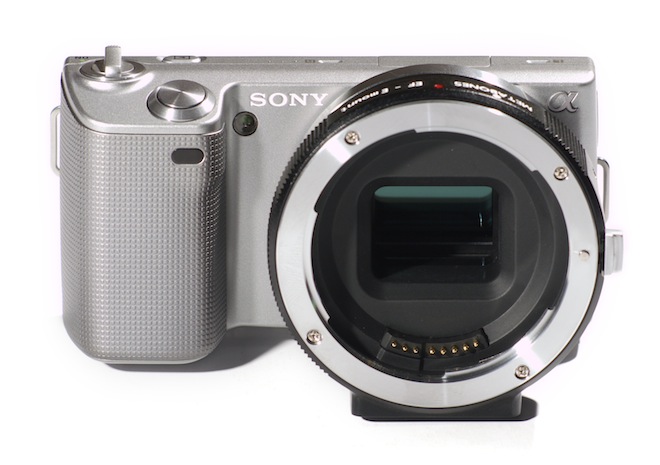 Pricing has been announced for the Canon C300. As expected it is $15,999. B&H are taking pre-orders for the PL mount version here and the EF mount C300 here. Both are the same price. Orders will ship 30th January.
This is great news for NEX 5N and FS100 owners. Suddenly that limited range of E-mount lenses have been supplemented by the entire Canon EOS range! Metabones are set to release a fully electronic interface adapter for Canon EF lenses to Sony e-mount (NEX 5N, FS100). Unlike the bulky MTF adapter it has electronic communication between the Sony body and Canon lens itself so you can adjust aperture on the camera. It also supports IS and requires no external power.
Apparently the adapter was created without involvement from Sony or Canon. Great job reverse engineering the protocols there.
The adapter supports almost everything you'd expect on a Canon body let alone a Sony one with EF lens…
Manual control of aperture via camera body in M and A modes
Automatic control of aperture in P and S exposure modes
Image stabilisation
EXIF data
100% powered by camera
DOF preview button on adapter
Supports fly by wire 'electronic manual focus' but not AF
I have a few Metabones adapters myself and the build quality is superb as you'd expect from something that is made in Japan. They are premium adapters and – yes more expensive than the usual – but this one is unique on the market for what it offers in such a small package with no external bits hanging of it.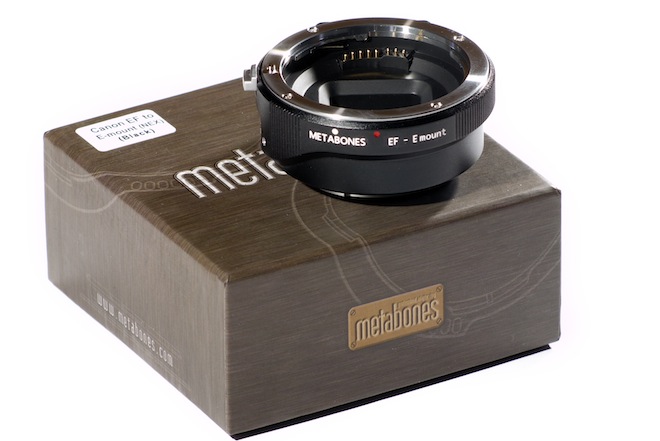 The Birger adapter seems, sadly, to be vapourware, and the MTF adapter below doesn't interface between the camera and lens and requires you to add a huge control box for aperture to your rig and external power with a battery.
[vimeo]http://vimeo.com/34415268[/vimeo]
Launched on January 21st, Metabones (Conurus) are taking pre-orders here.