The main competition to the 5D Mark IV is here and it is a far better specced camera on paper to the Canon, but can it beat the mirrorless Sony and Panasonic competition for video?
Meh.
The Nikon D850 inherits some nice Sony technology.
Nikon claim the sensor is their own design passed to a third party to manufacture in their fabs. By the word "design" it isn't clear if Nikon has a CMOS design office or Sony's engineers and technology develops the fundamental sensor and Nikon just picks the numbers and features they want. I suspect the latter.
The sensor's video capabilities are almost identical to the Sony A99 II.
It shoots very nice full HD 120fps slow-mo (conformed in-camera rather than a continuous shooting mode on the A99 II), with minimal moire and high detail. The bitrate of the slow-mo files is 29Mbit for 24p with an odd jump to 36Mbit for 25p (why not just make both 36Mbit?)
4K on this camera does not crop the sensor (*cough* 5D Mk IV *cough*) and is intelligently pixel binned from the full width of a 45MP 8.2K sensor. The sample video above is on YouTube at 1440p not 2160p (4K) but you can already see excellent detail with minimal moire and no noticeably severe rolling shutter problems.
The pixel binning method used is similar to the one the Sony A99 II's 42MP sensor uses (and that turned out very well) albeit not as good as a full pixel readout.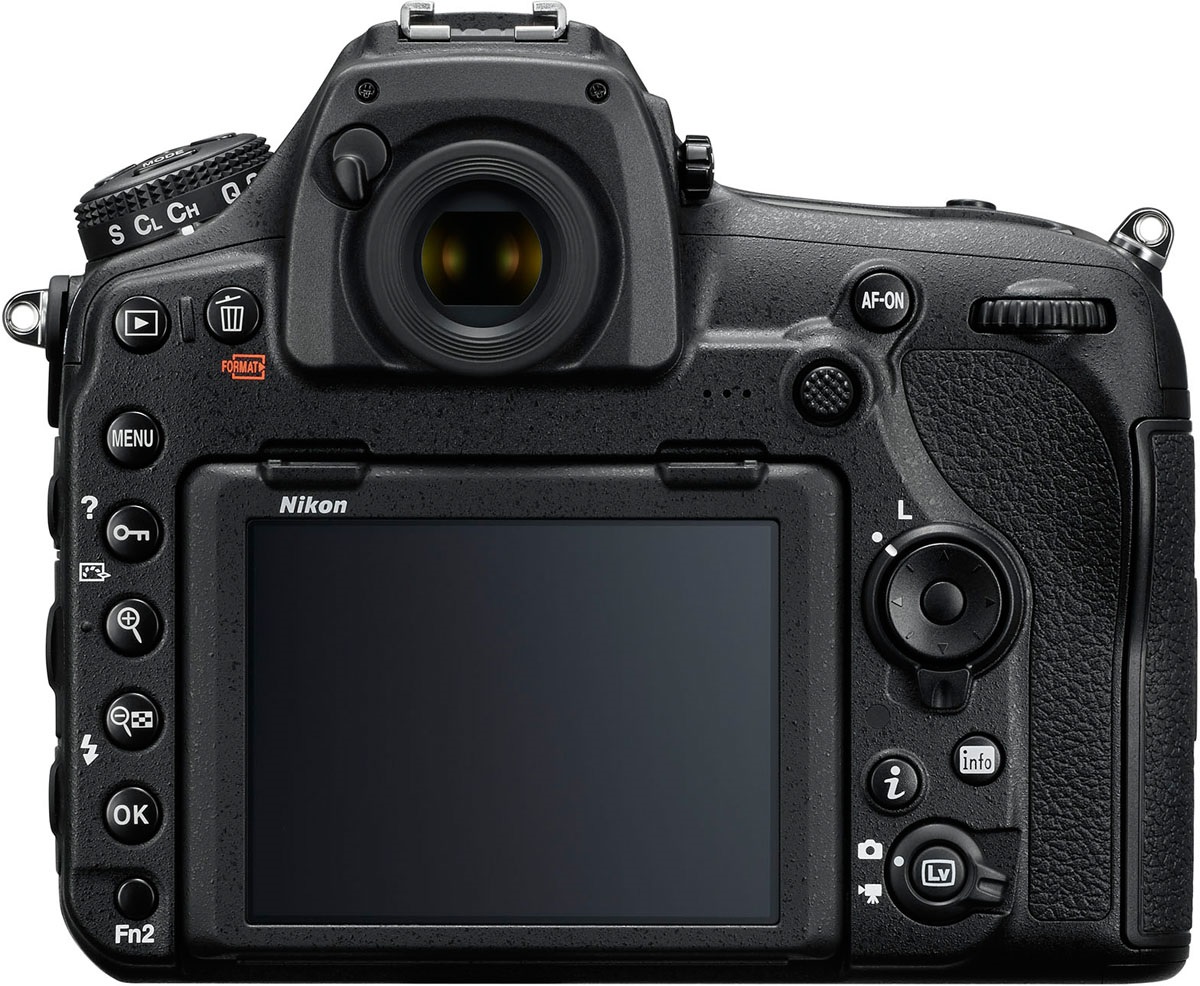 Here on the D850 we have a slightly higher bitrate of 144Mbit for 4K, which is 3840 x 2160. Sadly no option to record in DCI 4096 x 2160 resolution. This bitrate is fine and image quality will I suspect be similar to the Nikon D500. The look of the D500 files despite that awful 2.2x crop did remind me most of the Canon 1D C especially when shot with the flat profile, which is similar to Canon LOG. I hope the D850 looks as clean and doesn't suffer too much from the pixel binning, which can hurt low light performance and increase moire & aliasing.
The D850 lacks the 5 axis image stabilisation of the A99 II, phase-detect AF in video mode and live view, as well as LOG, although it does have the rather nice Nikon flat profile.
Compared to the 5D Mark IV, it shoots to much smaller 4K H.264 files instead of the inefficient MJPEG codec, which requires nearly 5x larger files at 500Mbit to maintain image quality. It has a much higher megapixel count at 45MP vs 30MP on the Canon. It also has an articulated screen, which doesn't compromise great weather sealing or durability. Canon were not brave enough to put one on the 5D Mark IV which really hinders live-view shooting. The D850 lacks any form of Dual Pixel AF though, which is a major downer. Looks like we'll be waiting a long time for this on non-Canon cameras, even though it is already in Samsung's smartphones. Go figure!
The D850 is a very attractive stills camera with better ergonomics for photography than a Sony, although I'm puzzled by the slower continuous shooting rate of 7fps compared to 12fps on the 42MP Sony A99 II. It does increase to 9fps with the battery grip and there's a 4K 30fps raw burst mode as well using an electronic shutter. This is a fast camera given the huge megapixel count. It has a super fast XQD card slot, and it would have been nice to see a raw video option in there too since the capability is clearly already there, subject to thermal limitations.
Here are some frame grabs from the 4K mode, downsampled to 2540 x 1440 on YouTube –
(Click for the full size frames)
This shows slightly softer detail than you'd get from the A7R II's oversampled Super 35mm mode, but minimal moire or aliasing present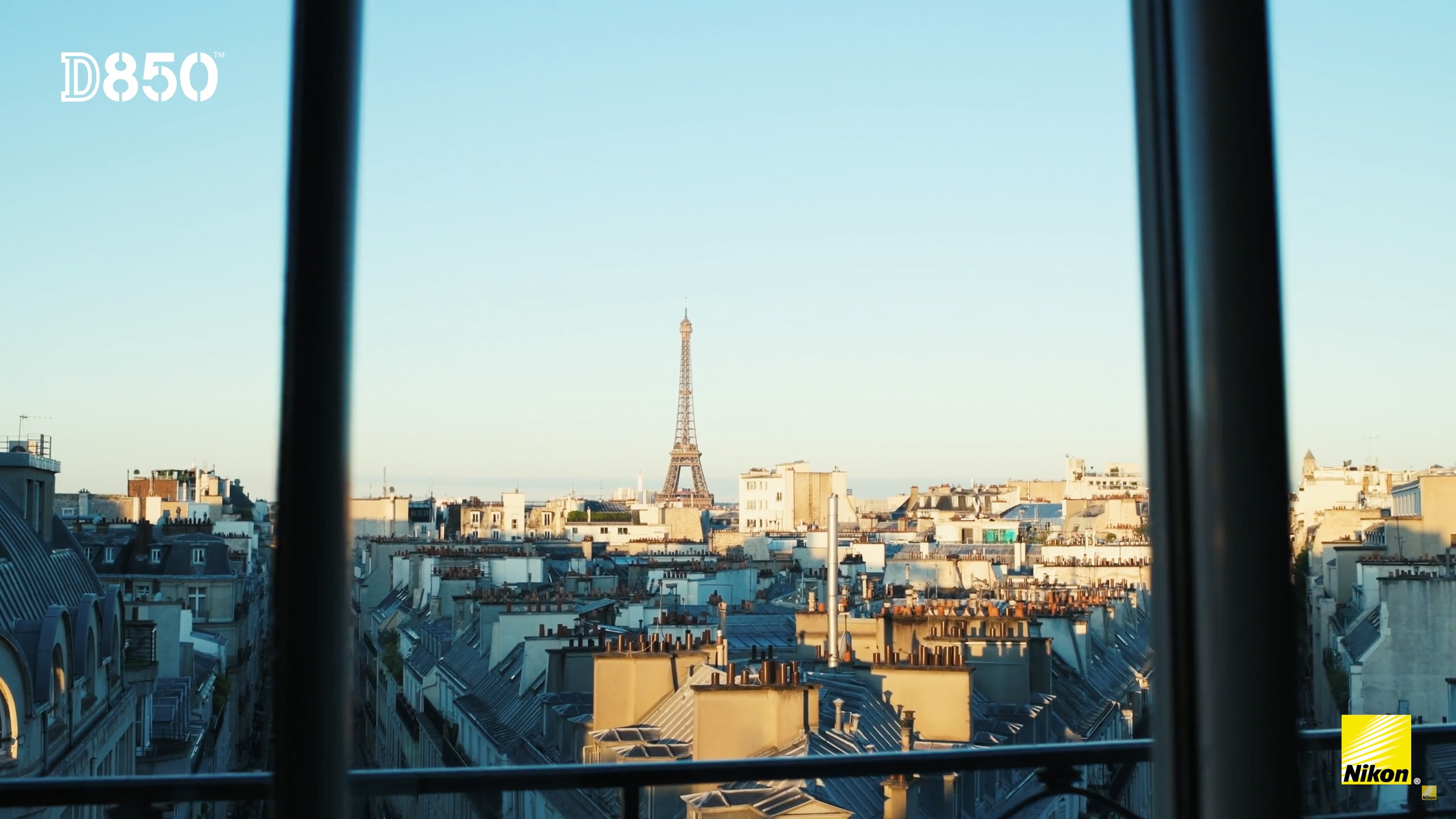 2. Fine detail seems superb with barely any aliasing visible on the small 'ALARM' text on the clock face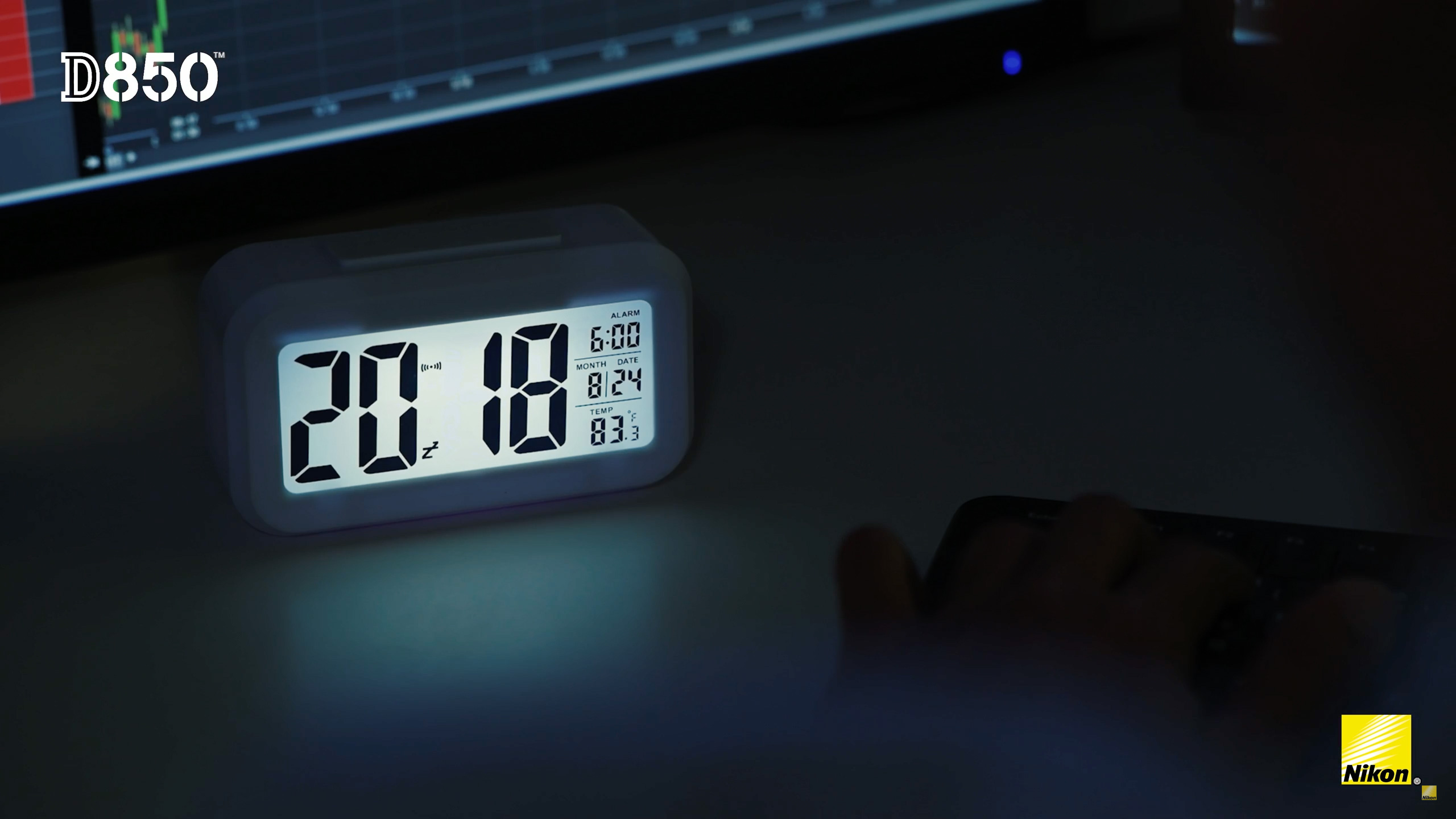 3. Low light shooting seems respectable at ISO 1600 with little noise although YouTube compression might have smoothed things out –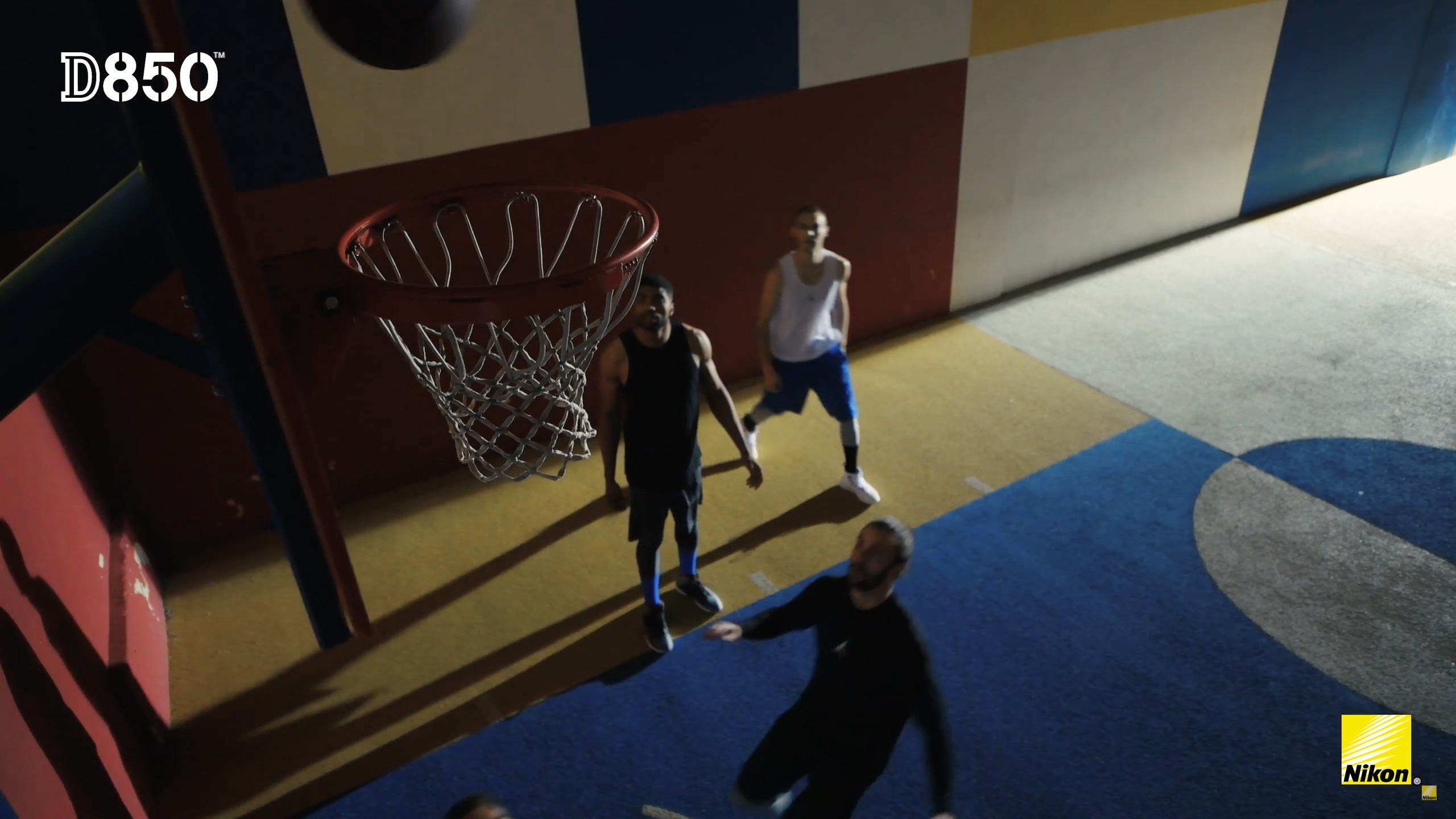 4. The lights on the horizon show good detail, although there might be some false detail present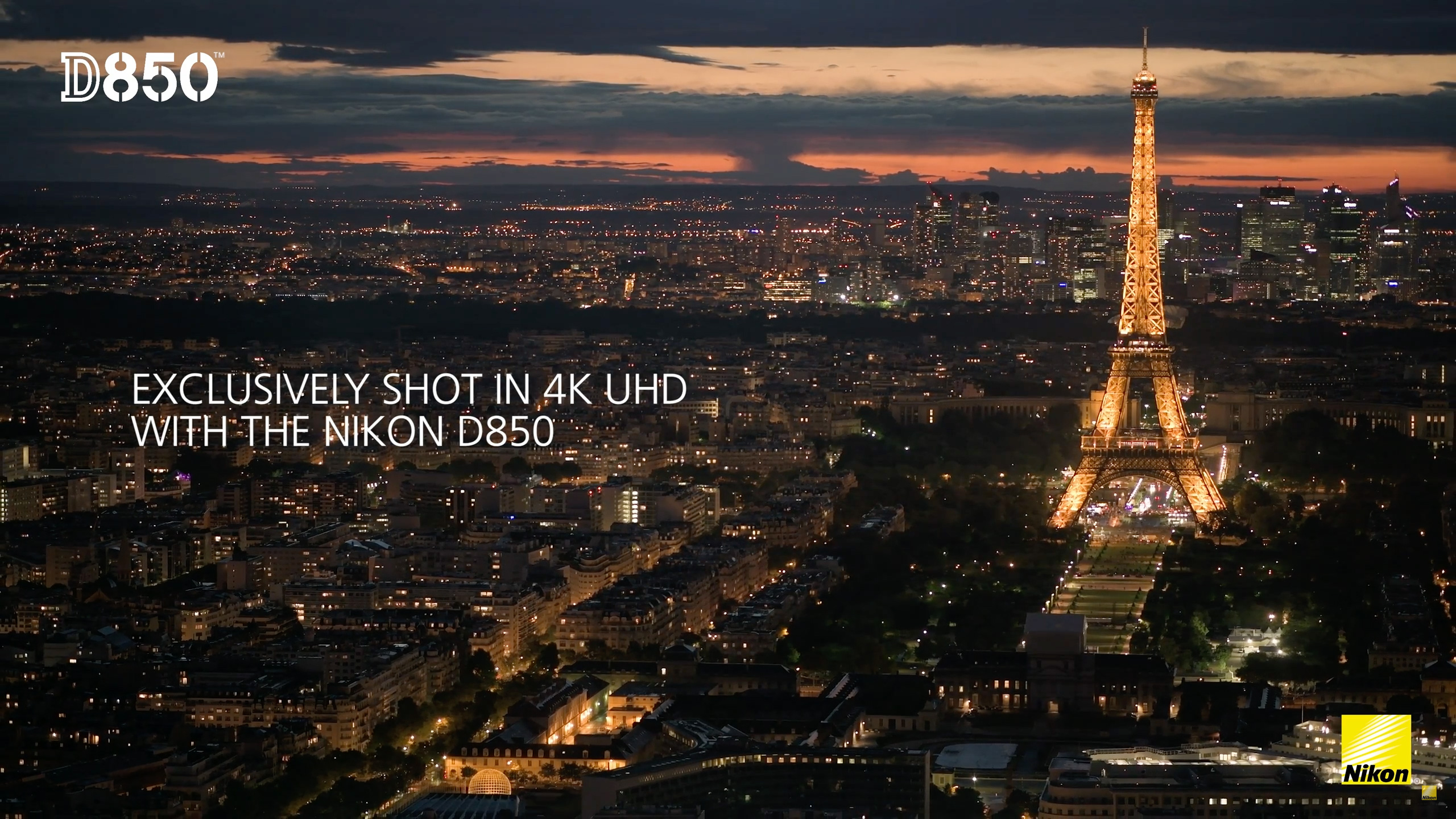 No crop
What other cameras do full frame 4K? Not many without a Sony badge.
The Canon 1D C is closest with a 1.3x crop. It dates to 2012 so is an absolute bargain used. The 1D X II a 1.4x crop and does 4K 60p, the 5D Mk IV a horrendous 1.7x crop and is a big disappointment for video users, the Nikon D5 a 1.5x crop but more expensive than the D850 of course. The Leica SL is also a 1.5x crop in 4K.
So this is the first Nikon body to do full frame 4K, and that is something. The slow-mo is also way better quality than the 5D Mark IV's 720p.
The more affordable way to get "full frame" 4K is to pick up an APS-C Sony A6300 or Fuji X-T20 with a Metabones Speed Booster. Then you have it for around $1400 + cost of lenses. The Nikon D850 is $3200.
DX mode video
With the latest evolution of Sony's full frame BSI CMOS sensor, the D850's image quality is similar to the a99 II all-round, but there are question marks over the DX Super 35mm crop mode.
On the Sony A7R II and Sony A99 II, the cameras do a 5K sensor readout and oversample from that a very clean and nice 4K image which is amazing in low-light and has no moire or aliasing.
What about DX mode on the D850? The good news is that it exists in the menus… but does it oversample from a 5K window like the a7R II and a99 II? I am guessing not otherwise Nikon would have mentioned it – there's simply no information out there. We'll have to wait and see on that one and you will hear it here first.
Features
The Nikon D850 doesn't quite have the right form factor for video, being an DSLR with a flappy mirror. It's not a mirrorless camera and an optical viewfinder is pointless when it comes to video. You can get a used Canon 1D C cheaper if a fantastic DSLR stills camera is what you need along with a very high standard of 4K quality.
The D850 does however have the advantage of a more modern, efficient 4K codec at 144Mbit instead of 500Mbit MJPEG on the 1D C, 5D IV and 1D X II. Much more manageable file sizes! It is only 4:2:0 though not 4:2:2 as on the Canon bodies. The 1D C has a 1.3x crop factor, but no pixel binning and it has Canon LOG. I think anyone choosing between a D850 and used 1D C will have one hell of a dilemma. The D850 gives, the 1D C takes away, then the D850 takes away and the 1D C gives. It's like trading with a shady banker.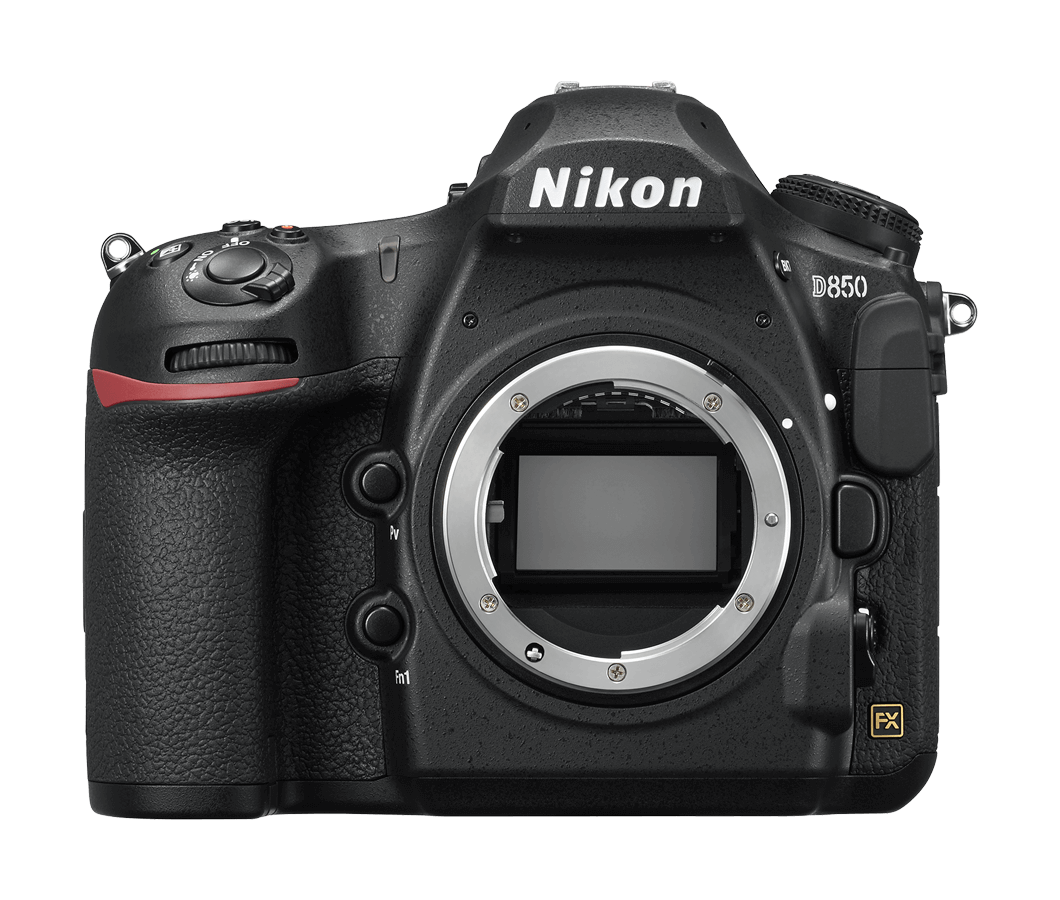 The D850 lacks 80% of the Panasonic GH5 massive video feature-set and also lacks 5 axis IBIS for stabilisation but it's $1400 more expensive. Hmm. Other cameras are better for handheld shooting – lighter, with 5 axis image stabilisation – the Olympus E-M1 II, Panasonic GH5, various full frame Sony bodies and the A6500.
The D850 does have manual focus peaking but not when you need it most – it doesn't work in 4K mode, only in 1080p and for stills! The electronic stabilisation system also doesn't work in 4K, only 1080p. Back in 2015 digital image stabilisation was working in 4K on the Samsung NX1 so I suggest Nikon upgrade their CPU! There aren't many Nikon primes with optical image stabilisation, mostly zooms, so bear that it mind for handheld shooting.
Unfortunately the codec is still 8bit, 4:2:0 all round, so a clear advantage to the Panasonic GH5 when it comes to colour quality, grading, compositing, and possibly dynamic range as well. It remains to be seen how the banding is on the D850 with the flat image profile – probably not too bad given my short-lived experience with the D500's codec. The HDMI is also 8bit, so pretty standard there. You can record 4K out of it but the quality increase over the internal codec will be minimal.
https://www.youtube.com/watch?v=qqVEod5AtOk
Read the marketing buzzwords and you'd be forgiven for thinking the D850 is the first camera to offer 8K timelapse files in-camera. It's not, actually you have to put these 8K timelapses together yourself from the still files! Only 4K timelapse files are put together in MOV format in-camera (3840 x 2160). I tend to prefer cameras with electronic shutters for timelapse so not to wear out the mechanical shutter with their limited actuation lifespans. Does the Nikon D850 have an entirely electronic shutter mode? Yes! It's a digital full pixel readout like the Leica SL and Sony A9. This is also used in a lower resolution burst mode feature for 30fps 4K RAW shooting until the buffer fills up. There is also a quieter mechanical shutter mode, which uses an electronic front curtain.
Ergonomics
The camera is very similar to the Nikon D500 with the same articulated screen which is useful for video… but you will have to wait for the mirror to flip out of the way and there's no EVF. There's also no real usable autofocus for video like Dual Pixel AF to improve handling and make shooting easier at fast apertures. The A99 II and 1D X Mark II offer far superior live-view autofocus for both stills and video shooters.
Yes, it has a headphone jack as well as a mic jack. No chance of XLR though with an adapter. The camera records for a maximum of 29 minutes and 59 seconds. It is PAL / NTSC switchable. Nikon say you will get about an hour of video recording from one battery, so pack some spares!
Conclusion
The Nikon D850 is a camera with no stabilised fast primes and no reliable autofocus in video mode.
It is also an expensive camera at $3200 or £37 billion if you're unfortunate enough to live in the UK
The Nikon D850 appears to be a very good DSLR for photographers and a nice solid upgrade to the D810 for sure. Whether it is also a good filmmaking tool or a rather half-baked one depends on how much you prioritise image quality over ergonomics and features. It won't be as easy or as nice to shoot handheld with compared to the Panasonic GH5 or Sony A99 II!
The slow-mo 120fps is a great feature, and Nikon camera do very nice colour and skin-tones though. Many will prefer the Nikon lens mount to the Alpha mount on the A99 II and the D850 is clearly the most attractive camera in the entire Nikon line for video, surpassing the last one we were excited about (the D750). It doesn't suffer from crop factor carnage like the D5 and D500.
Having full frame 4K in a Nikon camera (for the first time) is a 'new thing'. I like 'new things'. It is a shame we did not get some icing on the top of this new Nikon cake. Where is the better live-view autofocus? Where is Dual Pixel AF? What happened to better image stabilisation and if we're talking really ambitious in 2017, where is the hybrid EVF viewfinder that comes on in mirror-up mode? This feature along with Dual Pixel AF would have dramatically transformed the D850 not just for video but for photographers as well.
Instead once again they chose profit margins and box-ticking over real innovation.
Competitors offer better stuff… The 10bit codec on the Panasonic GH5 is incredible, and S-LOG shooting on the Sony cameras, reduced rolling shutter on the A9, XLR audio adapters and even an anamorphic mode so that when it comes to video there are better choices to be had than the D850.
If you prioritise photography and DSLR style ergonomics 80-20 to video though and dislike the feel of mirrorless cameras, the D850 is a very solid semipro choice that sits just under the D5.