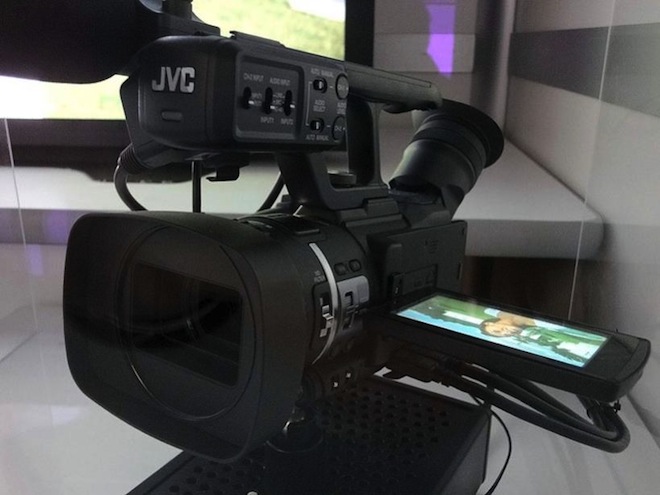 JVC showed a prosumer / semi-pro camcorder at CES (rumoured to be around the $2K mark) with a near-4K image at 60p, and XLR audio jacks.
The camera is powered by FalconBird, JVC's new high-speed LSI (processor). We know a few of the camera's specs:
Resolution: 3840 x 2160
Frame rate: 60p
Codec: H.264/MPEG-4 AVC (similar to AVCHD)
Bit rate: 144Mbps
JVC had the camera under glass, hooked up to a JVC 4K LCD panel (which will also be on the consumer market this year. I expect JVC are hoping to sell quite a few of these 4K TVs, as well as 3D TVs, and 4K camcorders will drive sales of 4K TVs and projectors.
Incidentally Panasonic also have a 4K2K TV under development, with the same resolution as the JVC. It seems 3840×2160 is where consumer HD is headed after people get bored of 1920×1080. But you'll need at least a 60 inch screen to tell the difference.
Although the resolution of the images on display is quite something, I am not so much interested in the camera itself since it lacks a large sensor, and interchangeable lens mount – but it's interesting to see that 2011 is the year when prosumer cameras and TV sets begin to move on from 1080p.
I'd guess at a 4K DSLR by 2013.
4K2K is roughly 8MP (4 times 2). So expect the JVC camera to have roughly the same noise and dynamic range as a standard small chip camcorder which does 8MP stills. It's speciality is really not the sensor but the very fast FalconBird processor.
JVC also had another FalconBird camera on display, with a 10MP back-illuminated CMOS. Again this was sadly not a large sensor, or an interchangeable lens mount and it had an absolutely laughably weird design – it looks like a traditional family camcorder glued onto the front of a Sony NEX! Not clear whether it does 4K video, or just high resolution stills at a burst rate of 60fps.
I believe that Canon's 4K hairdryer prototype shown last year at the NY Expo (also featuring a small sensor) was not a stunt but a test bed for their high speed image processor.
So we could indeed be seeing some tasty 4K camcorders this year and then all we need to do is wait for the 4K2K badge on a Canon DSLR.
On recent performance it could be some time away!