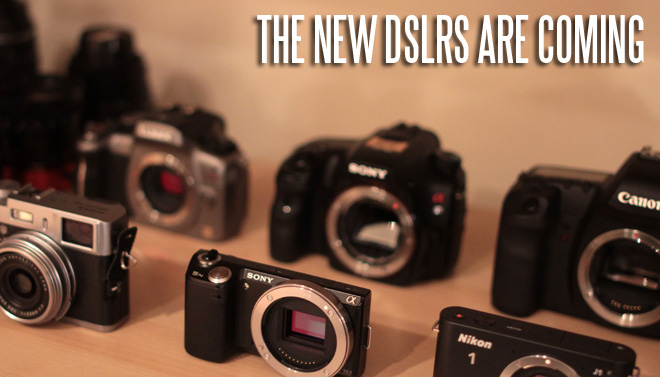 2012 will be the best year for DSLR video since it all began to kick off in 2009 with major releases due from every big manufacturer.
This is a Photokina year starting September 18th as well, where we will most likely see the Panasonic GH3. There are other key events like CES and NAB within 4 months to keep an eye on, particularly for a working Canon's 4K DSLR prototype.
I am not expecting any of the big stuff to arrive as early as CES on the 10th January, but you cannot count it out. It suits some of the consumer orientated products.
I'll start with the obvious! In March the Canon 1DX is released with a new image processor, full frame sensor and no moire. It is expensive but knock-out good. Canon said at the C300 launch that they'll bring a working Cinema EOS DSLR to NAB 2012 with 4K. This is in April and with Canon showing off a 4K DSLR it is unlikely other companies (most notably Sony) will let Canon have all the 4K limelight to themselves.
GH3
Panasonic are due to release the GH3 in 2012. This I believe will coincide with Photokina like the GH2 did in 2010, so it could be some time before we get our hands on one. The GH3 is expected to feature 1080/60p and a much better screen and EVF. The sensor will be improved too, and hopefully the megapixel count reduced for a better image at high ISOs. Personally I'd like to see an improvement to the sensor in terms of dynamic range, gradation, colour and the external LCD above anything else since we have our Russian friend to sort the codec out!
The question of removing the mechanical shutter and implementing a global shutter will come up at some point in the rumours of 2012. I know Panasonic are working on it and it is their stated aim for a 100% electronic camera body.
Sony full frame
Sony are rumoured to be releasing a slew of full frame DSLRs around March-April.
These will almost certainly include the A99 SLT with Alpha mount and possibly an updated OLED EVF over the A77 and A65. However the NEX range is a far bigger sales success, so their focus may shift and we may not see the full frame Sonys until Photokina in September. It is possible however we'll see a new NEX and my bet is on a NEX 6 to update the popular 5N.
5D Mark III and more
Canon's 5D Mark 3 will finally hit us for six in 2012. It has been a long wait, partly because of the 2+ year product cycle on their high end stuff (which frankly does not cut it in the computer age where image processors can double in power within 12 months) and partly because of the very tragic Japanese earthquake and to a lesser extent the poor USD to Yen exchange rate and global economy. 2011 just wasn't a good year for Canon to be bringing out major products.
I believe that Canon are also waiting for a new Taiwanese manufacturing plant to come online and ramp up to satisfy what is sure to be extreme demand for their new DSLRs like the 5DMk3 and 650D.
My hopes for the 5D Mark 3 is for it to be as close to the 1DX in video image quality as possible but for half the price, and hopefully not choked up on megapixels so it can perform in low light. If it shares the same sensor as the 1DX I'll be over the moon. No 32MP thanks!
We might also see the 7D Mark II, the original is now starting to look rather poor value with cameras like the 60D and 600D around for half the price and so a successor is needed to breathe new life into sales.
Since it is on a yearly cycle there should be a new Rebel / 650D and this will certainly have to finally move on from DIGIC 4 since even their compacts have now! DIGIC 5 will bring big improvements to video at a very low price point relative the 1DX and 5D Mark 3. A very appealing prospect and frankly we deserve it after the shockingly reheated 550D update, the 600D.
Back in 2008/09 when the 5D, 7D and 550D were conceived, processor power and sensor speeds were far less than they are now. With all of Canon's new DSLRs expect virtually unnoticeable moire and aliasing along with increased resolution to true 1080p / Canon C300 levels because of the faster sensor and better scaling by the image processors.
As you can see it will be a busy year for Canon and they will be keen to bounce back from what was a very difficult time for Japan lately. Canon have also said on record that a mirrorless camera is under consideration with a release planned for 2012, that could bring some very interesting video to the table unless they take the low end market approach that Nikon did with the 1 series. Please don't do that Canon, let the PowerShot G14 be that camera and take a look at demand for the NEX 7.
Uncompressed HDMI from full frame Nikon
Even Nikon can come good in 2012 in DSLR video. It has taken a long time but the D800, D4 (I think it will be called the D5 since the number 4 means 'death' in Japanese) are planned for release soon with uncompressed HDMI out and Expeed 3.
The D5 is expected to share the same sensor as Sony's new full frame camera but I find this unlikely given Nikon now make their own sensors and that it is a major differentiating factor versus the competition. Nikon designed the sensors in their last high end DSLR releases, though the D7000 and Nikon J1 have Sony and Aptina sensors respectively.
Nikon's new Expeed 3 image processor meanwhile is rumoured to be featured in the D5 and is already to be found in the cheap Nikon J1. Yes it does have improved video over previous Nikon efforts but it needs to be beefed up for the 'big one' because it still isn't good enough. Imagine an upgraded D3S with a decent codec and clean 1080p with proper resolution, no aliasing or moire. Very nice. They need to sort out metering and exposure simulation in live view mode as well – on current Nikon DSLRs it is completely dysfunctional!
Expected Highlights 2012
Canon

No less than 3 new 35mm full frame cameras from Canon
5D Mark 3 with no moire or aliasing
1DX with superb low light performance
A high end Cinema EOS with 4K
Canon 650D or 700D
Smaller chance of 7D Mark II and a Canon mirrorless

Panasonic

GH3 with AVCHD 2, better EVF and potentially major unknown improvements
The 12-35mm X lens with fast constant aperture

Nikon

FX D4 or D5 as well as the D800 with uncompressed HDMI
Possible improvements to Expeed 3 image processor

Sony

New full frame cameras – though not DSLRs. They've dumped the optical viewfinder. Hurray!
SLT A99 full frame and possibly even a full frame NEX to arrive before or at Photokina

Others

Consumer Sigma DSLR?
Fuji interchangeable lens X camera
Wildcard entries who may surprise us at Photokina. Pentax with a full frame mirrorless, Fuji with decent video on their X mirrorless