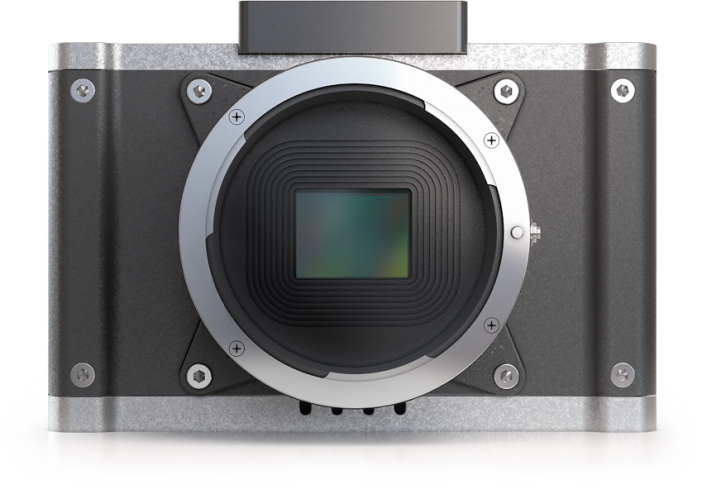 The crowd funding campaign for the AXIOM camera ends in just hours and has been a massive success, surpassing the funding target early.
The open source cinema camera is backed by Magic Lantern, Philip Bloom and other leading lights of the DSLR community. It's the people's camera, taking control back into our own hands. What's interesting is that it also unleashes Magic Lantern's extraordinary ability for the first time outside the closed platform of a Canon DSLR. They now have hardware they can work directly with the manufacturer with, without any need to reverse engineer a DSLR.
This for me is the future of Magic Lantern. To be their own open source camera designer and manufacturer along with AXIOM.
Go to the Indigogo campaign today to get your camera!
Don't wait much longer, as early units are significantly discounted. After the end of the funding campaign, retail prices will be offered instead.
Key points
Top spec option – Super 35mm sensor, 4K raw output, global shutter
Alternative options – Micro 4/3 and 16mm sensors for 2K but other benefits like 13 stop dynamic range
External recording via 3x HDMI
External control via portable device (like smartphone or remote control)
€1600-2300 euros for early adopters
Price of retail 4K S35 model rises to €5990 euros after crowd funding campaign so get yours in the next few hours to benefit from the low price
Linux based OS
I meant to write about AXIOM a lot earlier but a whole host of other work got in the way. I am 100% behind the project, it's really wonderful. The merging of the computer and cinema camera worlds has the potential to make the big manufacturers look like dinosaurs in terms of software and features.
With AXIOM being an open source platform it's much more flexible. Anyone can design features into the camera. It's also unique. Canon or another big manufacturer will in my opinion likely never do an open source cinema camera.
AXIOM is perfect for people who dream of designing their own camera. Let's face it some of us can design better stuff than what we get already!!
The user has 100% access to the source code of the AXIOM and can program the camera in any way they like.
Shooters on the other hand needs no programming knowledge to go and shoot beautiful 4K raw images with this – and benefit from global shutter of course.
The hardware specs are also extremely impressive, sharing a similar CMOSIS 4K Super 35mm sensor to the AJA CION with global shutter. There's now also a 16mm version, in addition to the Micro Four Thirds version with Trusense sensor. Great hardware needs great software, and so the project is very much strengthened by the support of Magic Lantern. I think AXIOM and the team behind raw recording on Canon DSLRs are a perfect match.
Sample footage
I'll be very excited to see what branches of development occur with the AXIOM. It could open it up for all kinds of specialist creative uses. Eventually you'll be able to select from a wide range of firmwares and configurations.
It is perhaps the most flexible digital cinema camera platform in the world, and it could become a major player in the industry because of that. Nobody has this amount of control to reconfigure or improve an Arri or Canon!
With a usual cinema camera you have one firmware, from one provider and that is it. No raw recording, no peaking? Forget it. It's unlikely to be added and even if it does come from the manufacturer, you might have to wait months or even years for it…
The AXIOM is not like that. If you need something like peaking, a developer simply codes it over night and there you have it. Download it onto the system like a piece of software and go and shoot.
The initial camera, AXIOM Alpha is a development box for the team and the Beta camera will be the friendly face of that, sold to early adopters and crowd funding campaign backers.
Here's the basic specs of the hardware for AXIOM Beta, the one you will get if you buy it via the Indiegogo campaign.
You pay a smaller amount up front like 300 to 600 euros and then the camera ships in April 2015, if all goes to plan. Pricing is between 1600-2300 euros for AXIOM Beta depending on what option and configuration you choose. After that the prices more than double for retail so it becomes more like an AJA CION. You have a choice of S35 4K sensor with global shutter, Micro Four Thirds sized sensor with 13 stop dynamic range or 16mm sensor.
3x HDMI Full HD (4:4:4) output at up to 60 FPS each
4K raw output via experimental HDMI formats
Capture full resolution, full bitdepth raw still images to MicroSD card
Remote control of all camera functions from smartphone, tablet, laptop
Power management and monitoring (e.g. voltage, current, temperature)
Highly customizable via modular I/O addons (e.g. SDI)
Accelerometer, magnetometer and gyroscope e.g. for image stabilization
Different lens mount options (e.g. passive Nikon F-mount, EF* and M4/3)
Wide input voltage range (5-40V)
Very lightweight and compact ~110x60x50mm
Embedded Linux (e.g. Raspian, ArchLinux)
LUTs, matrix color conversion, FPN compensation, false color display, overlays, dead pixel compensation
Using Microzed board (instead of Zedboard used in AXIOM Alpha)* An active EF mount option will be developed later
The camera is a dream for developers but for shooters as well. It will never lack when it comes to features. Hardware wise it is a chameleon too. New sensors and mounts will be sold later and the system is modular like RED. According to Alex at Magic Lantern, the sensor in the AXIOM is very interesting. It has a lot of capabilities not utilised on other cameras that have used it so far, like 1080p at 800fps!
With the AXIOM you will have a variety of ways to connect to the sensor and process images. It's all programmable and modular. It will be ready to shoot with and you don't need to be a developer to be involved in using the early cameras, but it will give you the chance to work closely with Magic Lantern and the AXIOM team, in helping to shape the production AXIOM 'Gamma' camera (mock-up below)…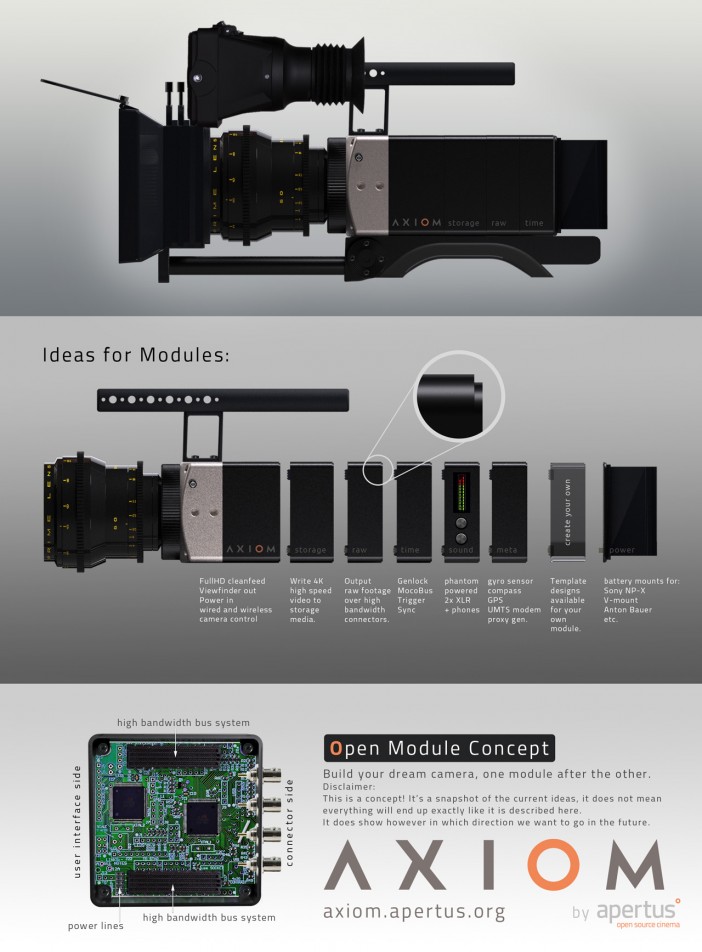 https://vimeo.com/106452874
Who might be interested in this camera?
Well anyone building their own camera should be on the list for one, for certain.
Anyone interested in shooting beautiful footage from a very affordable 4K S35 sensor, too.
Finally, software developers wanting to build their own branches of firmware and functionality for the AXIOM should buy one before the clock ticks down.
From EOSHD, I wish the best of luck to Sebastian, A1ex and everyone involved in the project!!