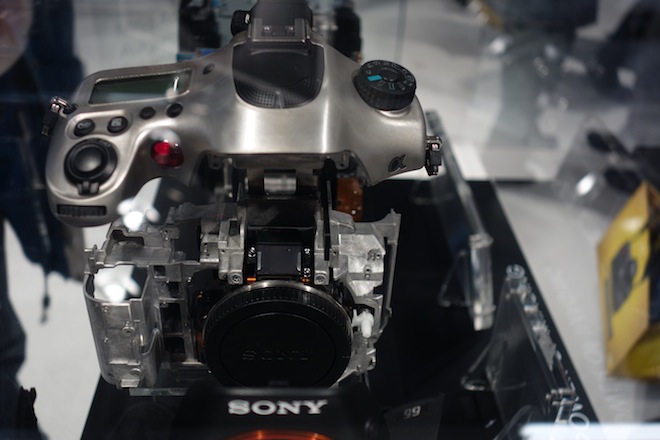 An exploded view of the A99 at Photokina
Whilst I was able to record some footage from the Sony A99 at Photokina I didn't really have any spare time to do much with one. The camera to me seems a little bit disappointing on the image quality front with line skipping resulting in quite heavy moire and aliasing. Not acceptable in 2012.
Johnnie (who I had the pleasure of finally meeting at Photokina) is a freelance BBC cameraman and editor based in Vienna. His comments on the new A99 are mixed (as are my feelings about the camera).
First the test videos…
1. Main test shoot video
[vimeo]http://vimeo.com/50978623[/vimeo]
2. Dynamic range test (non-scientific)
[vimeo]http://vimeo.com/50982162[/vimeo]
3. Moire and aliasing example
[vimeo]http://vimeo.com/50980422[/vimeo]
Here's Johnnie!
Sony's latest full frame HDSLR is clearly attempting to challenge the competitors by introducing a well equipped camera. So how good is it?
Spending a day with the Sony A99 left me with mixed emotions.  Sony listened very carefully to some of our need as documentary run & gun shooters but fell short delivering the "ultimate" picture….Why having aliasing and moiré in an advanced generation of HDSLR is beyond my understanding.
By having the camera for a day, my aim was to simulate "true to life" short feature assignment. In this short video sample no lights were used, the footage was not color corrected, ambient sound was recorded with the built in camera stereo mics and the interview/voiceover was recorded with Sony's new XLR adapter the $800 XLR-K1M.
Camera strengths:
Clean HDMI output (on Ninja 2, camera must be set to "HDMI resolution-Auto" and not 1080p)
Peaking
Green dot at the center of the picture as an additional focus aid tool
Dynamic range looks good
Front camera wheel which can be assigned to control aperture or audio levels (not when the XLR kit is connected, then use the level wheels on the kit).
Monitor and control audio levels while recording
Good EVF and LCD allowing shooting in minimize configuration
Dual SD card slots
Camera weakness:
The A99 produced a decent image although moiré and aliasing is clearly there!
No histogram in video mode
No "zoom function" for accurate focusing
Audio meters have no db levels and there is no change in meters color when sound is clipped.
No 1080/50p recording is possible to Ninja 2.
XLR-K1M-XLR kit
This kit transforms the audio section of the camera to a more professional machine and is a very welcome aid to the professional shooter. It's a pity Sony chose to sale this kit for $800. A moderate price would have done justice to this product bringing it within reach of many more people.
Functionality wise, I have no clue why Sony decided not to connect the kit directly to the hot shoe and instead designed a wire out of the kit to be connected to the shoe leaving no place for the kit itself to be connected on top of the camera….
The videos above were shot in 1080/25p, normal creative style.
Lenses and accessories used to produce the video
Sony 28-75mm f2.8 SAM
Zeiss Sonnar 135mm f1.8
Sony 70-200mm f2.8
Sachtler ACE L tripod
Cineroid retina EVF
Shape rig
Vocas base plate
Kata bag BUG 203 PL backpack
EOSHD remarks
I had my hands on the new Sony cameras at Photokina last month but you didn't hear much from me about them on the blog. I was underwhelmed and didn't feel very passionate about them. I feel Sony have big areas to improve here. The VG900 form factor needs an overhaul. And the A99's image is just not up to scratch in video mode. Indeed from my experience the NEX VG900 is very similar in terms of image quality to the A99 if not identical.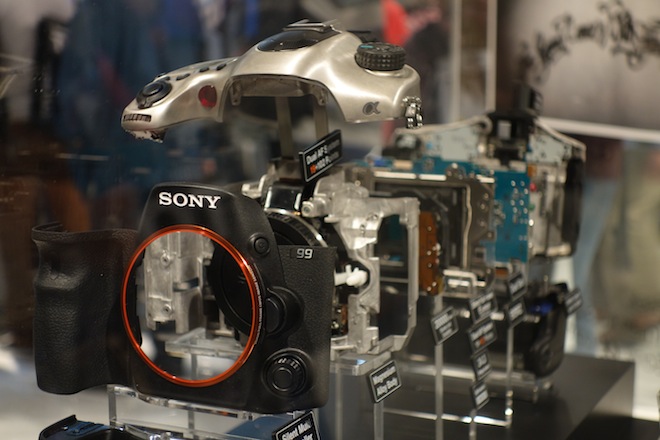 Right now I don't feel Sony have done enough to progress the image quality of full frame DSLRs. They don't really improve much on the NEX 7's video image, aside from the larger sensor.
The A99's image once again fails to live up to the benchmark set by the GH2 in terms of how the sensor resolves the image in video mode. It should be like a high quality JPEG still – it isn't. Line skipping artefacts and low bitrates in 2012 are no longer acceptable.
You are better off for now with the Nikon D800 or 5D Mark III, especially as the A99's Alpha mount is so limiting in terms of the glass you can put on it. The ergonomics of the Canon and Nikon DSLRs are also superior, especially over the NEX VG900 which I found offered very little in the way of improvement over the VG20's handling, which I absolutely found to be terrible in almost every way – both in the way the buttons are laid out, the feel and size of those buttons and the general poor build quality.
A big thank you to Johnnie for his expertise in preparing his test