X-H2 anyone? With the X-T4 confirmed to be staying at 4K, a big 8K door swings opens for a higher spec hybrid camera from Fujifilm.
The real Fuji X-T4 specs were leaked today on Nokishita Camera. It's a lovely camera but not the 6K "X-H2" in video terms, which was rumoured earlier.
"The Fuji X-H2 is cancelled". "X-H2 is still on the road-map". "X-H2 is coming but not in 2020". "Current X-H1 is discontinued and X-H line merged with X-T"! All conflicting rumours and more from one website, FujiRumors in 2019 and this year, even though in one of their reposts Fujifilm managers told an interviewer quite clearly at Fujikina 2019 that they're "continuing to evolve the X-H line". Quite an insight into how rumours sites drum up clicks in-between real leaks.
From 31 mins into the video, the interviewer asks if the X-H and X-T lines will be merged and X-H series removed from the line-up if the X-T4 gets IBIS. The manager doesn't answer immediately but looks behind his chair to check for monsters, before seemingly shutting off a ringing phone in a bag… presumably from Fuji HQ in Japan to remind him that the X-H is as dead as his career prospects if he lets it slip… Said manager answers that customers who buy the X-H1 are a different type, and of course IBIS is a big part of the camera but so is the bigger grip and better durability, not to mention the different concept (more modern, more pro video user orientated, less "retro" stills camera) between the two lines… And replies that both will keep evolving in future, doing sweeping hand movements on the table in the direction of the interviewer.
The manager is polite and sincere.
So indeed it looks like we WILL see a Fuji X-H2 and that it will be a super-Super 35mm choice at the high-end, with image quality to match or exceed the Sony FS7 II and Canon C200, for far less dosh, with much more flexible ergonomics and of course a very useful IBIS system.
But 8K?
AndroidLad on the EOSHD Forum today posts a Sony data sheet for a future APS-C sensor, a good candidate for the X-H2 in fact, some may say.
Here it is: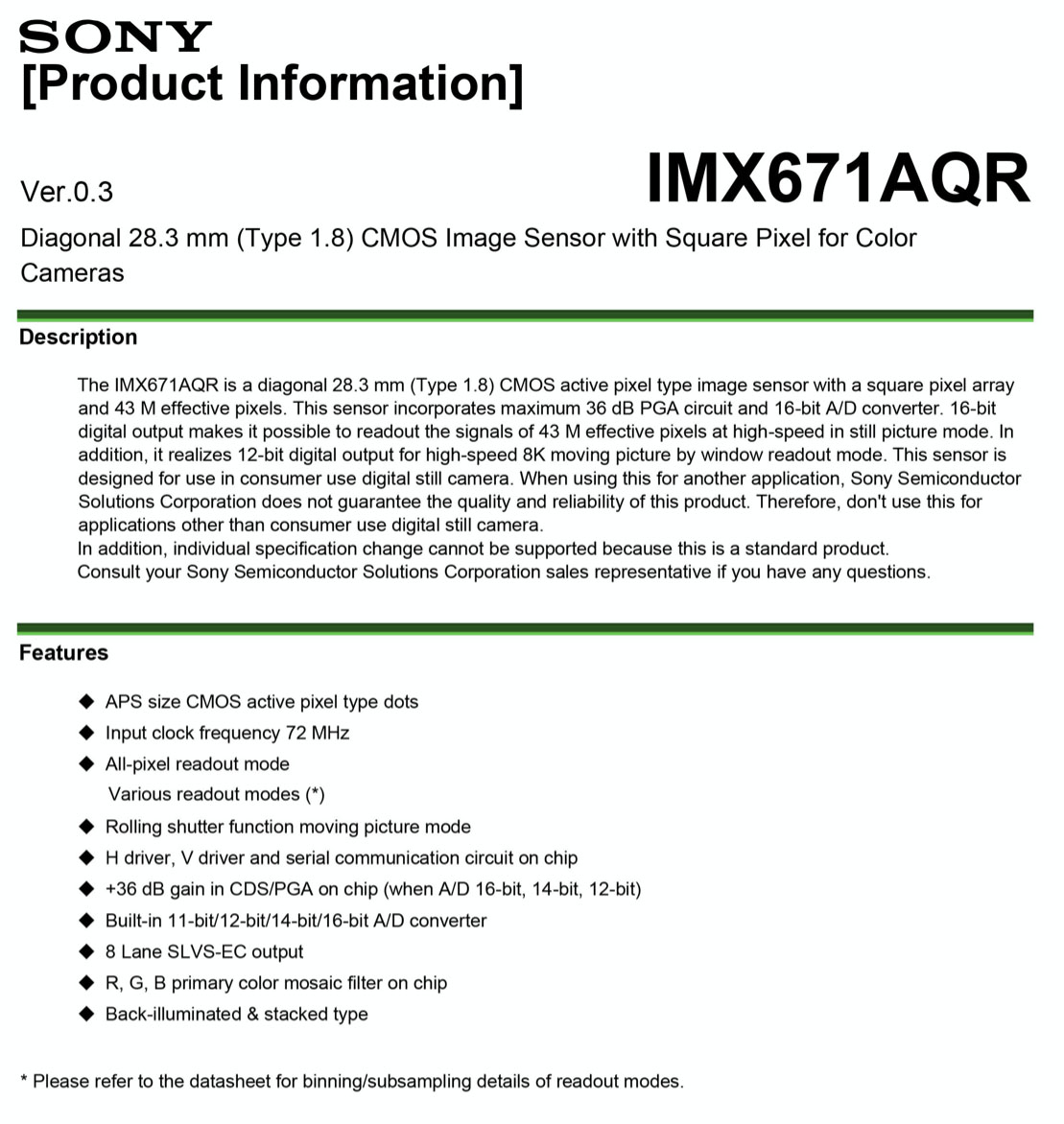 We know this sensor isn't for a Super 35mm professional Sony camcorder or cine camera, as Sony states it is designed to be installed in a "consumer use digital stills camera".
Keeping a separate X-H and X-T line makes a lot of sense for Fuji, who can save costs on the X-T4 as primarily a stills camera, and put the special sauce in a more expensive X-H2.
Happily the chip is a monster and features 43 megapixel, 8K 12bit video, very high-speed readout, stacked DRAM, and up to 16bit A/D conversion for stills. It is BSI (backside illuminated) to increase low light performance, and a "stacked type" according to the data sheet. These Sony sensors are stacked on top of an extremely fast DRAM buffer to increase readout speed and reduce rolling shutter… especially helpful for achieving high frame rates and 8K with acceptable rolling shutter. The Sony A9 and later RX series benefited from a stacked sensor. Provided the PS5 doesn't eat the entire supply of memory chips, we could be seeing a very impressive Sony sensor in the Fuji X-H2 some-time in 2020 or 2021.