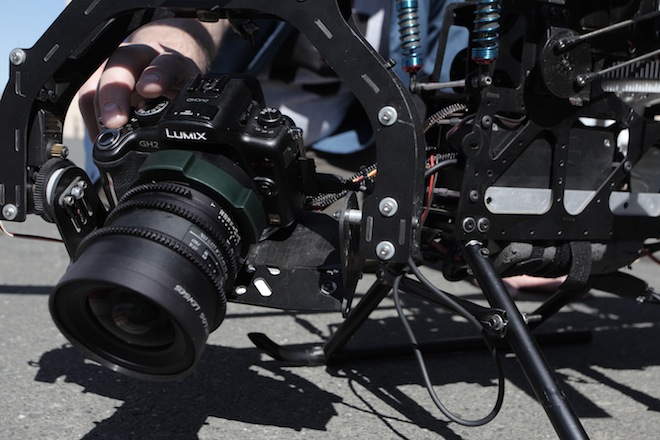 Above: GH2 on a heli rig
Today the first episode of Zacuto's 2012 shootout is aired. (Update: it is now live – watch it here). This isn't really a shootout in a technical sense rather a subjective and less scientific comparison whereby each camera is made to look as good as possible. Several leading cameras were used including the Alexa and Sony F65.
Zacuto have revealed in a technical document how each camera was setup, so we'll take a look first at the GH2 and FS100 to see what settings were settled on for the shootout and who the people behind the cameras are.
The Panasonic GH2 was provided by Illya Friedman at Hot Rod Cameras. The GH2's lighting set up and cinematography was carried out by Colt Seman and Jonny Zeller of Film Matters. Seemingly they did a pretty good job because many have mistaken the GH2 for the Epic in screenings so far. The Canon 7D, Sony F3 and Arri Alexa had ASC members on cinematography duties and in the test it will be interesting to see the differences in style not just between the cameras but between people.
Colt has been a long time GH2 user professionally and you can see one example of his projects here.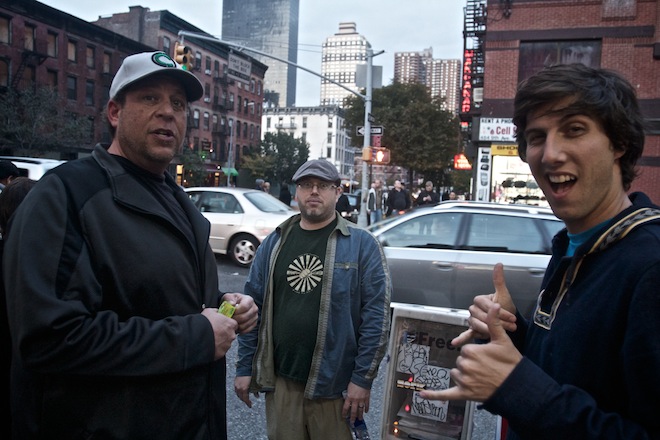 Above: Colt Seman (right), Illya Friedman (centre) and Johnny Rowan (left)
Here's some of Film Matter's work with the Red EPIC and GH2. The GH2 was chosen for the heli-rig (it is light!)
[vimeo]http://vimeo.com/32288160[/vimeo]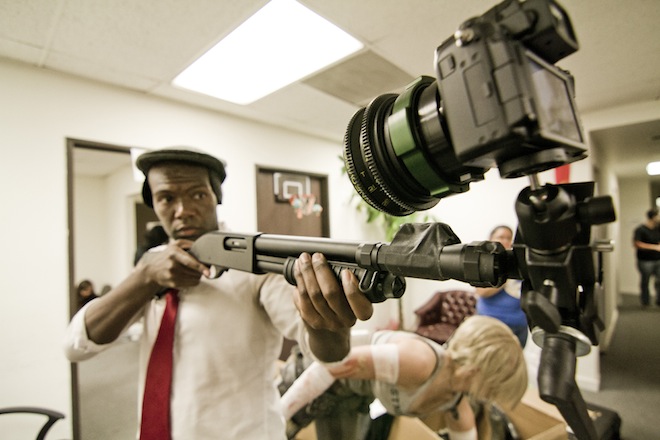 Above: GH2 shotgun rig(!!) from the Film Matters blog, with Hot Rod PL adapter.
On the GH2, Nick Driftwood's Quantum B V9 patch settings were installed via Vitaliy Kiselev's PTools hack. This gives you 150Mbit AVCHD in I-frame mode (similar to AVC Intra but only 8bit 4-2-0). The lens was a Fujinon 18-85, mainly at F2.8. ISO was set at 320 for every shot and white balance at 3800k. The  camera operated in Cinema 24p mode, ND6 and ND3 filters was used to achieve the optimal 1/50 shutter speed.
The FS100 lighting set up was by Mick Jones and Den Lennie. For some reason they had the ISO at 1600 on the camera rather than the base 0 gain of ISO 500. Seems a bit high! Possibly a mistake in the documentation? The shutter was at 180 degrees on this camera and again the same Fujinon lens was used.
The colourist for all cameras was Jimmy Cadenas and you can see some of his work here.
There's no mention of what picture profiles were used on the cameras, and this is quite important since it is rather baked in when you don't have a raw codec. You can see my preferred picture profiles for the GH2 here. (UPDATE: The FS100 was running G-Log thanks Toby)
I'm really looking forward to seeing the shootout later today.
Read the full technical document at Zacuto (PDF format)