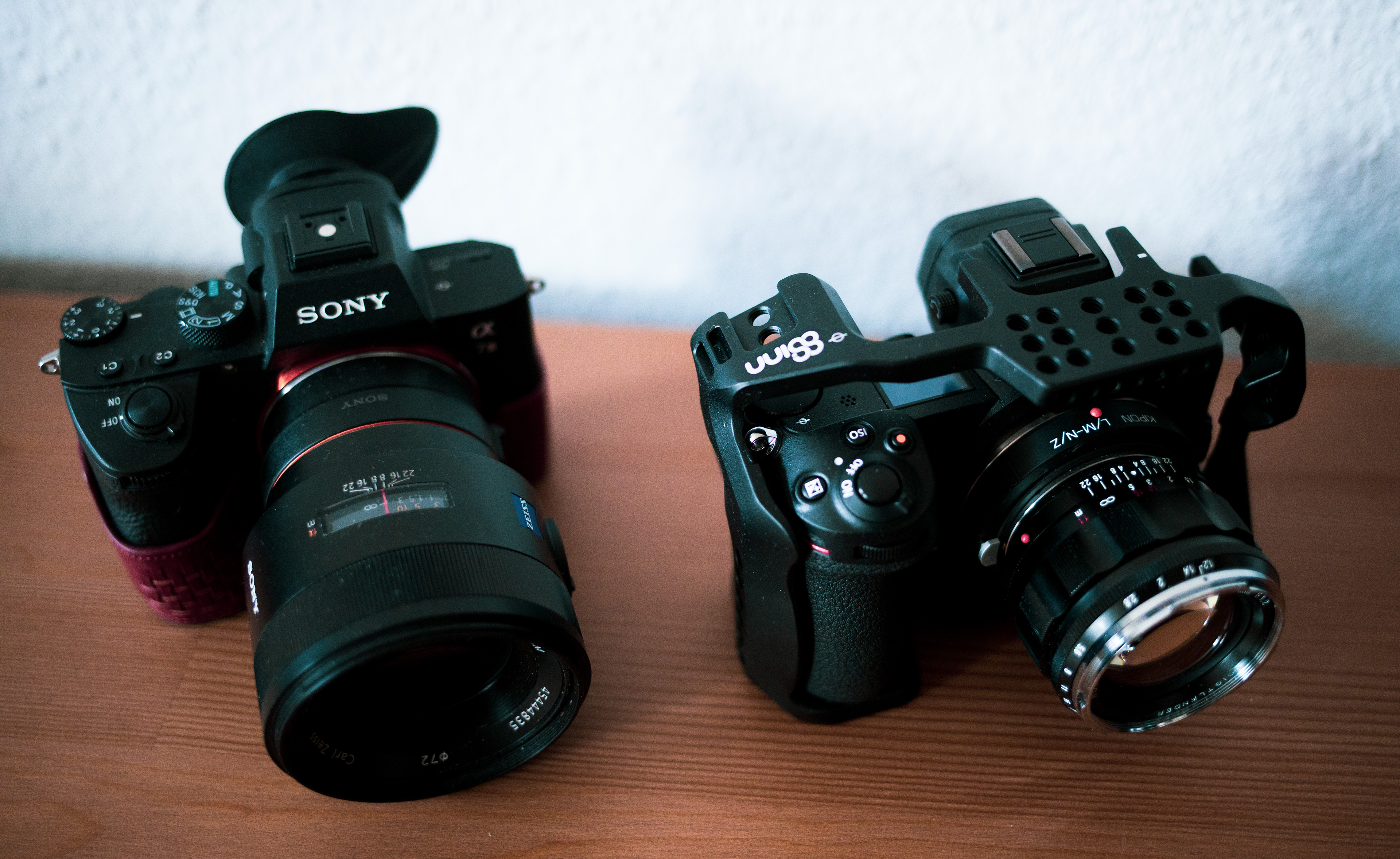 This is sad news and maybe premature, but in my opinion all the new full frame systems all have strategic flaws.
The BCN numbers are out in Japan which show a limp launch for all the new full frame systems, followed by a tanking of sales soon afterwards until they're a fraction of the Sony A7 III. The bottom line quite literally is that Canon and Nikon are failing to take business away from Sony in the full frame mirrorless market (at least if Japan is anything to go by).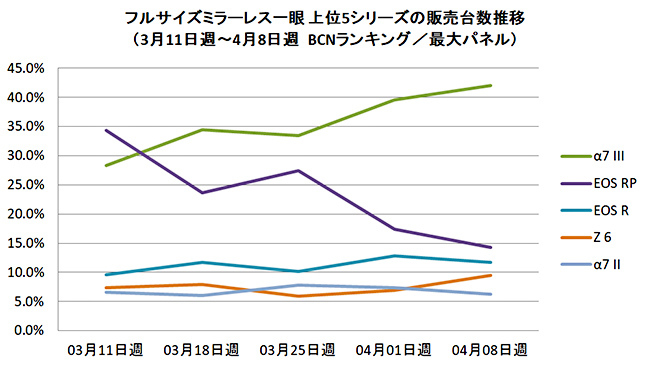 "The average unit price of the α7 III, which ranked first in sales volume, is ¥ 217,128. Even though it was higher than EOS RP by 30,000 yen, it returned to the top on the 18th of March and raised [a] gear further from 1st of April [gaining] 42.0% share on the 8th of April."
Although this data is just one market and doesn't include sales of the just-launched Panasonic S1/S1R, I think Sony's rivals Canon, Nikon and Panasonic will need to address some urgent strategic issues as I see it:
Mistake One. Video at Canon
I don't feel I need to repeat myself on this, but obviously a lack of competitive video hurts the Canon EOS R and RP versus Sony. I dare say it harms C200/C300 users as well because Sony have a broader range of high performing 4K bodies for any given shoot. It's a constant negativity in every headline at almost every website. SORT. IT. OUT.
Mistake Two. Stupidly expensive lenses
When I first heard Nikon wanted $999 for a 35mm F1.8, I had a good laugh. When you pick the Z lenses up they don't feel $999 I can tell you that much. The optics are superb but they feel like $200 lenses. Is the Z series a consumer or pro system? Who knows? Meanwhile, Canon brought out a range of pro lenses but forgot to bring out a pro body. Oops. $2500 lenses squandered on a mid-range consumer camera anyone? Panasonic's lenses are also far too expensive – why is there only a $2500 50mm and not a $350 50mm? These will be unlikely to sell as well as the Sigma L mount range. Sony meanwhile has a range of more affordable E-mount lenses including the FE 28mm F2 and equally accessible 50mm and 85mm fast primes. There's also the very good value Tamron 28-70mm F2.8.
Mistake Three. Why upgrade? Not unique enough
Enthusiast cameras. I have more of them than socks. Thanks to the push towards higher profit margins the market is saturated with new kit. It doesn't help that Nikon couldn't decide whether the Z series was a consumer, enthusiast or pro system – so D850 users weren't tempted and neither with D5 users. Panasonic has gone more obviously for enthusiasts and pros, who can't have autofocus derived from consumer cameras letting them down on paid work. Contrast detect AF anyone? Canon went for consumer with the camera and pros with the lenses. Above all though, it just doesn't feel like any of the new cameras have a particularly joined up strategy. Excellent though they are in isolation (well, not the EOS R), each falls short in offering something different to Sony or as all-round capable. The Nikons are practically a Sony clone. The Canon is basically a 5D Mark IV without a mirror. Only the Panasonic S1 tries to be a bit different, but at the end of the day the core specs and features are not so dramatically different to the cheaper Sony A7 III.
Mistake Four. After-thought lens adapters
For once we can excuse Canon. Their's actually works. Also, nice try with the variable ND filter although it's not exactly a professional piece of kit and sucks in dust like a Dyson. If it's not in the mood, the Nikon F-mount adapter will give you squirrelly autofocus with Nikon's own lenses. It almost feels unfinished. Inelegantly designed with a non-removable tripod mount and no special features like a variable ND, to be charging extra for it in the kit as well smacks of myopic greed. The Panasonic L mount adapter situation is the most worrying though. No AF-C, hunting with contrast detect AF and confusion all-round on Leica SL compatibility. Pulsing and hunting in video mode isn't something you get with Sony's AF and Canon lenses. These adapters REALLY matter. Nobody buys into a new system and immediately sells ALL their DSLR lenses on eBay. Nobody buys a new camera plus 8 new native lenses at the tune of $20,000 when they can pick up a Metabones or Sigma adapter for $300.
Mistake Five. Important features left to firmware updates, so not advertised at point of sale
The most video orientated of all the new full frame cameras doesn't even ship with LOG and I am still waiting for the price of the update. What WERE Panasonic thinking with this? It makes absolutely no sense versus Sony or Fuji bodies with LOG out of the box (even their sub-$999 cameras). Meanwhile Nikon has a Z6 that does 4K RAW and XQD cards fast enough to record 4K RAW. Instead, we're waiting almost a year for some kind of RAW substitute recording over shitty HDMI, the worse cable known to man. For Canon, see mistake number one. Sometimes, I honestly despair at the logic.
Mistake Six. Sony sensors
The Z6 and S1 largely follow the cutting edge of sensor design and this in itself isn't a problem. The fact Sony is dictating similar image quality across 3 different brands is. Sony are setting the benchmark and will provide you with that benchmark spec for the cheapest price with the cheapest lenses with the A7 series. So if the Z6 and S1 feel like an A7 III without the range of lenses and reliable AF, that's why. Sony appear to be controlling the entire full frame sensor market and so there's not a compelling image quality reason to go for a competitor if it uses the same chip and Canon no longer seem to be competing on the same technological playing field, possibly even era, as Sony are when it comes to sensors. Why has nobody tapped Samsung for a full frame sensor to beat Sony? I do prefer the colour science on the Canon, Nikon and Panasonic cameras but again here you can fix your A7 III and get it looking fine and dandy with the right LUT and straight out of the camera with EOSHD Pro Color V4.
Summing up
I know there are far more positives to the Z6 and S1 especially than I have let on here and you know I like these cameras. They'll be getting a good review on this blog and plenty of interesting things are in the pipeline around Panasonic and Nikon. Canon not so much.
It's the general market that has me worried. I just think that if we look at the sales, Canon is in danger of losing their number 1 spot unless they up their game in mirrorless. They need to start producing much more interesting bodies which actually feel like they are 2019 technology rather than 2012. They also need to appeal as much to the video crowd as to traditional Canon loyalists. Nikon is in danger of losing the number 2 spot to Sony and in quite a lot of markets they already have. Meanwhile, Panasonic badly needs to fix their autofocus and get a lens adapter working to a high standard for Canon EF lens users so that the vast majority of customers feel able to migrate gradually to the system.
Then, we seriously need to get ProRes and RAW down on XQD cards. No more fiddling around with an external recorder or HDMI cable. Blackmagic are out there offering ProRes and RAW, and have been for a long time. Why shoot H.264 when you can shoot BRAW? WHY are we still waiting for the most common editing codec on a Panasonic, Nikon or Canon body? Why no ProRes? There's no excuses in 2019.
Obviously there is a long way to go in this game.
But if the upcoming Sony A7S III will be as good as I think it will be, a lot of otherwise superb camera bodies are going to be obsolete over night.