In this illuminating interview with Canon's Masaya Maeda by Neil Matsumoto, stuff happens.
Let me start by saying Masaya San should be given wine more often. He is cracking a few jokes in this interview and it is a good read. Huge thanks to Ebrahim Saadawi on the EOSHD forum for bringing it to our attention.
His answers are informative as well as entertaining. The good news is that Canon do want to improve video on their consumer / prosumer DSLRs and not just box it off as a professional feature for Cinema EOS users. From the interview:
Q: Why has Canon been slow in transitioning to 4K for your DSLRs?

Maeda: Because we're slow (laughing). There are power consumption challenges, as well as heat issues, that we need to solve, so we're investigating what we can do right now. The DSLR camera will have to be compact in size because, if it becomes larger, it turns into a C300.

Maeda jokes that Canon is 'just slow'… but the more serious point underneath is that when they do get to where they're going it is pretty special…Masaya Maeda explains that any 4K DSLR (aside from the existing pro-level 1D C, which I am currently shooting with sleeping with) has to be compact, otherwise it turns into a C300 so what is the point? That already exists. Meanwhile the 1D C has a big heat sink inside to do 4K and they cannot really do that on a 70D or 5D size body. I think the heat dissipation issues must be solved by a cooler running sensor. I don't think the heat challenge is so much with the image processors – we have internal 4K in the tiny Sony RX100 IV compact for example, an astonishing feat. I think what Canon want to avoid though, is having a hot sensor that increases noise and drains the battery. A noisy 5D Mark IV which upsets photographers with dead batteries is not what the company needs right now.
In this manner I can understand why Canon can be so cautious at times and maybe solving these heat issues isn't actually as simple as we think for Canon. It may even involve the commissioning of a new sensor factory. Canon may need to improve the machines that build the machines, so to speak. They are in the chip lithography business and actually design for themselves the machines which manufacture their own DSLR CMOS sensors. Not only would Canon have to build a brand new sensor, they might have to upgrade the entire production line and consider the impact on the lithography B2B side of the company.
On the image processing front, while Samsung design their own processors and even dedicated H.265 encoders as they're essentially a computer firm, Canon are not – they are an imaging company and so it might be slower for them. The question is do Canon get involved in an arms race (specs war) with an electronics company or focus on their core values – imaging, colour science, photography?
C500 will go to "next level"
Quoting from the interview – "When you say 'next level', could we be seeing a more traditional digital motion-picture camera, like the ARRI ALEXA or the Sony F65?"
Maeda replied: "Yes, we're looking into this"
For me this is hugely interesting, a big repositioning of the Cinema EOS top-end from something born of the pro videography world to a bonafide Hollywood camera. I think Canon need this if they are to capitalise on the C300's success and have as many Oscar winning films shot on their cameras as are currently shot with Arri, Sony or Red gear.
The C500 was always going to be a C300 with 4K output at the end of the day… they winged it a bit. It is completely redundant now the C300 Mk 2 is here so Canon have the chance to do something different with the C500 successor for sure!
There's no mention of a Canon Cinema EOS 1D C successor in the interview unfortunately.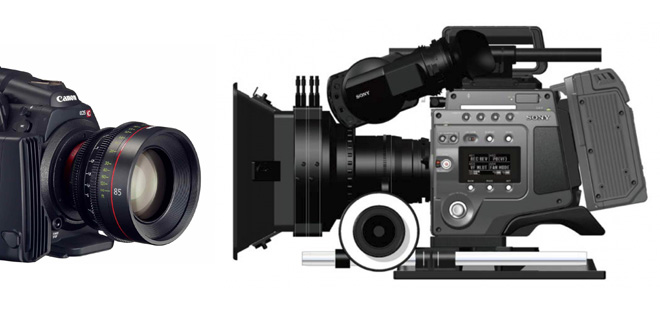 No desire to "imitate" high end 4K mirrorless cameras
The other thing I'd like to remark on is the part of the interview where Maeda is asked:
"We've seen the success of the Sony a7S and Samsung NX1 mirrorless cameras. Do you think there's a market for a Canon mirrorless 4K camera that doesn't fit in the Cinema EOS line?"
Maeda replies – "I think that's a promising product, but we don't like to imitate others, so I think it would be a slightly different product if we release something like that."
So essentially the promising product here is low light sensitivity (A7S) and mirrorless state of the art (both) along with 4K recording.
I think Canon would be mad not to release something like this, imitation or not.
A full frame mirrorless camera is something nearly every enthusiast would like from Canon at this point. I really think they need to get a move on here, as much for the photographers as for us filmmakers!
UPDATE – Source of the interview was HDVP (HD Video Pro), July 1st 2015