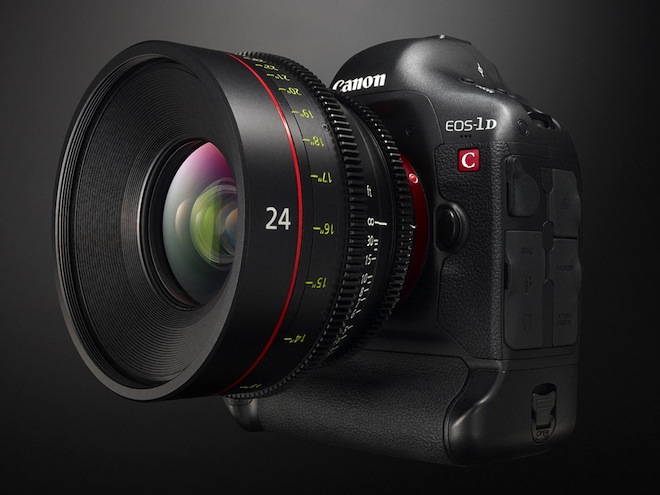 Canon have announced the $10,000 $15,000 Cinema 1D. As previously leaked on EOSHD, this DSLR has 4K recording ability, S35mm crop mode, 1080/60p, log profile and uncompressed HDMI output.
I think the Cinema 1D is both hugely controversial and a very attractive proposition for filmmakers.
The Good
Featuring a similar sensor to the 1D X it maintains a 18MP stills mode, as well as doing 500Mbit 4K video at 4096×2160 to 4:2:2 MJPEG, at 15 seconds per GB – this is the DSLR Jim Jannard wanted.
It is important to bear in mind that the 4K output does not use the whole full frame sensor. Instead it crops to APS-H – slightly wider than Super 35mm but a 1.28x crop over full frame.
The bonus however is that it does 1080/60p on the full frame sensor, so you can still get that dreamy full frame look and reasonable slow-mo, if you sacrifice 4K resolution. A compromise.
Build quality – as with the 1D X is world-class. This is a camera that can be rented out and used by pros and thrown around a live event. Low light performance appears on paper (and logically) to be similar to the very good 1D X with a maximum ISO of 25,600. The main technological change to the camera is with the firmware and cooling of the sensor and image processor to handle sustained 4K output. The rest of the camera is based entirely on the $6000 1D X.
Workflow wise Canon have made some steps on the software side to support their new 4K beast. From the press release:
The EOS-1D C ships with an exclusive software package, including a suite that allows 4K/Motion JPEG and Full HD/60p video shot on the camera to be output on an external monitor with no loss of image quality. It also enables video shot with Canon Log Gamma to be output on a monitor with standard video gamma applied.
I love the DSLR form factor and the fact it is also a world-class stills camera as well as a Hollywood production tool.
The Bad
This is a video camera first and stills second but it shares rather too much with the 1D X.
The lack of HD-SDI port is a major oversight because HDMI is an awful connector and pros hate it.
The screen is not articulated, and it is 3:2 not 16:9 like a video camera. It records to CF cards and there's no built in ND filter. To carry on this theme of genial and utterly baffling at the same time, it potentially might beat Canon's own C300 for image quality, with 4K and a larger sensor. The C500 which was announced today is currently in prototype form. This camera is also the reason for the poor video mode of the 5D Mark III.
Something I'd have liked to have seen is negative gain or ISO 25 – anything to act as an electronic ND filter basically. What I don't understand is that the cheap Canon G1 X compact has a large sensor yet a built in ND filter, but not this for $15k?
The Ugly
No full frame 4K and no 4K 25p for PAL shooters – for $15,000.
Full frame 4K would have been this camera's unique selling point, instead it is hard to see how it is preferable to the much cheaper Sony FS700 with future 4K recorder and 240fps 1080p. APS-H is a bit of a funny middle ground which is kind of nowhere. A bit wider than Super 35mm but why not have the option to use the whole sensor?
The price too is going to be very upsetting to indie filmmakers used to the DSLR revolution, without any alternative DSLR from Canon that even does decent 1080p. I personally feel very bitter that a fledgling 5D Mark II DSLR video revolution was snuffed out with a sub-par video mode on the 5D Mark III in order to make way for a camera I can't even afford to buy. We don't want a 4K Hollywood camera we just want decent 1080p at a reasonable price on a full frame stills camera! Or even a C100 to compete with the Sony FS100 sub $6000.
There's a very select niche who will be able to afford to buy and use this 4K beast of a DSLR.
For the rest of us there's the Sony FS100, Nikon D800 and Panasonic GH2 but not really a compelling option from Canon any more.
In taking on the high end – and I have to say doing it damned well with the Cinema EOS range so far – Canon have neglected the mass market and they urgently need to turn this around with some exciting video cameras under $6000.