[youtube]http://www.youtube.com/watch?v=iJMZKWFJrvg[/youtube]
[pullquote]Price $15,999 and available to pre-order at B&H now[/pullquote]
The Canon C300 Mark II specs are now out and you can see my opinion of the new camera below. As well as the C300 Mark II, Canon also announced the XC10 today, a 4K bridge camera with 12MP 1″ sensor.
One is a winner and one isn't!

Highlights
DCI 4K and Ultra HD internal recording
New Canon codec XF-AVC
4K at 10bit 422 (410Mbit/s) – 40 mins to a 128GB card
2K at 12bit 444 (225Mbit/s)
4K codec is intra-frame only (long GOP compression only in 2K/1080p)
ISO 100-102,400, base ISO 800
4K to CFast 2.0 cards (also 1080p / 2K to SD cards)
Dual DIGIC DV 5
Mount is now swappable back at base (EF and PL options, not user-swappable)
Canon Log 2, with built in Looks feature to match other cameras on a multi-cam shoot
New 8 and 10 stop ND expansion mode
Built in mic for basic audio sync track and voice memos
Quieter buttons during operation, illumination in the dark
Quieter fan whilst rolling
Improved EVF and monitor (Also magnification box can be moved around the monitor / EVF)
Perimeter display mode (removes camera-info from frame in monitor / EVF)
2K and 4K raw via external recording (3G SDI)
Cheese plate built into top handle
Original MPEG 2 XF codec from C300 is now gone (XF-AVC is H.264 based and requires beefier hardware to edit)
Dual Pixel AF out of the box
Opinion
The Canon C300 Mark II looks to be very well considered and superbly thought out. I think it will continue the dominance of the C300 as "pro-video industry workhorse" and solid rental option; one that occasionally gets some major motion picture work alongside the Arri Alexa.
However for me it stops short of being truly groundbreaking.
Sadly there was no mention of a C500 or 1D C update in the pre-NAB announcement today.
The C300 Mark II has a newly developed Super 35mm sensor and Canon claims 15 stops for the C300 Mark II but this figure is not based on the sensor but some internal trickery.
The 15 stops is done by taking the raw sensor data and running it through dual image processors at two different ISOs (high and low) before making a composite image from the dual raw stream.
So Canon's claims for the C300 Mark II at 15 stops needs further scrutiny, like Sony's claims for 15 stop dynamic range on the Sony A7S which didn't stack up in the real-world. I expect actual usable dynamic range will be similar to the Sony FS7. Still very good and comparable to film but I think the sensor itself really has a different dynamic range to the one Canon is quoting. It might be that the raw sensor output goes straight to the SDI port for the 4K raw output then we will see what it is really capable of without the Dual DIGIC trick.
On pricing and high frame rates the C300 Mark II is weak compared to the Sony FS7, costing double and maxing out at 30fps in 4K or 120fps in 1080p. That 120fps by the way is only from a small crop region of the Super 35mm sensor. On the FS7 4K is 60p internally and 1080p goes to 180fps while maintaining the Super 35mm field of view of your lens.
The C300 Mark II costs similar to the C300 at launch 3 years ago at $15,999. However the market is changing, with the Sony FS7 at $7999.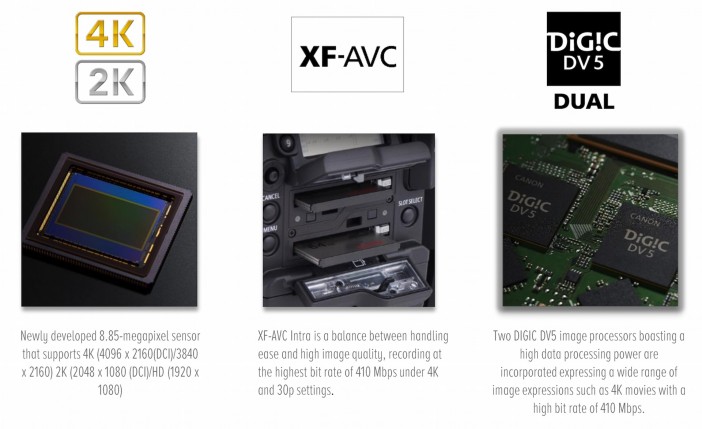 On the rolling shutter front, Canon claim a 2x faster readout – but just remember it is reading out 2x more lines in 4K (2160 vs 1080) so the net result will likely be a full scan of the sensor at a similar speed to the original C300.
Despite the price I think pros will be as happy as enthusiasts will be disappointed with Canon's 4K offerings at NAB. It's a workhorse. Arguably it doesn't need to cost 50 cents and do 1000fps.
Pros will appreciate the ability to clear all the mess of information from your picture in the EVF and put it outside the frame, a stronger ND filter and of course the native Canon EF lens mount with no adapters. Why will enthusiasts and aspiring filmmakers be disappointed? Well the answer is the XC10. Throughout the 5 years I've been operating EOSHD, Canon have reserved all their nice image quality for pros and to address this in 2015 apparently Canon thought that what we needed was a small chip camcorder with a 10x zoom. On the positive side it does appear Canon are using a lower megapixel 1″ sensor than Sony's 20MP chip, at 12MP to improve low light performance. However the Sony RX10 which retails for under $1k has a F2.8 constant Zeiss zoom and the XC10 does not have a constant aperture, slowing to F5.6 at the long end. Clearly Canon are saving that for the Mark II! On the plus side the XC10 is light enough for lower-end drones and features Canon LOG. The XC10 is available for pre-order at $2500 and is shipping June 2015.
Conclusion
Japanese manufacturers are brilliant when it comes to incremental improvement and well thought out evolution. When it comes to needing a brave move like Canon need in the enthusiast video market they seem hopelessly lost. The XC10 is just not what we want.
The C300 Mark II will ship in September 2015.
Argue on the forum