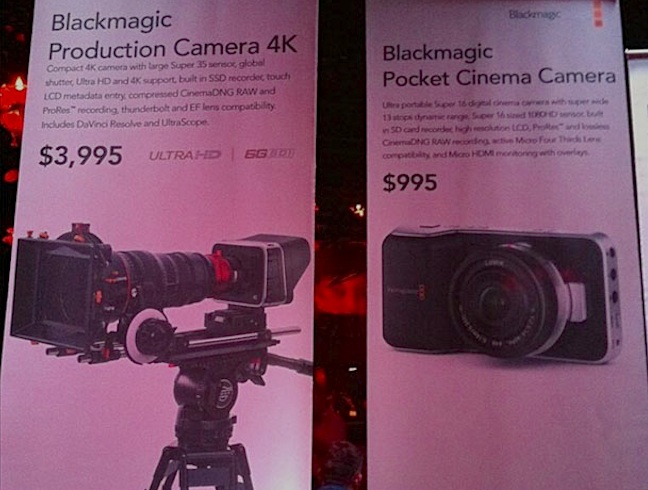 MOUNT UPDATE: E-mount makes the most sense for this camera. Earlier today CVP had pre-orders up for a Micro Four Thirds version. That has now been taken down and CVP have confirmed to me there's only the EF mount camera available to pre-order here.
This is just…. insane. Blackmagic are set to announce the Blackmagic Production Camera with 4K Super 35mm global shutter sensor and a Pocket Cinema Camera with Super 16mm sensor, raw and active Micro Four Thirds mount.
Apart from the form factor remaining the same, Blackmagic have done everything we could ever have hoped (dreamed?) for with the V2.0 camera. I have to say the pricing is completely bonkers. Just $1000 more for 4K AND a larger sensor AND a global shutter AND compressed Cinema DNG!
The camera offers a Sony F55 competitive spec for $4000 / £3200.
That speaks for it itself but there are still some aspects of the design I'd preferred to have seen change. The much criticised form factor of the previous camera seemingly remains identical. Tall and narrow, with a screen that cannot be articulated and still seemingly no built in ND filter. However let's not let that overshadow the utterly mind-blowing headline spec.
Something else which is very welcome – a necessity even for 4K raw – is that the Production Camera offers compressed raw.
"Lossy DNG allows something in-between Raw and JPEG in terms of size but retains the flexibility in terms of adjusting White Balance and preserving detail"
Those words were from the unveiling of Lossy DNG which Adobe introduced last October for photographers. This has a compression ratio of 3:1. Maybe we will see a motion picture version of this in the BMPC.
The pocket camera is also revolutionary. A Panasonic GF style body, lensing for this is going to be very interesting. Super 16mm sensor so your c-mount stuff will work on it. Active Micro Four Thirds mount and will likely work with the Metabones Speed Booster for Canon EFS and EF lenses making the effective sensor size closer to traditional 2x crop Micro Four Thirds. Importantly it will also take all your active Panasonic and Olympus M43 glass. Blackmagic are now part of the official M43 group.
I love the design and of this pocket camera, and the price is an also astounding $999. How are they doing this??
If Blackmagic ever manage to mass produce these cameras, which the prices would suggest is the plan, Sony, Canon, Red, Panasonic and even Arri are likely going to be in some serious trouble.
The image is from Danielo Garcia, Twitter which was a leak. Blackmagic have yet to officially announce the camera so be sure to check back soon for the full details.