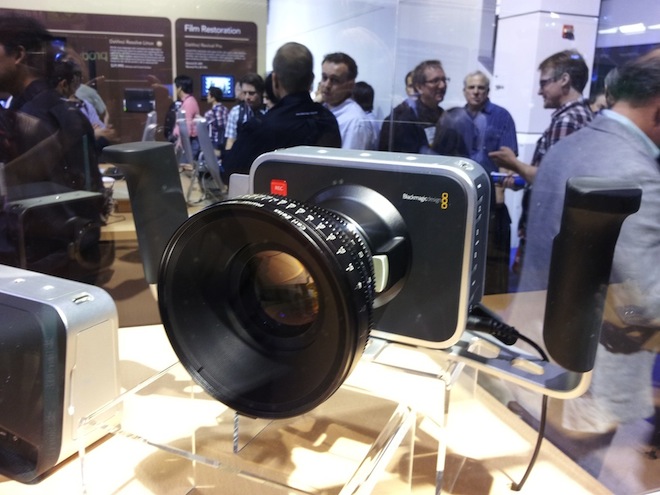 Photo by Illya Friedman – Hot Rod Cameras
Pre-order the £1925 / $3000 Blackmagic Cinema Camera here
Click 'How to Buy' and follow link to your preferred dealer
See Blackmagic's summary of their new Cinema Camera at DPReview
From the archives: Read EOSHD's explanation of Disruptive Technology
The Blackmagic Cinema Camera is to the digital cinema market what the iPhone was to Nokia and Motorola.
Here I explain why it is so significant for everyone with an interest in moving images – filmmaker or consumer.
History shows that whenever a corporation stops being truly creative and designs their products by committee and for maximum margin – they fail.
The paralysis of a committee. I see it in Panasonic and Canon. Then the vested interests inherent in reinforcing existing products and market share. I've seen it before and I see it again here.
It all conspires to create a massive opportunity for light-footed rivals.
Apple's success validates the approach of high volume, lower margins = more competitive and interesting products.
The iPhone is the product of a single American visionary and a single British designer – two people rather than a huge committee of equals.
Disruptive technology (as reported on EOSHD) is the term for this. The Ford model T. The Apple Mac. The iPhone. It is a battle royale, a case of Apple vs IBM, Apple vs Nokia and now Blackmagic vs Panasonic, Canon, Red and Sony.
This camera is very different to a DSLR – it doesn't suffer from an internal conflict of interests, market segmentation strategies or a primary focus on photographers.
Until now a viable raw codec cinema camera had not been anywhere near under the $15,000 mark. (The Scarlet isn't ready to be used at $10,000 for the brain only). Is it any wonder these products are seen as niches when they are priced for a niche?
The Blackmagic lowers the bar not to $9,000 but to $3,000 including $1640 worth of bundled software, a truly mass market price. This is a product which would have happily sold in tiny quantities to an elite band of industry pros at $15,000 even without Da Vinci Resolve in the box.
For those who need a professional post production suite (and you do with raw) – the camera part is actually $1340. The bundled software is the magic bullet that only a post-production company like Blackmagic could bring to the market. Panasonic, Sony and Canon just don't have the software design expertise to compete with this, although Sony did acquire Vegas as their bunlded NLE software – a smart move but one I feel they haven't really capitalised on because most people are still using Premiere and Final Cut Pro!
For filmmakers looking for the Alexa look of smooth highlight roll off, 13 stops of dynamic range, a ProRes / 12bit raw workflow is the answer. See how far you can push a raw still from the 5D Mark III compared to the ALL-I video codec, and how much extra detail in the highs and lows it contains, the fine grain of noise. See how it doesn't fall apart as you push the exposure / ISO gain up or down or when you change the white balance in post. No pro photographer with a high end $3000 DSLR prefer to deliver a shoot to a client purely from in-camera JPEGs or accept a lack of raw shooting capability and it is the same with us so why isn't our camera also $3000?
Now it is.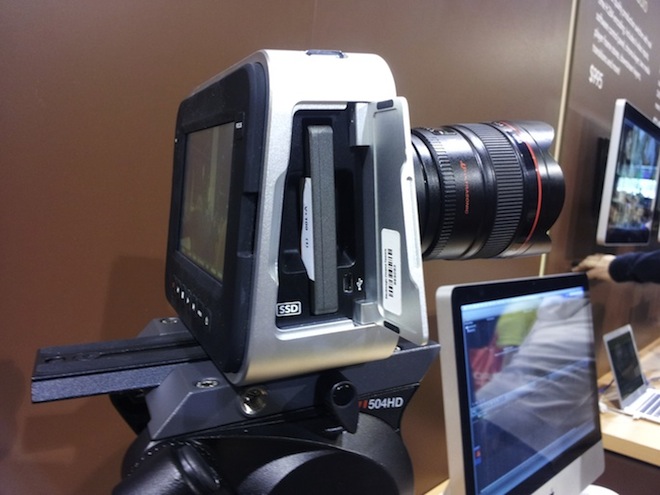 Above: Blackmagic Cinema Camera shot by Illya Friedman at NAB. Alien technology or just brilliantly competitive in the real world?
Panasonic and Canon steadfastly fail to see the INSANELY LARGE pent up demand for a pro video camera priced at pro photography levels. Instead they see the high end as more of a priority because they can sell a $320 SSD for $3200 like Red, to industry. P2 media, proprietary (not open) codecs with hefty licensing fees, it all adds up to far higher margins than would otherwise be possible if they played it fair, by real world market rates for components.
This game is about to come to a juddering halt.
Who in their right mind would be tempted to pay $15,000 for 8Bit MPEG when they can get 12 bit raw and ProRes in-camera for $3000 plus Da Vinci? Who wants to hand Red $3200 for a 256GB SSD when they can order a Kingston 480GB drive on Amazon which has the newer Sandforce I/O controller and faster synchronous NAND flash memory for $500?
And who do these guys think they are kidding? Just because the camera gear is a fraction of the cost of most big budget films catering budget doesn't mean to say it is competitively priced at $15,000+ for the consumer electronics market which is arguably far larger and more profitable than the entire broadcast industry put together.
The appeal of the Blackmagic Cinema Camera goes far beyond that of the digital filmmaking niche. It is in high end consumer DSLR territory and will do for video what the first affordable DSLR did for photography.
What I suggest Panasonic, Canon and Sony do is have a look at their combined profit from the consumer camera market, add it all up and then think very seriously about factoring in some of the consumer camcorder sales to that figure.
This will give them an idea of how large a market Grant Petty's Blackmagic Design from Melbourme, Australia are catering for and what they are missing.
As Steve Jobs would say to Xerox and IBM in the 80's…
"Bozos"