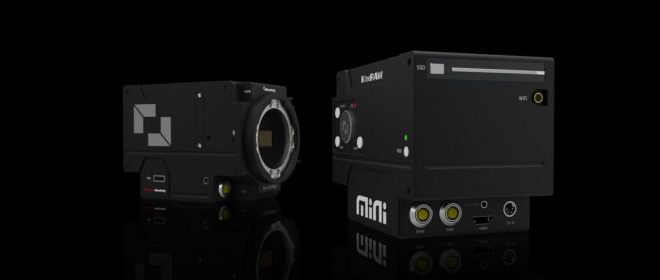 In a sea of insipid and faceless cameras for the corporate workplace, here is something different. Like the Blackmagic Cinema Camera it is designed for filmmakers who want image quality as close to Super 35mm film as possible but can't afford $15,000+
This is rumoured to be around the $4000 mark and has a Super 35mm sensor, Cinema DNG raw recording and a very compact body with no fan.
So what are the main differences to the BMCC?
Here we have a larger sensor, the same as featured in the full sized KineRaw S35mm camera. Low light is better, this sensor goes to ISO 10,240 which implies far less noise at the native ISO of 800. Dynamic range on paper is 11.5 stops, not quite as much as the 13 quoted by Blackmagic but what matters is how much of it is usable. I'll await the comparisons. The codec is CinemaDNG only, unfortunately no compressed raw codec (CineForm) of the bigger KineRaw and no ProRes of DNxHD of the Blackmagic. If you need those formats you'll have to transcode from CinemaDNG in post or buy the optional CineRaw encoder which Kinefinity have in the works for later in 2013. The camera has a data link port. Resolution is lower at 2048×1080 compared to 2400×1350 on the Blackmagic Cinema Camera too.
Monitoring is via HDMI (no HD-SDI like on the Blackmagic) which is something of an unnecessary crippling but still, $4k for a Super 35mm camera that shoots 12bit raw 2K is pretty exciting stuff.
It is amazing isn't it? Whilst Canon, Sony and everyone huge are still trying to get us to pay upwards of $25,000 for their raw shooting cameras, these small indies have exposed the true cost of making such a product. The truth is, the electronics and manufacturing are getting cheaper, even for niche products like this. How else were Red recently able to drop their prices by such a huge margin?
Dan Chung is based in Bejing and pretty close to the KineRaw guys, here's what he has to say about the Chinese dragon…
It features the same sensor as KineRAW S35 and almost the same features set but at a much lower cost with a much smaller body that should fit in the palm of your hand.
How is this done? this camera does away with the KineRAW S35's built in CineForm encoder – the new model only records Cinema DNG internally. It is fanless and has no built in LCD, meaning an externalHDMI monitor or EVF is essential for operating the camera. For these reasons it also has much lower power consumption than the original S35 camera. There will also be an accessory handgrip for a battery.
It will come in two lens mounts – either a pure EOS version with aperture control for Canon lenses, or an interchangeable mount version that will allow adapters for PL, Nikon as well as electronic Canon EOS mounts. The EOS only version will be lighter than its sister model.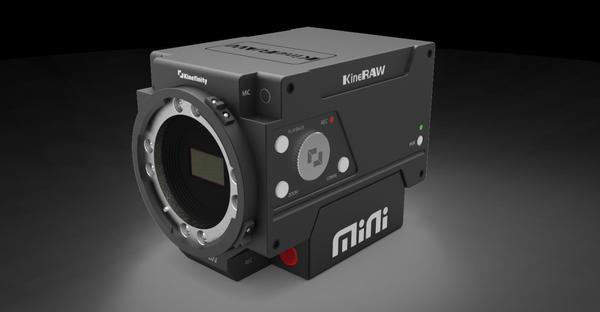 Though most people will look at the KineRaw in terms of sensor size, with those to whom shooting Super 35mm is important going for the KineRaw it would perhaps be more sensible to judge the KineRaw and Blackmagic on overall image quality. At the moment we have no idea which will win in this regard.
To me a very small camera body is important too and this is a factor in me being much more excited about the low cost Mini than I am about the bigger KineRAW.
I have some wishes (suggestions?) for Kinefinity in 2013:
That they make the KineRaw Mini in significant quantities and ship on time
That they sort the website out (it crawls, makes them look unprofessional) and put some sample CinemaDNGs online
That they market the camera as well as Blackmagic and that it sells well enough to worry Canon and Sony
That they do an E-mount version of the KineRAW Mini which is more adaptable to lenses than the EOS version
A tall order but Kinefinity deserve to have a big success on their hands here.
The camera will be at NAB 2013.