Blackmagic are holding an event right now in LA and information is being reported back by attendees from the Blackmagic reps present. EOSHD takes a look at what's new…
The Blackmagic Production Camera 4K will miss the scheduled July shipping and one rep at the event said that a 'trickle out in September would be the best case scenario'.
The image 'needs more work' to hit a target of 12 stops dynamic range and ISO 800. The beta camera is apparently locked at ISO 400. No footage is being shown at the event. The global shutter on this camera's sensor takes up more room on the CMOS than a rolling one and that has an impact on dynamic range and sensitivity as there's less room on the chip for capture. Ambitious technology though it is I'm a little surprised not to see this further along in development. In April Blackmagic told us at NAB they planned to ship in volume come just 3 months later.
John Brawley's had this to say on the 4K Production Camera at the official Blackmagic Design forum –
"I prefer the greater DR of the BMCC [original] over the increased resolution of the 4K"
[vimeo]http://vimeo.com/63604452[/vimeo]
At the moment there's contradictory information around full 1080p support on the Production Camera. Some say the HD-SDI output is 4K only, creating a compatibility issue with monitors. In-camera 1080p recording is hinted at by Blackmagic's updated camera manual which lists some 1080p standards as having playback support in-camera, but all in all this is a big question mark area at the moment.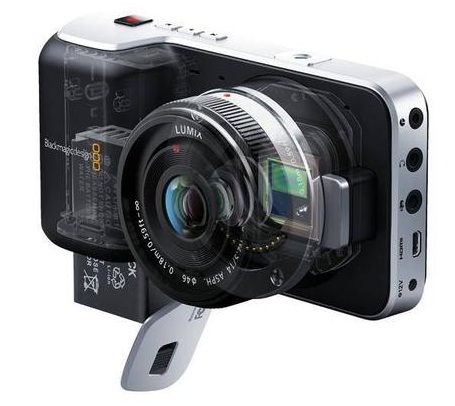 Volume production of Pocket Cinema Camera delayed
Ryan Brown in LA asked Blackmagic at the event about the Pocket Cinema Camera shipping dates and quantities. According to the Blackmagic rep and Ryan's post at BMCUser very limited quantities will begin to go out in the next 3-4 days, though it isn't clear whether these will be to ambassadors and reviewers or to customers in the pre-order queue.
Ryan adds – 'over the next 2-3 weeks production should start to ramp up and people will be getting theirs'
How many remains the key question for me. Shipping small quantities may as well be the same as a product delay for the vast majority of customers.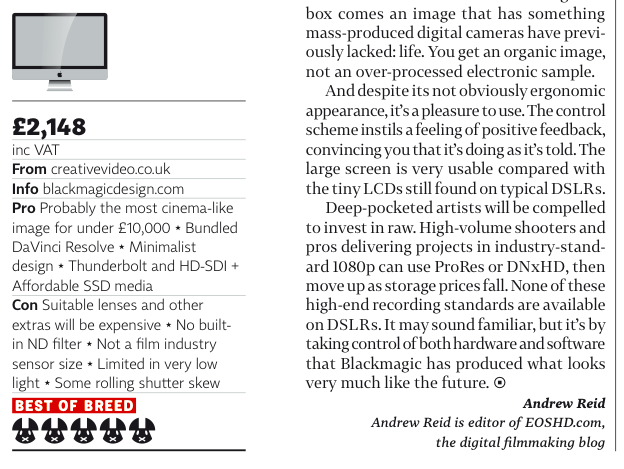 Above: my print review of the original BMCC for Mac User magazine in the UK
Summary
My first thought at NAB this year (April) was "lovely to see Blackmagic promising so much innovative tech, so soon". My second thought was "If they don't deliver on such lofty promises they are toast".
I even wrote so much in my NAB coverage – "These cameras MUST be delivered. Blackmagic's reputation cannot afford another BMCC 2012 situation. If they tell their dealers and customers July, it must ship in July and ship in large quantities."
[vimeo]http://vimeo.com/63597094[/vimeo]
Above: The excellent Dan Chung at NAB
Nobody wants to see a company like Blackmagic mess up. Nobody wants to see delays. Nobody, myself included, has a vested interest in seeing these cameras fail, not even their competitors. Blackmagic are ultra welcome to the camera market and I use Resolve on a weekly basis to grade my 5D Mark III and BMCC raw work. If I am shouting my mouth off on forums about delays, it is because I passionately want them to deliver what they promised.
For me there are clear strategic issues that need addressing. The new cameras were announced just 12 months after Blackmagic's debut in the camera market. In my opinion, Blackmagic need to change their strategy and here's how I think they should do it…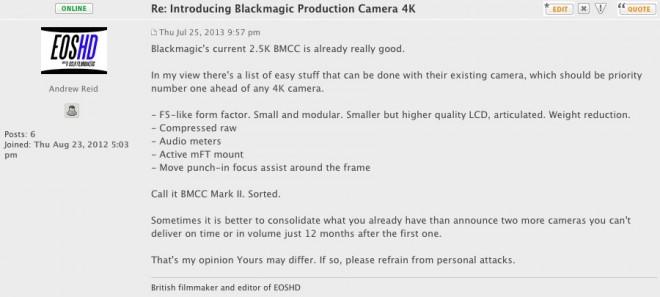 (Click the image enlarge my post at the official Blackmagic Cinematography forum)

The existing technology of the 2.5K camera is fine. I absolutely love the image from the Blackmagic Cinema Camera in 2.5K raw. If compressed raw was added and the mFT version of the camera was put in a Sony F5 or Canon C100-like form factor I'd take this any day over the Production Camera 4K or Pocket camera.
Next, I'd love to see Blackmagic improve their beta testing procedures to catch some of the issues before they become a problem. The infinity focus issue on the EF mount Cinema Camera, the wavy rolling noise and the incompatibility with quite a few Canon lenses such as the 85mm F1.2 should have been solved behind closed doors. A significant firmware update that adds basic features like histogram, audio-meters and UI changes is now 6 months later than I feel it should be as there's not been a major change or bug fix since the camera was released.
The Pocket Cinema Camera is a charming prospect but I can't help feeling Blackmagic may have opened the door to a voodoo curse by aiming at large numbers of consumers for $999.
The consumer market is notoriously demanding.
If the problems Blackmagic face today are meeting demand on the Pocket and getting acceptable image quality from the 4K sensor in the Production Camera then both situations could have been avoided by consolidating what they already had.