[youtube]http://www.youtube.com/watch?v=ffGBavFPXvw[/youtube]
[pullquote]
Bunny Suit – Weird Ballad live at Tempelton Studio, Berlin. Directed by Andrew Reid. Watch on YouTube.

[/pullquote]
Berlin based band Bunny Suit (follow here on Facebook / SoundCloud) recently went into Temeplton Studio to lay down some tracks.
We decided to shoot a live video of the recording which would then be synced up perfectly with the final mix of the tracks in post.
The Sony A7S in this shoot is graded using the lovely "Manchester" LUT from James Miller's Deluts pack. But there were 6 other cameras backing it up. Can you tell which is which!?
Spoiler alert! Watch the video first if you'd like to have a go at guessing.
Here's my blog on the actual shoot and how all the pieces fitted together…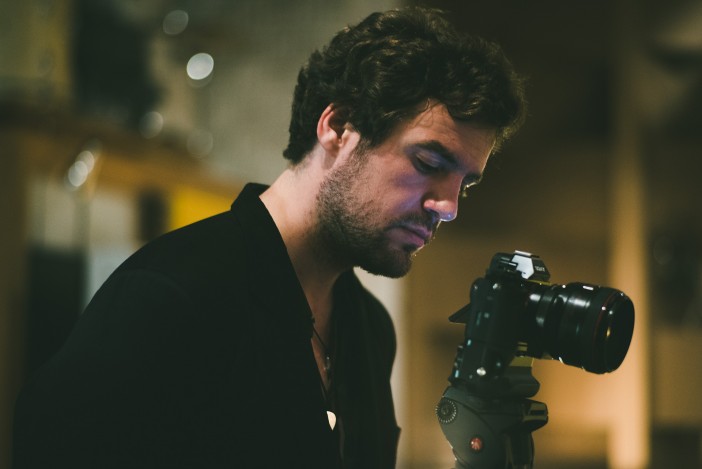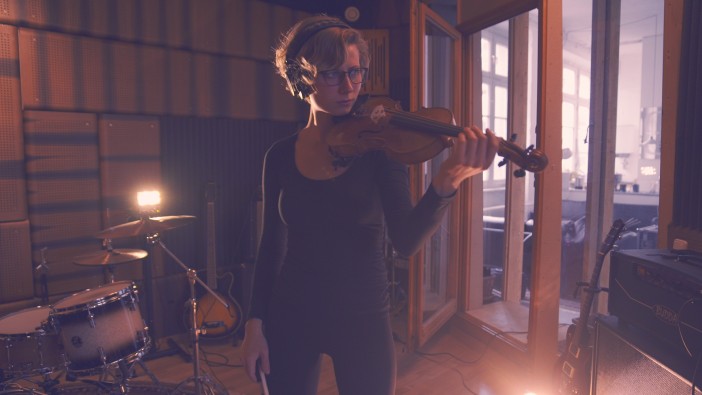 I had shot with the Sony A7S for Bunny Suit previously in a different studio. This had a sound proof room and each musician would play separately like Josefine above.
For this shoot I needed 7 cameras to cover the song live from all angles. This time all the Bunny Suit core members would be playing together at once live. This makes for a better video because you get more energy and more glimpses of the chemistry that make the act so great on stage.
7 cameras had to roll for 5 minutes at a time to cover 5 band members, 1 POV shot and a wide-angle room shot. At the other corner of the studio two engineers would help lay down the audio tracks. Afterwards, lead singer Cameron Laing did the mixing and final production, and did a rather good job at that.
The Panasonic FZ1000 being the lightest camera in the test including lens got to be turned into the "Gidi-Cam", and sent up a pole. It was rigged to a mic stand above the drummer, Gidi. However in 4K mode the camera loses the wide angle end of the built in lens, so that shot is a bit more cropped-in than I intended. It came off relatively nicely though with a little bit of sway in the mic stand only contributing to the energy in the shot. Unfortunately the FZ1000 didn't capture nearly as much information in the blacks as the A7S and had much heavier noise as can be expected from a much smaller sensor.
Here's a list of the kit…
I'd rank my experience with the cameras in this shoot from best to worst as follows…
Sony A7S
Nikon D750
Panasonic GH4
Panasonic GM1
Panasonic FZ1000
Sony FS100
Olympus E-M1
And the lenses used –
E-M1 – Dog Schidt Optiks FF58 PL + Hot Rod Micro 4/3 adapter
A7S – Canon 50mm F1.2L (and Tamron 24-70mm F2.8 VC)
D750 – Leica-R 90mm F2.0 swapped to Nikon mount
GH4 – SLR Magic 10mm T2.1
GM1 – Panasonic 25mm F1.4
Sony FS100 – Sigma 24-105mm F4 ART
FZ1000 of course has a fixed zoom lens built in.
Here's what camera shot what!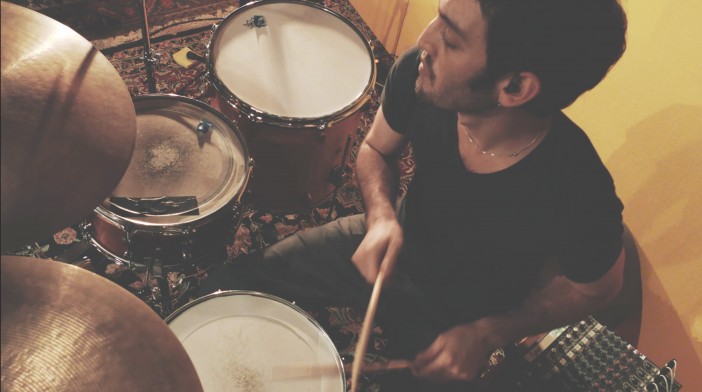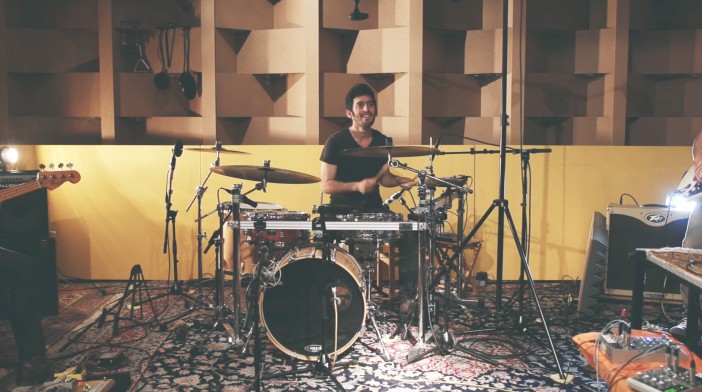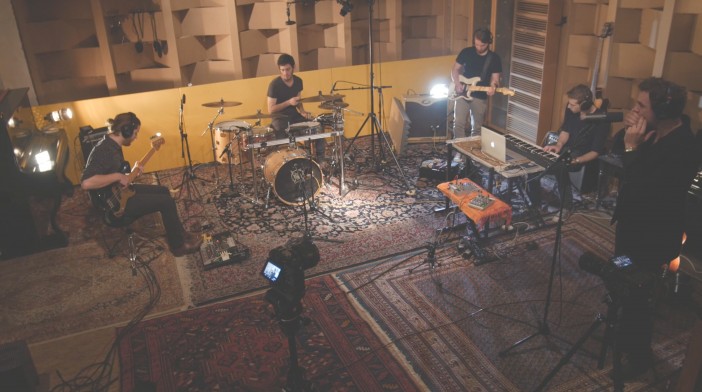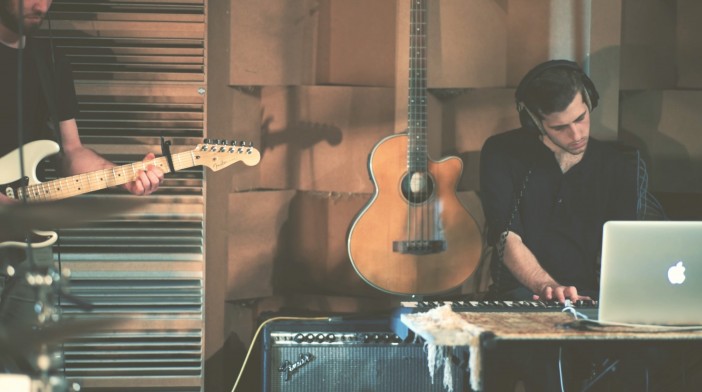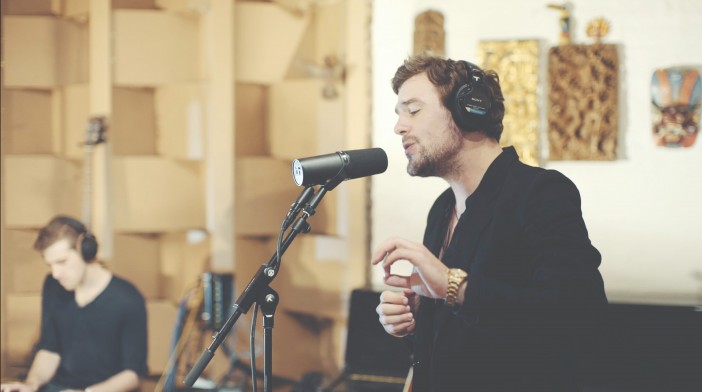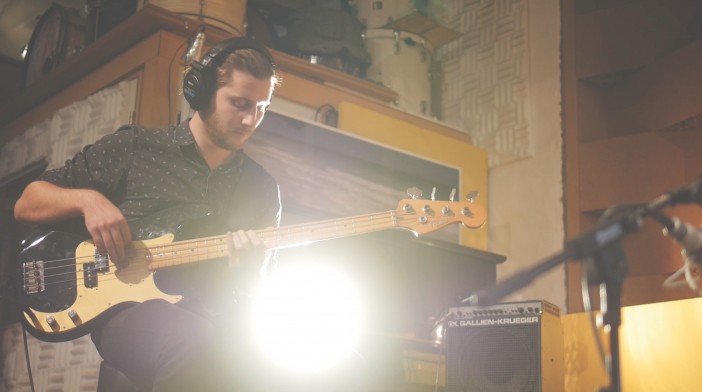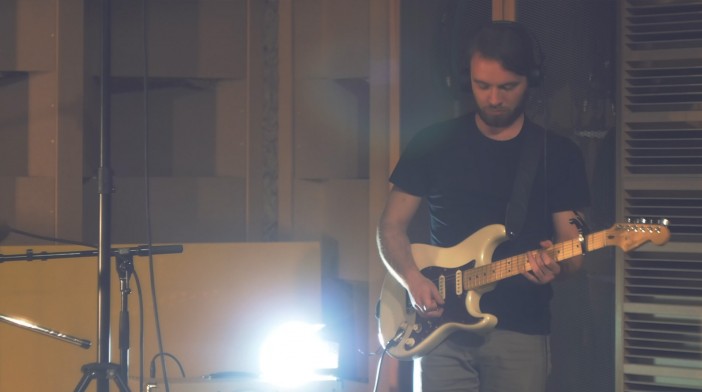 The A7S has the best image and grades the best, but only if you know what you're doing with S-LOG 2 or have the required LUTs. Otherwise the Nikon D750 is quite a straight-forward choice. It's not as sharp but it gives you lovely colour with only a very simple curve adjustment in post from the built-in Flat picture profile.
The GH4 just sits there and runs for ever, it was the only camera in this shoot there I didn't worry about the battery. Because we only had a finite amount of space in the recording studio to position the cameras, getting the wide end was tricky and the lens I'd brought with me just wasn't wide enough. This caused a short delay in shooting as I went back to fetch the SLR Magic 10mm! Now with the EF Speed Booster, the GH4 is much easier to handle with regards lenses. For the GH5 I really hope they get rid of that 2.3x crop and go back to a multi-aspect sensor with 1.8x crop, much closer to the 1.5x crop over full frame that is Super 35mm, the Hollywood standard.
The Sony FS100 and Olympus E-M1 are really showing their age now. Their images were softer than the others and more digital looking. The E-M1 especially just hasn't got the image quality of the others. Neither grade too well and so the A7S has a huge advantage on a multi-cam shoot. I wished I had 7 of them for the same LUT in post on all of them for same look and no need to spend valuable time trying to match lots of weird non-flat picture profiles to your chosen LUT for the A-cam.
Sync in post was easier on this one with 7 continuous takes. If you stop and start during a live recording and attempt to sync lots of individual clips up in post to the master audio track you're in for a very hard time so even if you move a camera and have dead-time in your footage, it pays to just keep rolling. Timecode would have helped with sync but wasn't used here because half the cameras didn't support it. That's another reason to shoot with 7x Sony A7S!
We shot 3 songs and two are going to be published with videos. This is the first video, for the second we had the E-M1 as a 'roving eye' during the performance and the stabilisation does work really well which makes the shortfall in image quality harder to bear.
This shoot was before I had my Canon 1D C. This matches very well in post to the A7S but of course does 4K internally and overall I prefer the image from it, it's even nicer than the A7S.
Finally a bunch of behind the scenes photos.
If you like the music, be sure to check out Bunny Suit on Facebook!!
And a huge thanks to Cameron Laing for editing & syncing the final video with me.