Please email SLR Magic here to order their new lenses
I've had a FS700 for a few days and tonight myself and Rudi of Slashcam.de got out and gave it a test run in Berlin. We only shot for 2 or 3 hours and after editing the test I had a lot of ideas for slow-mo shots that would have worked with the song – slow-mo is actually a great creative tool, not a gimmick. Had we the FS700 for longer then I think I could run with this theme of rushing commuters set to the David Bowie song Move On, which pokes a little fun at wanderlust.
Alas slow-mo is the FS700's best feature. I consider the ND as a bit of a clumsy bolt on, the Sony F5 does it much better. I will consider the 4K output when I see it. Until then this is a 1080p camera.
I've also been shooting with the new SLR Magic 35mm T0.95 (Leica M / E-mount) and 25mm T0.95 (Micro Four Thirds / Blackmagic Cinema Camera MFT). Shooting slow mo in low light, you need them.
Now the 25mm T0.95 is a Micro Four Thirds lens. A dream for the GH3 and upcoming Blackmagic MFT. SLR Magic's solution for Sony (and Fuji X) shooters is the 35mm T0.95. Both are very fine lenses both optically and mechanically, and good value. The 25mm T0.95 in particular is rather more affordable than the competition – namely the Voigtlander 25mm F0.95. Today I shot with the 35mm T0.95 and plan to shoot with the 25mm on my GH3 tomorrow.
The 35mm is a Leica M mount lens (with adapters to digital) for Super 35mm. It is close to covering full frame but on the NEX VG900 it doesn't quite reach the corners and isn't designed too. This is a lens designed for Super 35mm cameras, APS-C and Micro Four Thirds mirrorless models.
I'll be touching on image quality in great detail after shooting with the SLR Magic lenses for more than just a few days. I don't want to rush to any conclusions just from the excitement of seeing the first results; They are indeed exciting…
Above: my collection of SLR Magic ultra-fast HyperPrime CINE lenses (from left-to-right – 50mm T0.95, 35mm T0.95, 25mm T0.95, 12mm T0.95)
Mechanically I feel SLR Magic have stepped up their build quality to the point where this is competitive with cinema lenses costing many times more. It has focus ring and aperture gearing as part of the housing, no need to add it on with a tie clip gear like with lenses designed only for photography. The aperture maintains round bokeh from a 12 blade iris when stopped down and the ring is stepless. There's not a single piece of plastic on the lens and it has a metal lens hood built in which slides out similar to the one on the Contax Zeiss 135mm F2.8. There's no play on the mount and it feels as solid as a rock.
It gives a very shallow depth of field on the Sony FS700 especially at T0.95. Focus is critical but the focus ring is very responsive and butter smooth like on the Voigtlander 25mm F0.95. I'll have more rolling coverage of these new lenses in the coming days on EOSHD. I also have the production version of the SLR Magic 12mm T1.6 now – up till now I've been using one of the much older prototypes so I will update my review of that and shoot with it on the GH3.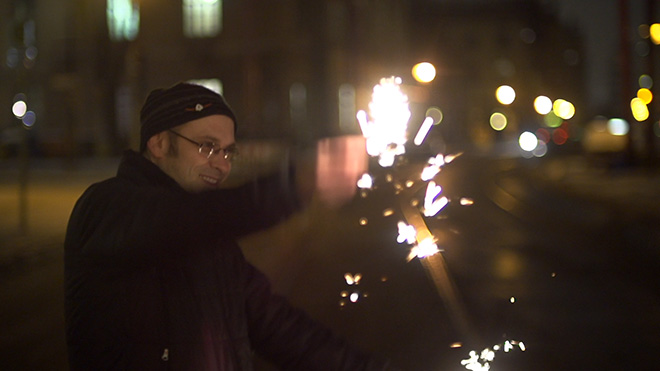 Rudi of Slashcam.de shot with SLR Magic 35mm T0.95 – and a sparkler
The Metabones Speed Booster was also incredibly useful with the FS700 on this test. I could hand-hold the camera whilst doing full frame wide angle 24mm F1.0 shots at 100fps and 200fps, with a lens I had bought half a year ago for my 5D Mark III! These lens adapters are wonderful. I have saved a lot of money not buying E-mount lenses. I can't help feeling the Metabones Speed Booster will benefit Canon's bottom line rather than Sony's. Even though it makes Sony's cameras more attractive. This is as insane as it is ironic!! The Canon 24-105mm is an absolute bargain for the FS100 / FS700 now Speed Booster is on the market. F2.8 parfocal zoom with a 24mm wide angle and 105mm telephoto on my FS700 for $800!? YES PLEASE! I've tried it and it is sharp as hell too. Holds onto those corners FAR better than a fast prime. You get the same depth of field at F4 as you do on the 5D Mark III with it, yet the exposure is F2.8.
So what is the Sony FS700 like?
I have to say I prefer the image quality on the FS100!
The FS700 seems to do a rather iffy job of downscaling the new 4K sensor to 1080p. More on that in a moment.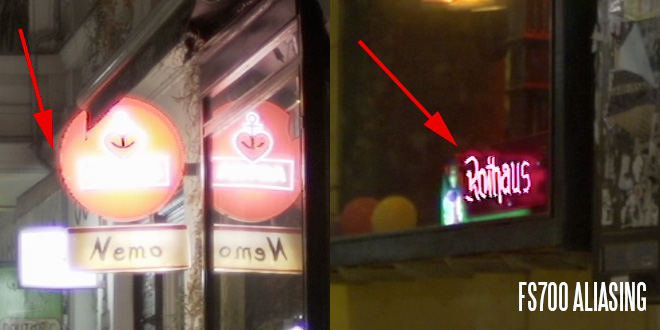 The little FS series needed a good ergonomic re-think but this hasn't happened with the FS700, and the ergonomic changes that ARE on it, are not great. The addition of an ND filter adds a lot more bulk to the camera and I feel that the bulk is simply unnecessary. The F5, F55 and Canon C100 / C300 all do a better job with housing the ND much more discretely. The ND lever feels cheap and clunky. The expanded focus button is now on the HandyCam style grip which I never use – so has to be assigned to one of the fiddly programmable buttons on the side of the camera. On the FS100 it is on the front and quite handy. Peaking thankfully works a treat though.
The camera is not quite the low light king that the FS100 is at ISO 6400 and 8000. At ISO 6400 it looks like the FS100 does at 12,800!
With a shutter speed of 1/100 nessessary for 100fps slow mo (PAL) or 1/120 for 120fps (NTSC) you really need those fast aperture lenses, and the advantages of the Speed Booster with Canon lenses. I shot the video above with 3 lenses – the SLR Magic 35mm T0.95 for the city road scenes, the SLR Magic 50mm T0.95 for a few of the taxi cab shots and the Samyang 24mm F1.4 with Speed Booster for the train and miscellaneous city shots. Everything was handheld and that is one of the great things about slow-mo. Even at 100fps you reduce so much of the jitter and sudden movement of handheld footage. Everything looks a lot smoother.
Slow-mo really is the FS700's party piece and the main reason anyone would buy it over the FS100. It isn't without quirks though. At 200fps (PAL) the camera chose a shutter speed of 1/215 and didn't let us change it. This did not play well with the Berlin street lights which are 50hz. So, expect huge flickering if you're shooting on-location at 200fps. You can see this on the background of the sparkler shot we did at 200fps. Here's another example:
Therefore I chose to shoot at 100fps and 1/100 for this test, using the in-camera S&Q feature to conform to super slow-motion 1080p at 25p.
8 bit vs 10/12 bit
Regular EOSHD readers will know I've been an avid FS100 shooter and very positive about that camera. However I have had to reassess the Sony's image in light of what the Blackmagic Cinema Camera delivers.
Now I am used to the Blackmagic Cinema Camera, dealing with footage from the FS100 and FS700 in post is restrictive. I didn't used to find it restrictive before the Blackmagic Cinema Camera but now I do! It can look very digital to my eye now I am used to raw. The highlight roll off is poor and the colour just isn't as real-looking. Take the guy in the black coat rushing to getting on the train. As he aproaches, it looks like his jacket is rendered with about 4 shades. In reality, it is a million very sutbtle shades of black. I notice this stuff now I have shot 12 bit and you don't want to go back. It makes a hell of a lot of difference cinematically to see those smooth tones and lack of compression. It doesn't fall apart in post either. The AVCHD on the FS700 is as good as it possibly can be for AVCHD but not a step up from the FS100.
Fine detail on the FS700 is there but some patterns contain weird frequencies. When you do get a troublesome piece of fine texture it tends to fizz a bit and bright highlights pixelate. This is especially noticeable if you have a hard edge which is red, on a dark background – like a red neon shop sign in a window shot from a distance. There's a LOT of aliasing going on in the highlights on the FS700, even more than on the FS100.
I also noticed some moire on the FS700 where the FS100 didn't really have any issues. Take the escalator shot in my test for instance. More visible in the video than in a still but the cross thatched pattern on the steps should not be there.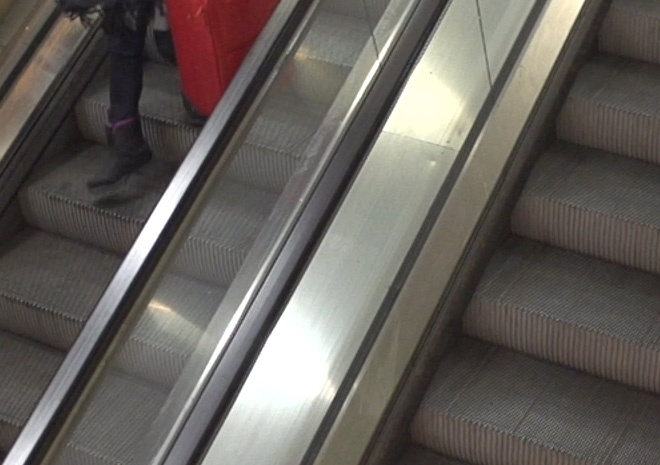 The FS700 was warmly received because it can be upgraded to 4K. This remains a hot idea, however with the 4K recorder the FS700 works out as expensive as the Canon 1D C in the end – so make your choice. Personally (and without having seen what the FS700 looks like in 4K) I'd go for the 1D C, even though I am against what Canon have done with pricing and the crazy spec sheet. The lack of 25p 4K, HD-SDI and articulated monitor are problems. I don't need 4K so thankfully it isn't a dielmma where my next $12,000 is going. I'm keeping it in my pocket.
Should you buy the FS700?
If you need slow mo then the FS700 is very handy, but bear in mind the FS100 and GH3 with 1080/60p and a bit of Twixtor can work wonders on a budget. The FS700 is $8,000, the GH3 $1300.
If you want the best AVCHD 1080p image for $8,000 then the Canon C100 outperforms the FS700 for less money and can do ProRes via HD-SDI and a very affordable Blackmagic HyperDeck Shuttle II (which I am also reviewing at the moment). It is also more ergonomic, but the C100 has no slow-mo whatsoever and is incredibly boring specs wise – the real kicker is that the Blackmagic Cinema Camera is half the price of the C100 and has the better image yet again. The GH3 isn't far off the C100 either and at least that does high bitrates internally, ALL-I and 1080/60p – all for 1/6th of the cost of the Canon.
If you're seriously considering the FS700 and 1D C for 4K, you're likely going to make your money back shooting 4K. Those without a 4K business plan are better off spending $12,000 on something else. As a 1080p camera does the FS700 give me $8000 worth of creative difference over what you can do with a GH3? I'm not sure slow-mo by itself is enough really! I will eventually want a 4K camera and 200fps slow-mo I'm sure, but by the time I do, the FS700 would have probably depreciated a hell of of a lot in price. The 1D C too. My advice to those interested in 4K or slow-mo for artistic purposes is to wait.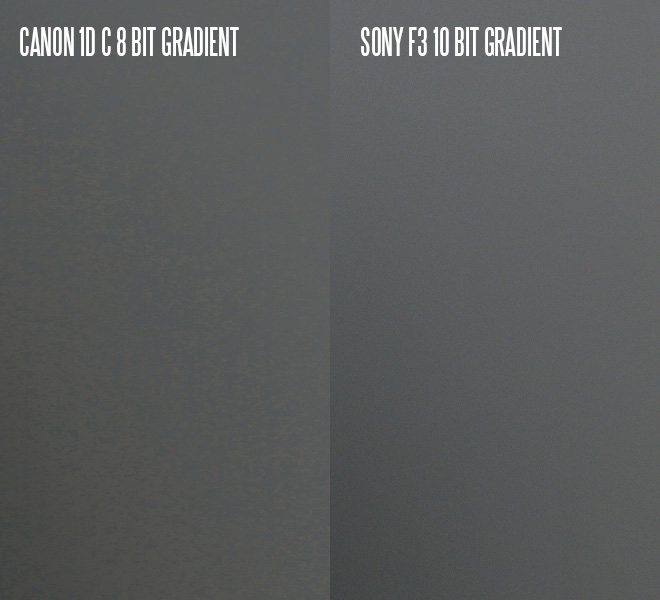 Above: the Canon 1D C cannot do smooth gradated tones as well as the BMCC or F3 and F35 (image from hdslr.es forum in Spanish)
The flip side is, we are being given amazing technology for prices unheard of until now. Speed Booster means FS700 is full frame and the GH3 is Super 35mm. Super slow-mo just 1 year ago was the Phantom. Suddenly here we have 1080p 200fps for $8000 even if the image quality is well below what you can get for $3000 on the Blackmagic Cinema Camera.
Remember that lenses could sway your decision.
The C100 / C300 will only ever be Super 35mm cameras because the mount does not allow room for the Speed Booster glass. Canon lenses work almost as well on the Sony cameras now as they do on native Canon bodies, and that they are full frame with the Speed Booster gives the FS100 and FS700 a real boost. I can only imagine how the F5 and F55 look in 4K XAVC or 2K raw with lovely full frame Canon L glass. Now is a good time to invest in some Canon lenses even if you don't plan on using their cameras.